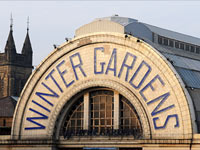 Senior Trophy
Spanish Hall

Draw: 10.15am
Start: 11.00am

Test Piece: Benvenuto Cellini (Berlioz arr. Dr Christian Jenkins)
---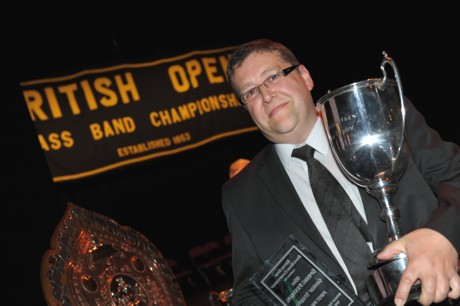 Looking towards Birmingham for 2010 winner Beaumaris

As always, the line up for the Senior Trophy shows two things.

Healthy demand

The first is to do with quantity.

There remains a healthy demand from bands wishing to take part in the Spring Festival qualification process – perhaps due to the fact that there is a possibility, however remote, that it could lead to an appearance at the British Open within three years.

This year both Hebden Bridge and Kibworth were forced to drop out after they were originally included in the line up of runners and riders, but were quickly replaced by Hade Edge and City of Coventry.

As for the quality?

Whether those two bands, or any of the 18 others for that matter, will be playing at Symphony Hall in 2014 is a much more debatable point, as in reality this isn't the strongest of competitive fields.

Potential

There is plenty of potential without a doubt, but potential it remains: Whether it can be turned into something more lasting at a higher level only time will tell.

For the moment however they will have to get to grips with a bit of an odd arrangement of one of the undoubted 'classics' of banding repertoire – 'Benvenuto Cellini'.

Cold sweat

In years gone by, the mere mention of 'Cellini' brought top section players out in a cold sweat.

The original arrangement by Frank Wright was a beast – a test piece that fully deserved the sobriquet 'rock hard'.

That one isn't played too often, because it still has the propensity to leave unprepared bands in a gibbering mess.

Neutered

This version won't do that, as Dr Jenkins has neutered it; snipping off its claws and cutting off its Pawn Broker appendages in the process.

It's a user friendly 'Cellini' – one that can be tickled under the chin without fear of a conductor having his hand bitten off in the process.

Colour and dash

That may be good news for the 20 competitors (Valium intake will be down in the soprano playing ranks for certain) as it should result in a much more evenly matched contest, but it remains to be seen if any of them can deliver performances that hopefully will bring a bit of colour and dash to the story of the mercurial Italian Renaissance metal worker.

Two bands that certainly brought colour and excitement to recent performances of Berlioz were Aldbourne and Bournemouth Concert in the First Section at the West of England Regional Championships.

Mercurial talent

Their renditions of 'Carnival Romain' were full of vibrancy in claiming the qualification places for Cheltenham, so it will be interesting to see what the equally mercurial talents of David Johnson and David Barringer do with this rather monochrome version on the weekend.

Talking of mercurial talents, Richard Evans wouldn't have been out of place as a main character in a Berlioz opera, so there could be plenty to enjoy as he leads the rapidly rising Barton Town on their debuts.

Soap opera

Wrexham Brass (Glyndwr) is currently embroiled in a bit of a soap opera storyline in Wales following their expulsion from the Welsh area contest next year, so will come to the contest determined to claim a promotion place after last year's near miss in coming 5th.

Fellow North Walians Northop also produced a fine account of themselves last year in coming 6th so will be keen to build on their encouraging showing at Swansea under Thomas Wyss, whilst Pontardulais certainly showed that they could master Berlioz in winning the First Section there in considerable style under the baton of Paul Jenkins.

Scots and North East

The Scots of Newtongrange, Bon Accord and Johnstone are solid outfits led by experienced campaigners who certainly know their Berlioz, so should be confident of making an impression on the judges, whilst the strong North East contingent sees Easington Colliery and Felling in particular make the trip with realistic hopes of claiming promotion places.

Yorkshire

There is a battled hardened group of competitive Yorkshire bands making the trip over the Pennines, with City of Sheffield, Hade Edge, Lindley, Stannington and Wakefield Metropolitan flying the White Rose flag – some with more realistic vigour than others – but all with plenty of grit and pride for certain.

Midlands, West and London

The Midlanders of City of Coventry has taken the opportunity to chance their arm as last minute replacements whilst Enderby will be looking to make a real mark this year after last season's low finish.

It's also great to see St Dennis making the long old trip up from Cornwall to make their debuts.

Finally Wantage Silver A, a rising force of late in London banding who could well fancy their chances of really making a mark after their fine performance in claiming a podium finish at the Area contest in Stevenage.
---
As for a winner?

As always, a difficult one – and much depends who can really bring Berlioz to life on the day.

With that in mind look out for the likes of Aldbourne, Bournemouth, Felling and City of Sheffield to push for promotion, closely followed by Wantage A and Wakefield Metropolitan with Northop as our dark horse.

4BR Prediction
1. Aldbourne
2. Bournemouth Concert
3. Felling
4. City of Sheffield
5. Wantage A
6. Wakefield Metropolitan

Dark Horse: Northop