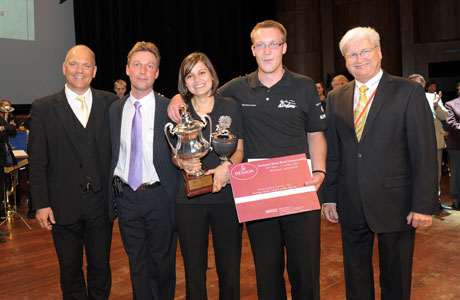 No problems for winners Ensemble de Cuivres Euphonia

More great images from Ian Clowes of Goldy Solutions can be found at:
www.pbase.com/troonly/2011_ebbc

'How do you solve a problem like Maria,' sang the Mother Superior from the 'Sound of Music', just over the border in Austria.

Half way through the B Section on Saturday morning you wouldn't have been surprised to hear the banding equivalent of, 'How do you solve a problem like the B Section' sang by the executive members of EBBA, just around the corner of the stage at the Stravinski Auditorium.

Problematic mess

As enjoyable and impressive the winners Ensemble de Cuivres Euphonia under the talented Michael Bach were, there was little doubt that this contest was one heck of an incoherent problematic mess.

It has been coming to this point for some time however – ever since 2005 when Brass Band Oberosterreich delivered a winning performance so good that it still lives on in the memory banks.

Programme

But look at the programme from that day:

'Candide Overture', 'Procession to the Minster', 'Masque', 'Song and Dance', 'Czardas' and the test piece 'Match-Rhythm': A high quality concert programme expertly played.

Now the B Section increasingly mirrors the elite event, and in the intervening years has seemingly lost touch with its original aims and objectives of helping to promote and encourage emerging banding nations.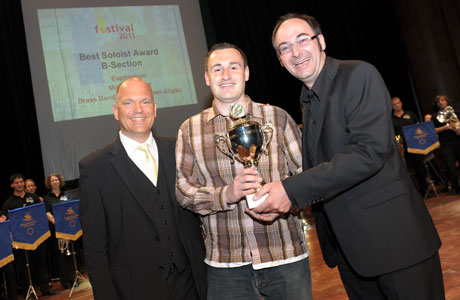 Best Instrumentalist winner Michael Muller

Now it appears to have become a second tier contest for very fine bands (many of whom are amalgamtaions of players from a number of ensembles) who just happen in the circumstances to represent nations who do not have an embedded brass band banding culture.

As a result, nobody seems to know how to solve the problem like the B Section.

Two pieces

This year, four of the five bands played only two works; Stephan Hodel's highly enjoyable set test 'Vertex', aided in turn by 'Partita' (Philip Sparke), 'Excalibur' (Jan Van der Roost), 'Of Men and Mountains' (Edward Gregson) and 'Extreme Make-Over' (Johan de Meij).

Only one, the first time competitors from Italy, opted for the concert work route – and they also included James Curnow's 'Trittico' .

How is this going to help any emerging banding nation?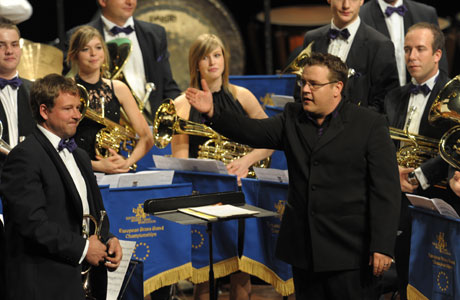 Take a bow - Michael Bach and his winning band

Despite the well meaning intentions the decision to invite the Swiss National First Section champion, Ensemble de Cuivres Euphonia highlighted the problem even further.

Clear winners

A highly competent band under a highly talented conductor, they emerged as clear winners - although the judges, Eric Crees, Frode Amundsen and Thomas Doss rather diplomatically gave them the title and the prize of a Sovereign Euphonium worth 6,700 Euros by a single point.

They were kilometers ahead as they say here: Compact, cohesive and completely a class apart. In reality they were included to make up the numbers and to put bums on seats.

The Swiss emerged long ago from the seedling greenhouse of banding nationhood.

First rate

The performances of the set work – played with nuance and understanding, solid soloists and balanced ensemble was first rate, whilst 'Of Men and Mountains' was given a robust, colourful rendition that would have more than held its own in the vast majority of top section contests in the UK.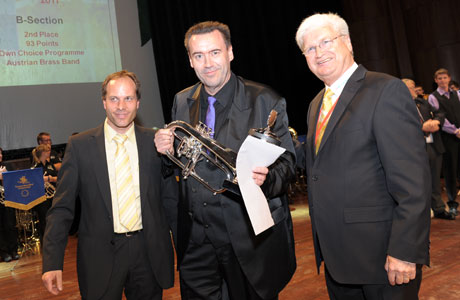 Second place for the Austrians

Fine rendition

Behind them came defending champion, Austrian Brass Band of the University of Music and Performing Arts, Graz - conducted by Professor Uwe Koller.

They chose to perform 'Partita' to compliment the set work, and delivered a fine rendition in the process to take the runner up prize of a Stomvi Titan flugel horn worth 3,500 Euros.

Once again the quality of the main soloists was enhanced by good internal balances, even if the overall band sound did have an orchestral edge to it in the louder dynamics.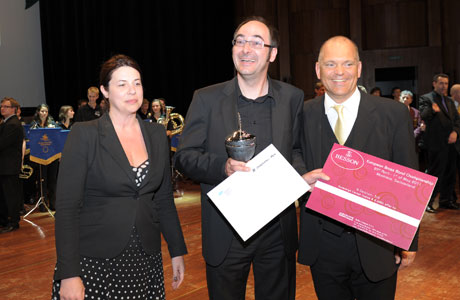 Third place for the Germans of Allgau

Exciting

In third place came Brass Band Oberschwaben-Allgau directed by the exciting Peter Schmid, who although some way off the overall standard set by the top two, provided quality playing on the set work as well as their own choice of 'Excalibur'.

In addition, the impressive Michael Muller was a classy presence throughout their performance to deservedly win the 'Best Instrumentalist' Award.

Further off the pace

The bottom two bands were much further off the pace.

The French EXO BRASS could not be accussed of lacking ambition – although they seemed to have bitten off more than they could comfortably chew with 'Extreme Make Over'.

Not surprisingly, it was a very uneven rendition, whilst the cornet soloist in the Harry James 'Trumpet Concerto' was too fragile in confidence to really make a showcase item come to life.

Perplexed

Meanwhile, the Italians of Messina Brass, all the way from Sicily, will have left totally perplexed by their experience.

This was a band that fitted the 'B Section' ethos perfectly – representing an emerging nation (southern Italy has no brass band culture at all) and playing their hearts out in the process, with french horns and trumpets galore.

Scope and ability

They certainly enjoyed the experience under the baton of the excellent Giuseppe Paratore, with a programme that for the most part was within their scope and ability – including PLC's 'Walking with Heroes', 'Rhapsody for Euphonium' and 'Trittico' by James Curnow.

You simply felt sorry for them that they had made the long trip north to be faced with bands that seemed to have understood a different competitive ethos all together.

Whatever the answer and despite a fine audience supporting it, the B Section remains a 'Maria' problem not even Julie Andrews can solve at the moment for EBBA.

John James