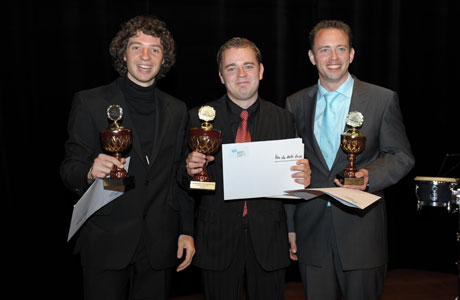 A trio of conducting tyros - the finalists line up

More great images from Ian Clowes of Goldy Solutions can be found at:
www.pbase.com/troonly/2011_ebbc

The first title to be decided in Montreux came at the 5th European Conductor's Competition, which was won by the 25 year-old Erik Van der Kolk from the Netherlands.

The competition attracted numerous video applicants, no doubt looking for glory and recognition as well as the thought of a first prize of up to 4,000 Euros.

Whittled down

They were whittled down to a final batch of 17 who were invited to Montreux to see if they could battle through the first two rounds of competition under the judging microscope of Rune Bergmann, Dr Nicholas Childs and Blaise Heritier.

After a long and difficult day on four well known brass band test pieces, the 17 conductors had 24 hours to relax before a second round saw them tackle chamber orchestra repertoire.

Reduced field

The judges then reduced the field to six, who were further cut to the final three after a semi final that saw them direct symphonic wind orchestra versions of 'Harrison's Dream', 'Extreme Make Over' and 'Music of the Spheres'.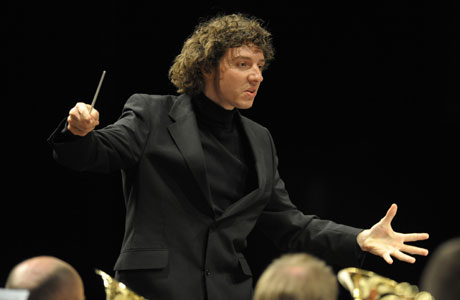 Tristan Uth in full flow

There was a very good audience sat in their seats in the Stravinski Auditorium on Thursday evening as the first of the contenders, Tristan Uth from Germany took to the stage to direct one of the chosen 'classics' of banding repertoire – John Ireland's 'A Downland Suite'.

Engrossing style

The 23 year old had only conducted a brass band three times before the weekend, and although it showed in his interpretation of Ireland's rather stylised work, there was much to admire in his dramatic, engrossing conducting style.

Return

Not surprisingly, the eventual runner up later revealed that he was being taught orchestral conducting in his home country – and whilst he was a little disappointed not to have won, he told 4BR that he left a fan of brass bands and hoped he would one day conduct one at the European in years to come.



Erik Van der Kolk draws the music out

After a short break came the eventual winner, 25-year old Erik Van der Kolk, who certainly was an experienced brass band conductor, having directed top section Brass Band Rijnmond in the Netherlands.

Cohesive

As a result, his compact, cohesive style brought the best playing out of the hard working players of Brass Band Fribourg (who did a fine job on the night), with a solid, no nonsense rendition of 'A Moorside Suite' by Gustav Holst.

Although technically a slightly easier piece to direct than the Ireland, the Dutchman moulded it with detail and balance, a free flowing sense of lyricism and coherent control (all without a baton).

Impressive

It was impressive leadership from the rostrum that gave him the winner's laurel as well as the 3,000 Euros first prize.

In addition he also picked up the Audience Prize of 500 Euros (each audience member had a card to decide their Alternative Vote) as well as the 500 Euros 'Band Prize', decided by the members of Brass Band Fribourg.

It was a comprehensive victory for a talented, skilled young conductor who will surely go on to make name for himself at this contest in years to come.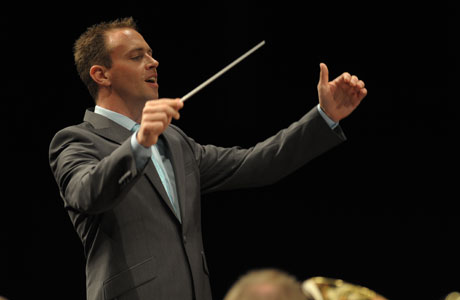 Nick Ost keeps things upright

One man who has already done that is Nick Ost of Belgium, and the 34-year old euphonium player was the last of the three finalists in directing 'The Severn Suite'.

Solid and clear

With a tiring band under his command, his distinctive upright style was solid and clear and elicited an equally solid, well-defined rendition of the original Elgar score.

With Tijman Botma and Luc Vertommen joining Dr Nicholas Childs, Rune Bergmann and Blaise Heritier back stage to ponder over the result, it was left to the European Youth Band under Philippe Bach to provide the expectant audience wit quality entertainment.

Demanding

A short programme of quite demanding repertoire was well received with plenty of fine ensemble and solo playing on show in numbers from diverse sources – including Simon Dobson's 'The Dreaded Hook and Groove' and Oliver Waespi's 'Intrada' to Peter Meechan's 'B of the Bang' and the world premiere 'Toccata for Brass Band' by Jean-Selim Abdemoula.

There was also an intriguing duet from Raphael Christen on marimba and Thomas Reudi on euphonium who called themselves 'Duo Synthesis' – not a combo you get to hear everyday at a band event.

Lap of honour

When all the music making was over, the three young conducting tyros waited patiently before Frank Renton announced that Erik Van der Kolk had been declared the winner.

You couldn't have wished to see a happier young man on a contest stage all weekend as he led the European Youth Band in his lap of honour march 'Marignan' – this time with a baton in his hand.

Iwan Fox