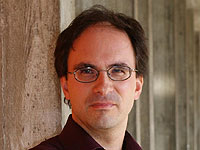 In the years to come, Oliver Waespi's 'Audivi Media Nocte' may well be seen as a seminal work for brass band.
It is a composition from an amazingly intelligent, febrile mind; an audacious concoction of conflicting musical imagery.

Waespi himself describes it as oscillating, '…somehow between past and present, between contemplation and frivolity, between prayer and rave'.
I heard, at midnight

Its partial inspiration as well as title, comes from a 16th century motet written by Thomas Tallis, which roughly translates as, 'I heard, at midnight', and which is sung primarily on All Saints Day.
The composer has a very personal attachment to the music, although he also reveals a deep rooted desire to enhance it in a contemporary context: The result is undeniably spectacular.
Explodes

The calm, contemplative flow of the original is still the foundation stone from which the following 17 or so minutes explodes into the musical mind of the listener.
However, the kaleidoscopic development of complex rhythmic motifs and driving purposefulness leaves the original motet as the merest shadow etched on a canvas rich in colour and texture, drama and sheer, brilliant energy packed vivacity.
Sinister

Despite the brightly lit timbres, there remains a slightly sinister feel to the music throughout.

The dark core of conflicting oscillation is never lost; a contemplative sadness that although reflective remains troubled and perhaps unresolved, despite its extrovert outward appearance.
Sonic character

Waespi hints at this himself, describing the 'sonic character' of a brass band with its heavy low registers and lyrical potential as 'favourable to my musical intentions'.
Those intentions bounce back and forth then - between past and present, contemplation and frivolity, prayer and rave...

Age old strictures

This is Tallis for a modern age – for a generation that no longer has the time or desire to be bound by the age old strictures of glorified Saints.
It is music that speaks to heart in a totally different way altogether – thumping its message of the here and now - of ephemeral, almost immediate gratification.
Passion and drama

Passion and drama is exposed and revelled in, repressed regret pushed back to the darker recesses of the mind – although never quite obliterated.
The original motet reference does return in glory at the conclusion of the work, but only after it has been totally and utterly transformed – not through pastiche variation however, but by compellingly fresh osmosis.
After a furious start, the music settles in almost reverential homage to Tallis:
Then all hell breaks loose.
High paced

Increasingly complex rhythmical structures are developed; free flowing, high paced filigree work is passed all around the band, whilst solo lines are fleeting although progressively positioned.
There is a great deal of percussion work – a whole panoply of exotica keeping the section in full time work from the word go, but it is used to enhance the growing complexity of the writing, not to slap another layer of gaudily applied effect.
Concerto Grosso

The elements of a 'Concerto Grosso' are to be heard, as various groups of soloists perform in trios at the front of the band.

Surprisingly, Waespi uses intriguing combinations – first bongos, tuba and trombone followed by cornet, euphonium and snare drum with high hat. It may on the face of it appear bizarre, but it works wonderfully well – the percussive elements underpinning the flamboyant virtuosi layers played by the brass soloists.
Exceptionally difficult

Technically, the work is exceptionally difficult – no section, no plaer even, is spared demanding writing, although nothing is unplayable – just down right rock hard to deliver with clarity and precision.
On the very best bands will be able to play it and play it well. Performers – both players and conductors will know that they have been tested to their very limits: Just as it should be then for a contest of this stature.
Iconic

Musically, it is one of the most satisfying contemporary brass band test pieces you are likely to ever hear.
Oliver Waespi deserves all the plaudits that will surely come his way.

His test piece has iconic status already written all over it.
Iwan Fox