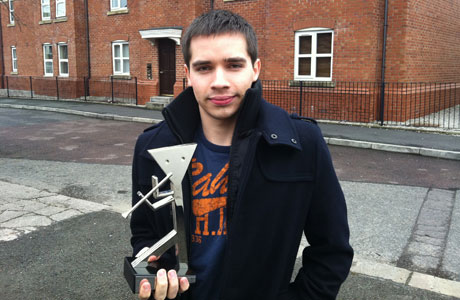 Lewis Musson and one of his dinner guests...

Given the opportunity, the wish list, the ability to mess about with the Space-Time Continuam like Doctor Who, and the skill to cook like Heston Blumenthal, who would you like to invite around to your place to enjoy a meal and chin wag with?

4BR started it all off a few days before Christmas 2007 with our 10 dinner guests, so we thought we had better ask a few more brass band personalities who would be on their all time dinner list too..

Talented

This time it's Lewis Musson, the 2011 Radio 2 'Young Brass Soloist of the Year' - and one of the brightest talents on the banding scene.

Lewis began playing cornet at 5 years of age under the instruction of Salvation Army bandleader Rodger Bunting, before taking up the euphonium aged 7.
Within three years he had secured himself a place at Chethams School of Music where he flourished under the tuition of Billy Millar – becoming a Grade 8 and ABRSM awardee by the time he was just 13.
RNCM

In 2005 he was accepted into the National Youth Brass Band of Great Britain and subsequently worked his way up to co-principal euphonium.
Lewis is now in his third year at the RNCM in Manchester studying with David Thornton and Steven Mead and is the principal euphonium of Wingates Band whom he represented in the 2010 British Open Solo Final.
Young Brass Soloist

He is the current BBC Radio 2 'Young Brass Soloist of the Year' – a title he won in thrilling fashion earlier this year.
And now for his list, which he told 4BR was difficult to put together without disappointing at least a few of his friends – although he hoped he would be able to squeeze a few late comers in through the back door if no one was looking!
---
1. Holly Melia
I would be in big trouble if the person first on this dinner list were anyone other than my lovely missus.
An incredibly talented flute player and brilliant performer, she is always willing to put a few hours aside to listen to my practice sessions and give me a non-banders perspective on things.

2. Matt White
Principal euphonium of the Fairey Band and international superstar in the making. He also happens to have been my flat mate and best friend for many years, so its a no brainer for me to add him to the list!
At Chets the many hours of set practice times were made a lot more bearable by turning most of them into duet sessions. And whilst this was not strictly what we were meant to be doing, running the whole Arban through playing a bar each cannot have done my technique any harm!
It's been my privilege to perform with Matt for many years, and I hope just a little bit of his skill and talent may have rubbed off on me.

3. Elgar Howarth
I was fortunate enough to be a part of the National Youth Brass Band when Elgar Howarth was the Artistic Director, and on one particular course I was lucky to find myself with a few others having lunch with him in the dining hall.
He is an incredibly modest, yet inspirational man to talk to, and I remember watching in awe as he demonstrated his ability to conduct different time signatures with different hands at the same time!
Inviting him to this dinner would give me the chance to recreate this moment and spend a bit more time with one of brass bands true legends.
4. ASIMO
From the sublime to the ridiculous - this guest is not even technically a person.
I have always been interested in technology whilst also being a bit of a sci-fi fan, and this little robot fella is a bit of both.
And whilst I just think he is really cool, I hear he's pretty handy at the whole waiter thing too. His conversational skills are probably not great though, which is the reason my next guest is.....
5. Jimmy Carr
If I could some how convince this bloke to turn up I think we might be in for an entertaining evening!
I went to see him at the Apollo earlier this year and whilst his jokes are good, his ability to deal with hecklers with amazing speed of thought was unbelievable and had me laughing for days afterwards.
As long as no-one around the table is easily offended I think we can be sure the conversation wouldn't dry up. Perhaps I should sit him next to ASIMO to try teach him a thing or two?

6. Stevie Wonder
And for musical entertainment, one of the best singers to ever walk on this planet.
Do I need to explain why?

7. Christian Lindberg
I like to have a go at playing the trombone every now and again, and this guy is up there with the best in the world.
However, I do have a slightly different motive behind inviting him.
I was recently treated to an incredible rendition of his concerto for flute 'The World of Montuagretta' and it has to be one of my favourite concertos I have ever heard.
So if I can impress him enough with my good friends Stevie and Jimmy, maybe he'll agree to write me a bespoke euphonium concerto!

8. Eric Ball
When it comes to brass bands I am a bit traditional in my appreciation for a good tune, so who better to invite than the masterful melody writer Eric Ball.
One of the most successful composers ever to focus on brass bands and one of the greatest servants to the movement, he passed away a few years ago - too early for me to meet him.
I would jump at the chance to pay tribute to the man affectionately known as the father of brass bands though.

9+10. David Thornton and Steven Mead
Both incredible euphonium players as bandsman and soloists, these two men have been instrumental in my development as a player over the last few years.
I am fortunate to have been taught by both during my time at the RNCM, and get the chance weekly to receive knowledge passed on from these players at the forefront of euphonium playing.
Dave also happens to be my conductor at Wingates, which helps keep me on my toes, as I like to learn from the best.
---
Previous dinner guest lists:
Previous guests have included the 4BR selection; Chris Wormald; David Read; Pete Meechan; Alan Jenkins; Derek Broadbent; Philip Harper; Peter Roberts; Frank Renton; James Shepherd; Dr Roy Newsome; Paul Lovatt-Cooper; Bramwell Tovey; Kevin Crockford; Morvern Gilchrist and Lesley Howie; Richard Evans; Simone Rebello; Ian Porthouse; David Daws; Alan Morrison; Alan Wycherley; Mark Bousie; Steven Haynes; Simon Dobson; Ian Buckley;, John Roberts; Cai Isfryn; James Stretton; Harmen Vanhoorne and Bad Ass Brass.