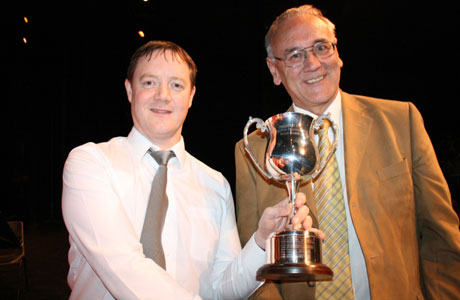 Wardle's winning MD Lee Rigg claims the prize
All pictures: Steve Jack

Intermediate Section:

The Intermediate Section was the longest of the day lasting over seven hours with fourteen bands vying for victory.
As marathons go, it was an exhausting, but enjoyable one; thanks to it being played in a friendly and relaxed atmosphere with many of the participants coming into the hall to listen.
No more souls

When MK Youth Brass performed as the last band you couldn't have squeezed another soul in.
Despite the increase in the quantity of competitors, the quality this year was a little uneven.
The best bands were very good indeed, but some over-stretched themselves with their selections, instead of opting for music where they could really demonstrate just what they could do, and do well.
Not lost

It was a point not lost on the judges, Ian Porthouse and Stan Lippeatt.
The bands also had to contend with Dr Peter Meechan's set work, 'Sentinel' – a deceptive composition that although perhaps not his most descriptive, still retained the clear characteristics of his persuasive writing style.
Dr Meechan was in the hall throughout the day to listen to his piece, which although generously written to be within the technical scope of all the competing bands, found many out musically.

Those who under estimated it were invariably those who came a cropper.
Sympathetic

Ian Porthouse gave a sympathetic deliberation from the stage prior to the results.
Having played and conducted on the unforgiving RNCM Theatre stage Ian understood that it could be a lonely place to perform.

He reiterated that there was a general touch of disappointment in the level of performances of the set work, but was full of praise for featured soloists and many of the programme choices made by the MDs.
Five Gold

Five bands claimed Gold Awards for their performances.
Wardle High, Poynton Youth and Rochdale Borough Youth had that extra bit of consistency when it mattered top pip Aberystwyth Youth and Stockport Schools Senior to the podium positions.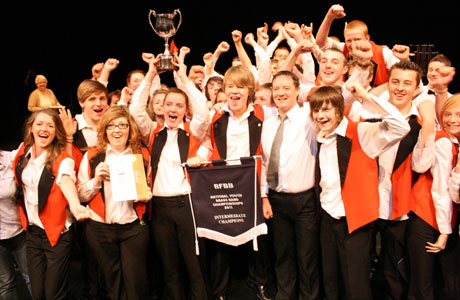 Time for celebration for Wardle High School

Formidable

Wardle High School conducted by Lee Rigg are a formidable force, and having come third last year, took the title courtesy of a disciplined musical performance that was a credit to the MD and his players.
They reprised much of their programme from the Action Research Youth event in Blackpool in February, with the opening 'Olympic Fanfare and Theme' and 'On the Quarter Deck'.
The set work was atmospherically and energetically brought to life and there was some fine playing in Goff Richards' 'City Cruiser', although understandably, 'Highland Cathedral' to close just sounded a touch tired.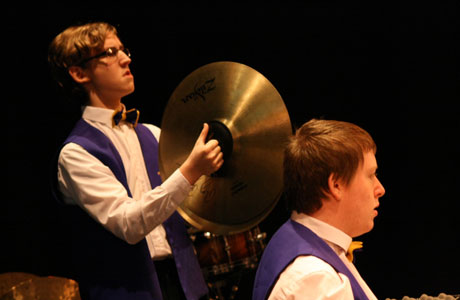 Poynton ready to make a splash and a crash...

Upped their game

Poynton under Andy Hirst claimed Gold a year ago, although they just missed out on a podium place.

A year on and they upped their game even further with a programme full of clarity and style to come runner up.
They were also the first competitor to really get to grips with the test piece and with a fine small ensemble 'Jeannie With the Light Brown Hair' a controlled 'Pavane' from 'Music from an Elizabethan Court' and a solid performance of last year's set work, 'Adventures in Brass' they claimed their just reward.
Small but perfectly formed

Eric Landon's small but almost perfectly formed Rochdale Borough Youth are the current Action Youth Entertainment Champions.

They showed just why they claimed that title by performing two contrasting but very challenging pieces in addition to the set work.
The opening 'Birdland' had a few uncomfortable and nervous moments, but a persuasive account of 'Sentinel' and a thumping 'Shine as the Light' showed off their undoubted quality to claim third place.
Deserved

Aberystwyth Youth and Stockport Schools Senior also claimed deserved Gold Awards.
All 43 players of Aberystwyth gave an excellent account of themselves on their debut, with some fine ensemble and individual contributions.

Euphonium player, Huw Evans', performance of 'La Cucaracha' gave him the award for the 'Best Instrumentalist' in what was a highly promising first appearance by the band.
In contrast Stockport Schools Senior Band wasn't the biggest ensemble of the day, but they made up it for it in their whole hearted musical approach.
From the opening 'Vivat Regina' to the closing 'Skylines' by Paul Lovatt-Cooper, James Holt kept things on a very tight reign, and the players responded wonderfully well, including the BBC Radio 2 Young Brass finalist, Michael Cavanagh, who once again demonstrated his burgeoning potential in 'Donegal Bay'.
Trio of trios

Thereafter a trio of trios - with the contenders claiming Silver, Bronze and Merit Awards.
The three Silver recipients were Hade Edge Youth, Sellers International Youth and Tewitt Youth.
Generous

Warmest congratulations go to Hade Edge Youth under Simon Wood, who very generously agreed to take to the stage as the first band of the day as the two competitors drawn before them had problems reaching the venue on time..
They delivered a very competent account of themselves and certainly enjoyed the experience, with the MD wearing a permanent smile on his face throughout.

The future of Hade Edge Band is secure for many more years to come with this production line of talent on tap.
Solid

Sellers International Youth followed, and despite some noticeable tuning issues delivered a solid performance of merit.

The rock on which the musical foundation of the band is built is Hammonds Saltaire's Principal Cornet, Jamie Smith who showed what a fine player he is becoming with a lyrical rendition of, 'Londonderry Air'.
There was a very good crowd in by the time Tewitt Youth led by Malcolm Dibb took to the stage as the 13th contender of the day.

The band from the North East opted for just two pieces and in addition to the set work, and demonstrated plenty of good playing in Jacob de Haan's overture 'Rob Roy'.
Bronze

Bands from the North West and Scotland claimed Bronze Awards.
Astley Youth won the Junior Section a year ago and they took the award as the band displaying the 'Most Potential' after Simon Minshall (deputising for mother, Helen) led the youngsters in what was an enjoyable programme that featured a classy cornet solo and a euphonium duet amongst its contributions.
It was a case of 'here come the girls' when Dalmellington Juniors took to the stage with a cornet section comprising of just two teenage boys (lucky lads)!
Enjoyed

The Scots certainly enjoyed themselves in a set that included music from James Curnow to Irving Berlin, whilst cornet player, Rebecca Wilson gave a fine account of herself in 'Share my Yoke'.
Macclesfield Youth conducted by Louise Renshaw also gave a fine account of their developing talents, and although not everything went to plan in their enthusiastic programme that opened up with the march, 'Punchinello', the knowledgeable MD produced a fine reading of the set work.
Enderby Youth showed that they had built on their encouraging Butlins and Blackpool performances earlier in the season to claim a Merit Award, whilst the same went for Worcestershire Youth led by Nicky Daw.
Amy Hiles showed great of potential on cornet in 'Sugar Blues' although the inclusion of 'Riverdance' featuring some rather nervous solo lines never showed them at their best.
Congratulations

Congratulations go to MK Youth who were originally drawn number one but after getting up extremely early, and having to battle through terrible traffic problems to get to the contest, gave it their all under MD David Rose.
Many of the players were incredibly young, and it must have been touch and go to whether they could have taken part in the Junior Section.

However, they performed with real brio, despite what must have been the type of tiredness usually reserved for a London Marathon competitor in the last two miles of their run.
Another marathon

After all the competition, all that was left were speeches from Robert Morgan and the representative from the Worshipful Company of Musicians, before Wardle High could start to celebrate.
They certainly had the energy to have started another marathon straight away.
Malcolm Wood
---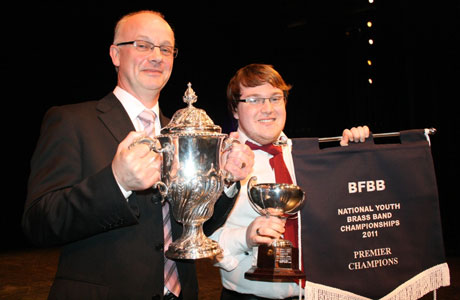 Carnoustie - National Champion and Best Instrumentalist winners

Premier Section:
At the conclusion of the marathon Intermediate contest, the climax to a long day in the RNCM Theatre came with the 'Blue Riband' Premier Section.
Worth the wait

It proved to be well worth the wait, despite there only being three bands presenting their 25 minute programmes, the focal point of each being Gavin Higgins' set work, 'Fanfares and Love Songs'.
Originally written for the National Children's Band of Great Britain, it proved to be a challenging test for the bands – and would have certainly sorted out the best bands in a First Section contest.
Asked questions

From the teasing opening fanfares through the lyrical love songs and bravura finish it asked pertinent questions of three very competent bands and their MDs – which all three just about answered.
Adjudicators James Scott and Lynda Nicholson enjoyed their brief contesting sojourn with Lynda taking the opportunity to praise all three contenders.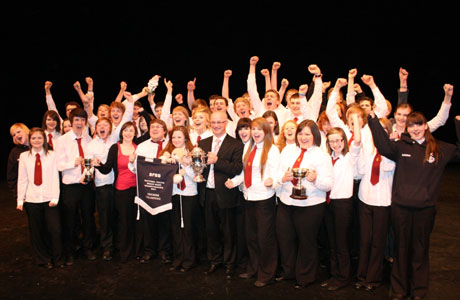 All in a line to celebrate for Carnoustie

Clear cut

The result though was clear cut and very straight forward.
There was no doubting that Carnoustie and District Youth under Michael Robertson was a most worthy winner with Gold Award performance of the highest 24 carat quality.
Twelve months ago they won the Advanced Section, and following further successes (including the Scottish Youth title in November) they demonstrated their musical attributes with a truly stunning display.
Superb

Playing first, they opened with a superb rendition of the set work. It was a performance full of ensemble detail, musicality and fine soloists; none more so than principal cornet, Eoin Tonner who took the Instrumentalist prize - although if it had gone to brother Callum on soprano, only the siblings may have disagreed.
The following hymn tune, 'Our God Our Help in Ages Past' (St Anne) from Alan Fernie's ' A Scots Miscellany' was played with balanced tonality, warmth and cultured phrasing, before they wrapped up with a thumping account of 'Dundonnell' from 'Hymn of the Highlands'.
It was playing that fully deserved its plaudits and prizes.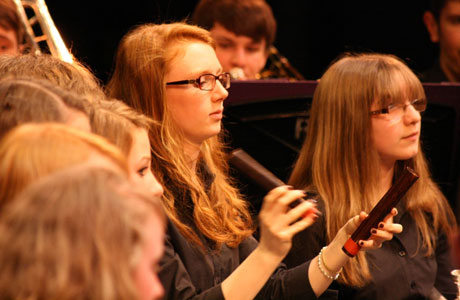 Great stick work from Northampton

Fine performance

Northamptonshire County Youth under Brad Turnball claimed the runner up prize and a Silver Award courtesy of a fine performance of the set work and a well chosen contrast in music from the pen of Salvationist composer Steven Ponsford and his, 'Cristo Redentor'.
This challenging composition, which has been revised for the Youth band, takes its inspiration from the iconic statue of Christ the Redeemer that stands above Rio de Janeiro.

It incorporates the melodies, 'Lord, I lift your name on high', 'Ochills' and 'There is a Redeemer' – and it was delivered with a sense of brio and understating.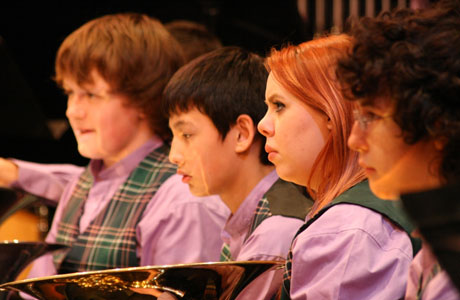 Bass team ready for action from West Lothian

Satisfaction

West Lothian Schools under Nigel Boddice MBE won't have enjoyed being beaten by their Scottish rivals once again.

However, they will surely have taken home with them a great deal of satisfaction that they are once again emerging as a real force at this level after a period of rebuilding.
The set work didn't quite have the ensemble clarity and security of the other two contenders, whilst Peter Graham's 'Shine as the Light' sounded a touch 'old hat' although it was very well delivered.
No doubting the quality

The contest may have been short and sweet compared to others during the day, but there was no doubting the quality on display – especially from the winners.
Carnoustie and District Youth is some band.

On the evidence of their performance here, they could dominate this event for some time to come.
Malcolm Wood