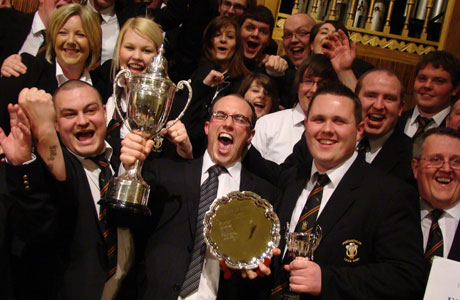 Berlioz bashers - Pontardulais enjoy their Gallic victory

With the pride of Welsh rugby getting a nasty old shellacking in Paris, there were occasions during the First Section when many of the competing bands on 'Le Carnival Romain' were suffering the same collective Gallic thumping.

Quartet

Thankfully – although unlike their counterparts at the Stade de France, Welsh pride was rescued by a quartet of performances that although never quite subduing Berlioz to the point of musical dominance, still delivered renditions that certainly put it in its rightful place.

The best of these certainly came from the winners.

Hammer ping

Defending champion Pontardulais delivered a 'Carnival' that opened with a hammer ping of ringing clarity and was followed by an aria of lyrical excellence led by Matthew Jenkins on euphonium.

It was solo playing of high class artistry backed by solid artisan accompaniment – a bit like Barry John having the space to weave his magic after the back row forwards had trampled on a few Frenchies in the first ruck of the game.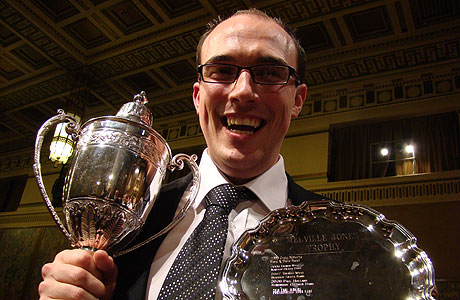 That winning smIle again for MD Paul Jenkins

Measured pulse

There was a measured pulse of vibrant excitement to the following 'salterello' too; technically secure, intelligently balanced (with a cherry top soprano) – all led with musical understanding by a gifted MD in Paul Jenkins. It was a worthy winner.

By its vibrant close, it was being played with a surefootedness borne of a collective confidence Warren Gatland's lads could only have dreamt about.

Just behind

Just behind them came City of Cardiff (Melingriffith) in more senses then one.

As the last band to play, they followed the champions elect on stage under Gareth Ritter (who may be built like an old prop forward, but who has a commandeering organisational brain of the best fly halves), to deliver a Berlioz overture cut from the same measured musical cloth.

Lyrical euphonium

They also benefited from a fine lyrical euphonium in Frances Wilson, but whereas Pontardulais were able to maintain the overall level of consistency to the closing chord, Cardiff just tired in the final run for home, to end, a good length behind the winner.

It was still a performance of impressive overall merit.

Hospital pass

These renditions were a long time coming though, as following a good opener from Burry Port under Michael Thorne, the standard was variable to say the least – with at least two bands having the type of dislocated ensemble moments that brings a chill to the heart of players and prematurely ages conductors by about 15 years:

In rugby parlance both MDs had to deal with a dreaded 'hospital pass'.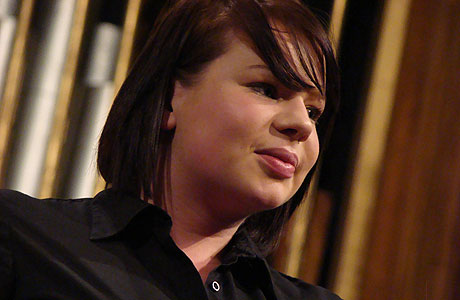 A lyrical Frances Wilson leads City of Cardiff to Cheltenham
Glorious playing

Burry Port's 'Carnival' was also greatly enhanced by some glorious euphonium playing – this time from Ceri John; but even his undoubted lyrical gifts couldn't hide the ensembles unevenness that bubbled below the surface.

The 'salterello' that followed was exciting but scruffy, and left the door open to be beaten: It was a 'nearly one'.

Elegant

The first of those came with Tylorstown in an elegantly shaped rendition under Gary Davies.

Angela Westacott once again enhanced her reputation as an euphonium performer every bit as good as her elder sibling on principal cornet at Grimethorpe, whilst a powerful horn section gave a meaty filling to a 'salterello' that just required a touch more zesty bite.

Third place may have left their supporters a touch disappointed, but on the day they just couldn't quite draw that extra frisson of flair and vibrancy from the score.

Realistic ambition

As has been the case up and down the country, the choice of a 45 year old monochrome brass band arrangement seemed to provide an ideal test of realistic ambition for bands at this level:

Yet despite 40% of the competitors delivering performances of authentic First Section level, the rest were certainly not – some disturbingly so.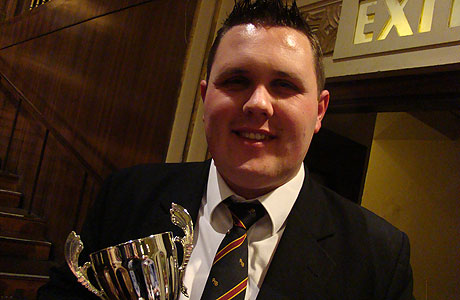 The man of the moment - Matthew Jenkins with even more silverware

Backsides slapped

For the next hour or so, Berlioz bashed the living daylights out of the competitors – or in some cases, the bands bashed the living daylights out of Berlioz – although whichever way they tried to tackle it, 'Le Carnival Romain' retained its ability to slap the collective backsides.

Rocks of destruction

Deiniolen, full to the brim with youthful enthusiasm and endeavour found it very tough going, despite Gavin Saynor's intelligent control of pace and dynamic, and the skill set to be able to steer his band away from the rocks of destruction when two halves of the band found themselves a bar apart in the ride for home.

Abergavenny followed suit – and nearly followed head long into oblivion too.

A complete disconnection between MD David Griffiths and his band resulted in an almost catastrophic collapse of ensemble security.

Minus a score, the MD did well to drag things back together – although his heart rate must have been going like the clappers.

Struggle

It was a struggle at times for Parc & Dare who never quite overcame the basic ensemble technicalities in the score, despite Martyn Ford's elegant direction, whilst Rogerstone battled through from start to finish under Julian Jones, without ever feeling ever in true comfort.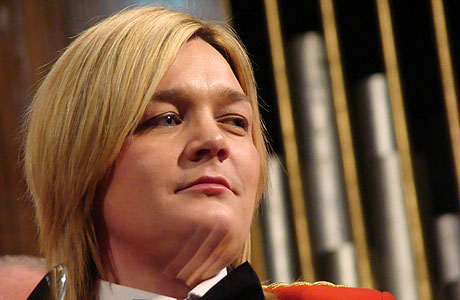 A smile of determination for Angela Westacott

Go for it

Penclawdd meanwhile took the 'go for it' option with a bravura account under the baton of Tony Small that was certainly thrill a minute (also thrill a second) stuff led by their banzai soprano player Gurnos Rees.

It was a kaleidoscopic performance in every sense of the word.

Puzzle

With such varying quality on display, the puzzle came with Wrexham Brass under Wayne Ruston's purposeful direction.

Although undoubtedly uneven in execution, it was a performance that never found itself poised on the brink of mortal peril like Abergavenny or Deiniolen.

However, they never quite exhibited the control of basics as displayed by the top four contenders either.

It was robust and occasionally scruffy, contained secure solo lines and insecure ensemble accompaniment: Overall though, it was perhaps more than a little unlucky to end in 10th.

Promise and potential

No such problems with the winners and qualifiers with performances rich in promise and potential.

Unlike their rugby playing counterparts, they certainly enjoyed their battle with Gallic opposition.

Iwan Fox