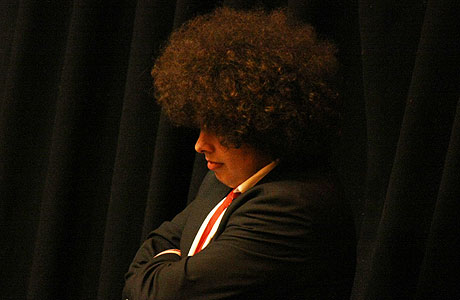 Hair today, gone tomorrow...
Pictures: Steve Jack

To paraphrase the old Shakespearean quote; it really was a case of 'to be or not to be' in Darlington over the weekend.

Walking through the town centre with the early spring sunshine warming the soul, you almost felt as though you were back in days gone by as in the Market Square, Morris Dancers performed as part of Darlington Borough Council's 'Spring Thing' Festival.

Good manners

Amid the bustle, good manners prevailed; no loitering 'lagered' up teenagers, no tacky stalls selling cheap trash – and not a discarded burger wrapper to be seen.

Once inside the Dolphin Centre there was the usual warm welcome, plenty of friendly faces and a neat line in good humour. Given the choice of Swansea, Stevenage or Darlington – you couldn't have made a better choice at all.

Quakers Wembley bound

And whilst there was the added bonus that Darlington FC reached Wembley after beating local rivals Gateshead in the FA Trophy, (the non-league version of the FA Cup), fans of brass banding in the area had plenty to occupy their thoughts as their teams battled to get the Finals of their dreams too.

It made for a very interesting and enjoyable weekend.

Comfort zone

That said, across the five sections, bands and conductors lived and died by the competitive sword – especially in Sections 1 to 3.

Some very competent musicians found the test pieces chosen for them to overcome to be more tests of character than anything else. That so many came through, battered, bruised, bashed in the lips - but not beaten says a great deal.

They breed them tough up here.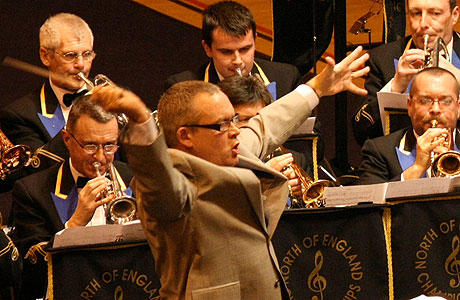 Give me more for Ian Robinson and Riverside...

The next king

They also breed them tough in Australia and Hong Kong too, as Brendan Wheeler showed by leading Catterick Brass to victory the Second Section, assisted by the superb contribution of Hiong Lang on euphonium.

As joint debuts go, it wasn't a bad way to start.

Young talent

The weekend also saw the debut of 17-year-old Callum Harrison, who led Backworth Colliery in the Fourth Section having earlier played soprano in helping Westoe qualify for Cheltenham in the First Section.

He is going to be a talent to watch out for in the future.

Meanwhile at the other end of the spectrum, the appearance of Dave Jack with Durham Constabulary demonstrated what tough old contesting is all about too.

The father of well known banding journalist Steve, Dave walked on stage for the umpteenth time in his long career to play bass trombone and enjoyed every minute of it in the process. His band may not have enjoyed the best contesting luck of late, but it didn't stop him from enjoying his beloved hobby.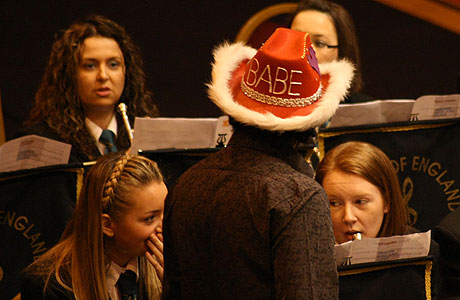 Babe Magnet for Trimdon's MD...

Cricket boot

You also have to have skin as tough as on old cricket boot, if in the case of Trimdon's MD you decide to take to the stage wearing the type of sparkly cowboy hat usually seen on the heads of drunken Geordie lasses on a Blackpool hen party.

Much then for everyone to enjoy – especially Alan Hope, the hard working Regional Secretary who this year celebrated 20 years in the role.

He couldn't has asked for a better anniversary present than to see his children and grand children qualify for Cheltenham with NASUWT Riverside Concert Brass.

It would have taken the toughest old stony heart not to join him in his celebration (although he very professionally kept back the tears of joy) when the band was announced as Fourth Section winners.

Nationals winner?

So could there be a National winner from these parts come the autumn?

Maybe, just maybe: Reg Vardy and EYMS will know they'll face stiff opposition in London, but in Cheltenham there will be a few bands fancying their chances on the form they showed on the weekend.

Whatever happens, everyone will be back here in a year's time. Darlington really is an enjoyable place 'to be', even if its only for a brass band contest.

Malcolm Wood