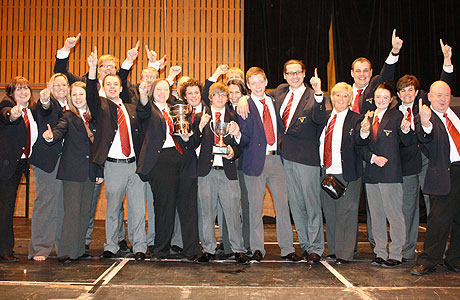 Number 1 again for Reg Vardy
Pictures: Steve Jack

Throughout the weekend, guest MC Peter Bates, repeated himself: On introducing the adjudicator's before they spoke, he made sure no one forgot the unwritten mantra of contesting - 'whatever anybody else thinks, it's the adjudicator's opinion that counts'.

Personal preference

Spot on of course, especially after a top section contest that was enjoyably closer than many thought would have been the case before a note was blown.

This was a 'Paganini' battle of two distinct competitive elements: Five bands battled for the glory of victory and qualification, five for a satisfying form of domestic bragging rights.

Quintet

The quintet of Reg Vardy, EYMS, Felling, NASUWT Riverside and Lockwood put clear distance between themselves and the rest, headed by Fishburn in sixth place.

The question for those who listened in the hall as well as the man in the tent, was in which order they would eventually end up?

It meant that Jim Davies had one heck of a difficult job on his hands – one that he did with impressive analytical clarity.

Opinion

His opinion – the only opinion that counted - was given with his usual assuredness in a measured appraisal of what was good, and not so good, about the performances of 'Paganini'.

Four bands for him had provided renditions of merit, but one had that extra ability to define its quality.

It was his personal preference he said that decided matters: Personal and official of course.

Tense

The tense atmosphere in the build up to the eventual announcement was made all the more intriguing after the five individual instrumental awards were shared between Reg Vardy, EYMS and Lockwood.

There were a few puzzling looks being cast around the hall. It seemed to emphasis the point Jim had made - that perhaps anyone of four bands had a realistic claim to the 2011 title.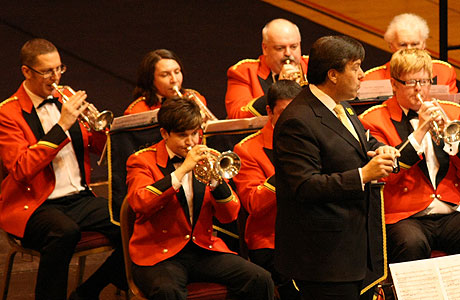 Reg, Black and gold...

Relax

It was only with the announcement of EYMS in second place that the players and supporters of Reg Vardy could finally relax.

Dr Nicholas Childs collected his second regional title in eight days after leading the pre-contest favourites to the winner's rostrum with a persuasively shaped performance.

Even the most ardent Reg Vardy supporter will have known that it wasn't a rendition that was a spankingly clean as the shoes some the players were wearing on stage; but it was one that still had the underlying stitching of quality manufacture.

There were moments of fragility in the solo and ensemble lines, but not enough in a low risk approach to pace and dynamics to lose its grip on either the Regional trophy or a qualification place.

They will know that they will have to up their game if they are to return to the British Open on this form though at the forthcoming Grand Shield.

EYMS grab it

Not for the first time this year, EYMS under Alan Morrison produced playing of confidence and stature.

This was a 'Paganini' that had the stamp of the MD's musical authority all over it, with well chosen tempos allowing the individual styles of each variation to shine through.

It also benefited from some terrific playing from the two Neil's too – Day on principal cornet and Johnson on solo euphonium.

It was edgy, energetic and not without flaws, but by its close it had provided the marker for other would be qualifiers to beat.

Only Reg Vardy managed it. EYMS will be a band to fear come the Senior Cup if they perform like this again.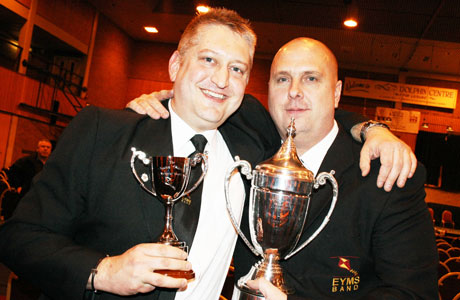 Quality pair - the two Neil's of EYMS

Fell at the last

If there was any lingering disappointment that Felling Band just missed out on a place at the Royal Albert Hall, it should be quickly dispelled after Stephen Malcolm brought the very best out of fine band on the day.

This was an intelligently delivered 'Paganini' – with the MD ensuring that everything was delivered within parameters his band could play.

That then allowed him the comfort of being able to make the most of a couple of hidden gems – especially his own daughter, Kate.

The National Children's Band of Great Britain and Yorkshire Youth Band flugel player excelled in her solo and ensemble features, bringing a lovely sense of simple lyricism to the demanding 'sospirando' solo in particular.

By its close, Felling was a dark horse for qualification that was gaining a great deal of support in the hall.

No RAH return

Unlike their junior counterparts, there won't be a return to the National finals this year for NASUWT Riverside.

Conducted by Ian Robinson, their uneven account was in need of vibrancy and dynamic contrast, in what was a strangely bland reading from an MD who can usually be relied upon to bring sparkle and colour to his interpretations.

4th place was a solid return, but one that perhaps could have been better if a few more risks had been taken.



As clear as Day for EYMS

Bravo for Lockwood

John Roberts has delivered a surprise or two on the contesting stage in recent years, and very nearly did so again with Lockwood.

Not for the first time he used his musical brain to fine effect – ensuring that well chosen tempi and dynamics didn't ask anything from his band they couldn't hope to deliver.

It was workmanlike and solid and got what it deserved thanks to his players understanding and delivering on his instructions.

The delight on the face of Rob Winspear on winning the individual soprano award after 17 years must have been mirrored 30 times or more by the rest of the players on the way back to their bandroom in Cleveland.

No early impression

The early draw performances of Easington Colliery and Fishburn failed to make an impression in the box and in the end Jim Davies found little to separate them in the final results table.

John Ward's neatly defined interpretation wasn't replicated by his band in performance, and as a result failed to really gain a level of consistency to have come any higher than 6th, whilst Easington's rather rigid approach under David Hirst gave rise to a lack of cohesion between the variations in what sounded a rather regimented approach.

Evans magic

Barton Town's rather hesitant first steps into Championship banding soon gave way to a confident, colourful rendition under Richard Evans.

It perhaps lacked the in depth detail to really give their 'Paganini' anything more superficial definition, despite a wonderful 'sospirando' section which was played with almost ethereal beauty.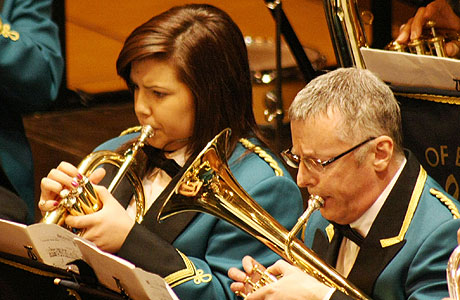 Gem stone for Felling - Kate Malcolm leads the way

Not to be

For Kirbymoorside and GT Group Peterlee, 'Paganini' proved to be a struggle, although both delivered bravura efforts in trying to master each of the 14 variations.

They would have had no argument with their final placings.

History books

It was a day though when Philip Wilby's iconic work once again showed that it is an almighty tough nut to crack.

And when the historians look back at the record books and open the page to Darlington 2011, the bare facts of the result will not reveal anything like the full story of a contest that had drama, excitement and a result that lay in the balance.

It will say however, that Reg Vardy and EYMS qualified for London – and that was the opinion of the one judge history wouldn't be able to argue with.

Malcolm Wood