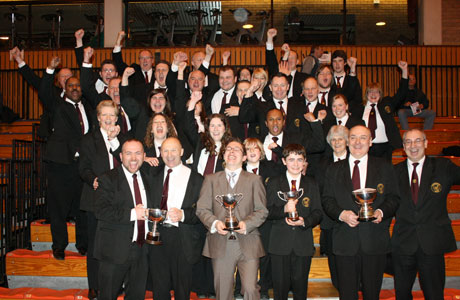 Harrogate head to Cheltenham
Pictures: Steve Jack

On the stroke of 10.00am on Sunday morning, the First Section got under way on 'Le Carnival Romain'.

Just over an hour and half later it was all over and everybody knew the result.

Worrying

Whilst only having five competitors is a concern in itself, the more worrying aspect was surely the overall standard of playing that was on show.

With the North of England being the smallest region in numerical terms the antiquated promotion/relegation system had produced a contest of little relevance.

This was no fault of the bands themselves – far from it.

Realistic?

Two very proud and delighted competitors will head to Cheltenham, but on what was shown here, neither will be a realistic contender for the title or perhaps even a top six finish.

The system, not the bands produced this contest, although it is a system that hopefully will allow Harrogate, the eventual clear winners, the opportunity to stay in the First Section for another year.

Emerging

Craig Ratcliffe has an emerging, maturing band under his command – much like himself as an MD.

The foundations of an ensemble that can return to the Championship Section and produce top level performances on much harder test pieces than this old Berlioz pot boiler are at an embryonic stage at present.

Well directed

At present they are a solid, well directed, quality First Section band, with the obvious potential to make the significant step up in class without a loss of collective confidence when faced with tests that are beyond their capabilities.

Harrogate is a band that can prosper and flourish – perhaps starting at Cheltenham itself.

In many ways that was the subtext of Jim Davies's diplomatic assessment of what he heard, when speaking to the audience before the announcement of the results.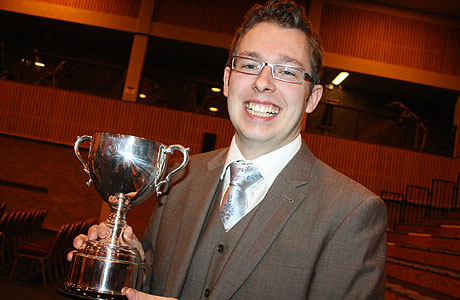 An emerging talent: Harrogate MD, Craig Ratcliffe

The diplomat

The adjudicator gave an honest appraisal that touched upon, rather than forensically explored the obvious faults and problems that emanated from the stage in each of the five performances.

It may, as he admitted, have been one of his favourite pieces, but at this level it rather surprised him that it remained so difficult to play, even for the winners.

He was disappointed, and he told the audience so: There was a collective nod of agreement back in return.

Rubbing salt in the wound

Jim resisted the temptation to rub salt into the wounds, but he left no one in any doubt of what he thought.

His request that a euphonium prize be presented (there were awards for Basses, Percussion and Trombone) was greeted with applause as well as generosity from Shawn Pagington at First Brass, and it came as little surprise that as with the aforementioned trio, it was won by Harrogate's Andrew Hodge.

They really were as Jim pointed out, 'head and shoulders' above the rest of the field.

Ironic victory

There was a touch of irony that Harrogate's first Finals appearance since 2002, means they will never make a contest appearance at the International Conference Centre.

On this form, they could well be making a few more at Cheltenham though.

Craig Ratcliffe's decision to go for a defined orchestral interpretation (including six percussionists) was bold and brave, and certainly paid dividends.

Despite a slightly splashy opening the aria was played with lyrical warmth with Andrew Hodge providing a fine, cultured lead.

And although the following 'salterello' wasn't played at break neck speed, it allowed the players the time and space to overcome the tricky technical obstacles Frank Wright's arrangement laid in their path (a neat bit of soprano and trombone work especially)

The final chord, bold and brassy, was the rubber stamp on a fully deserved, comprehensive victory.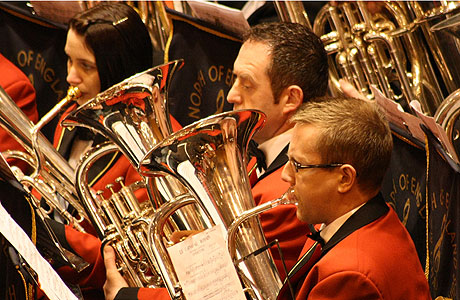 Westoe shine to claim second place

Nesbitt shines

Westoe joined them in Cheltenham by producing their first qualifying performance at the championships since 2001.

It was well worth the wait, despite the noticeable technical flaws that liberally littered the performance.

As a marker from the number 1 spot it was only beaten by Harrogate, but was a clear distance ahead of their other rivals.

Battler

It was a battler's performance too: Bold and exciting, scrappy, scruffy, vibrant and colourful – on occasions all at the same time.

It was also helped by a wonderful bass foundation laid by ex Black Dyke star, David Nesbitt and his team who gave Jason Smith an underlying security in both the aria and following 'salterello' of pulse and purpose.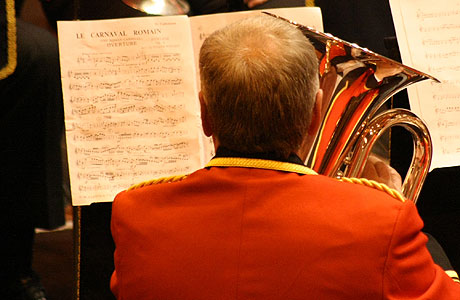 Facing the music for third placed Wansbecks

No final return

Behind these the inconsistencies of execution were marked, despite the brave efforts of the players and MDs from the remaining trio of bands.

Wansbeck's Ashington Colliery's uneven account encountered too many minor niggles and unforced errors to have really done enough to push past Westoe and claim a qualification place.

Having missed out on the finals for a second year in a row will have been a disappointment though, but the reality was that it was the 'best of the rest'.

Potential

Shepherd Building Group's fine start offered real hope and potential, especially after a lovely euphonium lead, but the Allegro became a minefield of ensemble imprecision and solo fragility, and what had started with such promise ended in something of a musical bundle.

Unfortunately for Murton Colliery, it was a 'Carnival' that caused all sorts of problems.

Nothing really went right from the first note and despite some brave efforts from individuals and the MDs hard working efforts to keep things on track, at times it veered towards the catastrophic.

Berlioz the winner

A disappointing contest did produce a winner of promise and potential, but one who will know that further, sterner tests lie ahead.

If the circumstances do not push Harrogate beyond their current level of growing ability we could be hearing more of a band that over the next 12 months or so can make a real mark at First Section level.

Fingers crossed then that bureaucracy doesn't get in their way.

Malcolm Wood