Outstanding Catterick...
Pictures: Steve Jack

Two bands returned home on Saturday evening delighted that they had qualified for the National finals, whilst six others left the Dolphin Centre perhaps a little more sanguine at how their fortunes had fared.

Collectively though, everyone involved would have breathed a sigh of relief that 'Resurgam' was finally over and done with.

Tough lesson

As has been the case up and down the country this year, bands found Eric Ball's masterful work one heck of a tough obstacle to overcome – an opinion reinforced by David Lancaster's transparent address from the stage prior to the results.

He had also been up and down the country listening and adjudicating on the work this year, and was well aware that despite its rather benign appearance, it still had the ability to bite, and bite hard at the hand of an unsuspecting (or unappreciative) MD and band.

Here he was full of admiration for the way both had approached the work, although he also made sure that the audience was well aware of the pitfalls and traps that had and hadn't been overcome.

No one had really mastered it he said, but some, especially the winners and the podium finishers had come mighty close.

Basics

Playing the notes is never enough with 'Resurgam' (however securely they are produced) and whilst a number of the performances were technically secure, only the winner's really produced a coherent understanding of the greater musical context of Ball's inspiration.

Aussie magic

The one outstanding performance came from Catterick Brass, led on his contesting debut by Australian euphonium star, Brendan Wheeler.

With the band's regular MD, Stuart Halliday posted to the brass band wastelands of the Falklands Islands, he was coerced into a his new role, and took to it with aplomb.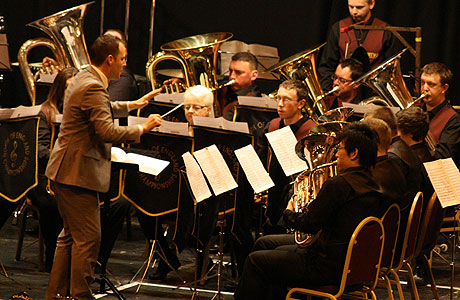 Looking the part for the winners and their MD...

Looked the part

How much conducting he has done previously is unknown, but on this evidence he certainly looked the part – compact, unobtrusive and precise.

As with every performance on the day there were some uncomfortable moments.

However, they never detracted from the persuasive overall musical picture, and enormous credit has to go the bass section (who were rewarded) and euphonium player, Hong Liang, a student at the RNCM in Manchester who was playing in his first ever brass band contest. He was a lovely focal point when required, a subtle provider of texture when not.

The ensemble playing was warm and balanced, the phrasing shaped and cultured. The final climax was delivered without recourse to harshness, the repose played with control and sensitivity.

It was a performance of distinction.

Three accomplished performances

David Lancaster openly admitted that three bands gave very accomplished performances, which caused him some difficulty when it came to the positioning behind the winners.

The Mayor of Darlington couldn't hide his delight after declaring how pleased he was that his home town band had qualified for Cheltenham.

He will garner a few votes come election time from the members of Cockerton Silver then.

George Nicklin's band didn't quite have the ability to provide the more subtle shadings and phrasing that was clearly defined by the winners, but the basics were all in place, and with a fine euphonium in Brian Wideroda (who took the individual award for his efforts) leading the way, they produced a 'Resurgam' of purpose and poise.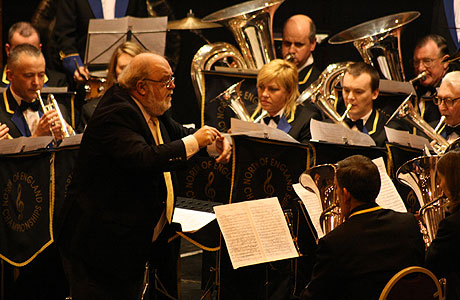 Vote winner for Cockerton in second

Inconsistent

South Milford Brass was the other performance that caught David Lancaster's ear, although Martin Hill led a rather inconsistent account that contained noticeable lapses as well as extended sections of warmly toned well balanced playing.

That was a real shame as without them tarnishing the well thought out interpretation, they could have sneaked a qualification place.

Variable

Below the podium finishers the standard was much more variable.

Houghton Brass under Ian Longthorne had to dig deep in a rendition that was structurally secure but was blighted with poor intonation and some harshness as stamina waned, whilst Durham Miners Association's robust performance perhaps needed a touch more restraint in what was certainly a 'Resurgam' of the heart on sleeve variety.

They may have been disappointed at coming 5th, especially as the solo lines were well played (with a special mention to the soprano player Andrew Emerson, who picked up the individual award) but overall it was a little on the hard side in ensemble tonality.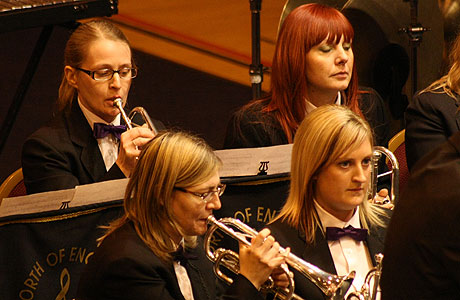 Catching the ear for South Milford in third

Committed

For Northumbria Water Ellington, Ferryhill Town and Billingham Silver, three considered performances that were unfortunately littered with individual and ensemble fragilities.

Jonathan Fenwick's committed approach certainly sought the musical heart of the piece but perhaps needed a cooler head in the process to have done so more successfully.

Time and space

Both Steve Norris and Vaughan Evans brought time and space to their interpretations, but found that the execution was far too inconsistent to have really brought things together as they would have hoped.

No such problems for Catterick. They now have Cheltenham to look forward to with genuine prospects of doing very well indeed.

The MD must think this conducting lark is a breeze…

Malcolm Wood