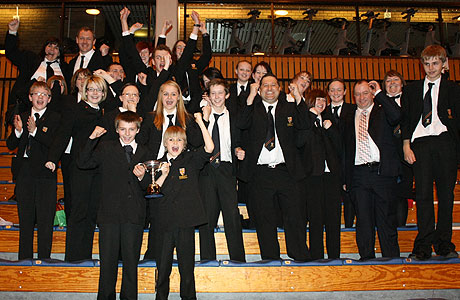 Little corkers - NASUWT Riverside start to celebrate...
Pictures: Steve Jack

Sunday afternoon's Fourth Section contest proved to be an absolute corker.

There may have only been eight bands involved, but the overall standard was top notch: It was quality rather than quantity contesting and all of the contenders can be justifiably proud of their efforts on John Golland's set work.

Excellent

The two qualifiers were excellent and will represent the Area with pride, passion and a great deal of potential come September.

The bands that missed out will have left the Dolphin Centre a little disappointed, but they shouldn't be.

In many other areas we have listened to this year at least two would have made it through without too much difficulty.

Poacher turned gamekeeper

Adjudicator David Lancaster admitted he felt a bit like a poacher turned gamekeeper having in years gone by previously conducted bands at this contest, but having judged a very decent Fourth Section in the West of England the previous weekend, he knew exactly what he was looking for – and got it in spades.

As he did at Torquay, he touched on his North West roots and the first hand experience of being judged by Golland himself; a man not known for his like of excessive vibrato, and who insisted on, as David King so memorably put it - 'subservience to the score' (although whether Professor King actually does that too often in winning contests is a point for debate).

On the score

David highlighted that all the clues to being successful with the piece were highlighted on the score itself (another Golland trait): accurate dynamic markings, articulation, tempi, stylistic information…

He was impressed that all the MDs did this and more – with the podium finishers in particular following them to a tee.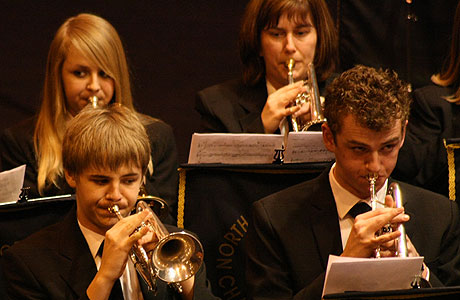 Youthful class with the winners

Clear winner

NASUWT Riverside Concert was a deserved winner, with a performance that was full of excellent brass band basics topped by style, confidence and youthful brio.

MD, Bryan Tait is a bit of a legend in these parts, but even he would have been hard pressed in his long and distinguished career to have gained as much enjoyment out of a contest performance than he did here.

He used all his experience to superb effect and in return was rewarded with a 'Prelude' that was tight and precise, a following 'Song' of lovely balance and warmth, and a 'Dance' that was full to the brim with youthful mischief, fun and games.

It was a delight from start to finish and the MDs smile at its conclusion was almost as wide as that of each of his players.

Printers name

Kingsway Printers Cleethorpes joined them at the Finals with a performance that was confident, disciplined, detailed and stylish.

Steve Askew's excellent direction gave time and space to shine, with the principal cornet player in particular showing a touch of class that wouldn't have been out of place in the top section.

As with the winners, it came down to good solid playing around the stand with fine attention to the score's dynamics and tempo's (which were bang on the button).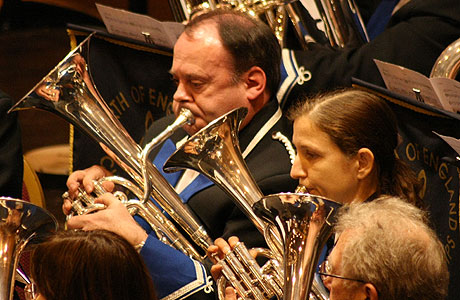 Name printed in the Cheltenham programme for Kingsway

Close

Steve Robson's Stanhope Silver, will have left disappointed that their fine account in third place just missed out on this occasion, but with his long term work now starting to bear fruit (this was their best result for over a decade), they will be looking towards a bright future.

It was consistent playing, bringing out the precision warmth and wit required, led by the excellent MD and their fine prize winning euphonium.

Conductor shines

Backworth Colliery is also a band planning for the future it seems after being led by the talented 17 year old Callum Harrison, who'd earlier played soprano with Westoe in the First Section.

The end result was a performance of real merit, borne of style, vigour and confidence to end in 4th.

Look forward

Durham Constabulary will be another band looking forward too after MD David Hazell kept a firm hand on the tempo markings to deliver a well structured account to end in 5th, whilst the youngsters of Swinton & District Excelsior gave a very commendable account despite suffering some opening balance issues.

By the time of the final 'Dance' they had certainly hit their stride and their performance was rounded off with a real sense of fun.

Credit also goes to Knaresborough Silver's MD, Stephen Morland who worked tirelessly to hold everything together throughout their spirited challenge on what was their debut at the contest.

Despite the odd bit of discomfort they too can look forward to making many more successful appearances here.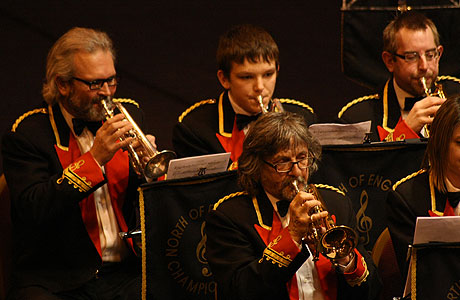 Hairy bikers on a diet? Stanhope claim third spot...

That hat

The entire contest was perhaps brilliantly summed up by the appearance of Trimdon Concert Brass.

According to their website they are a 'friendly, motivated and progressive band', and that was clear to everyone as the MD took to the stage wearing a cowboy hat the type of which is usually seen on hen nights and Gay Pride marches (although we make no further misplaced assumptions!).

They battled through with smiles, nods of appreciation and a fair old dose of good playing too, whilst the MD kept things together with a firm hold on the directional lead.

Who said contesting couldn't be fun?

As for the winners and qualifiers – there is sure to be plenty of that and more before they reach Cheltenham we are sure.

Malcolm Wood