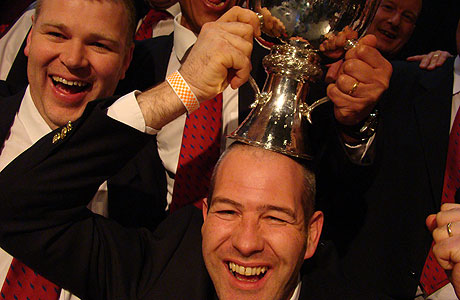 Time for celebration for Woodfalls

Beware: The curse continues.

This time it was Flowers who ended up kicking an unsuspecting black cat on the way to the Riviera Centre on Sunday. The Sun Life malediction remains unbroken. It will be 16 years and counting in 2012.

Not that it will worry Woodfalls – not for another 11 or so months anyway.

Drought

Their win – the first at the contest since 2002, also broke a spell of serendipitous misfortune for their MD, Dr Nicholas Childs, as he claimed his first victory for close on a year to end a well publicised personal drought.

2011 has been a great year so far for Woodfalls – winning at Yeovil and taking the entertainment honours at Butlins, and the confidence borne of those successes was plain to hear as they produced a 'Paganini' of dynamic and tempo variance, full of texture and style.

Same cloth

It wasn't error free - with occasional fragility in some leading lines, but overall it was compact, precise and persuasive.

The interpretation was cut from the same cloth employed by the MD at Bradford with Black Dyke; and whilst that meant no unnecessary risk taking, there was a cultured subtly to the reading that shone through.

They will head to the Grand Shield in a couple of months time as a band to fear on this form.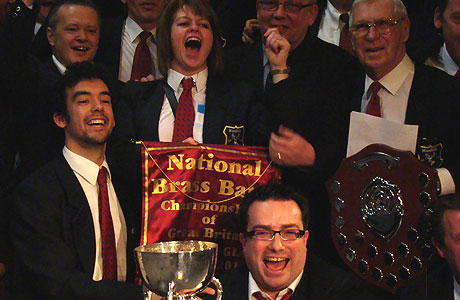 Champions in full voice

Deserved qualification

There was disappointment for Flowers, despite another deserved qualification – although they will also be a band to watch out for if they repeat this polished form at the Winter Gardens.

Paul Holland drew a bold, richly coloured rendition from his band – with solid ensemble playing backed by excellent solo leads – notably Phil Green on his swan song appearance on tuba and Tim Malpas on flugel.

It did get a touch robust in places, but it was very effective, classy playing nonetheless, although the noticeable omission of the clarion soprano call before the final climax and a couple of nasty little blobs may just have cost them the chance of retaining their title.

On another day it may just have got the nod, but it just wasn't to be on this occasion.

Satisfaction

The two qualifiers will take a great deal of satisfaction from their performances, despite the different emotions on show come the announcement of the results.

There was clear-cut evidence of a step up in quality from both of them.

Contrasts

In a contest of contrasts between the leading protagonists, a more lyrical approach to the score by Garry Cutt and Camborne saw them secure the final podium spot – but perhaps miss out on the trip to Kensington by a clear margin in the minds of the adjudicators Derek Broadbent and Kevin Wadsworth.

They had earlier spoken about some performances being 'top drawer', whilst others were 'quite a good standard'.

This was more the latter than the former.

Despite the lovely little ensemble touches and subtle changes of pace and style, some reticent solo playing and unease in ensemble balance was enough to see them miss out.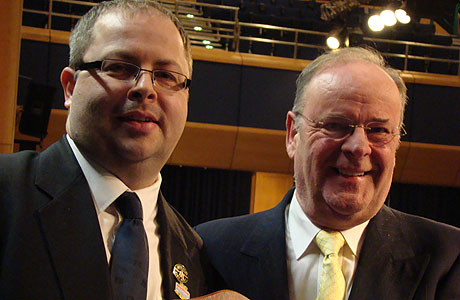 Deserved qualification for Flowers...

Downbeat

Mount Charles meanwhile will have headed home more than a little downbeat after their consistently structured, confidently executed performance under Andy Duncan failed to claim at least a podium finish.

The main question mark may have surrounded the tempo chosen for the plaintive sospirando, with the flugel solo in need of a more purposeful flow, but with secure ensemble and neat solo lines (including a cracking soprano), they could perhaps count themselves a touch unlucky.

As was suspected before a note was blown in 'Paganini' battle, it was this quartet who was a marked level above the rest of the bands on the day.

Testing

The final top six places went to Lydbrook and St Dennis, both of who emerged with credit from a testing experience.

Ian Holmes used all his experience to draw a well crafted account from Lydbrook, with some tasteful individual lines complimenting a generally secure ensemble, whilst Darran Hawken employed an inventive approach to overcome the late loss their flugel player – with an alchemists mix of clothes pegs, dusters and mutes.

Although the imitation was noticeably 'different' from the repiano and 4th man down, it was secure, and added to an intelligent appreciation of tempo and style in the other variations it enabled St Dennis to claim 6th place.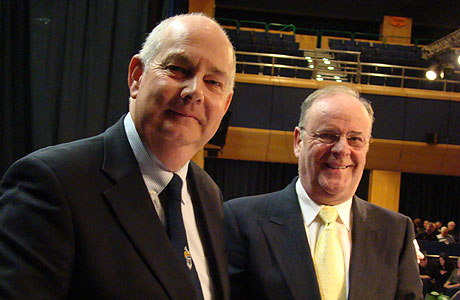 Lyrical podium finish for Camborne

Hard working

Unfortunately, with the exception of hard working accounts from Helston and St Austell, the rest of the 11 band field failed to overcome the challenges posed by Wilby's masterful test piece, producing performances that were of questionable championship status.

Helston opened the contest with an uneven account under John Hitchens, which lacked real ensemble balance, despite some bravura solo lines, whilst St Austell's more considered approach under Gareth Pritchard just fell away in the final quarter despite some fine individual contributions from the soprano and flugel.

Average stuff

Behind them it was very average stuff, despite well directed interpretations by the MDs of Sherborne Town, Portishead and Poole Borough.

The problems of ensemble balance (there was some pretty thoughtless individual playing on show at times) undermined each – from heavy bass troms to screeching sopranos.

Despite the desire to project a sense of style in each of the variations, the lopsided tonality tarnished the execution.

Moments

Each had their moments – but moments they were as the constituent parts never added up to a coherent whole in all three.

That was certainly not the case with Woodfalls and Flowers however – as they delivered impressive performances to claim their places at the Royal Albert Hall in October.

Now comes the task of trying to get to Birmingham in September too.

Iwan Fox