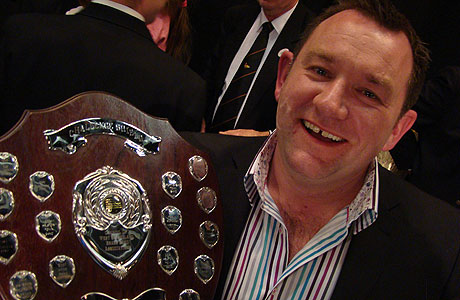 A cheeky winning smile from David Johnson

Appearances can be deceptive.

David Johnson is one of those blokes who gives the impression that he has a bit of a devil may care attitude to the vagaries of the brass band contest.

But you would be mistaken.

Cheeky smile

Behind the cheeky smile and the odd moment of pre performance psychology (he got into trouble once for taking a camera on stage with him) he is one heck of an impressive musician.

That was certainly shown by leading Aldbourne to the First Section title, with a performance of 'Le Carnival Romain' that not only captured the free flowing excitement and lyrical beauty of the writing, but was also delivered with an impressive degree of technical security.

Odd moment or two

It did have the odd moment or two – notably a late Romanic drawback in the forward momentum last bettered by the Italian army in full retreat in the Second Word War, but overall it retained a pulse and energy right to the last brightly rang chord.

It later transpired that it was no idiosyncratic musical whim, but a considered attempt to follow the interpretative lead of Andrew Litton and a performance given by the Royal Philharmonic Orchestra.

High quality

This was a high quality bit of Berlioz, delivered with an appreciation of style as well as substance – something that was noted by the legendary Lyndon Baglin who played 2nd euphonium on the day – 32 years after playing the lead on the same piece in the famous Fairey Enginnering win at the British Open.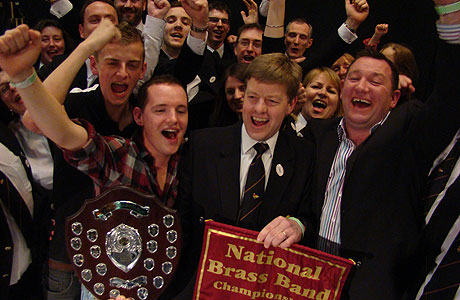 Cheers of the champion

Impressive

Dave Barringer is also an army musician of note, but his aesthetic approach (perhaps due to the fact that he has a few more pips on his tunic) is rather more traditional in appearance – although as equally impressive in action.

Not surprisingly he led the in form Bournemouth Concert to Cheltenham with a performance that although not as brilliantly coloured as their rivals, was equally secure and effective.

A fine opening and lyrical euphonium lead set them up nicely, and with a flowing sense of controlled pace right to the final chord it was no surprise that they claimed a qualification place.

Military twist

There was a further military twist to the outcome with Hyde coming in third, led by another talented army recruit, Ivan Hutchinson.

A well-conceived interpretation was executed with quality individual contributions from soprano and tasteful euphonium.

It just got a touch fruity in places as the ensemble balance got out of kilter with an over prominent trombone section, but by its close it was always going to be a contender for a qualification place.

Whilst most neutrals had these three performances in their list of 'possibles' there were a batch of others, whilst not as technically secure pushed them all the way in what was overall an uneven contest of quality.

Experience

Melvin White used all his experience to draw a well managed account from an oddly set up Michelmersh in 4th – with notable contributions from the euphonium and prominent soprano, whilst Shrewton overcame a terrible start to recover with purpose and poise off the number 1 draw under Michael Dunford (with an excellent euphonium) to come 5th.

Stuart Chappell led a composed Lanner & District into 6th (also with a fine euph and neat percussion) whilst Steve Tubb did the same with Chalford, who rounded the contest off with a performance that was as tightly packed with ensemble security as the close-knit formation they took on stage.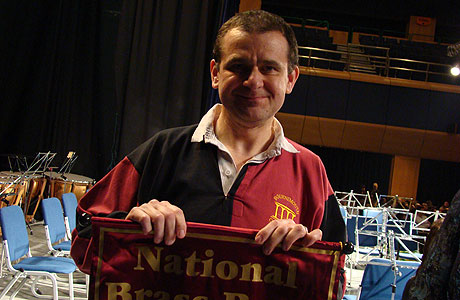 Cheltenham bound for Bournemouth

Vibrancy

The talented youngsters of Camborne B, produced a performance of vibrancy under Alan Pope to end in 8th, whilst the final top 10 places went to Filton Concert's slightly excitable rendition that just lost its focus after a great start, and Verwood Concert Brass.

They took to the stage with no less than six very good percussionists, who were lined up like the catanaccio defence of AC Milan at the back of the band.

Fell away

From then on the standard fell away with STORM Brass never quite recovering from a poor start and Yeovil just about recovering from a horrendous ensemble dislocation two thirds through what was until then a fine rendition under the baton of Nigel Seaman.

Ocean Brass, Otterbourne and Lympstone will reflect on performances that were taken at a pace that submerged the ensemble detail in a miasma of bluff, camouflage and rhythmic inaccuracies.

Ian Brownbill and Kevin Wadsworth have been around long enough to know when things are being hidden by an attempt to skirt over them with speed.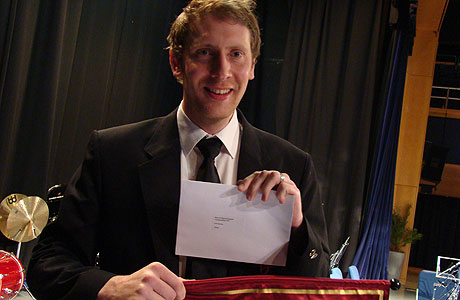 Just missing out for Hyde in third

No problems

No such problems with the winners though –giving the two men in the box just what they were looking for:

It was just a good job they couldn't see the MD's red nail varnish on his little finger.

Appearances can be deceptive, but even for David Johnson that would have got him a few days of square bashing if he had been caught wearing it on parade instead of civvies.

You suspect it won't stop him trying something else come the finals though – especially if it provides such an impressive musical end result.

Iwan Fox