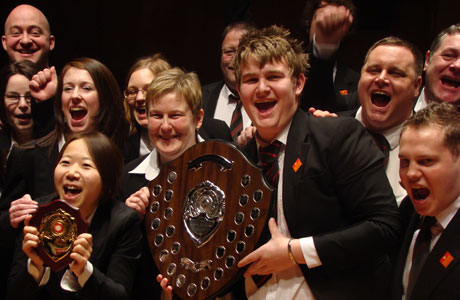 Time to foget last year for 2011 champions Hammonds Saltaire

A year is a long time to wait for wrong to be righted – but it certainly made it taste all the sweeter when the announcement came that finally consigned it to history.

Hammonds Saltaire finally won the First Section Yorkshire Regional title by a country mile.

Verve Clique

The faces of their celebrating players told you that the celebratory beer they were about to consume in the bar was going to taste like Verve Clique champers.

At 7.45am though there must have been a bitter tang in the mouth with the news that they had been drawn number 1: Morgan Griffiths may have wondered if the contesting Gods were making it doubly hard on them with a 9.15am start.

Devil Incarnate

However, by the time the last well-balanced chord of 'Le Carnival Romain' rang out around St George's Hall it would have taken the Devil Incarnate to deny them their place at Cheltenham.

Thankfully, two followers of more ethereal pleasures were to be found in the box in Barry Thompson and David Horsfield.

And with their eight rivals coming nowhere near to matching a performance of impressive technical solidity and musical nuance, there was to be no denying their rightful claim to the title.

Sigh of relief

There was still one heck of a sigh of relief though when Peggy Tomlinson finally announced their name.

David and Barry were perhaps being a little generous to say that two or three of the performances on the day were 'outstanding' and a 'little too much' for just one or two bands.

As has been the case so far up and down the country, the overture is work that is only notionally a true First Section test piece – notionally due to the fact that there are not that many properly graded First Section bands who can play it.

It was the same on Sunday morning.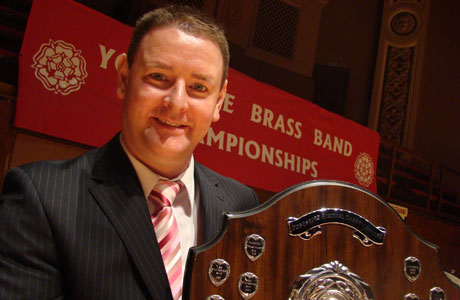 Top man - Hammonds Saltaire MD, Morgan Griffiths

Hammonds Saltaire was 'outstanding' – no doubt about it – a true Championship Section band in waiting.

Yorkshire Imperial Urquhart Travel meanwhile put forward a persuasive argument to be in the same category as they qualified under the baton of Dave Nesbitt, whilst City of Sheffield were more borderline – although circumstances which saw them take to the stage with just 3 top row cornets and basses and a late replacement MD, may have had something to do with it.

The rest were nowhere near.

Into action

The sense that Morgan Griffiths was leaving nothing to chance could be seen before a note was blown – no looking around the hall to seek a friendly smile from a supporter or two – just a quick metronome reminder of the opening tempo, a stern look at his troops and into action.

The result was a no nonsense opening full of sparkle, leading into the euphonium aria played with lyrical warmth and tasteful phrasing by Matthew Allsop, and a well judged salterello that bounced along with a rhythmic pulse that allowed the MD just enough leverage to up the pace to create an extra frisson of excitement.

It was not entirely free of clips, but it was classy, polished and a deserving winner.

Restraint

Behind them came Yorkshire Imperial Urquhart Travel, with a 'Carnival' of restraint and control under Dave Nesbitt that featured excellent leading lines from soprano and euphonium, as well as a razor sharp percussion section.

There was the odd occasion when things didn't knit together, but a well judged final accel brought a performance of merit to a close.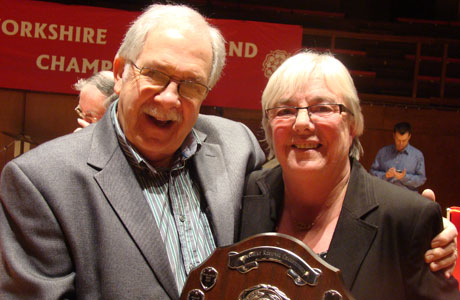 Heading to Cheltenham for Yorkshire Imps

Close

The only other band to come close to delivering a quality rendition was City of Sheffield, although there must have been a question mark in the minds of the judges to why Miles Davison decided on a few idiosyncrasies with his interpretation – including a break before the last few bars of the piece.

Little scrappy moments here and there took the real sheen away, but with a fine flugel and soprano and bold ensemble playing it got what it deserved, although it was perhaps a few points away from a qualification place.

Fell away

From the top three down the standard fell away – appreciably so with the bands at the bottom end of the results table.

Frickley/South Elmsall claimed fourth with a bold rendition that recovered from a terrible start thanks to a fine euphonium and a well paced Allegro that kept up a fruity head of steam right to the close.

Meanwhile, Stannington got off to a flyer, and whilst it was a little raw in places with the ensemble sound, Derek Renshaw kept a sensible rein on the pace to enable a very tired band to maintain focus to the close.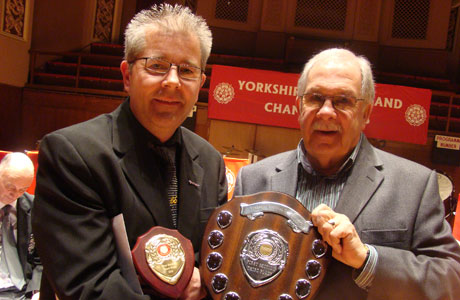 Not this time for City of Sheffield in third

Not at ease

Powerfuel Hatfield never felt at ease from the word go, despite Graham O'Connor's best efforts to keep a lid on the dynamics and the pace.

Numerous unforced errors and sloppy ensemble work undermined their chances.

All three performances held little indication that any of the bands could make the step up in class to the Championship level, whilst the three that came below them held every indication that they should have really been in the Second Section.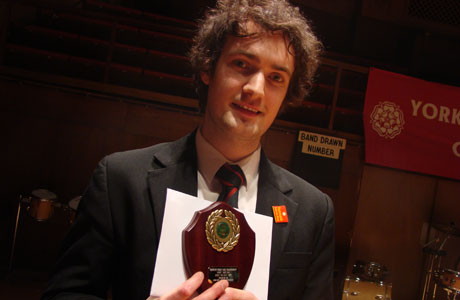 Best Soloist winner Matthew Allsop of Hammonds Saltaire

Not close

Kippax, Meltham & Meltham Mills and Grange Moor all delivered brave performances, directed with understanding from their MDs and containing individual contributions of merit.

However, they never came remotely close to mastering the technical or musical hurdles the 45 year old test piece placed in front of them – not even a rather desperate call of 'Good Luck' from a supporter before Meltham started to play, could help.

The problems in each were deep seated, basic and structural: Poor tuning, lack of balance, technically insecure.

The piece was beyond them as a whole.

Not a shred of doubt

No such problems though for the winners – and a year after they suffered cruelly with the capricious nature of subjective adjudication, they made sure that they left not a single shred of doubt in anyone's mind that they had delivered the best contest winning performance by a country mile - again.

Iwan Fox