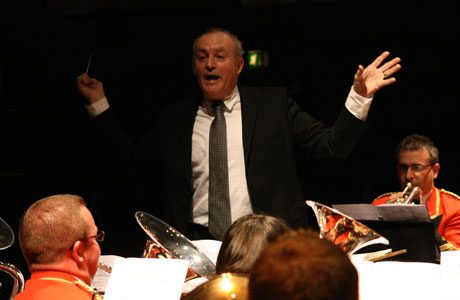 Cultured delight for Allan Withington
Picture: Steve Jack

Winning is a great habit to get into and a terrible one to lose.

Foden's seem to have mainlined into a habit that on the form displayed in winning the North West Regional Championship for a sixth time in a row appears to show no sign of ending any time soon.

Blew away

The self-belief, confidence and sheer determination not to relinquish their grasp on a title they have now won 18 times (and nine times since the Millennium) will have sent a shudder down the spines of their rivals.

They took home the People Challenge Trophy with a display of stunning virtuosity under the baton of Allan Withington.

They blew the opposition away. Six on the trot was never in doubt.

Classy and cultured

The MD was also on the very top of his game, permeating a relaxed authority through his precise baton work: It was cultured, elegant and downright, bloody well impressive.

The result was a winning performance of the very highest class from a band that drew inspiration from every nuance and subtlety he elicited from the Wilby score.

Best till last

Foden's had drawn last of the eleven contenders. Until their appearance their rivals had tried to shut the contest door, but none succeeded.

After they played, it was padlocked like a Guantanamo Bay cell.

There was wonderful solo work from the likes of Richard Poole on soprano, Mr and Mrs Williams on euphonium and flugel and the superb Mark Wilkinson on top man.

A deep sheen of quality permeated the ensemble work, with simplistic warmth of feeling to the 'funeral' and 'sospirando' sections that were nothing short of stunning.

Outwardly it was no wonder the MD tapped his baton on his stand with appreciation at the conclusion. Inside he must have been going boffo.

Usain Fairey

Fairey (Geneva) and Russell Gray will look back on a performance that was rich in excitement and the wow factor, but was tarnished by chips to the overall high quality musical veneer.

Some of the tempos were alarmingly quick, but despite the Usain Bolt tempos there was an underlying rhythmic pulse that never let up.

Perhaps Russell Gray knew he could take an extra risk or two given they were already booked into their Kensington hotel, but the desire to create that extra frisson of excitement cost them the opportunity to showcase their impressive musical subtly.

It was over in just too much of a flash.

In retrospect, the heavyweight contenders comfortably took the top two places in the prize list.

However, the battle for the final qualification spot was almost raw in its intensity with Pemberton and Wingates impressively pushing themselves to the limit.

Return

In the end it was Pemberton Old DW under Mark Bentham who booked their return to London for the second time in three years with a high class performance.

The MD may not be the most aesthetically attractive conductor to watch, but he can't half draw some lovely musicality for his bands – and this was no exception.

The technical aspects were delivered with a no nonsense solidity, whilst the subtle musical variances in pace and dynamic caught the ear from start to finish.

It was quality stuff, initiated by the MD and executed in fine fashion by his players.

They will look forward to the Grand Shield with confidence as well as mixing it again with their rival qualifiers at the English National.

They were snapping at their heels.

BBC winner shines

Wingates will have left disappointed that their well crafted account under Alan Morrison just missed out – but by a very narrow margin.

The MD's intelligent approach to the pace and dynamics of each variation saw them deliver a 'Paganini' of solid virtues and musical taste, which on another day (and certainly at other regions) would have gained qualification with ease.

This was a different sounding band to the one that took to the stage a year ago, with recent BBC Radio 2 Young Brass Soloist winner, Lewis Musson leading the way on euphonium.

They could be a band to watch out for on this form for the rest of the season.

Missed opportunity?

Leyland missed out on an opportunity to return to London, with a performance that just didn't do enough under the baton of Philip Harper to secure its place in the Albert Hall line-up come October.

The early draw may have hindered their chances a little, but despite some wonderful individual contributions (notably from John Doyle on flugel) it never quite added up to a coherent whole.

Fifth place was no disgrace on a high class day, but a major disappointment nonetheless.

Firm and fair

Blackburn & Darwen ended in sixth with a performance that was cut from much the same musical cloth: some tremendous individual lines tarnished by sloppy ensemble work and not enough dynamic variance.

It wasn't too far off the pace however, and with a fine bass end sound and the MDs ability to keep control even when the adrenaline was coursing through the veins, it bodes well for the rest of the 2011 season.

Testing

Behind these, 'Paganini' bared its teeth.

There was a real gap in class between the top six and the rest of the field, and whilst not one of the remaining contenders a came a cropper, none really mastered the technical or musical hurdles of Wilby's work.

Kelly's eye

Co-operative (Crewe) produced an uneven rendition to open the contest under Jef Sparke's that gained its just reward. It was a performance that was there or thereabouts all the way though – tantalisingly at times.

It was a similar scenario for Ashton-under-Lyne under Martyn Evans, as their rendition at times captured the vibrant spirit of the faster sections, but on others, meandered through a lack of colour, pace and dynamic.

Safety first for Poynton

Vernon Building Society Poynton's brave account under Kevin Gibbs was a real baptism of fire, but the MD kept an intelligent lid on the possible excesses and was rewarded with a performance of merit and encouragement.




Milnrow's off day

Co-operative (Milnrow) have enjoyed two top six finishes in the past couple of years, but on this occasion there was no way in which that was going to be repeated with a performance that never sounded at ease almost from the word go.

Anxious and forceful, David Evans (conducting without a score) did his best to hold it all together, but there were too many structural errors for it to really gel.

Plaudits for Silk

Two years ago, Silk Brass were in the Second Section, but having gained consecutive promotions they showed that they were determined not to be beaten by their sternest musical test yet.

They weren't either, thanks to Paul Andrews's intelligent direction, solid individual contributions and a sense of purpose that saw them retain focus and form right to the end.

Double Act

The day though belonged to Foden's, and their desire not to lose that winning habit.

If they do, it will take something special from their rivals to end it all on this form

Malcolm Wood