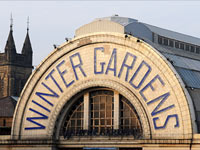 Some things are changing in Blackpool – and some things are not.
The Winter Gardens is undergoing a bright and breezy overhaul - which will come as a pleasant surprise to the hordes of bandsmen and women who have had to put up with a fairly decrepit venue for far too long.
Depth of quality

However, something's remains pleasantly the same - such as the North West's ability to provide an unparalleled depth of quality to its five competitive sections.
Not for the first time the returns from representatives at the Royal Albert Hall and Harrogate were something to be proud of, and whilst it is now five years since a top section band was crowned National Champion, another two lower section outfits returned home with the title added to their name in 2010.
Rude health

And despite the Area contest losing five bands overall there is good news in that there are four new or returnees in the Fourth Section, which remains in rude health with 23 competitors.
The North West remains the powerhouse of UK banding and the facts at the Nationals speak for themselves: 79 top six finishers – including 16 National Champions since 2000.
Sterling job

Peter Bates and his team of volunteers do a sterling job hosting this event on the one day and they deserve the plaudits – as well as a bit of extra help if anyone out there is offering! The whole event runs very smoothly – from the first note in the Third Section at 9.45am to the last in the top section around 7.30pm.
There is still some debate about the decision to carry on with just one judge in the box here – especially in the Fourth Section with its 23 competitors, but it seems to work, despite the odd moan from some quarters in the past.
Thrills and spills

This year the top section should provide plenty of thrills and spills as the rival contenders seek the two London qualification places on offer, but there may be just as much enjoyment to be found in the lower sections with high quality fields to be found in the Pavilion Theatre and Empress Ballroom.
Get there early – and make sure you check you car parking fees – by all accounts prices have gone up.
You should be in for a great day and an odd surprise or two.

Iwan Fox