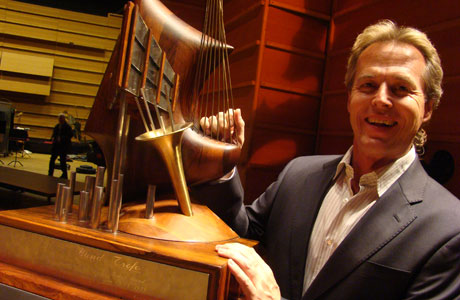 The King of Bergen - The winning MD, for a seventh time here.

Eikanger Bjorsvik may have won the Norwegian National Championships for a record 12th time in Bergen, but the Grieghallen still belongs to David King.
Throughout two days of intense musical brilliance between the heavyweight rivals of Manger, Eikanger and Stavanger it was the Australian who was at the epicentre of the unfolding drama.
Favourite

He has now won this title for unprecedented seventh time – and with each of these bands in turn: No wonder he told 4BR that this iconic venue was his 'favourite' hall in Europe.
The Norwegian Banding Federation should petition the local Bergen Council for him to be awarded the freedom of the city – he has certainly done his bit over the years to put it on the musical map.
Quality not quantity

This was a contest to savour: Quality not quantity is the mantra of the Elite Division, and the overall standard of the section has improved enormously over the last decade or so.
Put these 10 bands in the British Open and on this form Eikanger, Manger and Stavanger would be top six finishers or better – with at least two of the others here, top 10 contenders.
As the MD of Brighouse & Rastrick said himself – the time where just one band used to dominate here is long gone - now there are three truly world class ensembles with the rest improving all the time.
The potential is frightening.
Unfolding drama

The drama of the contest started to unfold on Friday afternoon.
Maurice Hamer's deeply personal, evocative set work, 'The Power of the Soul' stretched the competitors and their conductors with its episodes of tense, emotive writing, dark retrospection and intriguing fleeting references – like images of past memories played out in the mind.
There had been a great deal of discussion about the work before a note had been played – much of it centred around late score changes and its construction, but it proved to be a worthy addition to the contesting repertoire.
Whether it was fleeting, and at times disturbing snippets, of dislocated ciphers from what sounded like the Godfather films, Radio 4's 'Sailing By' and even Mahler's 'Resurrection' Symphony, was up to the individual to decide – but it made for enjoyable listening nonetheless.
It deserves to be played more than just the once.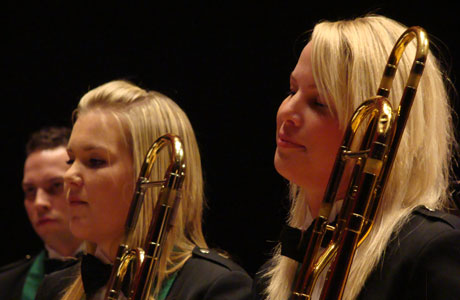 Manger magic - the troms site back and relax...

Greatest impression

There was plenty for the three judges, Ian Porthouse, Cathrine Winnes Trevino and Karl Ole Midtbo to ponder over at the end of the first leg on Friday night – although Ian later revealed to 4BR that there was no doubt in their mind about the performance that had made the greatest impression on their collective consciousness.
Allan Withington inspired Stavanger to its best performance here since they last won the title in 2007.
Full of emotion, occasionally wayward, it teetered on the brink at times, but by heck it was impressive, helped by the MDs appreciation of just where the razor's edge of the abyss to real crepuscular darkness lay.
On paper they took what looked like a commanding two points lead into the own choice discipline less than 24 hours later. It wasn't enough.
Behind them came two juggernauts.
Top drawer

Eikanger's brilliant performance was right out of the top drawer – but on occasions individual chips in a more brittle veneer saw it beaten.

The MD drew deep musicality from the score, but he must have known as he left the stage that they had left the door open – and so it proved.
Manger meanwhile delved deep into the darkest recesses of the mind with Peter Sebastian Szilvay's interpretation.
It was 'Bible black' as Dylan Thomas once said – and a very flamboyant black at that. Whilst it did have its moments of unease, you were left drained at its close with an appropriate feeling of emotional burn out.
These three performances came from bands of rare technical and musical quality – all directed with flair, imagination and downright deep-seated musicality at their core.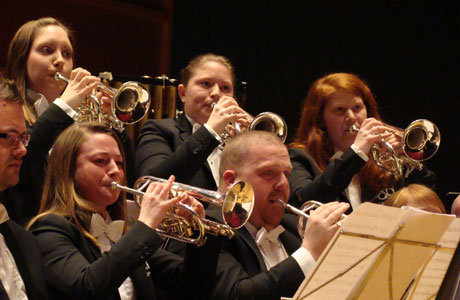 All guns blazing from Eikanger...

Private battle

Much as the rest of the field performed well – and in some cases, very well, they must have known that they were engaged in a private battle between themselves.
However, there was still much to enjoy – with Ila's intriguing take full of idiosyncratic touches from the impressive Thomas Rimul revealing a lighter timbre to the emotive core.
Krohnengen's balanced account with just too many hints of fragility ended in fifth, whilst Sola's thrill a minute edgy rendition gained sixth.
Sandefjord perhaps excitedly sunk too far into the darkness with wayward volume control to have claimed a top six finish, whilst Molde never quite managed to continue with the confidence shown after a superb opening to end in eighth.
Olso could perhaps count themselves a little unlucky after a composed premiere that captured the darker moods with tasteful restraint, only came ninth, whilst Oslofjord could have few complaints in coming tenth after a rather fragile performance that had its moments, but nothing more concrete.
Mixed opinions

A quiet late night drink in one of the many city centre bars revealed mixed opinions both about the test piece and the personal preferences of the listeners, but there was little doubt that most people agreed that it a fight for the title between Manger, Eikanger and Stavanger.
Saturday's contest bubbled just a degree or two below boiling point from the word go.
Simmering

It started simmering as soon as Ila delivered a fine 'Seid' in its original format that was full of mature musicality and monochrome contrasts.
Russell Gray then drew a solid, purposeful performance of 'Cambridge Variations' from Molde that cleverly showcased strengths and camouflaged weaknesses, whilst Oslo's high class rendition of 'From Ancient Times' was a performance of considerable stature to end seventh.
Krohnengen's rendition of their own MD's composition 'Vocalise, Fanfare and Rondo' was an ever so surreal trip of 250 years of operatic highlights as seen through a very personal, slightly skewiff kaleidoscope.
Duck billed platypus

Whether you will hear it again is debatable, but it didn't half get you thinking some odd thoughts. That it came third on the day was a bit of a puzzle – but then again it was like trying to describe to a blind man wearing boxing gloves that he had a duck billed platypus in his hands.
Just before the break Sandefjord gave a performance of such explosive power even Alfred Nobel would have put cotton wool in his ears.

Their aggressive approach to 'On the Shoulders of Giants' cried out for dynamic restraint. That it came where it did was a self-inflicted wound.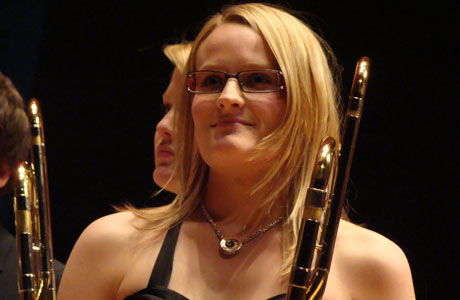 All smiles from Oslo...

Boiling point

With ears syringed the contest reached its boiling point, with Stavanger's gloriously emotive, 'A Night to Sing'.
Strangely it took the audience a while to show its proper appreciation of a masterful reading of the complex score from Allan Withington, but when they did they made it known that they had been thoroughly impressed.
Ballistic

Now the temperature gauge went ballistic and amid a pressure cooker atmosphere in the packed hall, Manger delivered 20 minutes of stunning virtuosity with Torstein Aagaard-Nilsen's 'Old Licks Bluesed Up', played with breathtaking inventiveness.
At times your jaw dropped to the floor - none more so when their phenomenal bass trombonist Camilla Soderstrom Tveit led a second movement of such rich sensuality that it sounded as if you were sat in a 1920's Harlem strip joint.
It was playing of sublime musicality and a thunderous close confirmed that we had heard playing of the rarest brilliance.
But still it wasn't enough.
Topped the lot

With the audience in a near state of apoplectic shock, Eikanger took to the stage and topped the whole damn lot.
Their 'Spiriti' at the European Championships in Linz last year was a memorable piece of contest playing, but this was something else.
One of the judges simply called it 'definitive', another sat back and penned, 'Just thanks!' The third managed four words – 'Fantastic performance!!! Thank You.'
Eikanger has produced many a superlative performance at this iconic venue since 1979, but you would be hard pressed to have heard anything better than this.

As the applause rang around the auditorium in ever increasing waves of intensity for a full five minutes after the last note rang out, the title was theirs for a record 12th time.
Even David King looked amazed at what he had just helped deliver.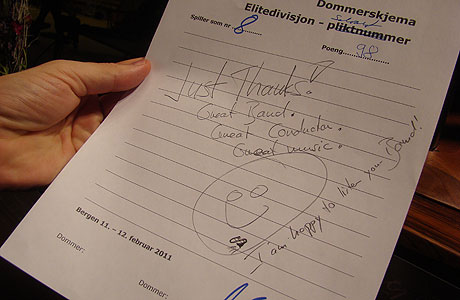 Just Thanks!

Ebbed in excellence

Thereafter the contest ebbed to a conclusion with a rather innocuous performance of 'Montage' from Sola Brass and a very fine 'Titan's Progress' from Oslofjord.
These though were mere ripples of excellence resonating from that immense epicentre of Eikanger brilliance.

Even Black Dyke's fine Gala Concert efforts that followed seemed curiously underwhelming in comparison to what had gone before.
Scream

The announcement of the final result built in intensity of expectation – but when it came there came a primal scream of delight from Eikanger's representative and a flood of appreciation from the hall.
A 12th title and another opportunity to pits their wits against Europe's best in Rotterdam in 2012.
Eikanger reigns again in Norway.
David King reigns supreme.
Iwan Fox