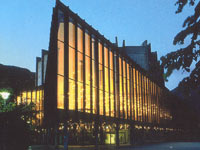 Second Division

Adjudicators: Armin Bachmann & Bjorn Sagstad
Friday 11th February (10.30)

---
Victory could well go to just about anyone in this section, such is the diverse nature of the competing bands and the choices of music.
With Orskog, Gjallarhorn and Oster all promoted it may have looked like a straightforward battle between the established bands such as Brottum who came 3rd last year and Haukas who came fourth – on paper that is.
Real jokers

But – just look who was thrown into the mix due to their promotion. Here are some real jokers in the musical pack - Bjorsvik Brass, Manger Old Stars, Lindas and Borge – the bands that filled the top four places in the highly competitive Third Division last year.
This is a contest not to miss for sure and Armin Bachmann and Bjorn Sagstad will have plenty to ponder over with selections such as 'Blitz', 'Spectrum' and 'The Year of the Dragon' just to start the contest off!
Ambition is one thing at this level – but some of these choices would test even the Elite bands.

Domestic battle

All this by the way and the contest provides us with the first ever husband and wife battle for a National title in Norwegian banding history - Mr & Mrs Gray slug it out with Bjorsvik and Sagvag in one heck of a domestic battle.

Someone may be sleeping in the spare bedroom on Saturday night...
One to listen for

The one band everyone will want to listen out for is Bjorsvik Brass conducted by Russell Gray.

They have won the Fourth and Third Division titles in consecutive years thanks to their serious 'fun loving' approach to music making (a shown when they won the First Division SIDDIS title).
How far the former Eikanger stars can go on 'The Essence of Time' we will wait and see – its harder than many may recall, but musical class remains in place for many years even after hairlines have receded and waistlines have expanded.
The same applies to Manger Old Stars, conducted by Johannes Mangersnes. They have also been enjoying themselves of late and pushed Bjorsvik all the way to finishing line last year, although they didn't shine too brightly at SIDDIS.

They have opted for 'Excalibur' by Jan Van der Roost as they seek to get one over their old rivals.
Fancy their chances

Two form bands who will certainly fancy their chances will be Brottum who came 3rd last year and battled in strong company in the First Division at SIDDIS, and Haukas Musikklag, who were 4th and also came joint 4th at SIDDIS in the Second Division.

They have opted for John Golland's 'Sounds' and Philip Sparke's 'Tallis Variations' respectively as they both seek the Second Division title for the third time in their history.
Strong challenge

There is sure to be a strong challenge posed by two bands that also enjoyed competitive returns at SIDDIS in the First Division – Askoy Brass and Radoy Brass, who came 3rd and 4th respectively.
Both are led by experienced 'old heads' in Reid Gilje and Gareth Pritchard – and both have tasted success at these championships before too.

Reid and Askoy opt for the descriptive inspiration of Bram Tovey's 'Coventry Variations', whilst Gareth and Radoy go with Philip Sparke's equally kaleidoscopic 'The Year of the Dragon'.
Outside bets

It would be hard to think that a winner may come from outside these six bands, but the likes of Flesland with Patrick Randefalk at the helm, Hornorkesteret Stavanger under Mats Urdal Aasen and Sagvag Musikklag directed by Marieka Gray could well be good outside bets for a top six finish or better.
Flesland go with Darrol Barry's 'Rise of the Phoenix', Stavanger opt for 'A London Overture' by Philip Sparke and Sagvag will try their luck with Martin Ellerby's 'Nautalis'.

Three very diverse choices, but a trio that could bring success if played well.
Meanwhile, Tromso will be looking to make a quick return to the First Division with their ambitious choice of 'Blitz' following their relegation, whilst Lindas opt for the Gilbert Vinter classic 'Specturm', which was used as the Elite Division set work here 30 years ago.
Borge, who were promoted on the back of coming 4th in the Third Division last year have opted for something a little less aggressive in intent with Leslie Condon's 'The Present Age', whilst Stangaland come a little closer to a historic pagan home with 'The Saga of Haakon the Good'.
---
As for a winner?
Blimey! Who would want to be a judge for this one eh?
As we said at the outset this could be a contest that could have any number of potential victors.
Still, it would take a brave man to bet against the Bjorsvik pensioners and we think there is still life in the old players yet for them to take yet another title.
Behind them though it could be a close run battle with Askoy and Radoy looking best placed for a podium finish, with Haukas and Brottum snapping at their heels. Manger Old Star may just have enough left in the tank to post a top six finish with Sagvag as our dark horse.
4BR Prediction:

1. Bjorsvik Brass
2. Askoy Brass
3. Radoy Brass
4. Haukas Musikklag
5. Brottum Brass
6. Manger Old Stars
Dark Horse: Sagvag Musikklag
---
Askøy Brass Band
Conductor: Reid Gilje
2011 Draw: 11

Own Choice Selection: Coventry Variations (Bramwell Tovey)
National Record:
2010: 10th in First Division (Ynge Nikolaisen) (rel)
2009: 3rd (Egil Magnussen)
2008: 9th (Egil Magnussen)
2007: =4th (Egil Magnussen)
2006: 6th (Helge Haukas)
2005: 3rd (Egil Magnussen)
2004: 3rd (Tom Brevik)
2003: 3rd
2002: 2nd in Second Division (prom)
2001: 6th
2000: 11th
1999: 3rd
1998: 7th
1997: 7th
1996: 2nd
1995: 7th
1994: 10th
Last Year: 10th in First Division (relegated)
Own Choice Selection:
2010: Blitz
2009: English Heritage
2008: Chivalry
2007: Partita
2006: Journey into Freedom
2005: Tallis Variations
---
Bjorsvik Brass
Conductor: Russell Gray
2011 Draw: 6

Own Choice Selection: The Essence of Time (Peter Graham)
National Record:
2010: Winners of Third Division (Russell Gray) (prom)
2009: Winners of Fourth Division (Russell Gray) (prom)
Overall Record:
Winners of Third Division 2010
Winners of Fourth Division 2009
Last year: Winners of Third Division (Russell Gray) (prom)
Own Choice Selections:
2010: Partita
2009: Journey into Freedom
---
Borge Brass Band
Conductor: Oddvar Nostdal
2011 Draw: 12

Own Choice Selection: The Present Age (Leslie Condon)
National Record:
2010: 4th in Third Division (Oddvar Nostdal) (prom)
2009: 8th (Oddvar Nostdal)
2008: =8th (Torstein Aagaard-Nilsen)
2007: =7th (Torstein Aagaard-Nilsen)
2006: 13th in Second Division (Torstein Aagaard-Nilsen) (rel)
2005: Winners of Third Division (Torstein Aagaard-Nilsen)
2004: =8th (Torstein Aagaard-Nilsen)
Overall Record:
Winners of Third Division 2005
Last year: 4th in Third Division (promoted)
Own Choice Selections:
2010: A Salford Sinfonietta
2009: Variations on Maccabeus
2008: Laudate Dominum
2007: Connotations
2006: Partita – St. Theodulph
2005: The Present Age
---
Brøttum Musikkforening
Conductor: Michael Antrobus
2011 Draw: 9

Own Choice Selection: Sounds (John Golland)
National Record:
2010: 3rd (Michael Antrobus)
2009: 4th (Erling Myserth)
2008: =5th (Erling Myserth)
2007: 4th (Thorbjørn Lunde)
2006: 10th in First Division (Thorbjørn Lunde) (rel)
2005: 6th (Thorbjørn Lunde)
2004: 9th (Thorbjørn Lunde)
2003: Winners of Second Division (prom)
2002: 8th in First Division
2001: 3rd
2000: 9th in First Division
Overall Record:
Winners of Second Division 1999, 2003
Last Year: 3rd
Own Choice Selection:
2010: Five Blooms in a Welsh Garden
2009: Tallis Variations
2008: Trittico for Brass Band
2007: Diversions on a Bass Theme
2006: Chivalry
2005: Montage
---
Flesland Musikklag
Conductor: Patrick Randefalk
2011 Draw: 8

Own Choice Selection: Rise of the Phoenix (Darrol Barry)
National Record:
2010: 6th (Patrick Randefalk)
2009: 5th (Patrick Randefalk)
2008: 2nd in Third Division (Svein Henrik Giske) (prom)
2007: 12th in Second Division (Svein Henrik Giske) (rel)
2006: 10th (Bengt Florvag)
2005: 7th (Yngve Nicolaisen)
2004: 9th (Egil Magnussen)
2003: 11th
2002: 5th
2001: 7th
2000: Joint 9th
Last Year: 6th
Own Choice Selection:
2010: Norwegian Landscapes
2009: Endeavour
2008: Sinfonietta –The Wayfarer
2007: Dampsanger
2006: The Land of the Long White Cloud
2005: Viking Saga Opus 3
---
Haukås Musikklag
Conductor: Thor-Arne Pedersen
2011 Draw: 10

Own Choice Selection: Tallis Variations (Philip Sparke)
National Record:
2010: 4th (Thor-Arne Pedersen)
2009: =6th (Thor-Arne Pedersen)
2008: 12th in First Division (Thor-Arne Pedersen) (rel)
2007: =8th (Thor-Arne Pedersen)
2006: 7th (Thor–Arne Pedersen)
2005: Winners of Second Division (Thor–Arne Pedersen) (prom)
2004: Winners of Third Division (Thor–Arne Pedersen) (prom)
2003: 11th in Second Division (rel)
2002: 4th
2001: 13th
2000: =9th
Last Year: 4th
Overall Record:
Second Division winners 1993, 2005
Third Division winners 2004
Own Choice Selection:
2010: Trittico for Brass Band
2009: Swedish Festival Music
2008: Journey into Freedom
2007: Dances and Arias
2006: Tallis Variations
2005: Connotataions
---
Hornorkesteret Stavanger
Conductor: Mats Urdal Aasen
2011 Draw: 7

Own Choice Selection: A London Overture (Philip Sparke)
National Record:
2010: 9th (Clive Zwanswiniski)
2009: 7th (Clive Zwanswiniski)
2008: =5th (Clive Zwanswiniski)
2007: 5th (Geir Karlson)
2006: 4th (Geir Karlson)
2005: 8th (Geir Karlson)
2004: 11th in First Division (Russell Gray) (rel)
2003: 8th
2002: 2nd in Second Division (prom)
2001: 4th
2000: 5th
Last Year: 9th
Own Choice Selections:
2010: Purcell Variations
2009: Land of the Long White Cloud
2008: Firestorm
2007: Chivalry
2006: Variations on a Ninth
2005: The King of Elflands Daughter
---
Lindås Brass (Austrheim- Lindås Musikklag)
Conductor: Helge Haukas
2011 Draw: 2

Own Choice Selection: Spectrum (Gilbert Vinter)
National Record:
2010: 3rd in Third Division (Helge Haukas) (prom)
2009: 9th (Hogne Holmås)
2008: 5th (Hogne Holmås)
2007: 4th (Hogne Holmås)
2006: 9th (Pål Magne Austnes)
2005: 5th (Age Torsvik)
2004: 7th (Age Torsvik)
2003: 9th in Second Division (rel)
2002: 8th
2001: 11th
2000: 12th
Last Year: 3rd in Third Section (promoted)
Own Choice Selections:
2010: Trittico for Brass Band
2009: Tallis Variations
2008: Kaleidoscope
2007: Royal Parks
2006: Rhapsody in Brass
2005: Firestorm
---
Manger Old Stars
Conductor: Johannes Mangersnes
2011 Draw: 4

Own Choice Selection: Excalibur (Jan Van der Roost)
National Record:
2010: 2nd in Third Division (Johannes Mangersnes) (prom)
2009: 6th (Johannes Mangersnes)
2008: 3rd in Fourth Division (Johannes Mangersnes) (prom)
2007: DNC
2006: DNC
2005: 2nd in Fourth Division

Last Year: 2nd in Third Division (promoted)
Own Choice Selections:
2010: Salute to Youth
2009: Triumphant Rhapsody
2008: The Lord is King
---
Radøy Brass
Conductor: Gareth Pritchard
2011 Draw: 3

Own Choice Selection: The Year of the Dragon (Philip Sparke)
National Record:
2010: 7th (Tormod Flaten)
2009: 12th in 1st Division (Tormod Flaten) (rel)
2008: =5th (Tormod Flaten)
2007: 6th (Gareth Pritchard)
2006: 8th (Gareth Pritchard)
2005: 8th (Gareth Pritchard)
2004: 2nd (Gareth Pritchard)
2003: 5th
2002: 9th
2001: 5th
2000: 5th
1999: 5th
Overall Record:
First Division winners 1994, 1997
Second Division winners 1988, 1990, 1991
Last Year: 7th
Own Choice Selection:
2010: Coventry Variations
2009: Dances & Alleluias
2008: Diversions on a BassTheme
2007: Montage
2006: Odyssey
2005: London Overture
---
Sagvåg Musikklag
Conductor: Marieka Gray
2011 Draw: 13

Own Choice Selection: Nautalis (Martin Ellerby)
National Record:
2010: 10th (Havard Kroka)
2009: 10th (Havard Kroka)
2008: 7th (Havard Kroka)
2007: 10th (Havard Kroka)
2006: 7th (Havard Kroka)
2005: 10th (Michael Fowles)
2004: 8th (Michael Fowles)
2003: 9th in First Division (rel)
2002: 5th
2001: 9th
2000: 8th
1999: 8th
Overall Record:
Winners of First Division 1995
Last Year: 10th
Own Choice Selections:
2010: The Saga of Haakon the Good
2009: Dances & Arias
2008: Tallis Variations
2007: A London Overture
2006: Blitz
2005: Music for the Common Man
---
Stangaland Brass
Conductor: Jacob Vilhelm Larsen
2011 Draw: 5

Own Choice Selection: The Saga of Haakon the Good (Philip Sparke)
National Record:
2010: 8th (Reid Gilje)
2009: =8th (Reid Gilje)
2008: 4th (Reid Gilje)
2007: 6th (Yngve Nikolaisen)
2006: 9th (Eirik Gjerdevik)
2005: 6th (Morten E. Hansen)
2004: 10th (Morten E. Hansen)
2003: 12th
2002: 4th
2001: 10th
2000: Joint 5th
Last Year: 8th
Own Choice Selections:
2010: Quintessence
2009: Rhapsody in Brass
2008: The Forest of Dean
2007: Variations on a Ninth
2006: Trittico
2005: Tallis Variations
---
Tromsø Brass
Conductor: Tor Kristian Innbjor
2011 Draw: 1

Own Choice Selection: Blitz (Derek Bourgeois)
National Record:
2010: 11th in First Division (Tor Kristian Innbjor) (rel)
2009: Winners of 3rd Division (Tor Kristian Innbjor) (double promoted)
2008: 12th (Robert Jensen)
2007: 11th in Second Division (Robert Jensen) (rel)
2006: 11th in First Section (Robert Jensen) (rel)
2005: 2nd in Second Division (Robert Jensen) (prom)
2004: 4th (Robert Jensen)
2003: 7th
2002: 8th
2001: N/K
2000: 3rd
Overall Record:
Winners of Second Division 1998
Winners of Third Division 1990, 2009
Last Year: 11th in First Division (relegated)
Own Choice Selections:
2010: Paganini Variations
2009: Myte
2008: Journey into Freedom
2007: Dances and Arias
2006: Babylonian Tablets
2005: Blitz
---
2010 Result:
Adjudicator(s): Arnfinn Dalhaug, Gavin David Lee

Test piece: Own Choice

1. Ørskog Brass (Karl Ole Midtbø) - 96
2. Musikkorpset Gjallarhorn (Espen Westbye) - 95
3. Brøttum Brass (Michael Antrobus) - 94
4. Haukås Musikklag (Thor-Arne Pedersen) - 93
5. Oster Brass (Torstein Aagaard-Nilsen) - 92
6. Flesland Musikklag (Patrik Randefalk) - 91
7. Radøy Brass (Tormod Flaten) - 90
8. Stangaland Brass (Reid Gilje) - 89
9. Hornorkesteret Stavanger (Clive Zwanswiniski) - 88
10. Sagvåg Musikklag (Håvard Kroka) - 87
11. Frei Hornmusikk (Kim Lofthouse) - 86
12. Rong Brass (Stian E. Svendsen) - 85
13. Follesø Musikklag (Reid Gilje) - 84