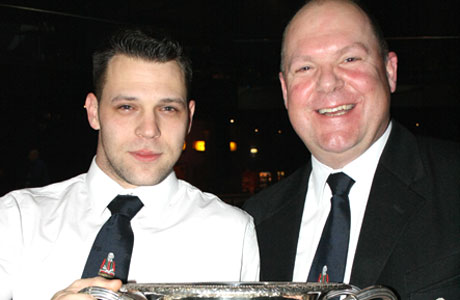 Winning smiles from two delighted Flowers players

If it was satisfying variety you sought at the Butlins Mineworkers Championships last weekend then it was to be found in the Yacht Club restaurant: Everything and more - from Tex-Mex to Indian, roast beef and Yorkshire pudding to Chinese noodles and Danish pastries.
Because try as they might over the two days in the Centre Stage venue, the 10 competing bands served up a pretty mediocre smorgasbord of test piece and entertainment courses in the battle for the Warwick Vase and the £7,000 top prize.
Stodgy

A combination of a stodgy set work and a breakfast variety pack entertainment mentality saw the championship section become a maelstrom of indigestible contesting variables.
So much so that by its conclusion it was almost impossible to clearly explain why Flowers won the title with a three point winning margin over reigning champion Desford.
Not that they didn't deserve it.
Hard work

Over the two days they were the one band to deliver an authentically commanding performance of Darrol Barry's 'Requiems', that gave them enough of a protective cushion to fall back on with an entertainment set that only just had the legs to carry them to victory.
Even then, they made hard work of it.
Relying on a programme that spruced up elements of their lacklustre Brass in Concert appearance; adding a new march, dropping the risible slapstick humour, and picking a carbon dated opener was always going to be a bit of a risky business.
In the end they held on – although less comfortably than the bare facts of the aggregate final result told.
There was a mixture of slightly puzzled relief on the faces of the celebrating players on Sunday night, as if still a little unsure quite how they did it.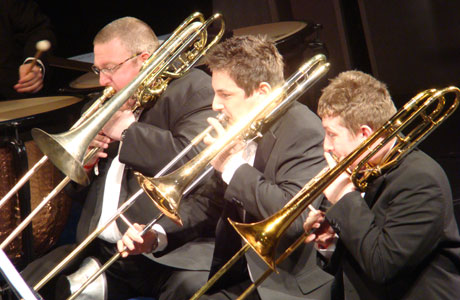 Trombone trio from the winners Flowers

Entertainment decider

The contest was always going to be decided on the entertainment fare served up on the Sunday to a packed auditorium.
Saturday's test piece discipline had been a disappointment – due to the limitations of a strangely unmemorable set work from Darrol Barry.
Listed as comprising five movement, when in fact it had six, it never caught the imagination of an audience who soon took the option of finding more exciting repetitive fare elsewhere on the Skegness resort.
It was fairly obvious the bands or the conductors didn't enjoy it either.
Heavy going

A sextet of pen portraits amounted to 20 minutes plus (close to 22 with some renditions) of heavy going fodder – not helped by some tempo markings that were seemingly mistaken in ambition.
The final 'Dies Irae' was never going to be played at 144 beats and still retain the impetus demanded of the Slancio stylistic marking, whilst the triplets in the 'Gloria' were indecipherable at the marked 152.
Elsewhere the structure of the opening fanfares never elicited the required brilliance, whilst few bands could capture the agitated state in the following 'De Prefundis'. The overlong lyrical interludes seemed to closely cut from the same musical cloth to really show a subtle difference between the sad and sweet manner required.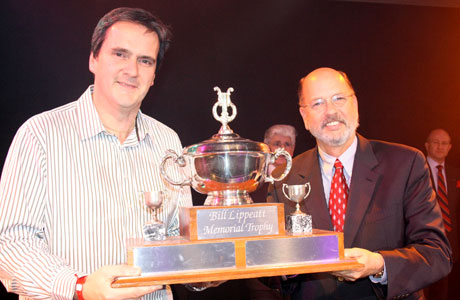 Top Mining Band - Desford Colliery

Little scope

As hard as they tried, the MDs found themselves up against a piece that never gave scope to flourish (something later remarked upon by David Read) despite a number of fine individual efforts in the demanding cadenza work.
For David and Paul Cosh in the box, it made for a tricky balancing act between the bands who could produce an extra sheen of quality to their playing (which Flowers certainly did, although not consistently) and those that robustly battled their way through – although it was difficult to tell the difference at times.
A long day's contesting ended with Flowers occasionally inspired rendition leading from Desford's broad brushed stroked account. Redbridge's subtler but slightly scruffy rendition was third with Marsden's workmanlike effort in fourth.
The rest, in increasing degrees of mediocrity were nowhere.
Personal taste

Sunday brought variety all right – just like the self serve Yacht Club restaurant – although with choices made by the bands that were seemingly designed to be a very personal matter of taste.
It was hard to think of just about any other occasion when you couldn't be sure of just what was going to hit the mark with the judges – or yourself for that matter.
David Read has been an eloquent advocate for musical innovation at entertainment contests in recent years. However, the actual evidence of how bands are approaching the institutional change required after 40 years of prescription has made for intriguing interpretations in the aural and visual experience they provide.
Subtle

Virtuosi GUS under John Berryman took the honours with a programme based on solid brass band playing virtues allied to a progressive conservatism of choice – the opening razzmatazz balanced by more subtle changes of style and genre.
Woodfalls on the other hand opted for a Scandinavian theme from start to finish to end in second place. A persuasive radicalism permeated their set, topped and tailed by intriguing darkly edged Torstein Aagaard-Nilsen contributions.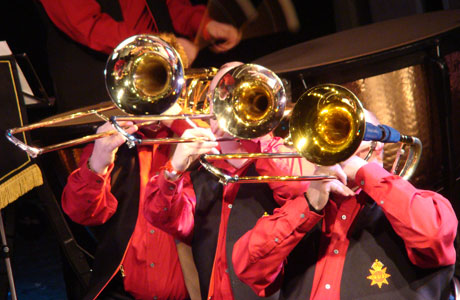 Pointing in the right direction - Entertainment winners Virtuosi GUS

Safety first

Flowers option got what it deserved (and perhaps what was expected) for its inherent safety first endeavours, whilst the real surprise was EYMS in fourth, with a programme that had more borrowed second hand items than could be found at the local Skegness Salvation Army Charity shop.
However, Alan Morrison's take on what would be visually effective, and musically persuasive worked a treat – helped by a wonderful bit of cornet playing by Neil Day, who took the 'Best Soloist' Award for his lyrical rendition of the Welsh air, 'Y Bore Glas'.
Each time a band played though, each time you were left scratching your head in puzzlement.
Nagging seed

The variety was impressive, but the quality at times less so – although for Redbridge it may well have been the other way around.
Their programme was familiar to those who have heard them in entertainment mode over the last couple of years, but as usual, it was slickly presented. The more obvious musical weaknesses were apparent, but so too with the real strengths.
It was however a performance that somehow kept a nagging seed of doubt in your mind to just how good it was – and the longer the contest progressed, those seeds grew and grew.
Sixth place seemed harsh, but when nothing about the day seemed to have a sense of consistency, you could just about see why it came where it did. Only just though.
Evaporated

Desford's chances of victory evaporated with a programme that was in need of extra rehearsal and inventiveness (the two being linked one suspected), whilst Thoresby's and Marsden's workmanlike efforts were too prescribed to have really come any higher than they did on the day.
Zone One opted for the cerebral rather than the overtly comical, but just couldn't add an extra veneer of quality to a cleverly chosen programme, whilst Blackburn & Darwen played to their strengths, but in doing so lost the opportunity to try something really inventive apart from the occasional forays into fancy dress.
As the audience filed out to grab their own chosen variety of culinary favourites before the announcement of the results, the destination of the Warwick Vase and the £7,000 first prize was anything but clear cut.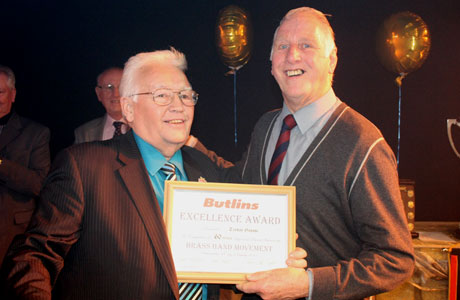 A reward for a true great - Trevor Groom

Radical

Quality playing from GUS took the entertainment honours from Woodfalls radical inventiveness, Flowers safety net approach and EYMS's well-aimed joie de vivre.
Desford's inherent ensemble qualities gained fifth, whilst Redbridge's familiar brand of entertainment (however innovative) came sixth.
It had been one heck of a puzzling, opinion shifting day.
And it was all neatly summed up at the Yacht Club restaurant a little later, where some brave soul opted for chicken tikka, Yorkshire pudding and chips soon after Flowers were declared the 2011 champion.
Variety and variables – Butlins had once again given us something to puzzle the culinary as well as musical taste buds.
Iwan Fox