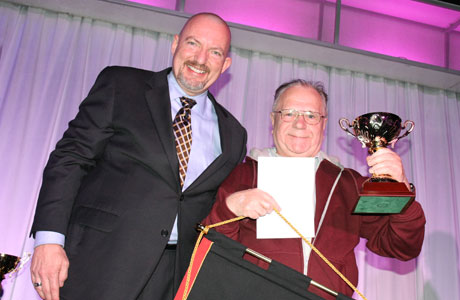 Pemberton Old - and new, as the North West band takes its first Butlins title

The test piece 'Hungerford Town' was light contest music of the best kind. Tuneful and neatly scored it gave the bands in the Third Section every chance to demonstrate their qualities but not without first working hard to overcome its deceptive challenges.
The introductory bars of the opening 'Black Prince' movement were a case in point – a real test of tuning and complimentary section playing.

The bands that overcame that little nasty hurdle soon gained confidence – those who didn't found that they were playing catch up almost from the word go.
Confident

None though were more confident than the eventual winners, Pemberton Old DW (B) under the excellent direction of Pete Ashley.
With a performance that was wonderfully communicative and had a lovely rhythmic feel throughout they maintained a neat subtlety to their playing in each of the four movements which was complimented with a bright spontaneity that captured the moods in the music extremely well.
Classy

As winners go, it was a classy one all right. The Areas can't come soon enough on this form.
The same would apply to Hucknall & Linby Brass conducted by Paul Whyley in finishing runners-up.
They brought a real stamp of authority to the music that had few rivals on the day. With a lot of first rate highly colourful playing they also displayed a full-blooded temperament and fire but still managed to engage the ear with some touches of wistful rubato. It was enjoyable, descriptive playing.
Impressive

Marieka Gray conducted Eccles Borough into third place with an impressive performance that contained nicely judged, expressive musicality – especially in the tender 'St Lawrence Church' third movement, which was delivered with restrained clerical nobility.

Overall, on both artistic and technical grounds, it was a rewarding interpretation, well worth its podium finish.
City of Bradford Brass led by Lee Skipsy may be a little disappointed that their fine account only gained fourth place, but with such a high standard set by the top three, there was plenty to be pleased about for this revitalised band.
Delivering nicely balanced sounds with ample tone, there was some engaging playing without being overcooked. The soprano cornet embellishments were a joy with a crispness in style that was hardly bettered in any section all weekend.

You lucky man: Pemberton's band rep gets a smacker for his troubles!

Encouraging merit

The bands outside the prizes all delivered performances of encouraging merit, but as is invariably the case at this level, it was a question basic consistency that sorted the best from the rest.
Rivington & Adlington (Malcolm Wilson) whilst producing a fine depth in tone just crackled to open and took time to really hit their best form in coming fifth, whilst Whitworth Vale & Healey (John Binns) played stylishly and crisply if not always accurately in coming sixth.
Both will take a great deal from their performances though – they were only a few yards off the prize winning pace – and with time before the Areas, they both sound in very decent shape.

Security

Brighton & Hove City Brass under Matthew Hackett was the first of many bands that just couldn't maintain their level of technical security through each of the four movements to come seventh, whilst there was an encouraging performance from the very young Tewkesbury Town under the baton of Nigel Morgan.
Both of these bands will know what they will have to work on if they are to impress further at Stevenage and Torquay.
Stamford Brass (Robert Prew) were a little too reticent at times, when a bit more red blooded purposefulness was needed in the opening and closing sections – although they did produce a lovely balanced sound in the lyrical third movement, whilst, Hitchin had one of those days when the early draw dented their confidence before a note was blown.
Uneven

The highest placed mining band Amington under Wesley Kendrick delivered a slightly uneven account that at times was thrilling and vibrant but on others a bit too scruffy, whilst there was an encouraging performance from Thoresby Colliery Youth (Christine Lippeatt), which had all the right elements in place but just needed a touch more confidence about the execution.
Struggle

The bottom three bands did struggle somewhat – not helped by dents to their confidence early on in that demanding first movement.
Hemel Hempstead Band (David Klein), Thurcroft Welfare (Ken Vernon) and Maltby Miners Welfare (Terry Clifford) each managed to recover and deliver some concentrated and rewarding playing, but all three will know they will have to get off to a good start if they are to make an impression at their respective Area contests.
No problems for a great start to the year for Pemberton though – and on this form they should be confident of making an even bigger impression at Blackpool at the end of February.
John James