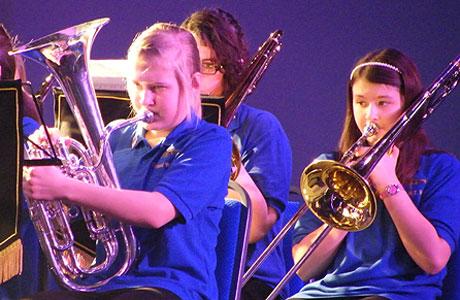 Winning ensemble - Shirland Training Number 1

Whilst the Championship Section bands were vying for their title there was some terrific entertainment to be heard as the Reds venue welcomed the bands in the Junior Ensemble and Youth Sections.
This really was great stuff – helped by wonderful organisation led by Ian and Judith Beckett, judges who really entered into the spirit of the occasion (Alan Fernie and Barry Thompson requested to sit in the open in the Youth Section) and an audience who just lapped it all up with huge smiles on their faces.
Cracking stuff

Butlins long-term thinking is already paying dividends and the day started with four cracking ensembles with an age limit up to 16, taking to the stage in the first ever Junior Ensemble competition.
The standard was extremely good with enjoyment being the key word.
Loved them all

Adjudicator Marie Smith told the participant's at the results ceremony that she 'loved them all' and there was no doubt she meant it as the four contenders enjoyed themselves to the full as well as giving every last bit of musical energy to the cause.
The four bands were required to play for ten minutes and include a hymn tune in their programmes as a means of showing how they were developing the basics of good brass band playing.
Shirland sent two ensembles to compete, both conducted by Dave Harvey.
Controlled and disciplined

And it was their Ensemble Number 1, who took the spoils courtesy of a controlled and disciplined performance that included 'The Preacher Man', 'Absolutely Tangoe'd' and 'John Brown's Body', whilst they demonstrated good dynamics and phrasing in 'Eventide' and 'Kum-ba-yah'.
Gresley Colliery Youth led by Peter Hylton was the last of the four ensembles to play, and not only did they enjoy themselves, they played exceptionally well too – the pick of their four pieces Edrich Siebert's classic, 'Drummer''s Delight' which featured some brilliant kit work from their talented young soloist.
Rather than rank the bands 1-4, Marie Smith took the sensible decision of giving Wigston Enterprise and Shirland's Ensemble Number 2 joint third place.
Wicked smiles

Wigston had lots of fun with the popular 'Dambusters March', 'Dances with Wolves' and the familiar, 'Toccata in D Minor' along with the hymn tune 'Crimond' – all played with studious concentration in performance and plenty of wicked smiles in the rests!
Shirland Ensemble Number 2 meanwhile started off with 'The Clough Top' march, before changing the mood with the hymn tune, 'Lloyd'.

The bands final three items were all short and sweet; with the tribute to Yorkshire with 'On Ikley Moor' the pick.
Butlins contest organiser Brian Eggleshaw had deliberately promoted this section as the opportunity see the first seeds of growth in what he called the banding movement's 'little acorns' – and on this evidence he will be delighted that they are all growing into wonderful musical saplings.
It was a delight.
---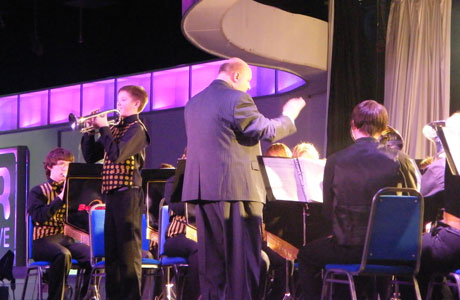 Hat trick winners Youth Brass 2000 in action

Youth Contest
After a short comfort break and the request by judges Alan Fernie and Barry Thompson to sit in the open, the Youth Section got under way with six contenders performing 20 minute programmes that included the traditional twin disciplines of a march and hymn tune.
Outstanding winner
There was no doubting the destination of the £1,000 first prize after Youth Brass 2000 under conductor, Chris Jeans, made it a hat-trick of victories with a high class performance that was a showcase of outstanding musical talent.
The opening march, 'Capitol Square' was tight and precise, whilst 14 year old, Thomas Fountain (younger brother of James, who was also proving ample evidence of his quality as a player with Virtuosi GUS) displayed wonderful control and technique in the lyrical, 'Share my Yoke'.
'Valero', was bang on the button, before the best pianissimo playing of the contest was heard in 'Deep Harmony'. To close, the band performed the 'Cossack Fire Dance' in terrific style.
Youth Brass's programme may have included music that has served them well in the past couple of years but it was played once more like a champion and victory here will give them confidence ahead of the Action Research Youth Entertainment Contest in a couple of weeks time.
Butlins have also invited the band to perform in concert next year at this weekend – a great reward for their continued excellence.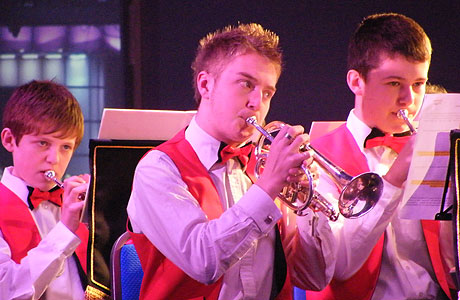 Faces of determination for Coleshill

Lions roar
Lions Youth and Nigel Birch from Cheshire had to be content with the runners up spot for the second year in a row, but they once again gave a mightily impressive account of themselves.
The march, 'Home Again' was tight and full of good dynamics before trombonist, Ashley Taylor demonstrated a fine tone in 'Killing me Softly'.
The warm sound of the band was heard in 'Make Me a Channel of Your Peace' before five cornet players had an absolute ball in 'Twelfth Street Rag'.
The use of the impressive Ellie Baker on flugel in the unaccompanied, 'When She Loved Me' was a brave choice with the soloist holding her nerve before the band wrapped up their programme with an upbeat, 'American Trilogy'.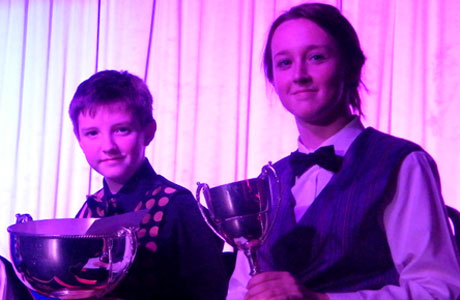 The spoils of battle for Youth Brass 2000 and Lions Youth

Enderby swagger
Enderby Youth directed by Trevor Hounsome was the first band to perform and set a classy marker that deservedly saw them end the day in third place.
The band's highlights included a fine swagger rendition of the march, 'Westwood Ho!', and a real cracker of a 'Fire Dance' to close.
Shirland Welfare Training finished fourth after a well balanced programme that started off with a super rendition of 'True and Trusty'.

The band's flugel player did a sterling job in 'I Don't Know How to Love Him' before they concluded their six item programme with Paul Lovatt-Cooper's fun item, 'The Big Top'.
Positives

Croft Mid Band and Coleshill Town Youth may not have finished in the top four but both gave very good accounts of themselves and will have taken a great deal of positives from their appearances.
Croft Mid enjoyed every minute of their time on stage with some great cartoon themes, whilst Coleshill Town Youth opted for a wartime themed programme that even included an audience sing-a-long.
The only minus point in what was a innovative set was that the introductions needed to be miked up to have really worked as they would have wished.
Queen and gags
All that was left was for MC Ian Beckett, who was on great form throughout the day (admitting his wife Judith was the real boss of the contest) to tell a few jokes and the hall rocked to the sounds of Freddie Mercury and Queen as the tension mounted for the results ceremony.
The adjudicator's summaries were short and sweet (and very well directed) before the winners were announced.
Sales of celebratory lemonade and bags of hyperactivity enhancing crisps went through the roof as Youth Brass 2000 and Shirland Training Ensemble Number 1 enjoyed their deserved victories.
Roll on next year – this was brilliant.
Malcolm Wood & John James