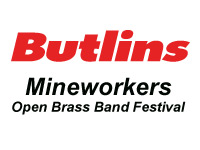 First Section:
Reds
Saturday 22nd January
Commences: 10.00am
Adjudicators: Steve Sykes & Major Paul Norley
Test-piece: Granite City (Darrol Barry)
First prize: The Butlins First Section Trophy, £2,000 and the First Section Champions Banner
Second prize: £1,000
Third prize: £700
Fourth prize: £500

Highest Placed Mining Band: The C.I.S.W.O. Challenge Trophy
---
Despite four withdrawals from the original list of competing bands, there is still a very healthy, and competitive look to the First Section contest that takes place at the Reds Venue.
Adjudicators Steve Sykes and Paul Norley will have plenty to ponder over with the strong line, headed by last year's winners Jackfield Elcock Reisen and featuring the welcome visitors from across the Atlantic in Central Ohio Brass.
American guess

What the Americans will make of Skegness experience is anyone's guess, but under their conductor Steve Bigley they will surely enjoy a warm welcome from all concerned.
What they will make of Darrol Barry's 'Granite City' test piece will also be of interest too – a composition with a distinct Celtic inspiration.
The work was composed in celebration of his great mentor, David James – a proud Welshman who loved his Scottish surroundings, whilst Barry was composer in residence at the Aberdeen based Granite Brass.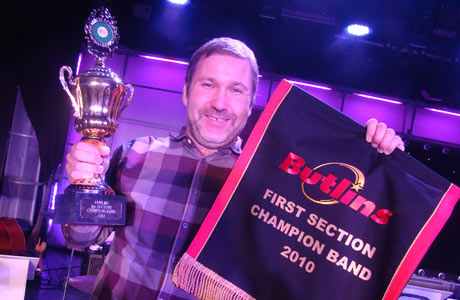 Can Jackfield do it again in the Fist Section?

Intriguing

It is an intriguing piece – the thematic material derives from the opening episode, whilst two of the slow variations feature the solo horn and principal cornet with melodies based on ciphers of the names of the players at the time - Moira Ross and Calum Booth respectively.
It's full of contrast and colour, and although not as hard as the granite stone the city of Aberdeen is famous for, is more than stern enough (not quite what you may expect from the composer's pen) to test technical as well as musical limits.
It's certainly a very different challenge to the one they will have to master in a few weeks time on 'Carnival Romain'.
No real form

Although the contest doesn't offer a definitive form guide to the coming Areas (Langley came 20th last year and went on to win the Midlands Regional title) it should give a fairly decent indication of which bands are in good early season shape for the year ahead and which ones are carrying a few too many pounds of excess baggage.
12 of last year's contenders return in addition to East London Brass, the 2010 Second Section champion.
Impressive

The impressive Jackfield will of course be keen to retain their title, but they could be hard pushed by a host of rivals led by the Americans of Central Ohio, who are the current North American National First Section (Honors) champion.
Both bands are full of quality players and led by fine MDs, so it could turn into a real battle for the £2,000 first prize.
Look out

Other bands to look out for based on late 2010 form could well be Kidlington, who were impressive winners at the Leicester Open as well as East London Brass, who continue to improve under the direction of Jayne Murrill.
Longridge come to the contest on the back of a fine runner up spot at the Northern Open beaten only by the strong Hammonds Saltaire Band, while there is sure to be a confident assault from City of Sheffield (Stocksbridge), Yorkshire Imperial and Cornerstone Brass.
Kippax came 7th last year and could be a dark horse, whilst Langley will surely want to post a better pre regional result than that 20th place.
Moments

Elsewhere its hard to find an indication that there may be a surprise winner, but Ipswich has had their moments and so too Cawston and Phoenix West Midlands.
The remaining contenders in Foresters, Bedworth, Carlton, Harborough, Haverhill, Murton and Enderby enjoyed pretty varied seasons last year, so will want to start 2011 with something of a bang – although they may have to be content with midfield finishes on this occasion.
4BR Prediction:
Perhaps not as clear cut as you may think, but if Jackfield build on the form of 2010 they could be the band to beat.
The Americans won't have made the trip over just to make up the numbers, whilst the form bands such as Kidlington, Yorkshire Imperial, East London Brass, City of Sheffield and Longridge should be in the mix.
Our dark horse is Kippax.
1. Jackfield Elcock Reisen
2. Yorkshire Imperial
3. Kidlington
4. Central Ohio Brass
5. East London Brass
6. Longridge
7. City of Sheffield

Dark Horse: Kippax