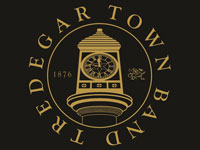 Tredegar's debut appearance at the RNCM Festival saw them provide an intriguing programme of demanding contemporary repertoire under the baton of conductor Ian Porthouse.
Sacred and profane

The programmatic inspiration was a somewhat oblique reference to the works that were featured: the sacred in the form of Steadman-Allen's 'On Ratcliffe Highway' and Heaton's 'My Master's Will'; the profane, represented by Gavin Higgins monumental 'Destroy, Trample, as Swiftly as She' and his beautiful evocation of melancholia in 'Sadly now the Throstle Sings'.
Quite where Philip Wilby's 'Lowry Sketchbook' fitted in was more open to debate to start – but perhaps not quite as much by the concert's close.
Ives 'lite'

Allen's slightly bewildering portrait of the early struggles of Victorian Salvationists in the grubby East End area of London, with 'On Ratcliffe Highway' was given a powerful, purposeful reading – full of rich colours and descriptive, witty stylistic nuance, even if the music itself reminded you of an evangelical camera obscura – a bit of religious 'lite' Charles Ives inspired by the Gin Lane drawings of William Hogarth.
Fragile passions

In a strange contrast, any deeply meaningful profane thoughts were also rather dispelled by the world premiere of Higgins' engrossing evocation of part of Oscar Wilde's poem, 'From Spring Days to Winter' – a sad lament to fragile passions, captured with a sense of the writer's increasingly darkening persona and growing personal bleakness.
Bible black

The centrepiece of Tredegar's challenging programme came with the British premiere of the composer's frighteningly intuitive appreciation of the darkest recesses of the troubled mind – that of the Marquis de Sade and his graphic, nihilistic approach to the Godly world around him.

As Dylan Thomas would have said, this was as black as the cover of a Welsh family Bible.
'Destroy, Trample, as Swiftly as She' is an unrelenting portrait of the destructive elements of de Sade's frenzied imagination, and was brought startlingly to life in a performance of almost brutal power, only occasionally enlightened by lyrical reflection.
'The onslaught obliterates any chance of a happy ending' Higgin's writes in his preface to the work – and you can hear why.

However, as a musical experience it was a strangely uplifting to hear a truly inventive compositional voice extending the traditional boundaries of brass band writing – and played with such authoritative understanding by MD and performers.
Peculiar

In its way Heaton's own rather peculiar quasi-religious beliefs made for an equally questioning appreciation of his elegant, illusive composition, 'My Master's Will', which never quite resolves itself in the mind's eye – despite it unquestionable beauty.
That just left a somewhat exhausted audience with the opportunity to appreciate a well structured, if occasionally untidy performance of 'Lowry Sketchbook', which cleverly straddled both the sacred and profane inspirational elements thanks to the composer's subtle compositional powers: From the grimy industrial landscape of Manchester to the intimate portraits of long lost family members and the bright, playful joy of a traditional Saturday afternoon bandstand performance.
It fittingly rounded off an impressive debut by the Masters champion of engrossing contemporary works.
Iwan Fox