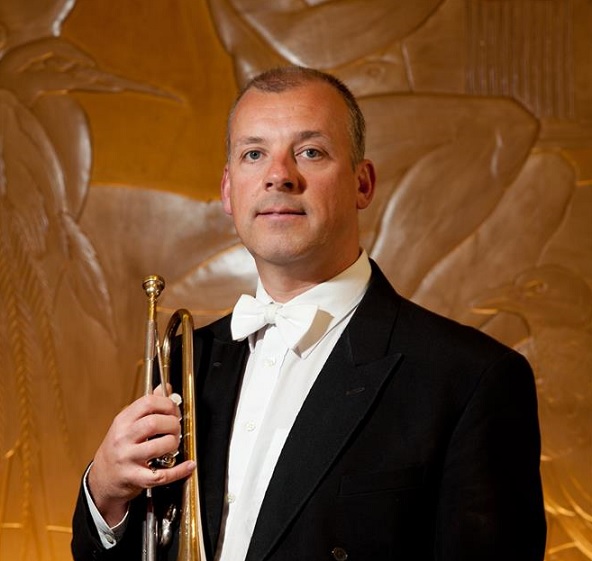 Rhys Owens was one of the most successful brass band exports to the orchestral world.
He retired as principal trumpet of the Royal Liverpool Philharmonic Orchestra after 30 years of outstanding performance service following a diagnosis of Motor Neurone Disease. He died in March 2022.
A proud Welshman, he began his musical career with the BTM Band, going on to play with Lewis Merthyr as well as becoming principal cornet of the National Youth Brass Band and trumpet of the National Youth Orchestra of Wales.
Heartfelt
This heartfelt event lent further support to the fundraising efforts for the Motor Neurone Disease Association (Wales), and attracted family, friends, former colleagues, band players and music lovers thrilled by his playing throughout his career.
Pictures of a richly blessed family life and successful professional career accompanied the music, led by his friend Martin McHale and compered by BBC presenter Alex Humphreys.
The fitting finale saw the massed symphonic ranks power through 'Fest Music der Stadt Wein' to end a fine remembrance with the bold brass brilliance that marked the playing of the performer they honoured.
A special symphonic brass ensemble of professional friends and students from the RWCMD in Cardiff opened the concert with a rousing rendition of 'Fanfare for the Vienna Philharmonic' followed by the tenderness of 'Feierlicher Einzug der Ritter des Johanniterordens'.
Fitting finale
Lewis Merthyr Band showcased the bombast and bubbling floridity of 'MacArthur Park' and 'Toccata in D Minor' as well as a neatly conceived premiere of 'The Curious Case of the Wolf & The Hawk', inspired by a 1985 film starring Michelle Pfeiffer.
BTM Band meanwhile balanced 'Prelude on Tallis' with Bruce Broughton's 'Harlequin', a lovely rendition of 'I Know Thou Art Mine' with a colourful 'Neapolitan Scenes'.

The fitting finale saw the massed symphonic ranks power through 'Fest Music der Stadt Wein' to end a fine remembrance with the bold brass brilliance that marked the playing of the performer they honoured.

Iwan Fox