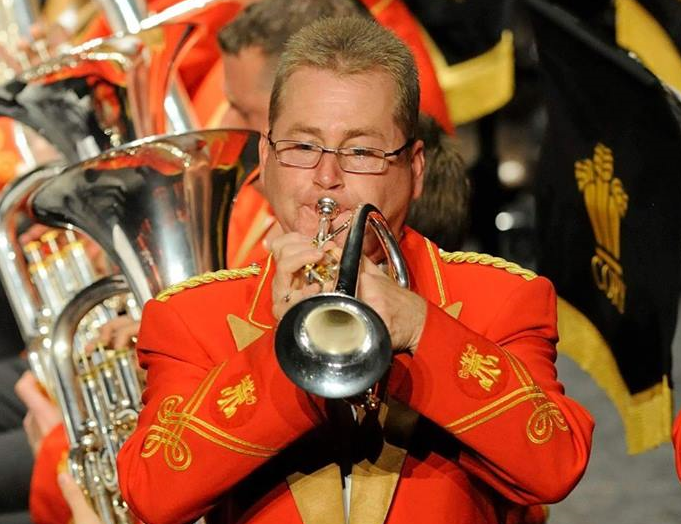 For 20 years Ian Williams was the focal point of principal cornet playing excellence at Cory Band.
His tenure started not in the glory years that followed the appointment of Robert Childs as MD, but further back when they faced troubles and challenges both on and off the contesting stage.
Widespread acclaim
His pride in, and commitment to the role in the years that followed earned him widespread acclaim; the many accolades that came his way deserving of his work ethic, sublime talent and outgoing personality. His untimely death in March 2018 aged just 52 was felt across the banding world.
Four years since his passing, this celebration concert retained a deeply emotional connection; the music linked in tribute under the imposing span of the cathedral's famous Jacob Epstein 'Christ in Glory' wishbone arch, as it was here for his funeral service.
Fittingly it was upbeat and dazzling – very much like the player himself;
Fittingly it was upbeat and dazzling – very much like the player himself; from the PLC 'Enter the Galaxies' and marches 'Castell Coch' and 'Celebration' (led by guest conductors Robert Childs and Jeremy Wise) to the reminders of his professional life with the Welsh Fire Service with 'Backdraft' and 'Fireman's Galop'.
Tribute
The tender tribute from his successor Tom Hutchinson of 'How Great Thou Art' and 'Suo Gan' by Chris Thomas on trombone gave time for thoughtful reflection alongside 'Myfanwy' and 'Only in Sleep', whilst the Pendyrus Choir provided a counterbalance of their own in works that reflected Ian's Welsh pride.
The rousing combined 'Roman War Song' and 'Nidaross' and Cory's own ferociously passionate 'Men of Harlech' brought to an end a concert that not only reminded everyone of a musician who gave so much pleasure to so many people, but with the typical thoughtfulness of the man himself, gave something back as well – with over £2,000 raised for the British Heart Foundation.
Ian Davies