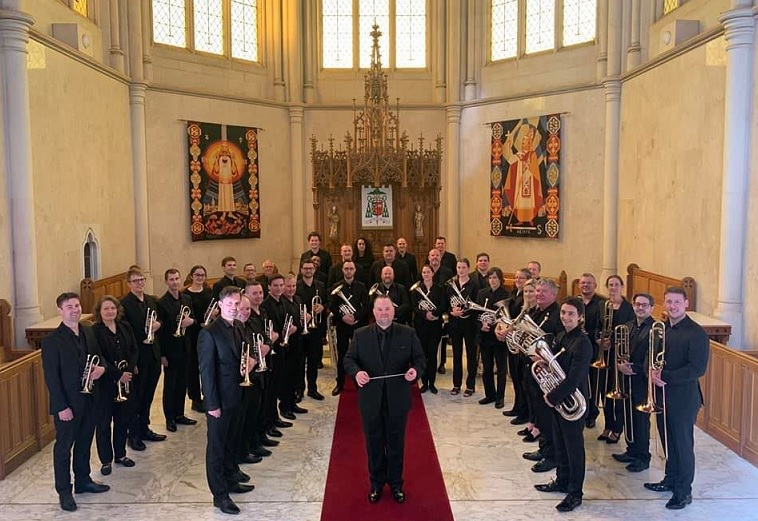 When the long, dark Covid clouds finally lifted over Melbourne, with people allowed to travel more than five kilometres from home, Victoria Brass made the most of it with this double header concert weekend with events some 300k apart.
Initially made up of many of the finest players from all parts of the State under the direction of the respected Mark Ford in 2015, the band's growing ambitions had been hampered by the effects of the pandemic.
However, with Mark enjoying a return to playing in its ranks, Dr Matthew van Emmerik has taken on the baton of an ensemble with an ethos of "quality repertoire, collegiality and performance".
Validated
These live streamed concerts certainly validated the approach: two hours each of demanding, varied genres.
With a respectful acknowledgment to the venues it was good to hear a number of organ works featured as well as great hymn tunes such as 'Ein Fest Burg' and 'Monks Gate'.
These live streamed concerts certainly validated the approach: two hours each of demanding, varied genres.
Dr Calvin Bowman, one of Australia's most decorated organists, played Bach's 'Toccata and Fugue in G minor' as a solo item, as well as working in conjunction with the band on the organ symphonies of Widor and Saint-Saens and attractive 'Suite Gothique' of Léon Boëllmann.
Premieres
Australian premieres were provided by 'Circius: Wind of the North' by Torstein Aagaard- Nilsen's and Philip Wilby's 'Pilgrim's Progress' – the latter narrated with great pathos by Matthew Little, a former Squadron Leader of the RAF Central Band.
Soloists Jared Moore (soprano) confidently playing Albinoni's 'Adagio in G minor', Louisa Trewartha on a thrilling 'Trumpet Voluntary' and a beautiful 'Benedictus' from 'The Armed Man' by euphonium Michael Wells added an extra sheen of quality polish.
Youth debut
At the Brighton Church concert, the Victoria Brass Youth Initiative made its debut.
Made up of about 40 youngsters who responded to an open Facebook invitation, they had rehearsed for a limited period under Victoria Brass principals and Matt van Emmerik. The brace of items were enthusiastically received.
The combined forces finale of 'The Gael' from 'The Last of the Mohicans' led into the encores of 'The Lost Chord' and 'Deep Harmony' – appropriate melodies to be heard in these surroundings is so many ways.
Merv Collins