Welcome to our coverage from the National Youth Brass Band Championships of Great Britain.
Apologies for being a bit latet this morning due to trafiic problems on the way up from Wales, but we are here now and already enjoying the inclusive atmosphere.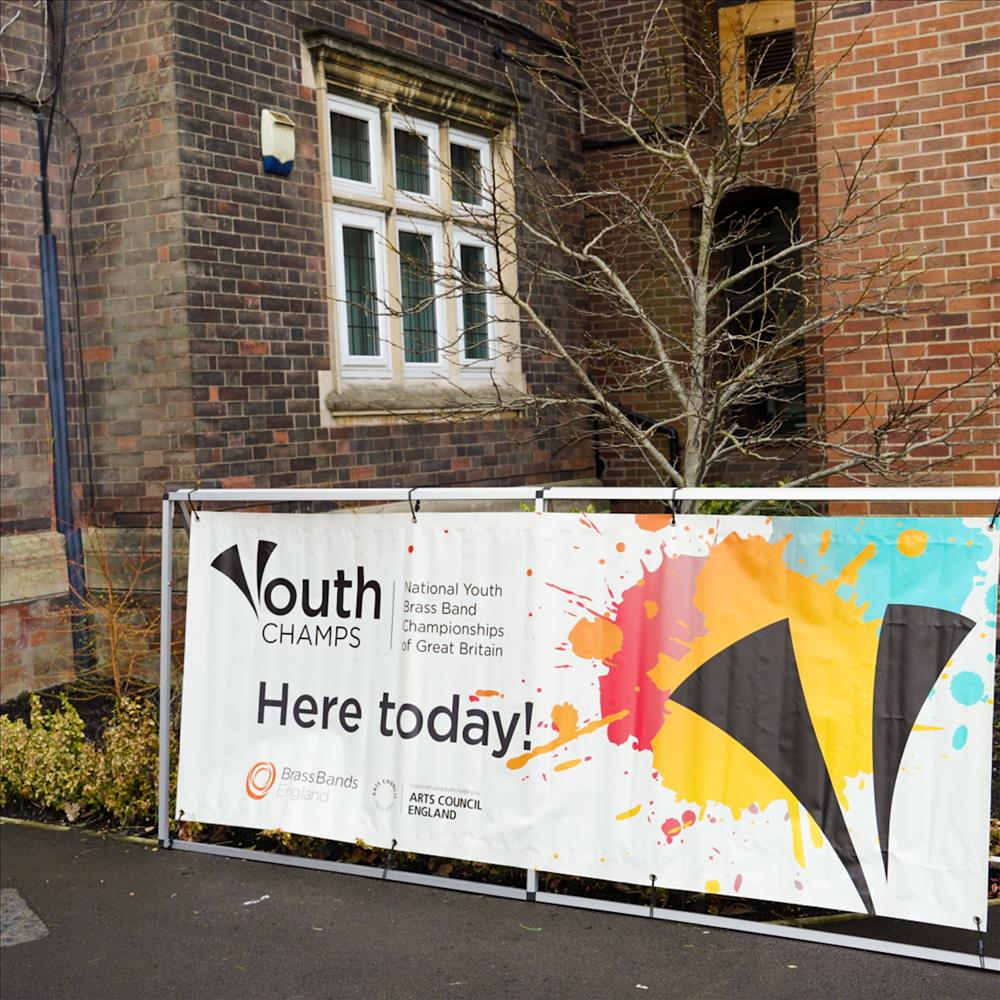 Results: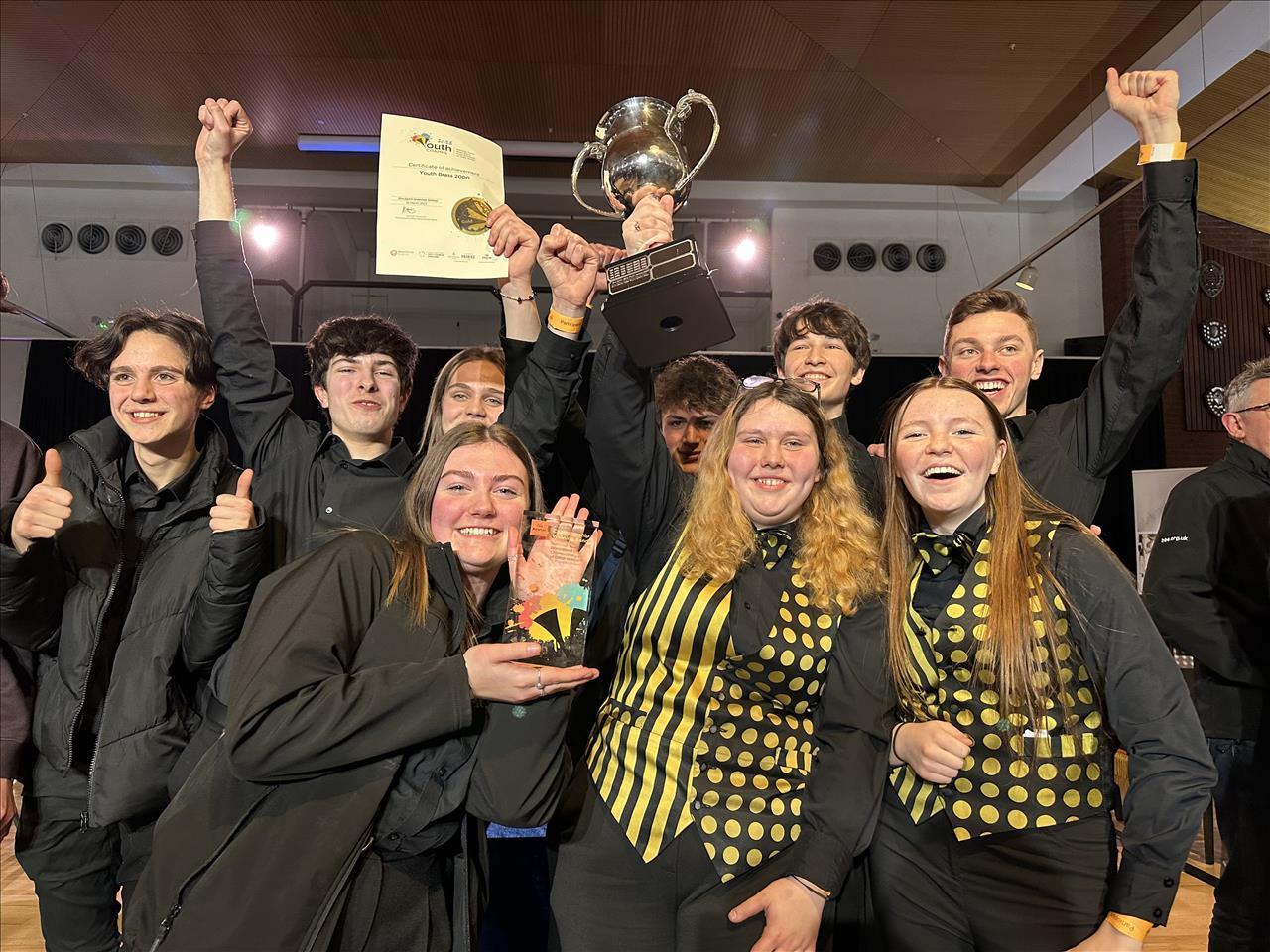 2023 Champions: Youth Brass 2000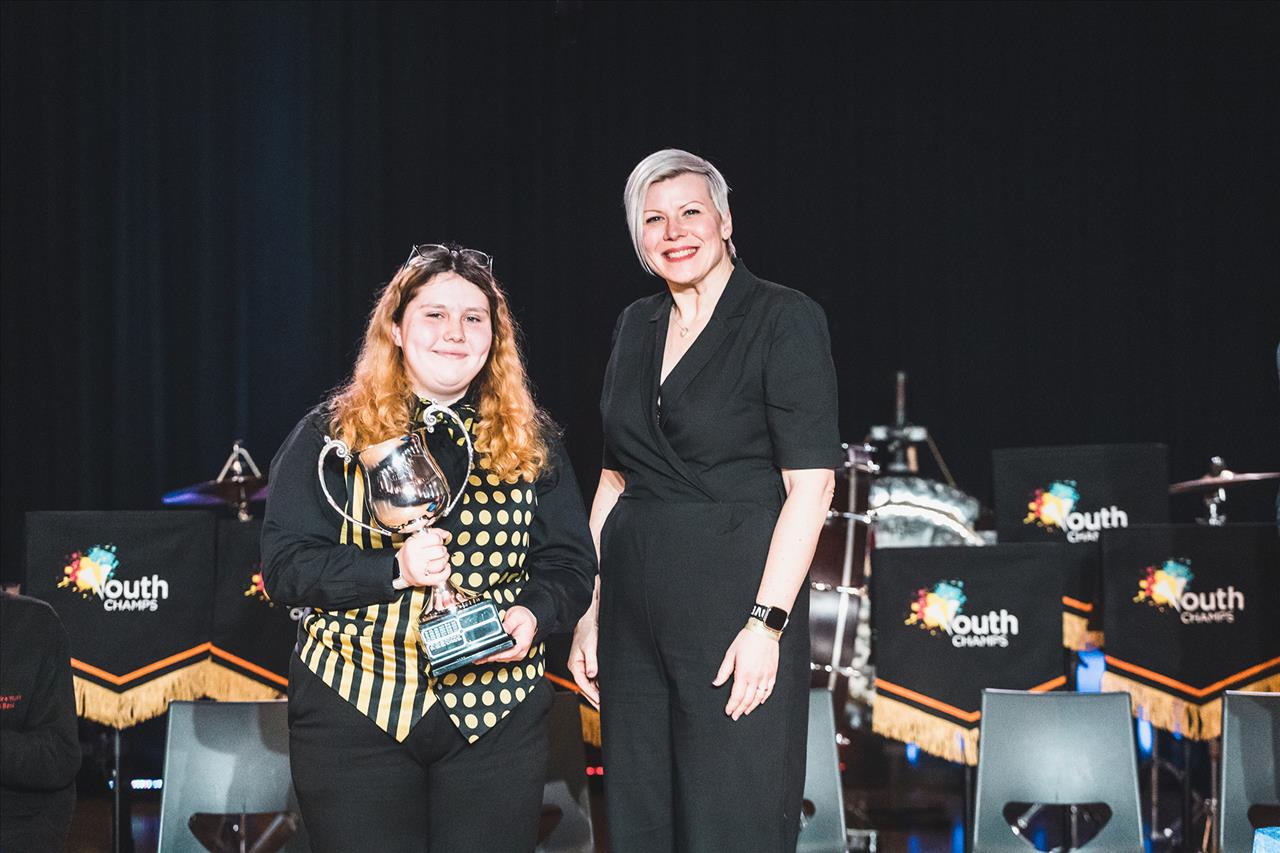 2023 winner: Youth Brass 2000

Best Soloist: Hannah Taylor of Lions Youth Band
ABRSM Championship Section:
1. Youth Brass 2000 (Chris Jeans) - Gold
2. Lancashire Youth Brass Band (Helen Minshall) - Gold
3. Macclesfield Youth Brass Band (Louise Renshaw) - Gold
Gold Award:
Elland Youth Band (Samantha Harrison)
Silver Award:
Lions Youth Brass (Ian Raisbeck)
Northamptonshire County Youth Brass Band (Brad Turnbull)
Oldham Music Centre Youth Brass Band (Jonathan Leedale)
Stockport Schools Brass Band - Senior Band (Ryan Broad)
Tewit Youth Senior Band (Martin Hall)
Bronze Award:
Cardiff County & Vale of Glamorgan Youth Brass Band (Charles Maynard)
Dobcross Youth Band (Seth Livingston)
Best Soloist: Hannah Taylor (cornet) - Lions Youth Brass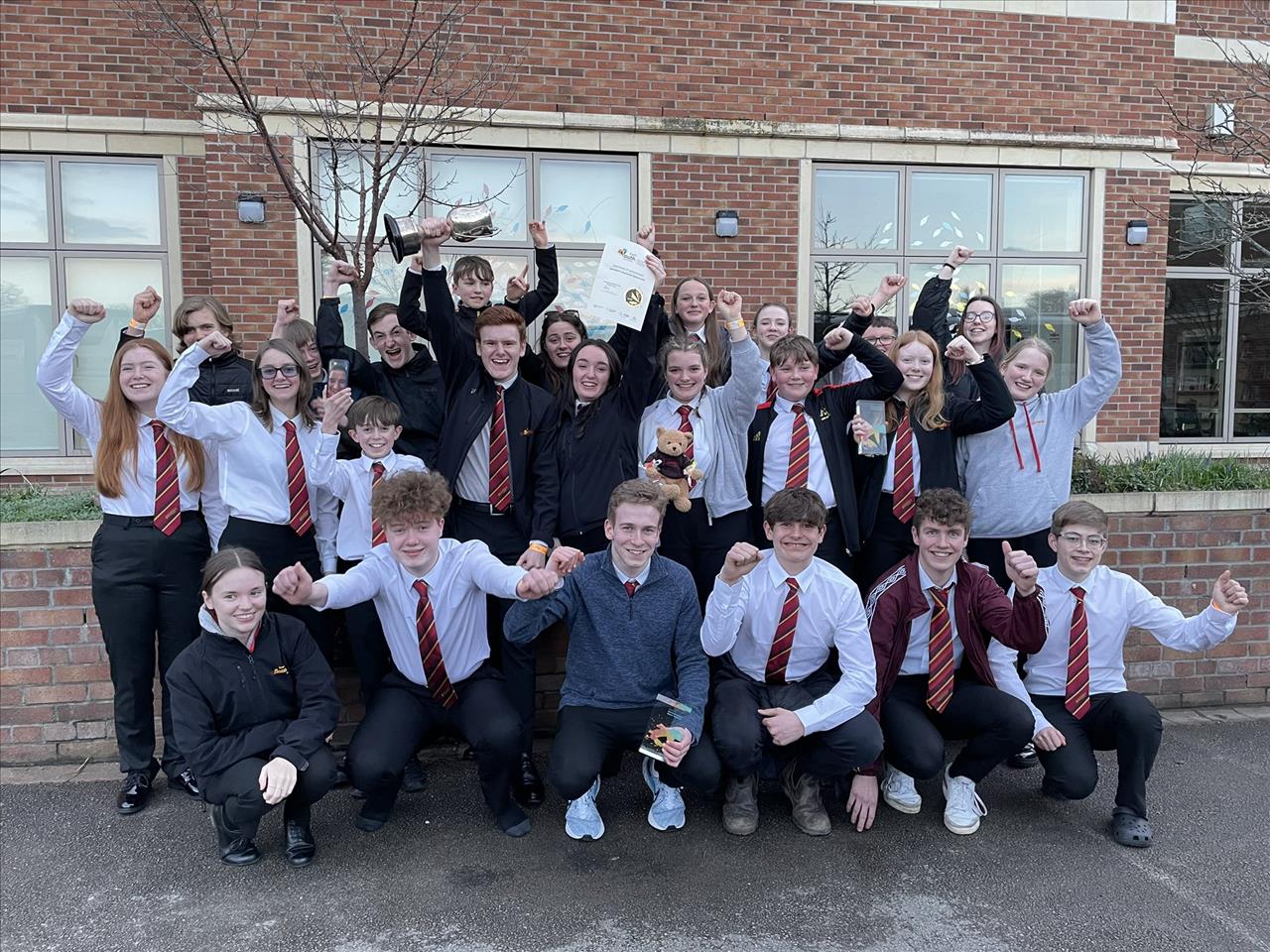 2023 Champions: Seindorf Ieuenctid Beaumaris
Performance Section:
Adjudicators: Jack Capstaff & Andrea Price
1. Seindorf Ieuenctid Beaumaris (Peter Cowlishaw) - Gold
2. Astley Youth Band (Toby Hobson) - Gold
3. Amersham Youth Band (Paul Fisher) - Silver
Silver Award:
Elland Silver Training Band (Samantha Harrison)
Enderby Youth Band (Trevor Housome)
HD9 Community Youth Band (Paul Kirk)
Stockport Schools Brass Band (Anna Hughes-Williams)
St Helens Youth Brass Band (James Hall)
Bronze Award:
Dobcross Training Band (James Atkins)
Macclesfield Junior Brass Band (Harry White)
St Nicholas CoE Primary Brass Band (Chris Binns)
Tewit Youth Intermediate Band (Rebecca Marshall)
Wantage Youth Brass (Sara-Jane Wallbridge)
Merit Award:
Firth Park Academy (Andy Harris)
Lions Academy Band (Peter McDonough)
Besson Prodige Showcase Section:
Adjudicators: Gary Curtin & Daniel Hall
No prizes were given in this non-competitive section. The following bands took part.
SHYBB Debut Band (Peter McDonough)
Lions Debut Band (Jamie Sharp)
Astley Training Band & Boothstown Holy Family Brass Foundations Band (Sam Raisbeck)
Macclesfield Youth Training Band (Liz Wolski)
Dobcross Youth Ensemble (Seth Livingstone & James Atkins)
Delph Youth Band (Matt Stimpson)
Tewit Youth Junior Band (Allan Briggs)
Milton Keynes Music Hub (David Rose)
St Ignatius College (Alan Duguid)
Stockport Schools Brass Band - Junior Band (Andrew Myers)
Barnet Youth Brass Band (Peter Yarde Martin)
Ellington Colliery Brass Roots Band (Ian Sankey)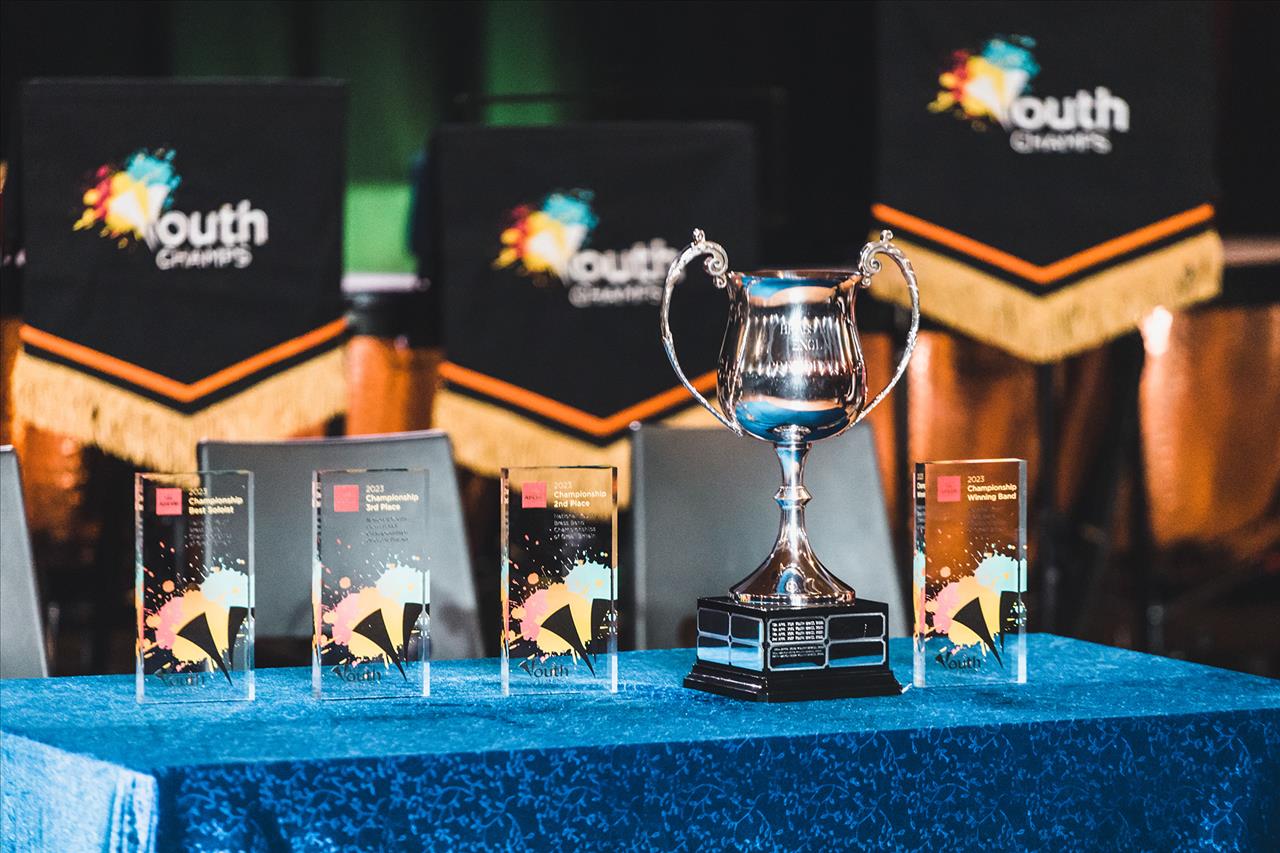 Brassaoke...
The 4BR has enjoyed all sorts of brass band delights over the years, but a brass band version of the 1980s pub craze for Karaoke is a new one on us.
Given that all you usually hear when the National Anthem is played at the beginning of a brass band contest is a faint embarrassing murmur of patriotic fervor - perhaps contest controllers should consider a singalong to Dolly Parton and '9 'till 5', 'Don't you want me baby' by The Human League or the classic Neil Diamond hit, 'Sweet Caroline'.
That's what we got with Oldham Music Centre Youth Band (below) - although they did hand out plenty of lyric sheets - but the result was the type of signing usually heard at a Hen Party in Stockport Town Centre at 1.30am tonight.
Brill.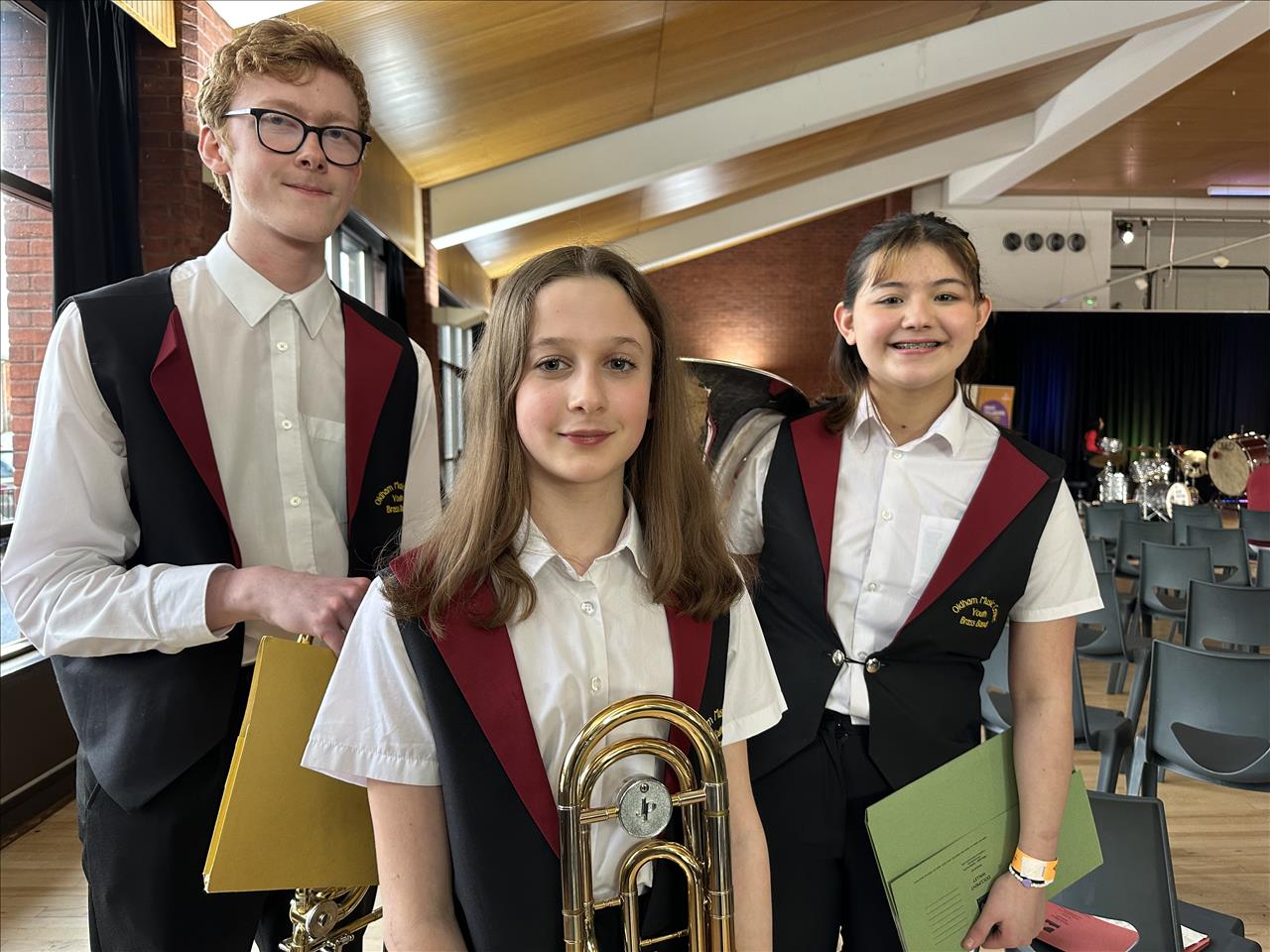 A familiar face...
David Hayward is making sure everything is run to time in the Performance Section where 15 bands will perform today.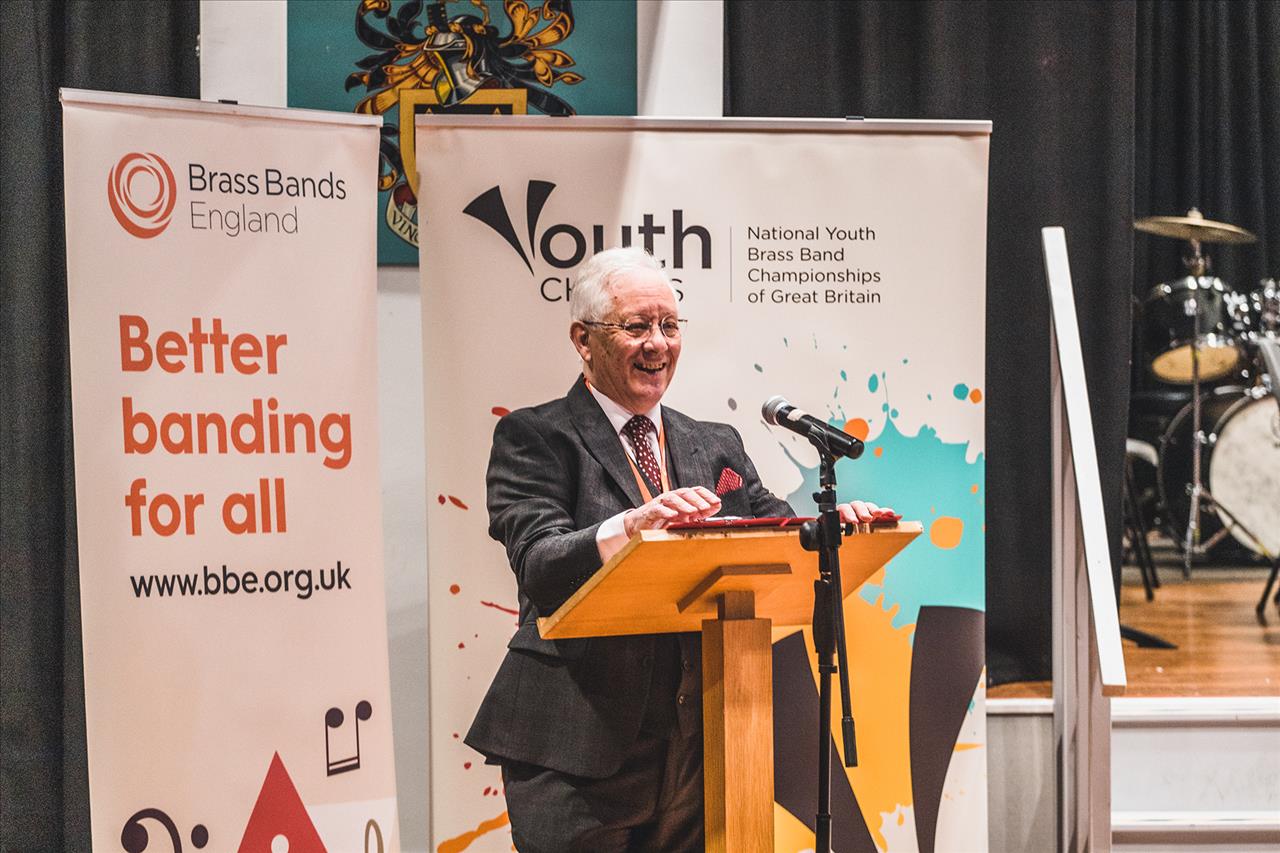 Lots to enjoy...

The standard in the ABRSM Championship Section has been very good today - with some super ensembles very well led by the MDs and picking pices they can really play well. It makes for a great deal of eclectic enjoyment - from 'Buglers Holiday' to a European test piece, The Carpenters to William Relton - but the basics of good playing are always the same whatever the piece.

The solo playing has also been excellent - so a great deal for judges Tom Hutchinson and Leigh Baker to ponder come the results.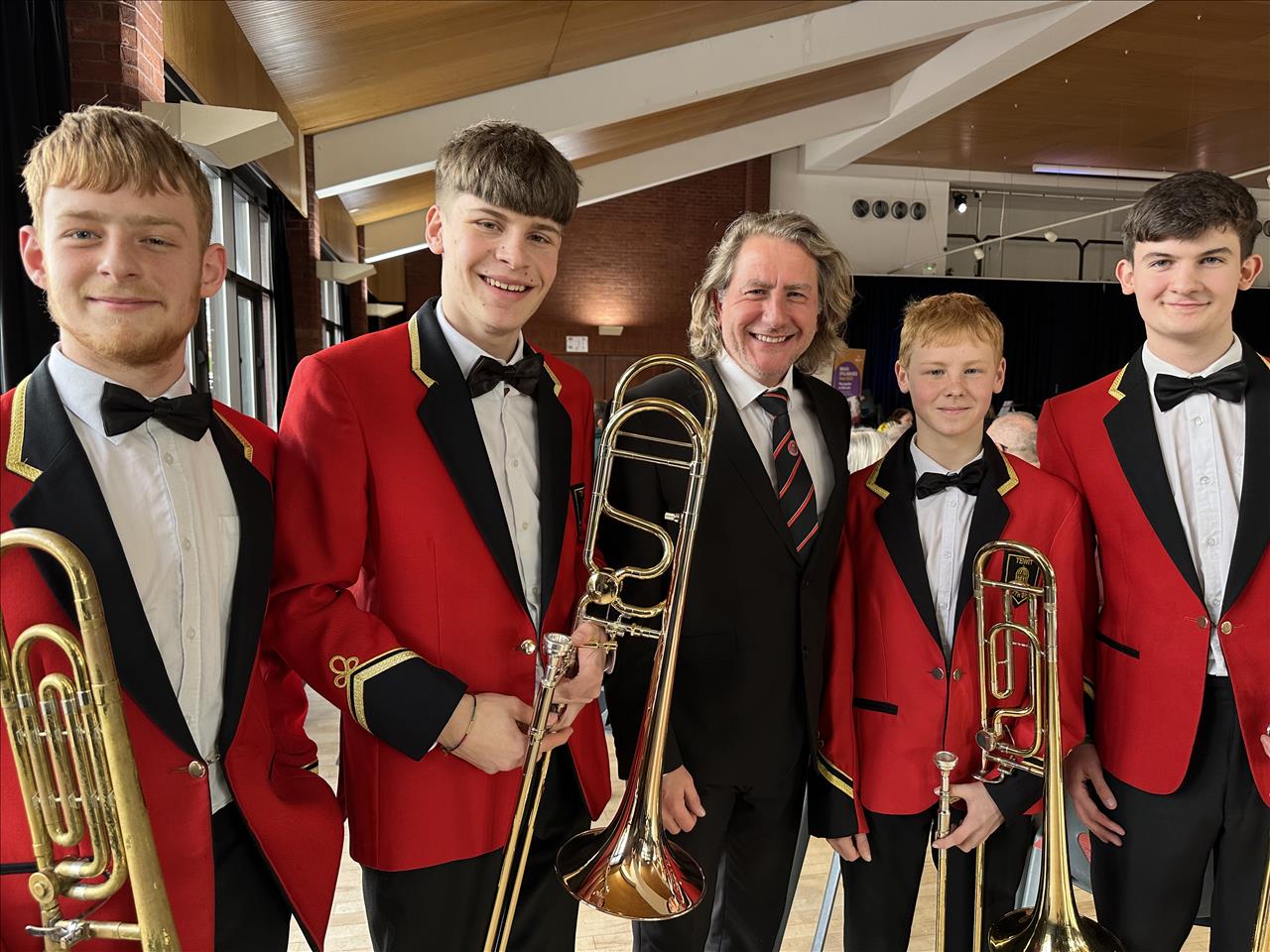 The defending champion is all smiles...
Youth Brass 2000 defended their title from the number 1 draw here today and were all smiles as they came off stage.

The band warmed up for their appearance at the European Youth Championships in a few weeks time in Malmo by giving an early premiere of the set-test there, 'Phoenix Chant' - allowed by permission of EBBA.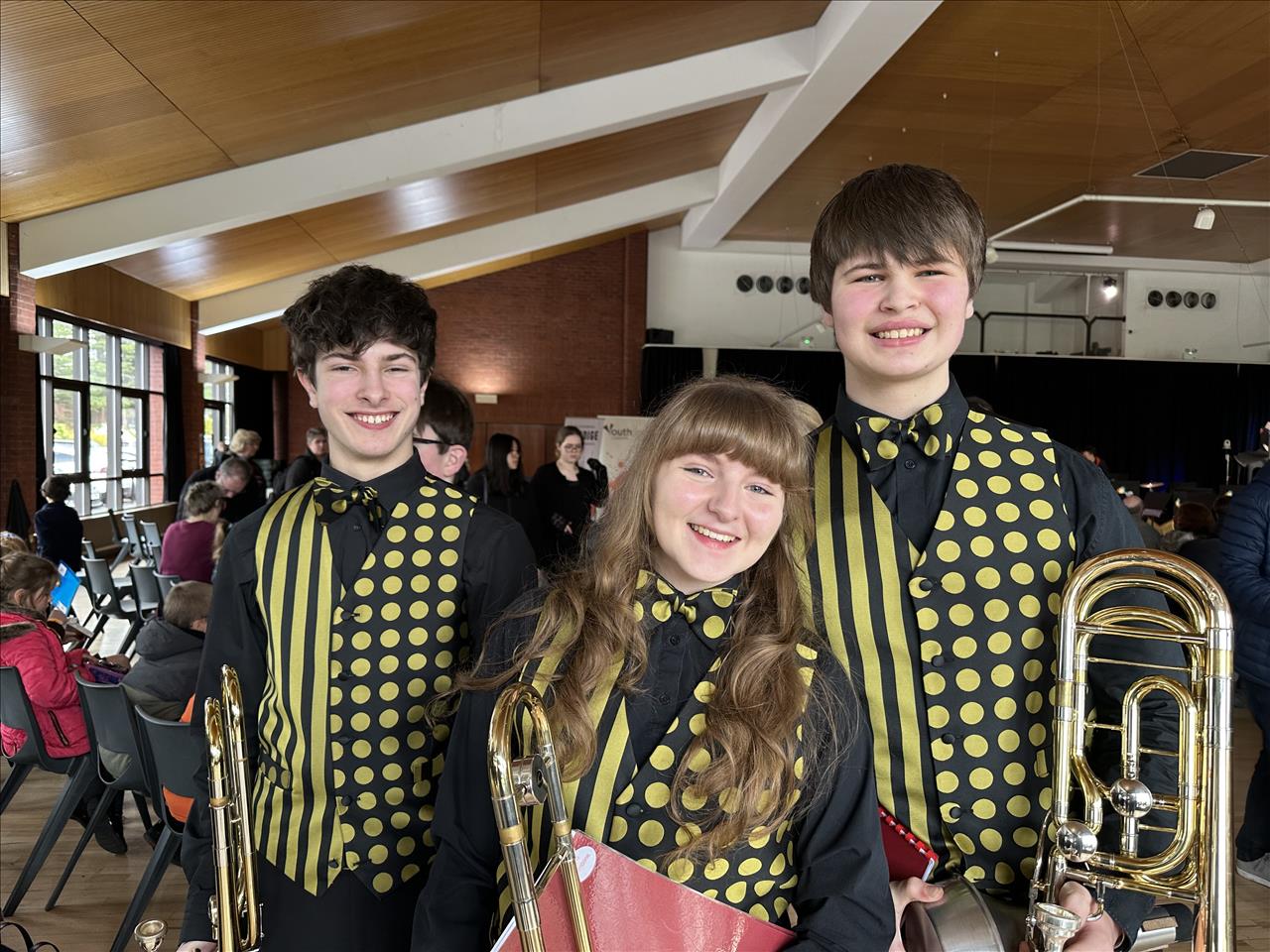 ABRSM Championship Section:
We are just running a little late at present, but the ABRSM Championship Section has just got underway with the defending champion Youth Brass 2000.
This section has the aim of enabling young players to perform original and arranged brass band music to a high competitive level that will provide a final step through to the demands of student or adult banding.
All the players in this section must be in formal education.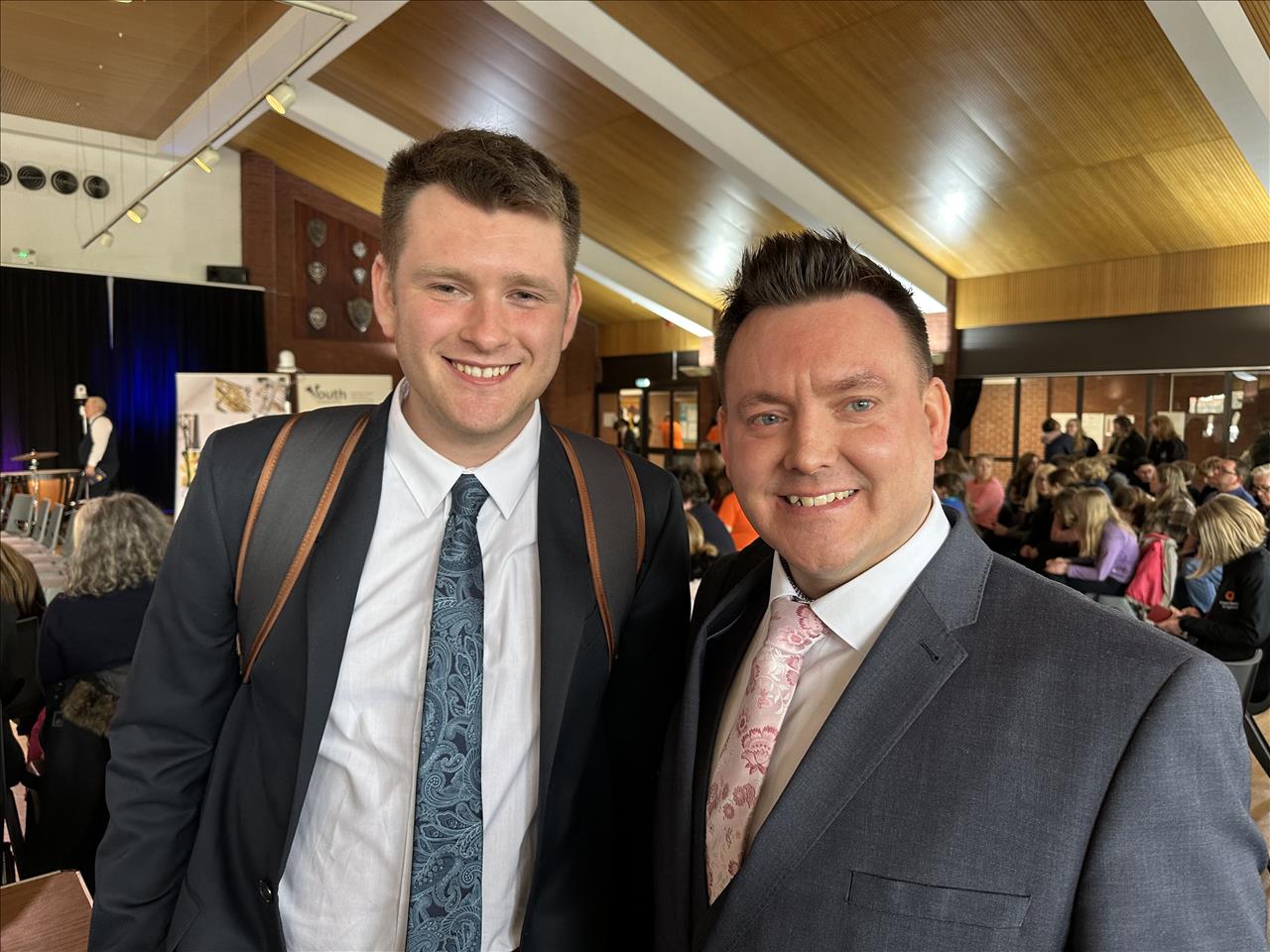 Positivity...
Gary Curtin and Daniel Hall have been the adjudicators in the Besson Prodige Showcase Section and have given their observations on the playing - all packed with neatly observed and witty positives.
It's a great way of doing things too - each band (as well as individual players) getting a mention with their efforts appreciated by everyone in the hall.
There is a great deal to be said about this non-competitive approach and the sense of inclusion, enthusiasm and positivity it brings…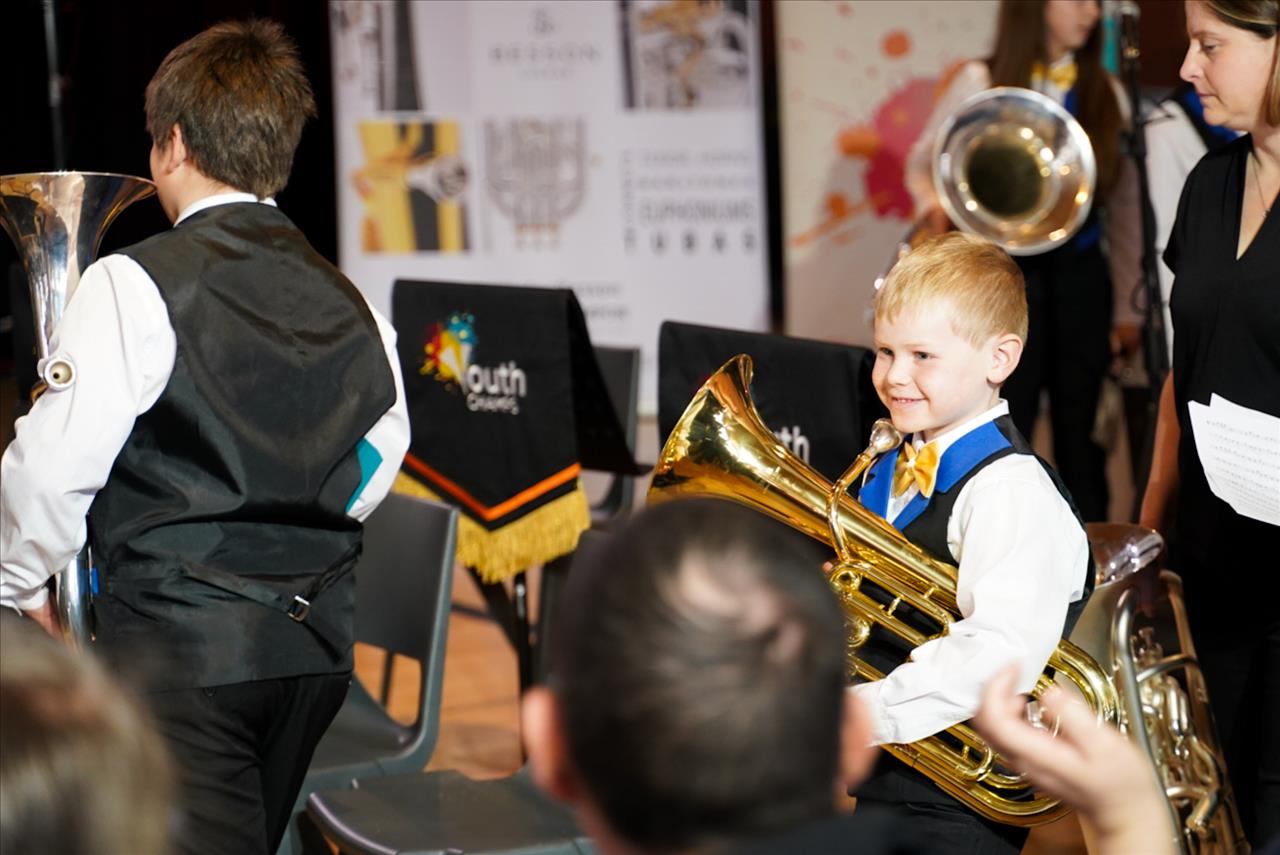 Bass playing brains…
17 year old Zak Ahmed was the featured soloist with Barnet Youth Brass Band in their eclectic set - one that also featured one movement from 'A Moorside Suite' and a bit of elegant cool Pat Metheny too.
Zak has been playing for eight years and really enjoyed the experience here this weekend - so much so that he revealed that when he hopes to get to Cambridge University to study chemical engineering he still wants to play bass in a local band there.
"I enjoy playing in the band and singing, but I'll still keep my lip in though with friends if they have a university brass band. I like the sound of the UniBrass Championships!"
He also promised to find a formula to keep tubas clean too and make himself rich...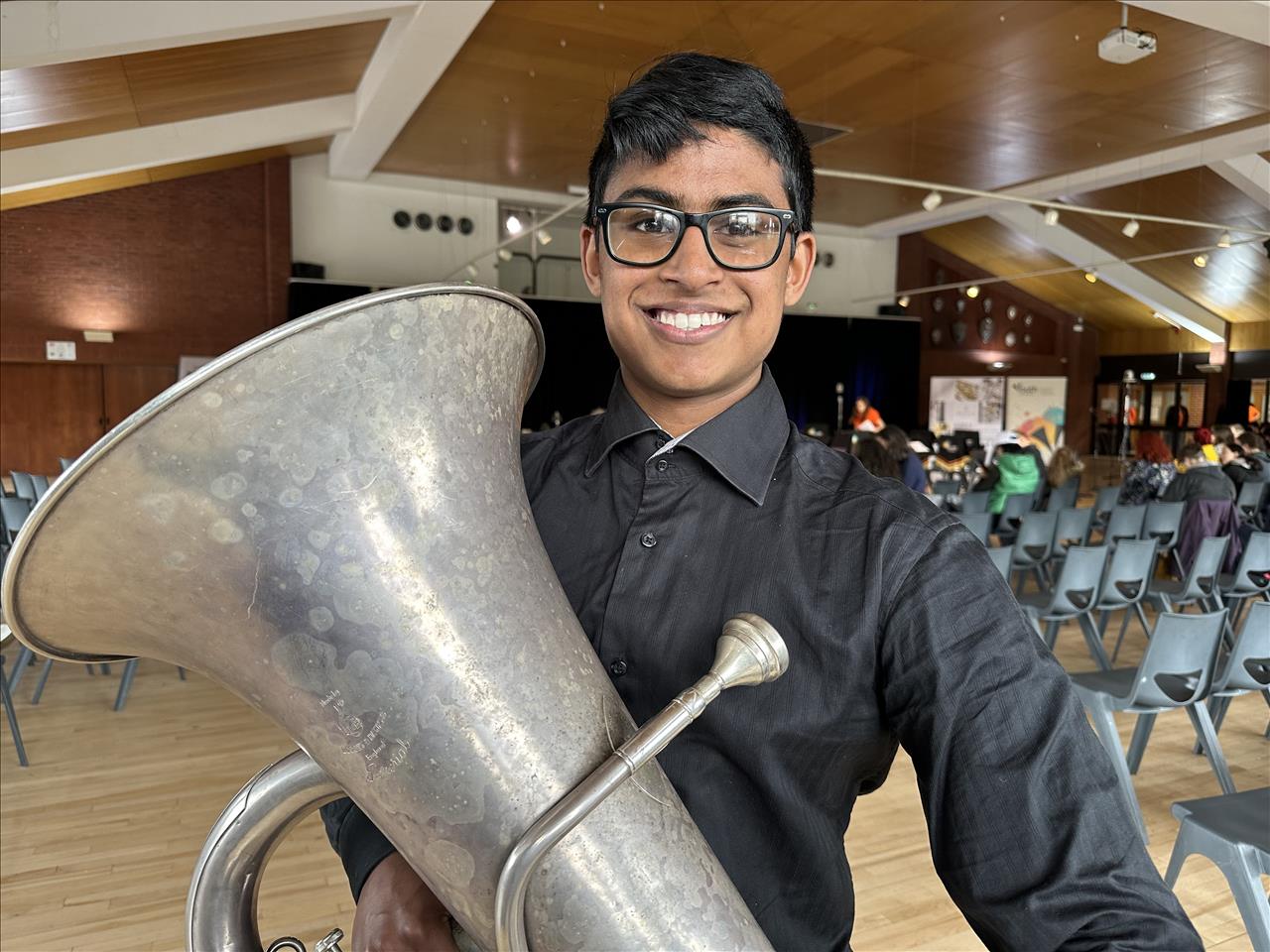 Percussion shortage…?
The six brilliant young percussionists from Stockport Schools Brass Band may still be small in size, but they stood tall in their performance today.
And with senior bands always on the lookout for percussion players for contests, Theo, Edward, Isaac, Ethan, Sophia and Finlay can now up their dep fee price….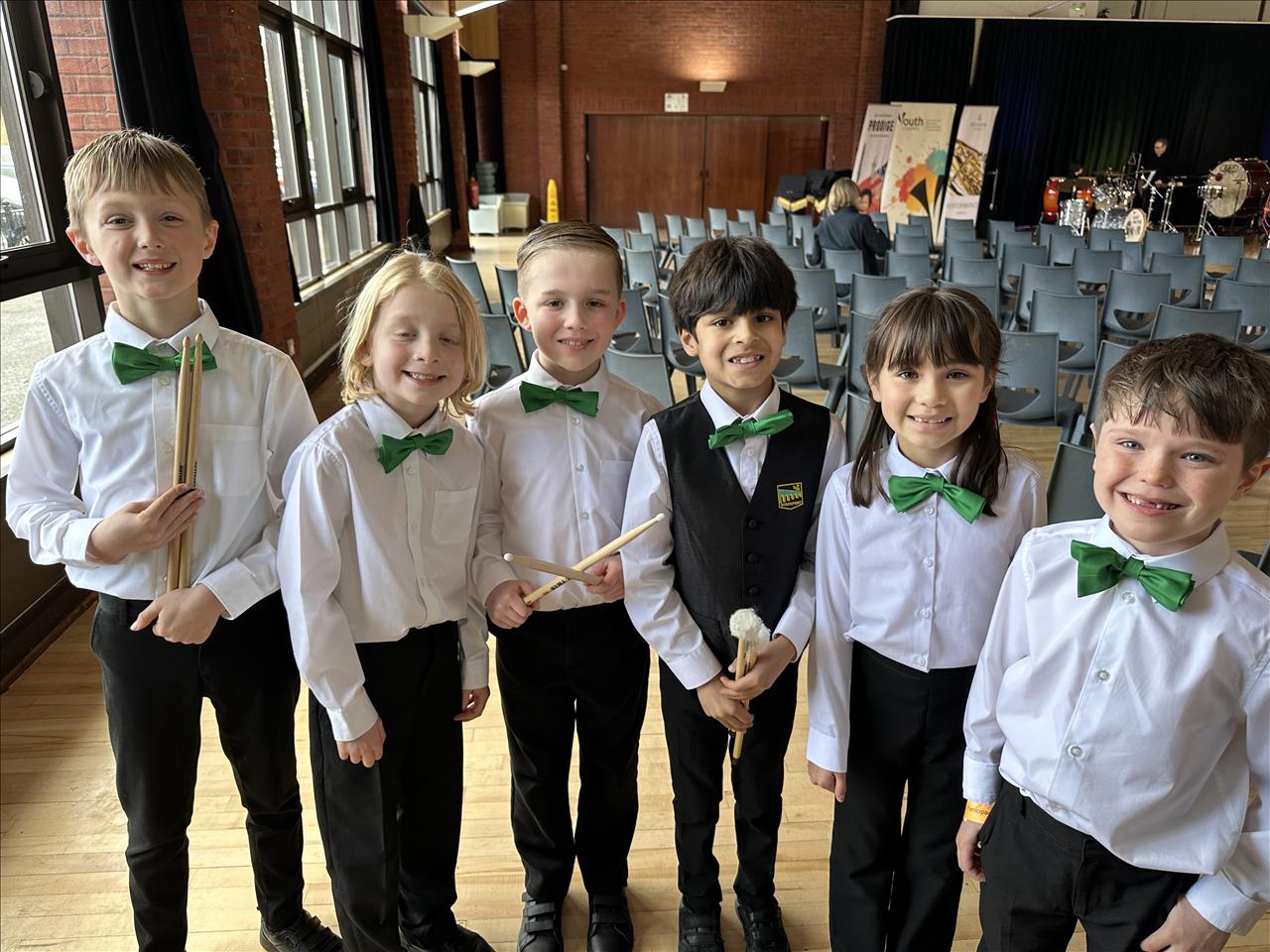 Go electric…
The players of St Ignatius College from Enfield certainly showcased their talents with a super programme led by conductor Alan Duguid.
The instruments included brass, percussion, plastic and electric - with the young man on the powder blue stratocaster underpinning the foundations with the tuba team with the best funky beat you could imagine.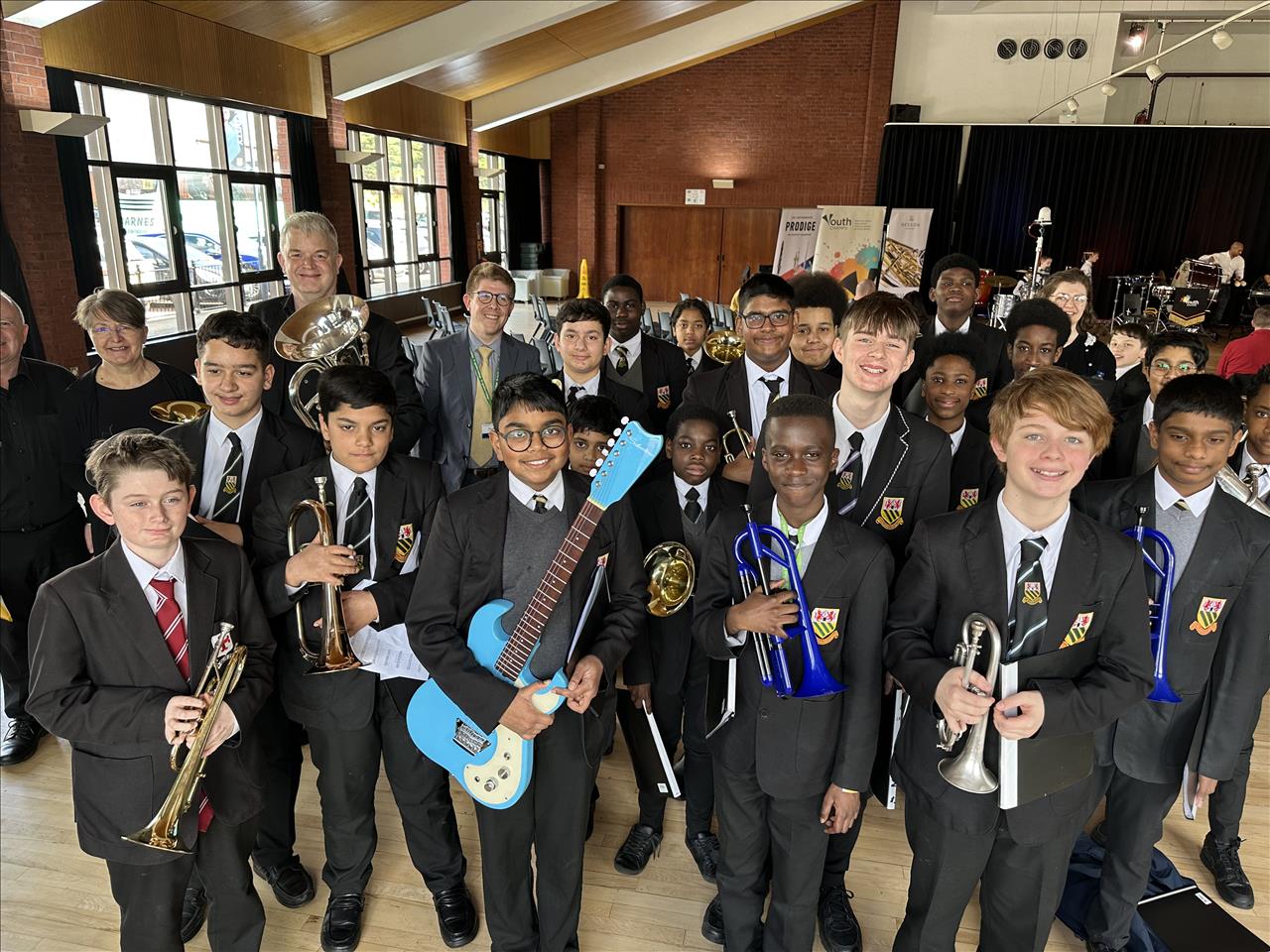 The Generation game…
The great youngsters of the Milton Keynes Music Hub put in a super performance today under the baton of their Welsh MD David Rose.
Many years ago when both he and the 4BR Editor were roughly the same age as the players today, they were members of the Tredegar Junior Band that won the Butlins Youth Championships of Great Britain - in a band that also contained the likes of Robert Childs and Nicholas Childs.
That gave him the bug to become a music teacher and to go on and inspire countless youngsters into beginning their brass band journeys.
The latest generation gave a fantastic performance today - so it shows just how important inspiring young players can be.
Who knows - one his players today could also go on to conduct Black Dyke in the future…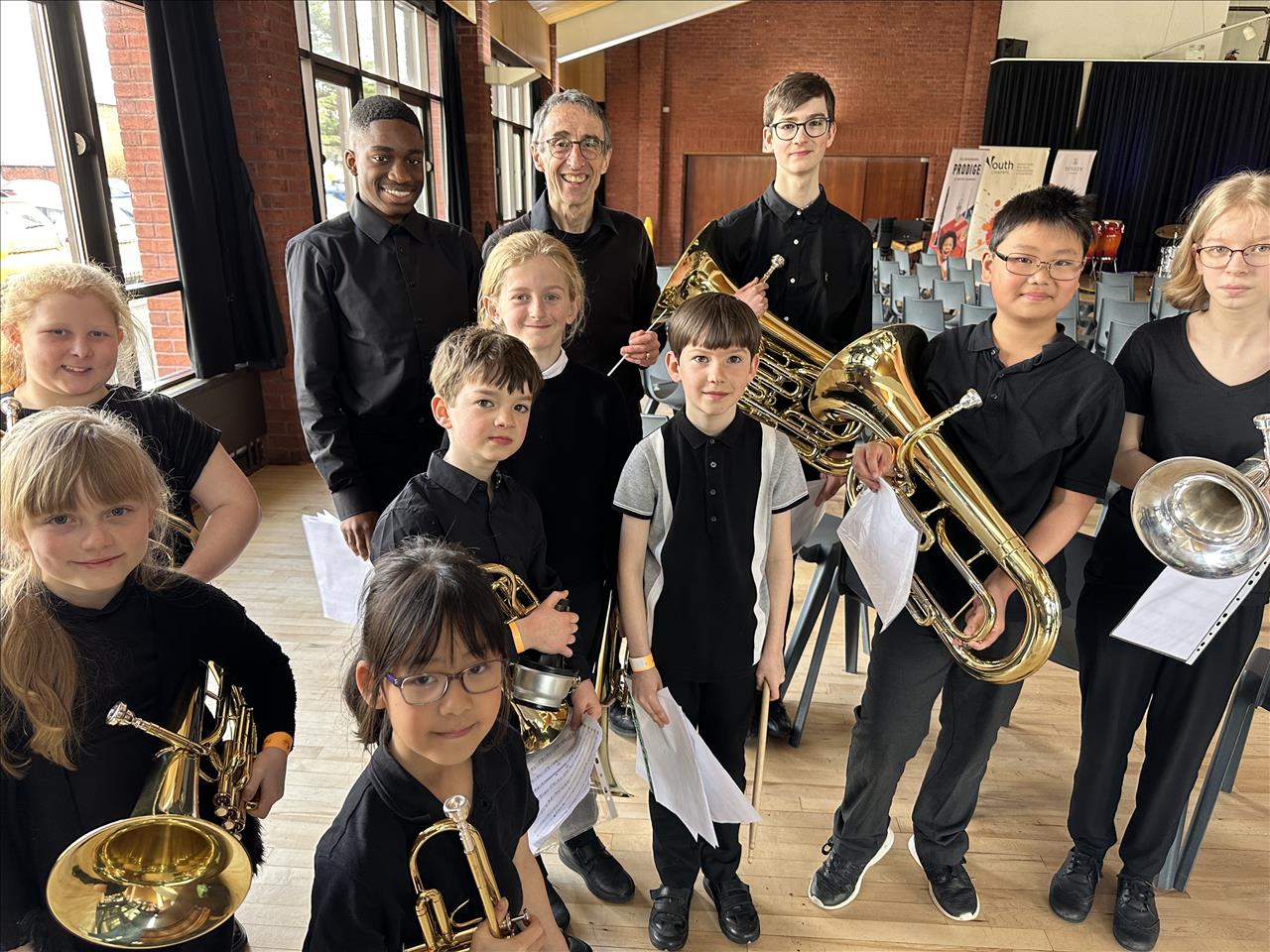 Fortissimo smiles!
The Besson Prodige Section has been a delight this morning - all levels and ages of development on show.
The inclusion ethos is key - and the music has ranged from 'Old MacDonald had a Farm' to Beethoven's '9th Symphony'.
The confidence that is giving the youngsters can be both seen and heard - and if smiles could be heard on their faces they would be all fortissimo!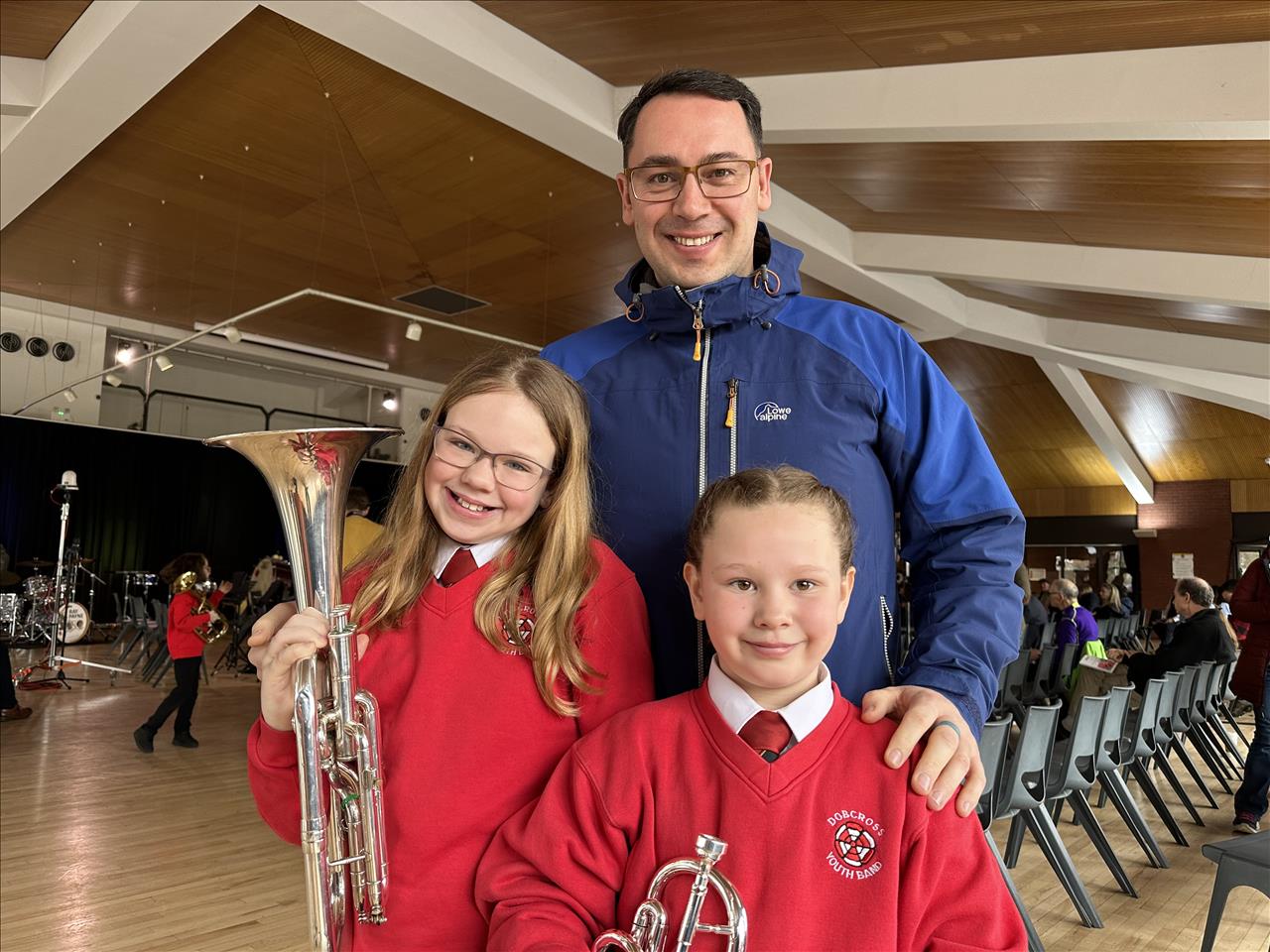 All inclusive!
The ethos of the event today is all about inclusion - and we are enjoying that in action in the Besson Prodige Showcase Section.

After the Regional Championship series that has just taken place - the question that springs to mind is how do we enable all these great youngsters to be part of those events - and how much they would be if we had the vision to do just that...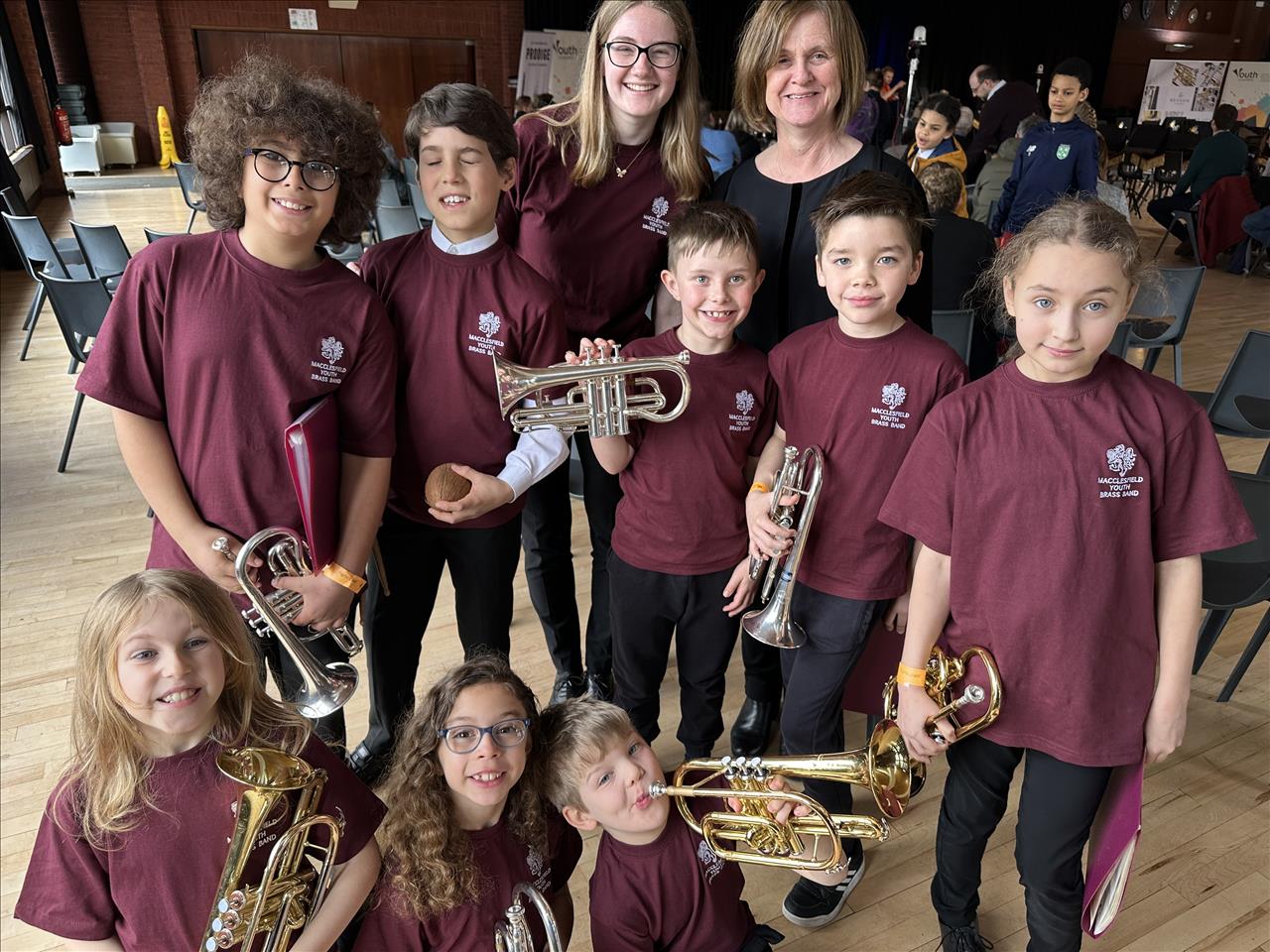 Alex Humphreys - BBC presenter, gamer and brass bander!
The presenter today is Alex Humphreys, well known to the youngsters as a presenter on the BBC Newsround programme as well as appearing on Blue Peter and others well known programmes on both the BBC and S4C.

She is an avid 'gamer' and has written a top selling book on it too - and also has a great brass band pedigree playing with a number of Welsh bands.
Alex told 4BR: "It's great to be here and to be able to present at the event. Just seeing the youngsters on stage reminds me of when I started playing - and the pride on show is incredible."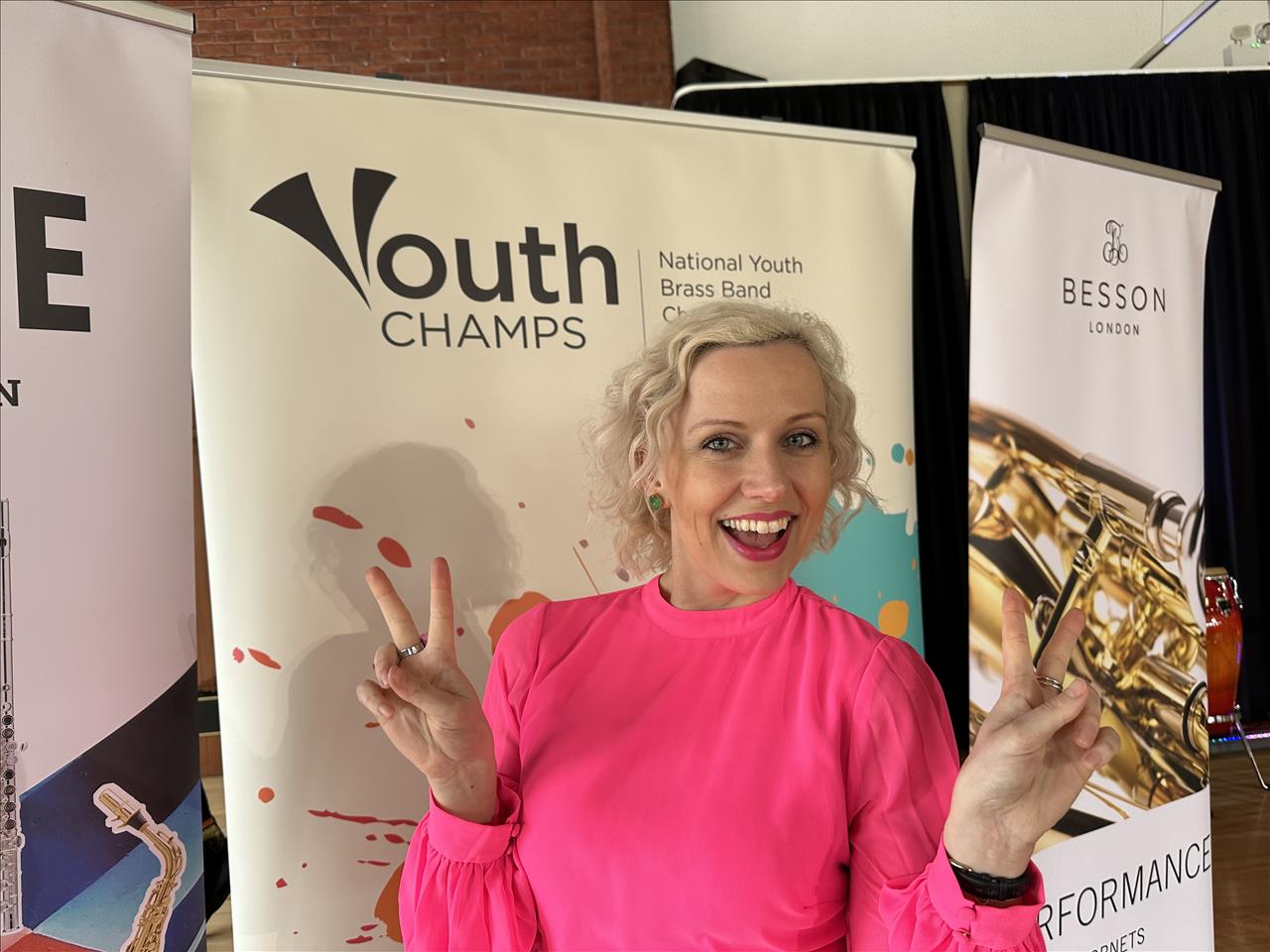 Besson Prodige Section:

We have just popped into the Prodige Showcase Section which is an all inclusive non competitive event that offers the opportunity just to take part and showcase emerging skills, talent and bags and bags of enthusisam.

As you can imagine there are plenty of very proud family members and supporters on hand to applaud their hands off.

It's a brilliant way to get youngsters involved.