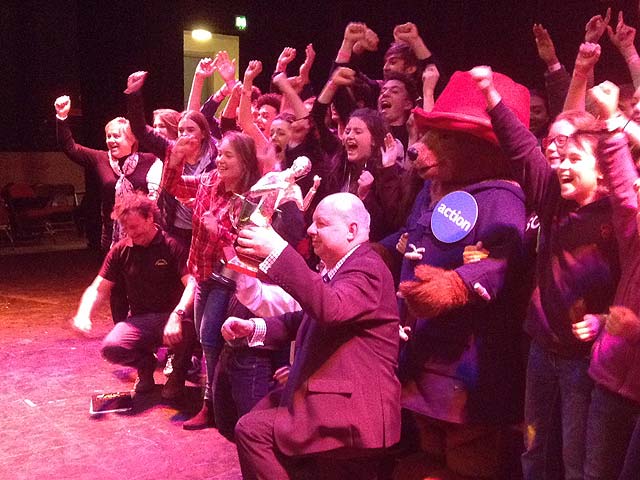 Youth Brass 2000 will look to add more silverware to their collection
4BR looks forward to the Action Medical Research Youth Entertainment Championships of Great Britain in Blackpool this weekend.
It doesn't seem that long ago that Big Ben struck midnight to mark the start of 2017. Amazing at it seems, but in the six weeks that have passed we've already reached the third major Youth Championship of the year.
After the Butlins and Brass at the Guild British Open events in Skegness and Preston respectively, the fun and games head to Blackpool and the Action Medical Research Youth Entertainment Championships of Great Britain, at the Winter Gardens on Sunday (February 12th).
Superb entertainment
Now in its 33rd year, there will surely be a few mothers and fathers who once took part in the contest themselves supporting their offspring - a brilliant indication not just of the family orientated atmosphere, but also of the commitment of the sponsors and the hard working team of organisers under the leadership of the indefatigable Gary Walczak.
Junior Ensemble
Following the innovative approach to commit to a Junior Ensemble competition last year, it's great to report that the event will take place once again in the Arena, starting at 10.30am.
Twelve months ago, three bands took place, but the encouraging news is that this year there are seven. Last year's event not only showed that there was great potential for this contest to develop, but that there were some amazing performers on show too.
2016 contenders Blackpool Brass, Kearsley Youth and Wigan Youth Zone will be joined by Over Wyre Brass, Red Admiral Music, St Kentigern's Primary and Wardle Academy Beginners for a contest that is sure to bring more enjoyment than a ride on the Big Dipper.
It's also a great way for the youngsters to dip their toes into competition waters (and links up with the same ideas that have been pioneered at Butlins, the National Youth Championships and the Scottish Youth Championships), so there should be plenty of great music making to enjoy for judges, Dave Collins and Alex Bray.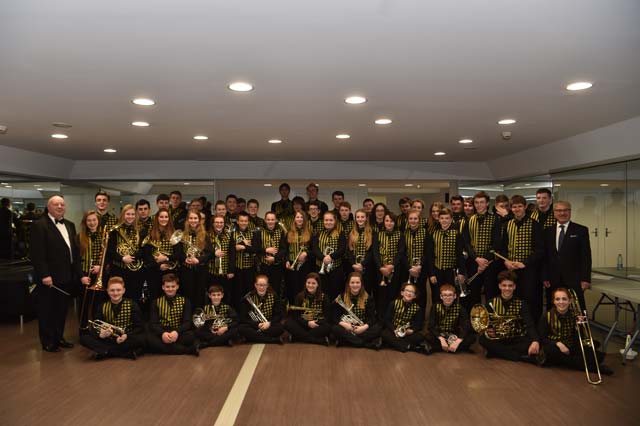 The all conquering Youth Brass 2000 are the defending champions
Brilliant
The standard of playing and presentation in the main Youth Brass Band Entertainment event which takes place in the Opera House starting at 11.10am, borders on the bewilderingly brilliant: It is no exaggeration to say that it is every bit as good, if not better, than many of the elite bands at the Brass in Concert Championship in Gateshead.
There is sure to be something to savour from each of the eight competitors for certain - made up of a core of loyal competitors as well as last year's debutants, Lions Youth and Seindorf Beaumaris, the 2014 champion.
With the youth band contesting diary shoehorned into five early season weekends, it's an amazing achievement by each band to come to Blackpool with stunning programmes under their belts - especially as in just over seven weeks time, the National Youth Championships take place in Salford.
With exams and studies to cram in, no wonder parents and family members may have the odd sleepless look in their eyes- although the adrenaline of sheer pride will surely keep them awake all day.
Open adjudication
2016 was the first time that both the music and entertainment judges were allowed to sit in the open, enabling them to experience the performances in all their glory - from the playing, right down to the brilliant costumes and choreography. The adjudication team this year is Paul Norley (music) and John Doyle (entertainment) - two men who know how to entertain a bit themselves.
Last year the brilliant MC Chris Haigh was able to boost excitement levels with his own special brand of informative humour, although with Chris now living in America, hopefully the same thing will happen again this time around: It was a fantastic addition to the entertainment.
With a pre-draw for the first three bands, the competitors will be able to plan their day without all worrying about an early start - although it would perhaps help if everyone knew just where they were in a draw for what can be a long day for parents and responsible adults in a venue that isn't perhaps the most child friendly.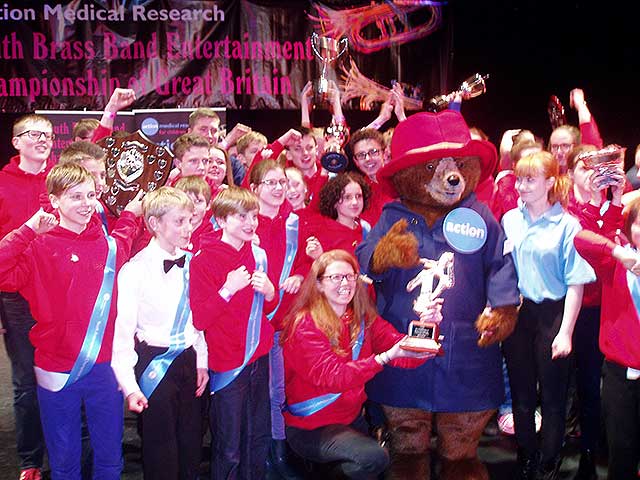 Former champion Elland Silver Youth will hope to win again
Memories
A lunch break has been allocated after the fourth band, whilst the production of a popular DVD package of highlights will once again provide lasting memories for years to come.
The ever inventive ensembles will certainly provide brilliant entertainment to view time and time again, whilst the link with the Brass in Concert Championship gives a wonderful added incentive - the winner gaining an invite to perform at Sage Gateshead in November.
Competitors
Youth Brass 2000's 'Beyond the Tamar' set took the spoils in style last year and they return under inspirational MD Chris Jeans keen to hold onto their title.
However, they will be faced by a strong field of rivals - notably the experienced trio of past winners Elland Silver Youth (Samantha Harrison) alongside Rochdale Borough Youth (Ben Dixon) and Seindord Beaumaris (Gwyn Evans), as well as Lions Youth (Nigel Birch) who despite certainly made an impression last year.
Enderby Youth (Trevor Hounsome) and Houghton Area Youth (Brian Adams) continue to go from strength-to-strength, whilst there is sure to be plenty of local support for Macclesfield Youth (Louise Renshaw) and Wardle Academy (Lee Rigg).
No wonder you will need to get to your seat in plenty of time.
Malcolm Wood
---
Tickets
Tickets will be available to purchase in advance at the Winter Gardens and the Tourist Information Box Office although its cash only with no cards being taken: Adults £10.00, Concessions £8.00, Children £5.00. There is a Family ticket for £30.00 for up to two adults and three children.
As always, 4BR will be there to bring you the great action as it unfolds.
The results will be announced after a short ensemble feature by members of the A4 Brass Quartet.
---
Who will win?
The Junior Ensemble is very much about those involved enjoying themselves, so we won't be putting any extra pressure on them by predicting a winner - just wishing everyone involved the best of luck.
Picking a potential 'Youth Champion' though gets tougher each year, simply because the standard is so high.
If Youth Brass 2000 can once again pull something out of the bag they may be the band to beat, although they could well be pushed by Elland Silver Youth and Seindorf Beaumaris. Dark horse contenders can be found everywhere - but keep your eyes peeled on Houghton Area Youth and Wardle Academy.
4BR Prediction:
1. Youth Brass 2000
2. Seindorf Beaumaris
3. Elland Silver Youth
Dark Horses: Houghton Area Youth, Wardle Academy