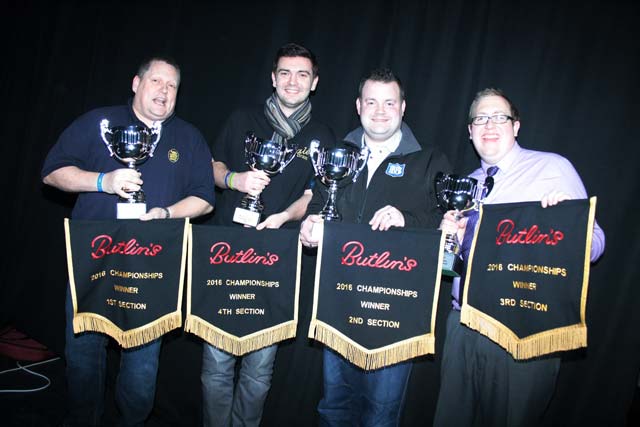 The Skyline Resort will not only be a hub of Championship Section competition on the weekend, as 74 First, Second, Third, Fourth, Youth bands and ensembles also flex their early season muscles.
They have certainly been given some engaging musical choices to perform - literally so in the Fourth Section, which has very sensibly been made an own-choice event.
It has encouraged some bumper fields of entrants, so why not make your way to the various venues dotted across the resort - with the First Section action starting at 10.00am at Reds, the Second Section at 10.30am at the Royal Arthur Suite, the Third Section at 11.00am at the Crazy Horse and the Fourth Section as the tasty aperitif at Centre Stage at 9.30am.

The Youth Section and Unregistered Section take place on Sunday at Reds starting at 12.00 noon.
---
First Section:
Malcolm Arnold's 'Fantasy for Brass Band' will surely have given the 24 competitors and their conductors a fine additional piece to work on as they started to tackle the equally engaging Area challenges of 'The Land of the Long White Cloud'.
Written for the 1974 National Championships of Great Britain, it's inspired by the Elizabethan sense of the 'Fantasy' term - a work dictated by the composer's fancy; 'fancy' being another name for the same form.
Arnold wanted to produce a work that did not contain too many 'short movements' (although it does have six linked sections of its own) - and one that he thought would impose considerable musical, rather than technical challenges.
He was quite explicit in his view that with 'Fantasy for Brass Band', '...the difficulties of playing faster than anybody else seem to me to matter little'. It was he said, '... a test of musicianship, which after all is the main thing in music'.
After it was first performed the great Alex Mortimer called it '...a piece that cannot be appreciated on sight', whilst the report on the contest in The Guardian newspaper (in 1974 brass band contests were still getting national press) lauded it as being, '...so immeasurably superior to most recent contest works... a real piece of music'.
Compact consideration
43 years later it remains a work of compact consideration in terms of pace and dynamic as well as clarity and style; from the opening stately fanfares and fidgety dance, through a yearning melancholic elegy and snappy scherzo to a whip-cracking vivace ending.
It also seeps with the capricious intellect of the composer; pitch-tar dark in its wit and reflectiveness. And whilst the most obvious technical challenge for the cornets is the sequence of top Ds that are liberally sprinkled throughout, it is that emotive, elegiac interlude that remains at its musical core; sad, troubled and moving.
Much then for the 24 bands and their MDs to consider as they take to the stage at 10.00am.
Who will win?
This is a contest that looks jammed packed with ambitious, well led bands, all more than capable of winning the £2,000 first prize as they look to impress the adjudication team of Derek Southcott and Mark Wilkinson.
Hebden Bridge returns to defend the title (alongside 10 others from 2016) whilst 2015 champion Unite the Union leads a host of rivals that boast some pretty good contest winning credentials, such as Eccles Borough, Enderby, Kidlington, Knottingley, Oldham (Lees), Skelmanthorpe and Stannington amongst others.
4BR Prediction:
1. Unite the Union (City of Sheffield)
2. Eccles Borough
3. Skelmanthorpe
4. Stannington
5. Oldham (Lees)
6. Hebden Bridge
Dark Horse: Kidlington Concert Brass
---
Second Section:
The Royal Arthur Suite plays host to 18 well-matched bands (10 returnees from 2016 including defending champion Besses Boys), with the experienced adjudicators Brian Rostron and Allan Holdsworth sure to enjoy a closely matched contest.
Paul Sharman's 'Inclusion' is a crafty, ambitious choice made by Stan Lippeatt - an engaging work commissioned in 2013 by Carole Hirst through Bolsover District and Arts Council Funding for the International Staff Band of the Salvation Army.
Paul (who is a member of the cornet section) presents a free flowing composition that places plenty of technical demands to compliment the cleverly realised, familiar themes that signal 'inclusion' to those who attend church for whatever purpose, background or personal religious faith. Its 10 minute structure is also very much of the here and now with Salvation Army compositions - think PLC's 'Fire in the Blood' etc.
It may be short and sweet, but it packs a firm ensemble punch and will, as Luke Chapter 3 Verse 17 says in biblical brass band contesting terms - separate the wheat from the chaff.
Who will win?
A hard one to call, as at the end of last year quite a few bands here were in fine form.

There is always a strong contingent sent from the North West with the likes of Haydock, Hucknall & Linby, Besses Boys, Pemberton, Darwen and Hoover all in the mix alongside last year's runner-up Soham Comrades, Crofton Silver and Bodmin Town up from Cornwall.
4BR Prediction:
1. Soham Comrades
2. Hucknall & Linby
3. Besses Boys
4. Crofton Silver
5. Haydock
6. Bodmin Town
Dark Horse: Pemberton Old Wigan DW 'B'
---
Third Section:
The beginning of the end of a royal era will be marked in the Third Section at the wonderfully named Crazy Horse venue, when the last of the 'Divine Right' rulers of this sovereign land enjoyed a right old knees up at Bolsover Castle in Derbyshire.
No expense was spared for Charles I and his wife: It cost just over £15,000 in 1654 to put on the court masque (over £3.5 million at today's prices) which featured a three course meal, a dance for tradesmen (kept in time with a beating anvil) and a touch of cupid romantic dialogue.
Philip Wilby has crafted a wonderful score in 'The Lion and the Rose' of six linked sections that pays homage to a moment in time that was never to be repeated; fanfares and flourishes, processions and dances, romance and regality. A few years later Charles had his noggin lopped off and Britain had become a Cromwelian Commonwealth.
The musical craftsmanship on show is as exquisite as the ceiling painted at a later date to commemorate the event - hallmarked by Wilby's ability to bring the tiniest detail to bear. It is a lovely score to delve into and for a band to play. Kevin Wadsworth and Philip Littlemore should thoroughly enjoy themselves.
Who will win?
Each of the 14 contenders should fancy their chances on this engaging composition, so it could be a really close battle for the title.
The Yorkshire duo of Dodworth Colliery MW and Dinnington are a solid pairing, as are Greenfield and Farnworth & Walkden over from the North West. Ifton Colliery has impressed here over the past few years, whilst 2015 winner Stamford Brass could be in with a shout again alongside and Dronfield Genquip.
4BR Prediction:
1. Farnworth & Walkden
2. Dodworth Colliery MW
3. Greenfield
4. Dinnington
5. Ifton Clliery
6. Dronfield Genquip
Dark Horse: Stamford Brass
---
Fourth Section:
Stan Lippeatt's decision to make the Fourth Section an own-choice event deserves the plaudits - and a healthy audience in the Centre Stage venue to kick start the proceedings at 9.30am.
It has been an eminently sensible direction to take - not just as it encourages bands to play music that suits their needs and aspirations, but with the Regional Championships on the horizon, it also gives the chance to work on more than one test-piece if they so choose - making rehearsals much more interesting and enjoyable.
What pieces will be presented to Paul Norley and Breett Baker is anyone's guess, but hopefully it will be a mixture of what it to come such as 'Anglian Dances' by Alan Fernie, some established favourites and even something new and a bit different.
Who will win?
The bookies will surely be giving pretty short odds on Sale Brass making it a hat-trick on wins after their impressive success in the last two years and a solid 2016, although they will be pushed hard to do it by some well led bands.
Chief amongst them are the in-form outfits such as Crystal Palace, who came third last year and BMP Europe Ltd (Goodshaw), Kirkby Colliery, Thurcroft Welfare, Banovallum Brass and Syston.
4BR Prediction:
1. Sale Brass
2. Crystal Palace
3. BMP Europe Ltd (Goodshaw)
4. Kirkby Colliery Welfare
5. Thurcroft Welfare
6. Banovalllum Brass

Dark Horse: Syston
---
Youth Section and Unregistered Section:
Sunday afternoon's entertainment in Reds will be provided by the splendid bands in the Unregistered and Youth Sections - packed with talented young players and led by excellent conductors.
Shirland Training and Wigston Enterprise start the ball rolling at 12 noon hoping to impress adjudicator Martin Heartfield with their entertainment sets.

They will be followed by the first of five bands in the Youth Section all with their eyes on the £1000 first prize and the Keith Wardle Memorial Trophy.
The defending champion is the all-conquering Youth Brass 2000 led by Chris Jeans who are looking to make it a eighth win in the last nine years. They are up against Enderby Youth, Gresley Colliery Youth and Shirland Youth form the UK and the welcome visitors of Bavarian Youth Brass under their MD, Benjamin Markl.