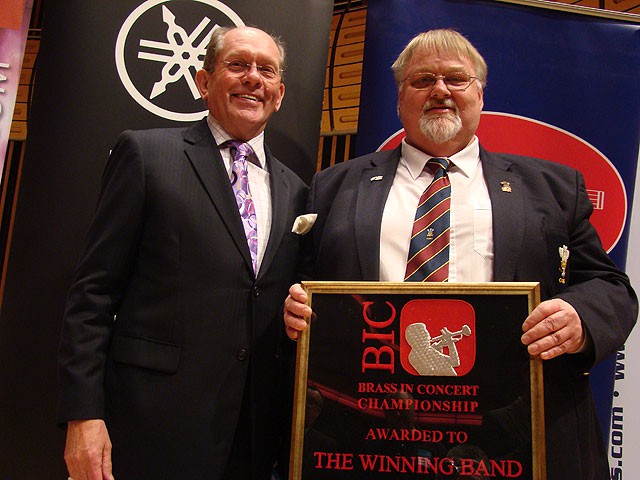 Presenting the winning band....2013 champion Cory
A long and at times exhausting domestic contesting season comes to an exhilarating conclusion on the banks of the River Tyne this weekend.
10 top UK bands are joined by Dutch and American rivals for a contest that has been compared to a cross between the Krypton Factor meets Jeux Sans Frontières - except anyone thinking that it's now all about showing how clever you whilst jumping over an army obstacle course dressed as a Disneyland teapot is sadly mistaken.
That's because since moving to The Sage in 2005, Brass in Concert has slowly but surely reinvented itself.
Gone is the cheap as chips amateurism. Now it's all pommes pont-neuf professionalism.
Tough love

That diet of 'tough love' reform, aimed not just at giving the contest itself a kick up the backside, but also planting a hefty sized 10 boot on the rear end of complacent competitors, has worked well.
Great credit goes to the Brass in Concert organisers - led by Paul and Jackie Beere, who have undertaken the changes necessary through thoughtful, decisive action plans, backed by sponsors who have expanded the scope of the event to a much more family orientated audience.
As a result, the contest hasn't completely lost touch with its 'Rothmans' fag end roots - but nowadays it provides entertainment to its highly supportive punters minus the government health warning stuck on the packet.
Early scores

For instance, bands are now required to provide full details of their 23 minute programmes three weeks before the event, with a further deadline seven days before the contest to have acquired all the necessary copyright and performance permissions, which have to be sent to the organisers along with bound copies of their music scores.
It has meant that they have had to invest much more thought, time and money in putting programmes in place - and much better they look for the effort too.
Gone are the last minute changes of mind and the rather shadowy practice of using 'new arrangements' that have had the same level of provenance as a Qatar World Cup ethics report by FIFA.
There may have been a few grumbles from hard pressed contenders who in the last couple of months have also had to concentrate on the British Open and National Finals, but that supportive approach (there was a 'copyright' help-line to the excellent Philip Littlemore) shows that Brass in Concert is serious about providing a platform for brass bands to show how good they really are - not just how good they believe themselves to be.
Vegan menu

Hopefully, all the hard graft will also pay off with an audience that is getting increasingly familiar to hearing (although not always enjoying) more adventurous musical choices.
What were once inherently conservative musical taste buds have started to enjoy more exotic fayre in recent years: Heaven forbid - there's even a vegan menu option and cappuccino coffee on offer at the concourse cafe.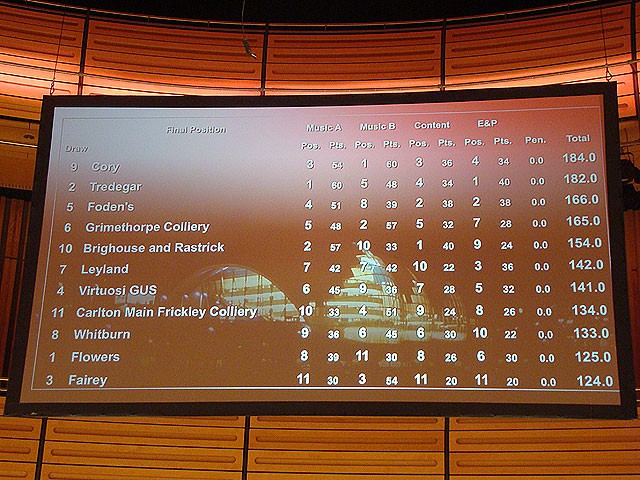 It's all there to work out...

Points mean...

The competitor's sense of musical adventure will also be emphasised by a category points system that rewards those that can balance London Palladium showtime entertainment with Olympic level technique in programmes that make coherent musical sense.
It has taken a little getting used to from everyone concerned - not least the judges in the past - although this year it's good to see Alan Morrison and David Thornton (Quality of Performance) joining Paul Cosh (Programme Contest), Steve Sykes and Jo Wheeler (Entertainment & Presentation) in a fine mix of all-round experience.
Meanwhile, Mike Kilroy has the equally difficult but separate task of choosing the solo and individual awards.
Stamina

If there is a little gripe it comes with the quantity rather than quality of the competitors on show.
Such is the prestige of Brass in Concert that just about everyone wants to take part (with a notable exception or two), but a dozen bands - starting at 9.00am, will test even the Herculean stamina of the wonderfully supportive audience.
Carlton Main kick off things, followed by Cory, Virtuosi GUS, Foden's, Schoonhoven, Leyland, Central Florida, Grimethorpe, Woodfalls, Tredegar, Fairey and Flowers.
No room for a sneaky take a break 'cup of cappuccino' band there then...
£4,000 first prize

Thankfully, Frank Renton will be on hand to entertain with his superb mix of information and informality, whilst as the results are being prepared, the remarkable Beaumaris Youth Band will present a short programme of their own under the baton of Gwyn Evans.
The bands have certainly upped their game if their programmes are anything to go by - so picking a pre-contest favourite to walk away with the £4,000 first prize and the Yamaha Newsome Brass in Concert Championship Trophy could be trickier than you may think.
It's obvious from what appears on paper at least, that the bands have given their sets much greater thought, with strongly defined themes replacing the old style liquorice allsorts approach.
That in itself can at times become prescriptive and tenuous, but on this occasion it looks like we could be in for plenty of tasty entertainment treats and stunning playing.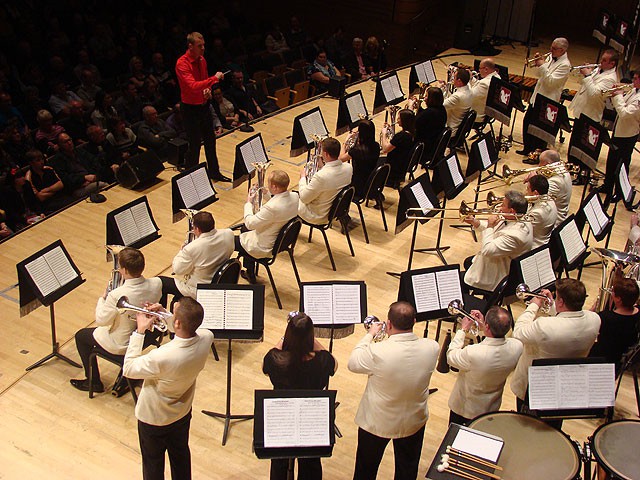 Bobby dazzlers - Can Cory make it three in a row

The band to beat?

Current form and confidence certainly plays its part, but with Black Dyke looking on from afar, it seems that reigning champion Cory could well be the band to beat once more.
Philip Harper's cleverly pitched programmes have certainly ticked the right boxes in the last two years, and they are one heck of a polished concert outfit (even the MDs shirts are like an advert for Daz washing powder) - so they could set the early marker that may be very difficult to beat.
Innovative

That said, last year's podium finishers Tredegar and Foden's are well known for providing innovative programmes and should fancy their chances of once again featuring in the prizes under Ian Porthouse and Allan Withington, whilst old crowd favourites Grimethorpe could well pull something a little special out of the hat now that Dr Robert Childs has started to make his musical mark.
It's not often you would call Leyland a dark horse at this event, but it will be interesting to see if they can up their rather inconsistent 2014 form to help the 'Entertainment King' Richard Evans celebrate his recent 80th birthday with a prize winning treat.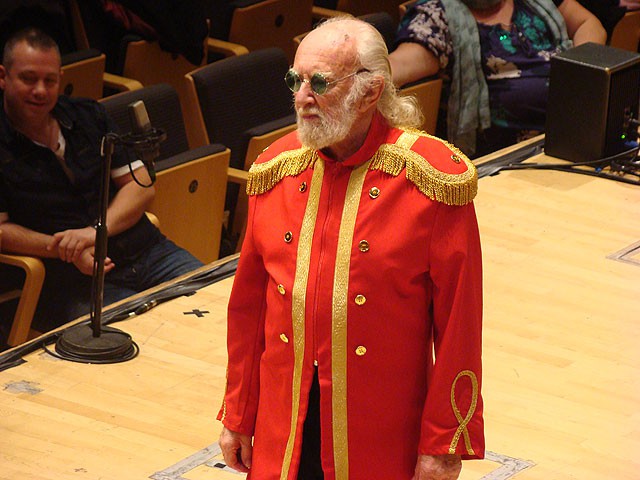 When I'm 64... Richard Evans won't want a Beatles birthday card this year
Supreme confidence

Consistency and supreme confidence has been the key to Flowers success this season as they look to round off a truly memorable year with yet another impressive challenge for major honours, although Brass in Concert hasn't seen the best of them - yet.
Fairey may well be the band to watch out for though - keen to make up for the disappointment of last year's underwhelming appearance with a freshly minted approach under Garry Cutt, whilst Virtuosi GUS will be looking to end a rather inconsistent contesting year on an upbeat note under Adam Cooke.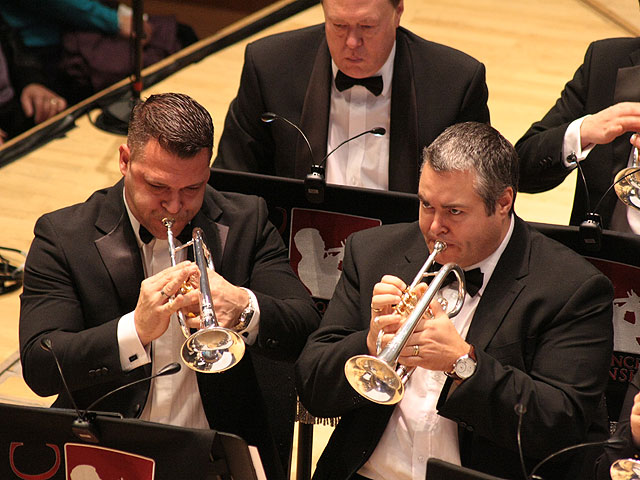 The best of Flowers at BiC is yet to come?

Up turn

Carton Main Frickley will also be seeking an upturn in contesting fortunes by utilising the entertainment skills of MD Leigh Baker, whilst debutants Woodfalls will look to make a mark helped by an MD in Ray Farr who certainly knows what makes up a successful Brass in Concert programme.
Impression

As for our overseas visitors?
Brass Band Schoonhoven will certainly want to show that their last place at their recent National Championships was no reflection on their all round qualities under the direction of Erik Janssen, as they take their first ever contest bow on at The Sage, whilst Brass Band of Central Florida makes their third appearance at the event.
Chad Shoopman's band has certainly made an impression on its last two visits (coming runner-up in 2011), so be prepared to sit back and enjoy some star spangled entertainment once more from the Floridians.
---
As for a winner?
Cory looks as if they have the sparkle and stamina to make it a hat trick of wins, despite the efforts of some pretty impressive entertainment rivals.
Foden's, Grimethorpe and Tredegar should be very close on their heels if the reigning champion shows the slightest drop in form, with Fairey, Brass Band of Central Florida and dark horse Leyland in the immediate chasing pack.
4BR Prediction:

1. Cory
2. Foden's
3. Grimethorpe
4. Tredegar
5. Fairey
6. Brass Band of Central Florida
Dark Horse: Leyland