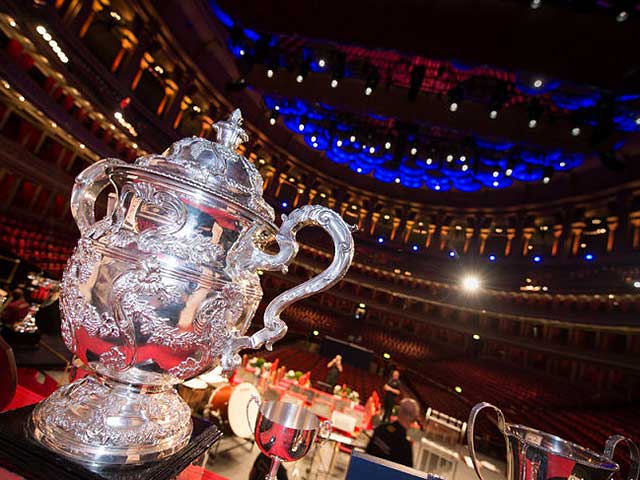 Only one band will leave with the ultimate prize...
Unlike Popes, Presidents and heavyweight boxers, there can only ever be one undisputed Champion Band of Great Britain.
One contest, one outcome: There is no Avignon rival or exiled dictator or punch-drunk pugilist waiting in the wings to post an enraged disclaimer, before, during or after this particular contest for supremacy is decided.
'The Legend of King Arthur' may provide banding journalists with an easy contesting metaphor - but the reality of the test is clear: Whoever wins will be the one and only holder of the most recognisable title in British banding.

Strongest field

That will be something to remember on Saturday evening at the Royal Albert Hall - especially as this musical battle sees perhaps the strongest ranked field of rivals ever to take to the Kensington stage: There is no one left in exile on this one with a misplaced sense of entitlement.
That said, Peter Meechan's musical portrayal of one of the great mythical figures of the nation's history has certainly caused a few dyspeptic gripes in the conservative guts of brass band test piece traditionalists; those for whom the drum-kit sound of a heavy rock beat pulsating through their spines is the musical equivalent of the Vandals at the gates of Kensington Gore.
Bladder endurance

Then again, any composer (and there have been a few) who has taken a fancy to the tale over the years has put their own particular take on things - from Chausson's C Major choral apotheosis to 'Le Roi Arthus' to Frederick Loewe's 'bladder endurance' score to the Broadway stage show.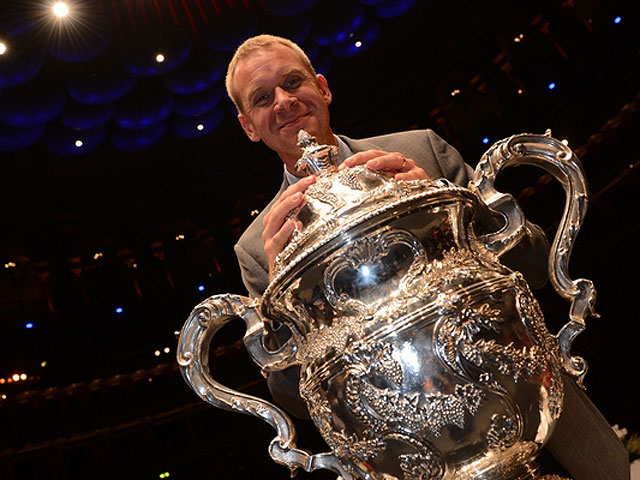 Philip Harper was head and shoulders above the rest last year with Cory

Menage a trois

Written in 2010 for Michael Bach (who is in the box with Stephen Roberts and Derek Broadbent) and Brass Band Burgermusik Luzern, it has just taken the brass band world a few years to catch up with a version of its own.
As a result, the composer's interpretation of the fateful regal ménage-a-trois is a bobby dazzler showstopper; an eye popping rock opera score that could easily accompany a film directed by Quentin Tarantino.
This is no dusty retelling of the fall of Camelot: It's a 3D multiplex blockbuster - all swords, sex and slaughtered Saxons.
Modern, melodic, filmatic, witty (the lion's roar a symbol of knightly virtue, the sword pulling, a trick or treat moment of operatic illusion Dynamo the Magician let alone Merlin the Wizard couldn't better), and thumpingly, vividly, bold as brass.

It's 'Game of Thrones' meets the rock opera 'Tommy', with Keith Moon as Lancelot.
Old bruiser gone to seed

It's also a sharp eyed contemporary portrait of Arthur as an old regal bruiser slightly gone to seed - past his youthful best, beset by a treacherous wife with loose knicker-elastic and a so called best mate handier with an unsheathed weapon of a very different variety in his hand. The audience will love it.
The bands will also have had plenty of fun and games in preparing their challenge; the transparency of the writing (which they can manipulate with Merlin like alchemy), the taxing solo interventions and throbbing rhythmic undercurrents are the stuff top class bands love to show off on - and this really is a peacock posing, oiled-up pecs piece of work.
Breaking swords

Undisputed titles don't come easy though: Enter fully into the mythical, modern spirit of things and all sorts of Arthurian glory beckons - but underestimate its seriousness and plenty of would be King's of Britain will soon find they will be breaking their swords in defeat way before its end.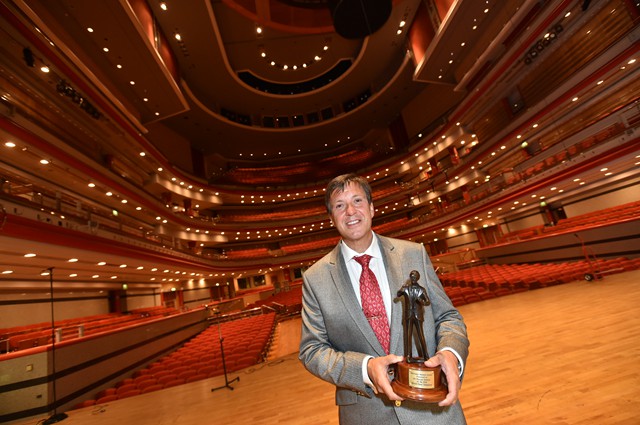 Can Prof Nicholas Childs add the National title to go with his Open success?

National throne

The 20 bands that make their way to the Camelot of Kensington form the highest ranked round table of rivals assembled here for quite some time (14 of the top 16 British bands are on show), with no less than nine boasting at least one year of undisputed hegemony on the National throne to their name.
If a regal bloodline is to play any part in deciding who wins, then you cannot look much further than the claims of Black Dyke.
Already wearing the crown of British Open champion, they will head to London bursting with confidence after that Birmingham triumph - although they haven't enjoyed much success here since their last victory in 2009.

That could be all about to change this weekend.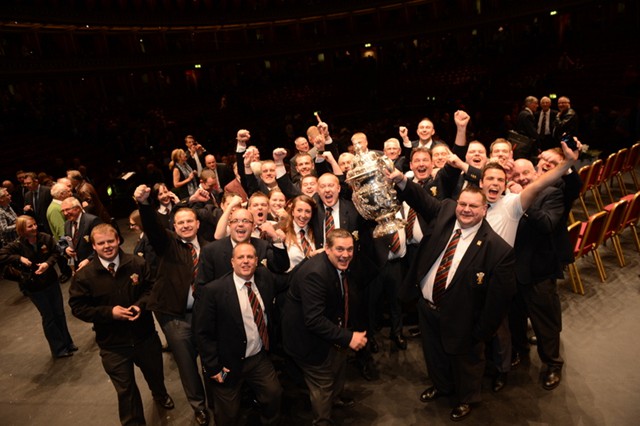 Hard to get their grasp off...

Title holders

To do that they will have to dispose of the titles holders Cory - who came so close to adding the Open title to their 2014 CV.
If it's high risk taking sword wielding you are after then Philip Harper is your man (although if he loses his grip on his Excalibur baton this time he could decapitate the whole of his cornet section).
All that and they appear to be in no mood to relinquish their grip on the trophy. You suspect it will take one heck of a performance to prise it from their grasp.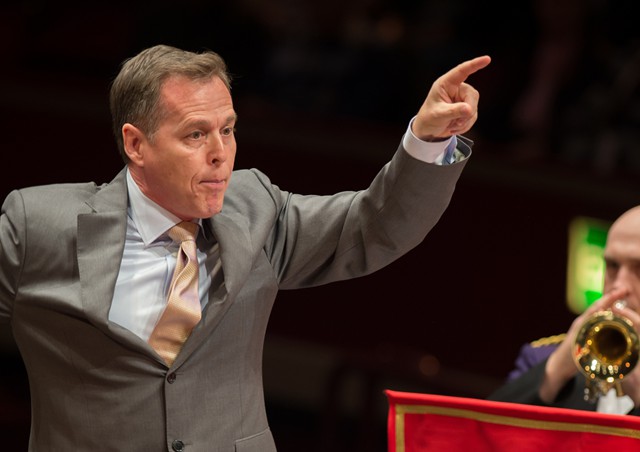 Can the King be crowned King on Saturday with Brighouse....

Heavyweight trio

That said, a trio of heavyweight former winners in Foden's, Fairey and Brighouse & Rastrick could fancy their chances to do just that.
However, they will have to perform with the precision of a dead eyed assassin from the very word go if they are to deliver a coup-d'etat to the Welsh holders - something that all three, to varying degrees, didn't quite managed at Symphony Hall.
Few Bob
Meanwhile, Grimethorpe certainly won't want to be first up to try and pull the sword from the stone as they seek their first victory here since 2007 - although you won't best against them taking the trophy back to Yorkshire if they get a more favourable draw than they did at the Open.
And whilst Co-operative Funeralcare and Virtuosi GUS are bookies long shots after their disappointing Open appearances (their last victories here came in 1996 and 1966 respectively), there may be a few bob being placed on Desford gaining a fifth title success if they can build on the mightily impressive form shown in Birmingham.
Flowers Lancelot

The one band that everyone is keeping an eye on though is Flowers - who could well play the part of Lancelot to a tee under Paul Holland.

There is a contesting momentum flowing through their veins at the moment that could come to startling fruition on a work that seems to tick all their uber-confident boxes.
It's as if Guinevere is already waiting in the boudoir and Arthur ready to hand over Excalibur and the keys to the lock on her chastity belt, if things go their way. They could come that close to winning it all.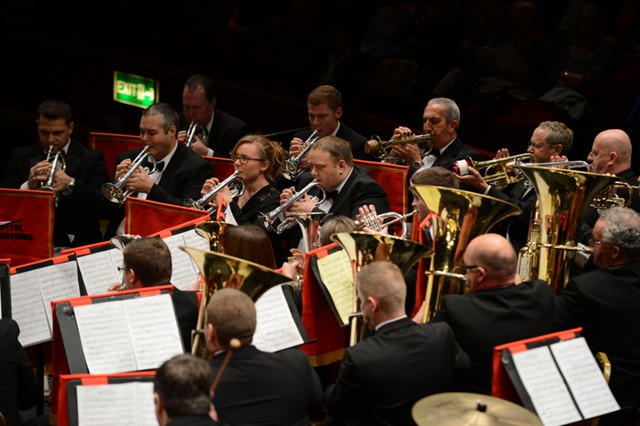 Arthur is ticking the right boxes for Flowers...

Depleted

That was the case with Tredegar last year, as they ended runner-up.
This time around though they have work to do to challenge as mightily once again - and much depends on their ability to restore their renowned levels of stamina and brio, which certainly sounded depleted in defence of their Open title.
Last year's other podium finisher Carlton Main, also endured a disappointing British Open and return looking to once again deliver the type of engaging musical performance that found so much favour in the hall as well as the box.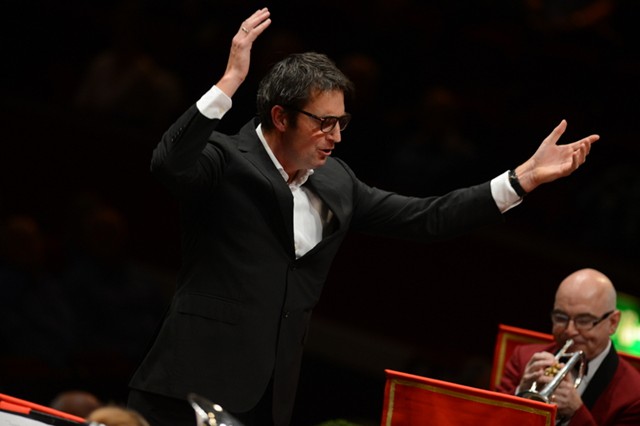 The Flying Dutchman Erik Janssen leads a confident Whitburn

Confidence

Meanwhile, a quartet of bands that didn't take part in the British Open should travel south with a fair amount of confidence; with Tongwynlais, Whitburn, Woodfalls and Reg Vardy heading to London unencumbered by lack of preparation time.
Whitburn will certainly look to post a third successive top ten finish and Reg Vardy a second. Woodfalls will be keen to show that last year's sixth place wasn't a spectacular 'one off' whilst Tongwynlais look to consolidate their top flight form after a disrupted post European Championship period.
Impressive

The increasingly impressive EYMS makes a welcome return to the Albert Hall for the first time since 2011, whilst Burry Port takes its first bow since 2006.
And even if the odds on Friary Guildford or Wantage Silver are pretty lengthy to claim the title, both are emerging forces at this level and should be confident of more than holding their own.
---
4BR Prediction:
When it comes down to it, invariably the best band wins in London (shocks are rare) – so you wouldn't want to bet against it being a battle between Black Dyke and Cory on present form: Both were a good margin ahead of their rivals at Symphony Hall.
It's between them for us, with Brighouse & Rastrick and Flowers snapping at the heels alongside Grimethorpe, Foden's and dark horse, Fairey.
1. Black Dyke
2. Cory
3. Brighouse & Rastrick
4. Flowers
5. Grimethorpe
6. Foden's
Dark Horse: Fairey
Top 10: Desford Colliery, Co-operative Funeralcare, Tredegar