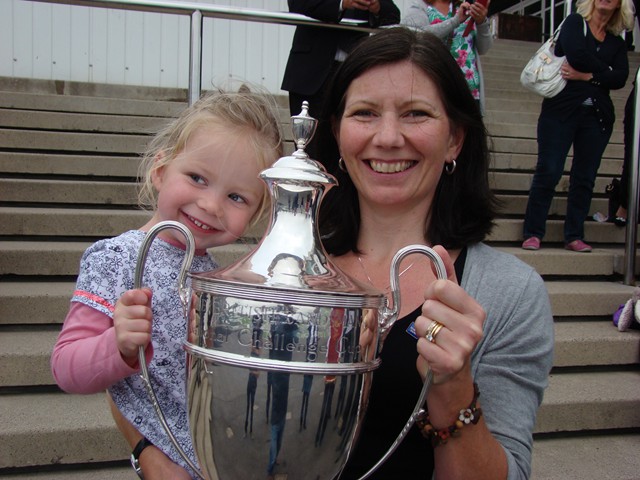 Miss Marples: Sarah Groarke-Booth and her daughter give us a winning smile

The lasting legacy of Marple's wonderful victory won't be the winner's banner that will hang proudly for years to come in their bandroom, but the message it sends to bands that may at present be going through something of a rough old time of it.
Never give in and never give up.
No headstone

The obituary columns of banding history are full of major contest winners who have shuffled off their mortal coil: The British Open ossuary contains the dearly departed bones of Ferodo Works, CWS Manchester, Kennedy's Swinton and Sun Life amongst others.
Thankfully, Marple's headstone has never been engraved with a RIP date - although they have come close on occasions since winning the Open in 1996. Passion, dedication, commitment and sheer bloody-mindedness has enabled them to at first survive (they were down at one point to just six players), then rebuild, and now, finally prosper.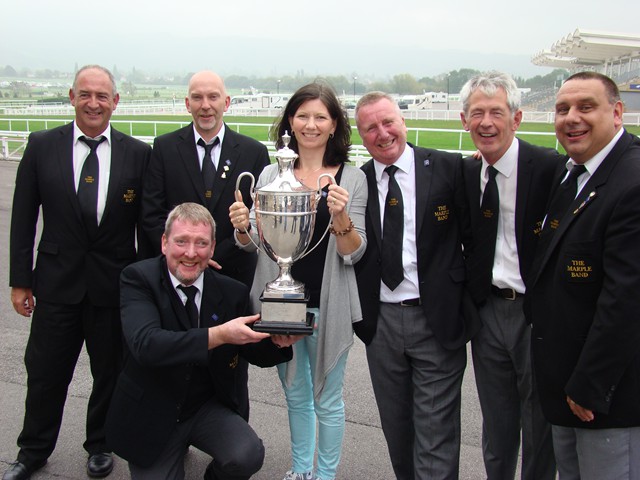 The Magnificent Marple Six (make that seven)

More important

In the years to come, banding historians may not deem this victory as being as memorable as that Open success, but for the supporters and players of the band, it will surely be seen as even more important.
Theirs is a success story that should inspire every band in the land: Marple has faced the Grim Reaper once - and once is enough.
No wonder they wanted to get back to their local pub near Stockport and celebrate after local girl Sarah Groarke-Booth had returned (only being able to agree to conduct in the last couple of weeks) to lead them to victory.
It must have been one heck of a wake...
Not lost

The 'never say die' spirit that underpinned Marple's third National title (they won the Third Section in 1986 and this title two years later) won't have been lost on the bands that filled the top six places behind them either.
Lockwood Brass (recently returned to contesting), Fulham (who rehearse not far from the millionaire pads of Chelsea footballers), Parc & Dare (who have played at the European Championship), Forest of Dean (the amalgamation of two bands) and Mossley (who can boast two Open victories) will all identify with a kindred spirit in their North West rivals.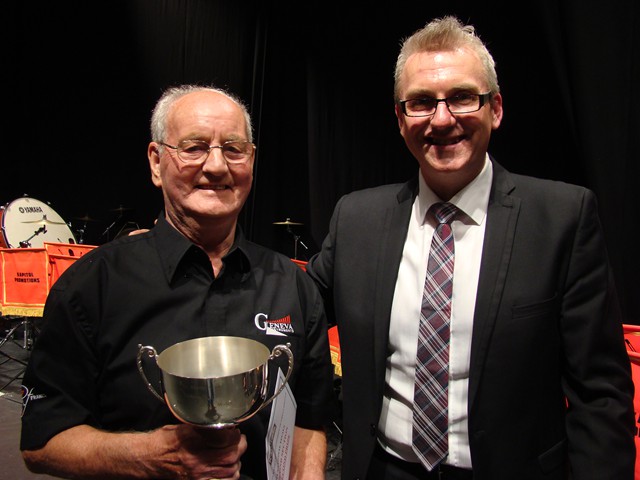 A wonderful return for Lockwood

Resonance

Meanwhile, the musical analogy represented in Oliver Waespi's superb set work, 'Traversada' won't have been lost on any of the 17 bands at the contest.
Inspired by the treacherous high altitude mountain passes that join small, linguistically isolated communities in the Swiss Alps, it held a touch of resonance for every competitor: You suspect each of them has had to survive a scare life threatening or two over the years.
Uneven

That was echoed throughout an enjoyable, if slightly uneven contest: The best bands bringing out both the lyrical beauty as well as the technical precision required of the inventive writing as they tried to find their way to safety.
Little ciphers of Waespi's masterful 'Audivi Media Nocte' could be heard throughout - especially in the mesmerising rhythmic pulse of the technical passages, and the wistful beauty of the simple quartet opening 'S-chura not' Romansh song.
It wasn't beyond anyone's capabilities; enabling the best to showcase ambition and confidence, although the weaker bands found greater difficulty, due in no small part to understandable nervousness (the flugel players didn't have the greatest of days).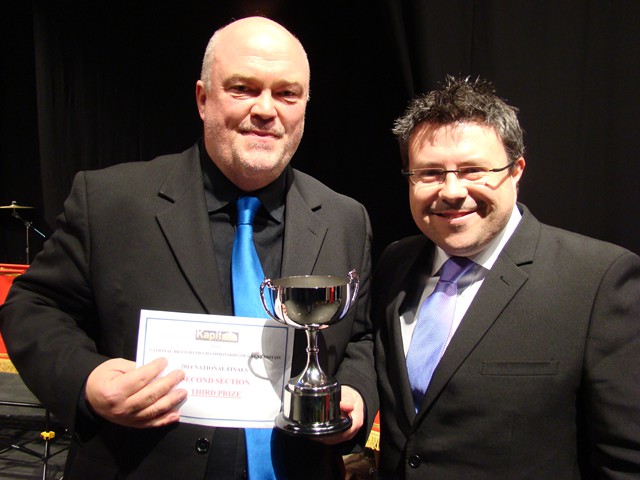 Classy Fulham take the final podium slot

Stood out

Adjudicators Ian Porthouse and David Thornton also made sure that the audience, players and MDs knew exactly what they were looking for in their pre-results remarks.

The top two of Marple, directed by Sarah Groarke-Booth, and Lockwood, led by John Roberts, stood out for them, with the rest of the top six just a little, but significant, margin behind.
Some debate

And whilst there was some debate from neutrals about the confident performance of Mossley (which eventually came 6th), Knottingley (10th) and Elland (12th), you would have been hard pressed to find too many people who didn't have the eventual top two in their podium prize predictions.
Marple's impressively delivered early draw rendition was certainly beatable, but none of the remaining bands could quite match their engaging combination of surefooted technical security and elegant musicality that was enhanced by the MD retaining the simplistic beauty of the opening quartet theme in its varied forms, from start to finish.
It did teeter occasionally, but Sarah Groarke-Booth's excellent direction instilled such a degree of confidence in her players that they never let it affect them, enabling individual lines to shine and the ensemble to build to climax of robust certainty.
Clarity

That was also the case with Lockwood Brass, as John Roberts intelligently utilised the experience of many of his leading players.

Just now and again it got a little out of balance (with some bold cornet work in particular), but the clarity of the approach and the confidence with which it was delivered marked it out.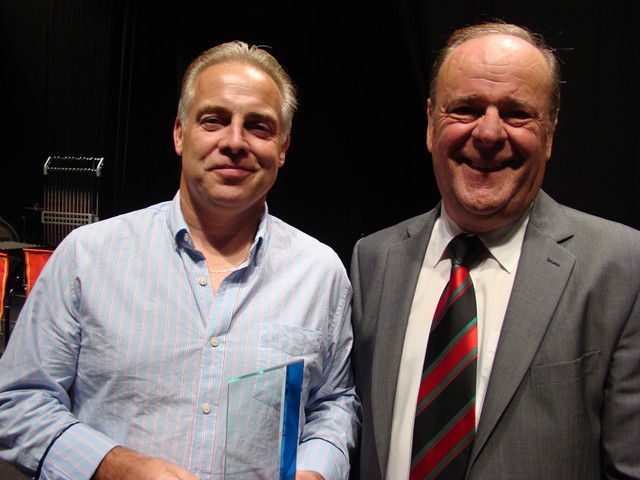 Foresty Commisison for Best Instrumentalist Craig Wintle of Forest of Dean

Classy restraint

Behind them, a slightly more restrained approach from John Ward enabled Fulham to negotiate their way through the traps and crevices with a touch of classy elegance, with Parc & Dare overcoming a slightly misfiring start to produce a performance that grew in stature the further it progressed.
It was a similar story for Forest of Dean (with Craig Wintle on cornet outstanding in taking the 'Best Instrumentalist' Award), whilst Mossley perhaps just got a little too powerful and strident in the opinion of the judges in what was certainly the most vividly portrayed account of the contest.
Consistency

Elsewhere, it was consistency, or lack of it, that undermined some pretty well planned out efforts.
You suspected the MDs knew that due to the clarity of Waespi's writing they would find it hard to bluff their way through by enhancing dynamics and camouflaging weaknesses.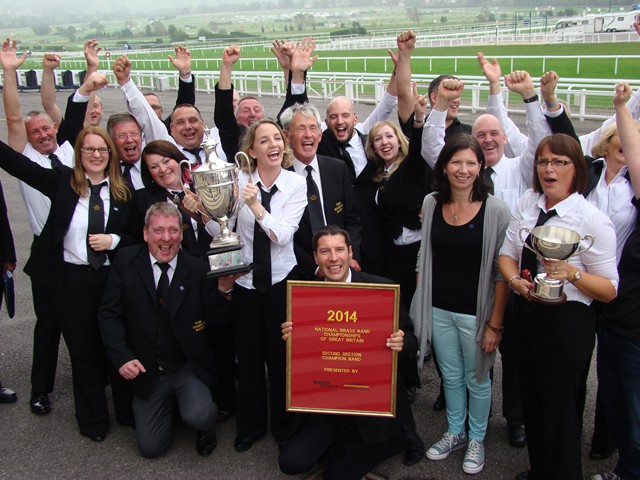 A bright future for the new champions

Little gems

Thankfully, not many tried, so there was much to enjoy with the likes of Blaenavon (who delivered a strong number 1 marker) as well as Knottingley and Elland who caught the ear. There were also some little solo gems from Sam Harrison of Elland and a certain Jeremy Wise on flugel for Soham Comrades to push Craig Wintle close for his solo award.
And whilst the bands at the bottom end of the results table may well have left for home a little disappointed, they would do well to reflect on how Marple has turned disappointment and near disaster, into triumph.
They may not win another British Open ever again, but at least they know that unlike many who have since become fading memories in the dusty pages of the history books, their future will be written in many more chapters to come.
Malcolm Wood