2014 Champions of Europe: Brass Band Burgermusik Luzern

For a country best known until now for its precision watches, banking system, luxury chocolate and alpine scenery, Switzerland's Wikipedia entry might need to be re-written in the wake of Burgermusik Luzerne's thrilling victory in Perth.
National dream

As Michael Bach and his joyous players took turns to lift the iconic European trophy on high, the whole of a closely knit banding culture could finally celebrate the fulfilment of a Swiss national dream.
None more so than the winning conductor's proud father Markus Bach, one of the pioneering spirits of modern Swiss banding and a leading architect in the development of the European Championships from fledgling contesting curiosity into the premier brass band competition in the world.
Clarity of purpose

This really was a victory dreams are made of: How many Swiss brass band supporters would have thought that the first appearance of Feldmusikgesellschaft Frohsinn Schötz at the inaugural event in 1978 would finally lead to this?
Switzerland has a blossoming, professionally run movement which has matured with a focussed clarity of purpose. Its top flight bands - led by Luzern, also display increasing strength in depth, directed by home grown conducting talent that is progressive and ambitious.
Following this victory, they could very well become the dominant European banding nation for many years to come.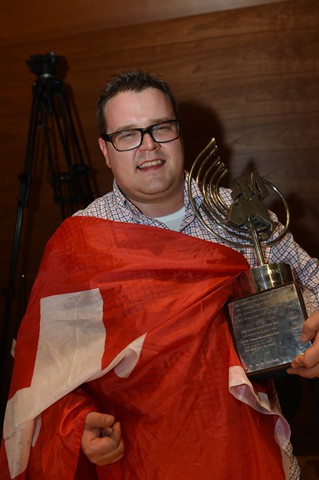 The musical flag bearer - Michael Bach

Two engrossing days

What unfolded in Perth over two engrossing days was a contest of exceptional quality; the set test and own choice disciplines producing playing of a standard that has rarely, if ever, been equalled in its history.
Perhaps just as significant was the clear realisation that a host of European nations now produce realistic championship winners - something which the British will have to take careful stock of.
Fulcrum

The fulcrum is undoubtedly centred on the Swiss and Norwegians.

Their flag-bearers here were Luzern; a remarkably vibrant, exciting, risk taking ensemble led by a conductor who sweats droplets of musicality, and Eikanger, a more mature, deeply intense, musically searching ensemble led by an MD with an unquenchable thirst for contest success.
These nations can only further inspire the likes of Holland and Belgium - represented by a revitalised Willebroek and the increasingly impressive Schoonhoven, whilst also unlocking the frightening potential of the likes of the French and Austrians.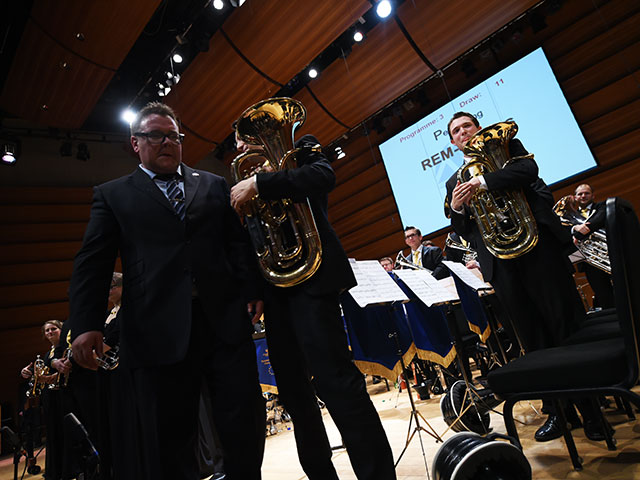 Walking into the history books after their own choice performance

British response

How heavyweight British champions respond to this increasingly dominant assault before the contest returns to these shores in 2019 at the earliest, will be interesting - and crucial to the future prosperity of top flight banding in the UK.
The map which defines the boundaries of Europe's banding super powers could be entering a remarkable period of fluctuating change.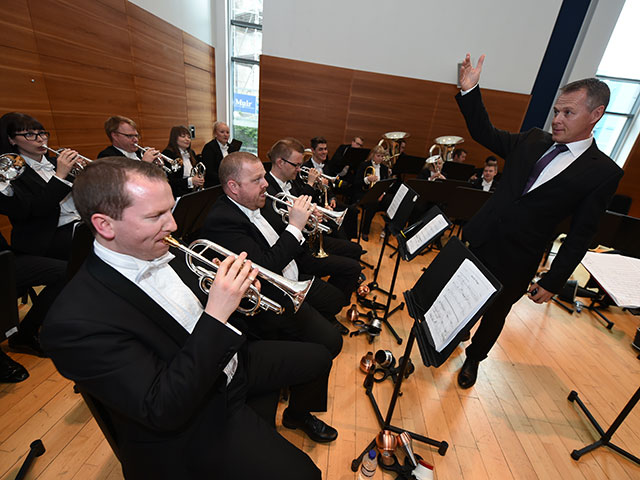 The King's speech - a last minute pep talk for Eikanger

Mouth watering

With so much negative pre-contest speculation surrounding Rory Boyle's viscerally powerful 'Muckle Flugga', it was not surprising that a mouth-watering Friday draw ensured that a decent sized audience made its way to Perth Concert Hall to hear the first leg of the contest unfold.
Not for the first time, both Cory (who drew number 1) and Black Dyke supplemented their playing resources - curious decisions that unlike their European counterparts somehow diminished rather than enhanced their inherent musical capabilities.
As well as they played, the need to add an extra level of volume seemed a redundant addition to their usually potent mix of technical brilliance and musical flexibility.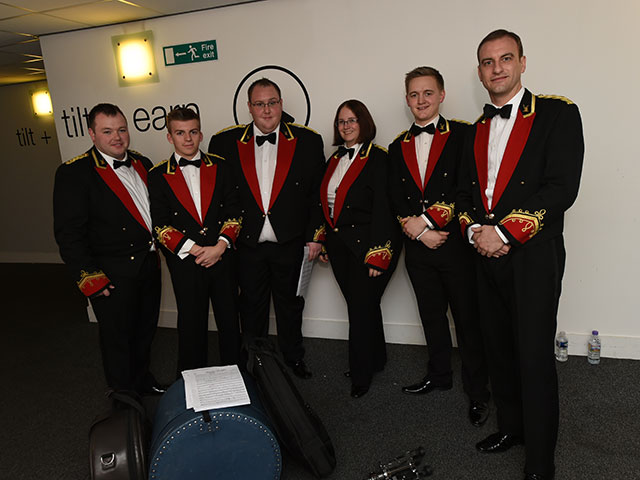 Bolstering the percussion ranks for Black Dyke

Cumbersome

On 'Muckle Flugga' both sounded strangely cumbersome - the usual well honed muscular perfection of their ensemble balance, bulked out by unnecessary layers of fat; the focussed warmth of tonality - especially at the mid dynamic levels, losing that oily sheen of viscosity that European bands have yet to match.
As a result, they could not bring their usual sharp edged focus to the thickly scored ensemble writing, whilst in contrast, Luzern and Eikanger (both with just an added ounce or two of personnel) seemed better, more comfortably balanced.
Graphic

The work's graphic visual title references (although not programmatic), gave a clear pathway into the music for both players and listeners alike, with the result proving that atonality does not negate emotional impact.
And as the finest performances proved (although opinions did vary), the hauntingly sombre 'Laments for the Drowned' that formed its beating heart were shown to be as deeply emotive as anything in the brass band literature, modern or otherwise.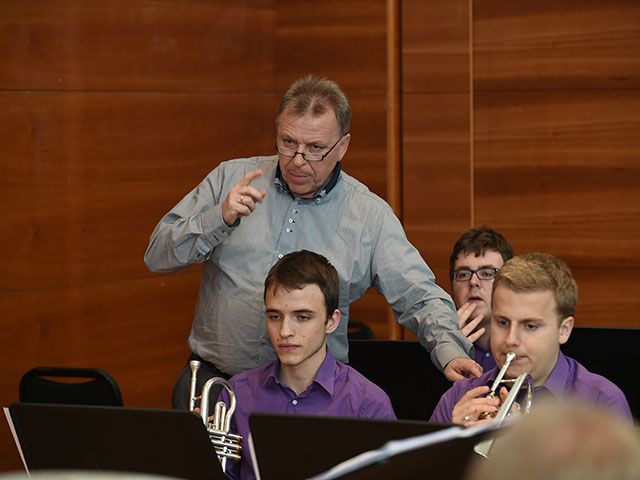 Eyes on the job for Frans Violet and Willebroek

Enfant terrible

Despite his clear enjoyment, the composer's bemusement at being branded an 'enfant terrible' in the mellowing years of his early 60's spoke volumes for the perception of brass bands in the context of his wider musical world - a point from which much should be learnt.
As fellow composer Nigel Clarke perceptively commented, we can only hope that it doesn't deter him for writing for the brass band genre again.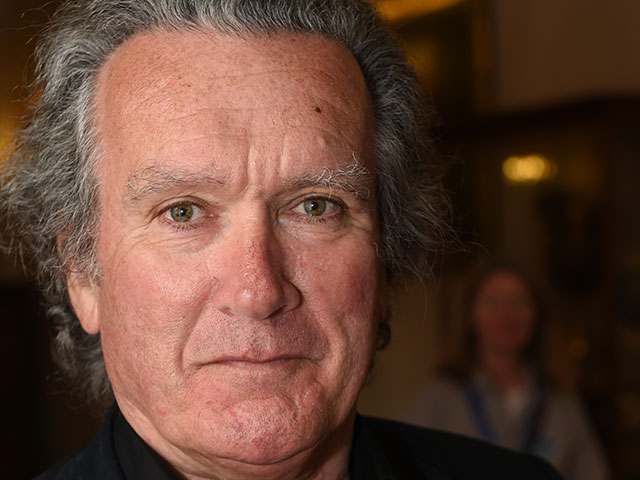 Hopefully more to come from the composer Rory Boyle
Hewn from rock

By the clsoe, the judges had opted for Willebroek's depiction of controlled clarity and detail under Frans Violet, ahead of Luzern's breathlessly elemental approach that seemed to be hewn from the very rock of the island itself.
In contrast, Eikanger's evocative interpretation full of luminous transparency was third, with the French of Paris Brass Band perhaps justified in being able to shrug their shoulders in Gallic frustration in fourth, after producing the one 'wow' interpretation of the day.
Dyke's rather somber interpretation ended fifth, with the consistent Schoonhoven, sixth. Cory's contest luck (which was pretty much absent all weekend) had already run out as their bold approach (much like Luzern) found little favour with the judges to end eighth.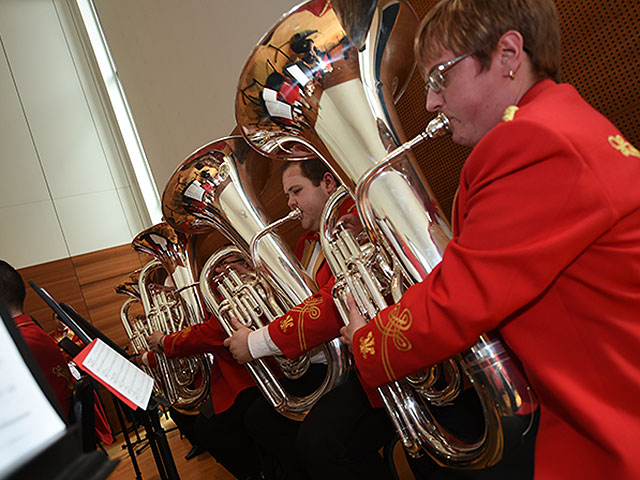 Cory's bass end test the acoustic

Opinions

Differing opinions aired in late night Perth hotel bars seemed to reinforce the view that the title could well be won by a band that did not top either contest discipline: And for the first time since 1997 that proved to be the case.
The following day, the brilliant performances of the own choice selections was the equivalent of Russian Roulette - although with 11 killer bullets to be found in the gun barrel pointed with the intention of blowing a hole in the minds of three blindfolded judges.
Sensational Dyke

Black Dyke was sensational - a return to the type of thrilling contest form that stands them apart when their MD, Dr Nicholas Childs has a composition to mould and interpret on which he feels at total ease.
In contrast to the set work, 'The Triumph of Time' saw Dyke at its kaleidoscopically brilliant best - Peter Graham's highly delineated work (with a sublime section of pianissimo playing that sent a chill down the spine - and with Katrina Marzella on supreme 'Best Soloist' form) ticking all the boxes required to send an audience into spasms of apoplectic appreciation and the judges into placing its first.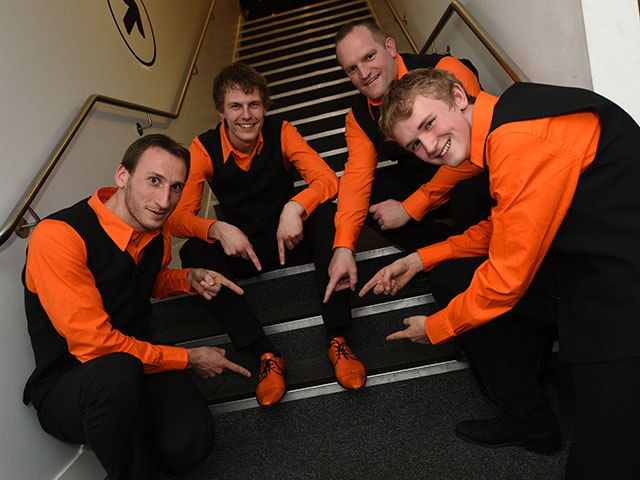 If the shoes fit for Schoonhoven...

Compelling Luzern

It would have been nigh on impossible to top, but Luzerne's own choice of Thomas Doss's fascinating 'REM-scapes' that rounded off the contest, almost did - and which crucially was good enough to also beat Eikanger.
The music's beguiling colours, textures and rhythmic energy were refracted through the prism of Beethoven's 'Moonlight Sonata' in compelling fashion, underlying the MDs intuitive musical approach that balances such an exciting tight rope of walk of possibilities.

It was truly inspired playing - bold, beautiful and brilliant.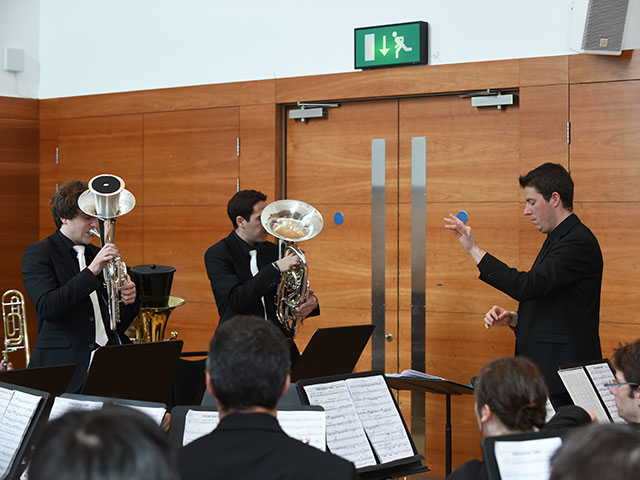 Stand and deliver for Paris

Fragile beauty

For Eikanger Bjorsvik, a second successive runner-up finish will come was a bitter blow, yet they will perhaps know that once again they only lost out by the narrowest of margins.
Both on the set work and Svein Giske's immense 'Goldberg 2012', their finest moments were to be heard in the slow music, where David King captured the fragile beauty of the writing like a man capturing tears of emotion in his hands.
Eikanger's wait for a third European crown continues - but on this form it surely won't last much longer.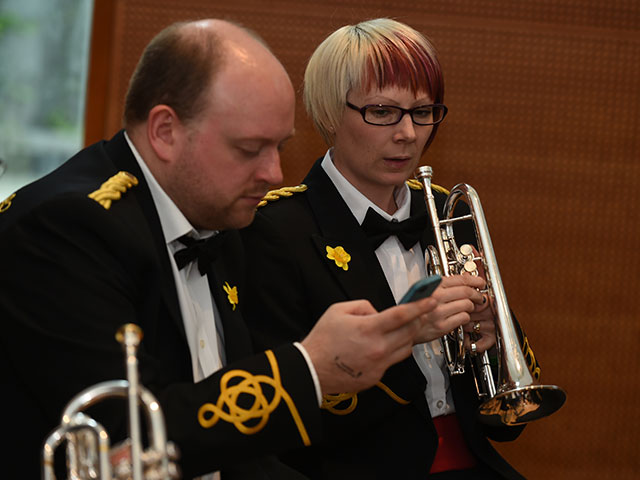 4BR said what? Tongwynlais check out the internet updates...

Dashed on the rocks

With overnight leaders Willebroek and fourth placed Paris both showing signs of fatigue on the immense challenges of 'On the Shoulders of Giants', and 'From Ancient Times', and Schoonhoven displaying high class consistency with their engaging 'Metamorphosis for Brass Band' premiere, Cory's attempt to retain their title was dashed on the rocks of another number 1 draw, despite a flamboyant world premiere of Philip Harper's 'The Divine Right'.
Arc welding

It was arc-weldingly sparkling stuff - but unlike Peter Graham's work, the glare of technical brilliance at times almost blinded you with its desire to leave scorch marks on the walls of the hall.

Even the hooded eyes in the box found it just a little too full of heavyweight bling and placed it fourth.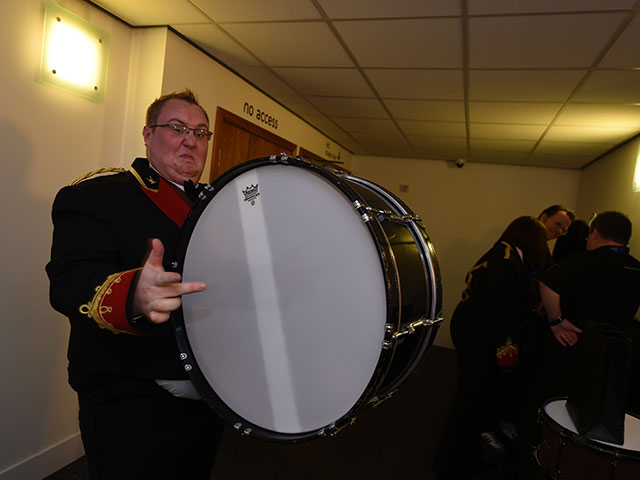 Black Dyke made a huge impression in the own choice...

Mini competitions

Over the two days, three separate mini-competitions emerged - the eventual top four bands pulling clear of Cory, Schoonhoven and Paris, whilst Austrian Brass Band, Whitburn, Concord and Tongwnlais engaged in a battle of their own - eventually topped by the emerging Austrians.
Each in their own way left Perth knowing what they will need to do to return come Freiburg or beyond as challengers for the overall title.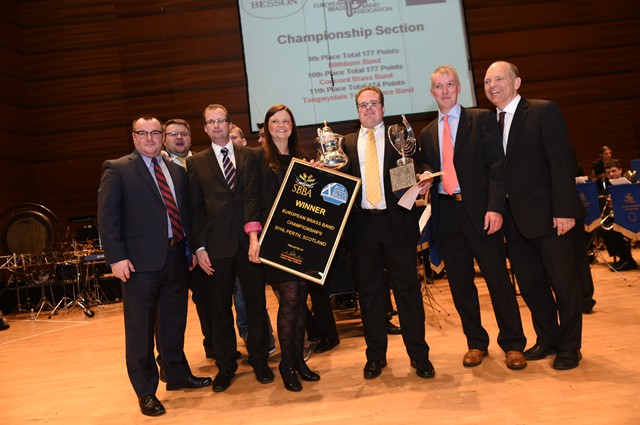 At the apex of European banding at last....

European apex

There was also a time when the Swiss representatives came to this contest as a brave, but ultimately outclassed contender - but no more.
After 37 years at last they occupy the apex of European banding - and deservedly so, with their flag-bearer of excellence, the remarkable Brass Band Bugermusik Luzern - led by a conductor who exudes such musicality, determination, pride and ambition.
It is a potent mix that could well see the nation, the band and the MD remain at the very top of European banding for many more years to come.
Chris Thomas