Can Cory retain its grasp on the European Trophy in Perth

Eleven national title holders will battle for glory over two intriguing days of competition at Perth Concert Hall this weekend.
Defending champion Cory will be more determined than ever to retain the title it won in splendid fashion in Oslo last year, when Philip Harper's musical tenure at the number 1 ranked band in the world came of age.
No mood

Since then they have been nigh on unbeatable - and you can be sure that they are in no mood to start handing back any of their 2013 silverware soon - starting here.
Rivals will have to work their socks off to wrestle their grasp off the famous Milton Stevens trophy, by providing the international panel of judges (Hannes Buchegger, Martin Winter, Guido Segers on the set work and Preben Norgard Christensen, Stephen Roberts and Jean Claude Kolly on their own choice selections) with performances of the highest class.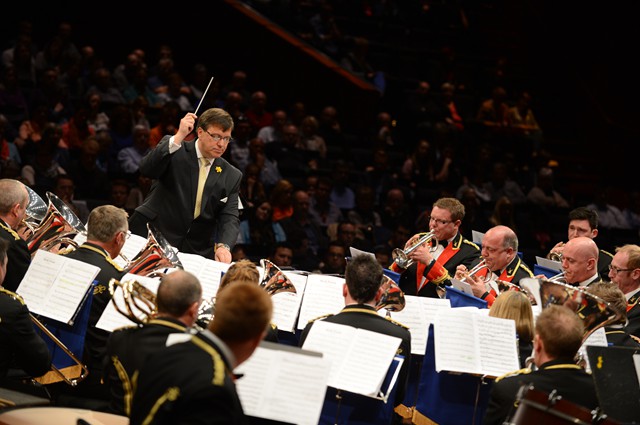 Will Black Dyke triumph under Dr Nicholas Childs

Staggering

In the last few years the quality of performances at this event has bordered on the staggering - with the own choices judges in particular having to display the wisdom of Solomon to justify their subjective separation of brilliantly played blockbuster selections.
However, before we come to that all bells and whistles showtime stuff, the bands will be put through a test of complete musical polarity with Rory Boyle's 'Muckle Flugga'.
This is a work that has been dividing opinion – although at present it has rather been between those who hate it, and those who hate it even more.

The Nordic challenge is spearheaded by Eikanger Bjorsvik

Reputation

It's reputation hasn't been helped by the rather unfortunate 'recall' required for its 'revision', or by the fact that its high tessitura has demanded a real rethink in instrumentation needs (it is rumoured that some bands are playing up to four soprano cornets.)
It is an uncompromising work in a contemporary musical language - although in the greater scheme of things it isn't really as far-fetched as the fishy tale of two rather intellectually challenged giants falling in love with a sharp witted mermaid that inspired it.
With the greatest respect (and in truth not a lot has been shown to a fine composer and academic, who the Scottish Brass Band Association should be congratulated for inviting to write for the contest) it hasn't as yet captured the imagination of say 'St Magnus' or 'Essence of Time', which were commissioned on the last two occasions the contest was in Scotland - but you never know.
Ambiguities

It's certainly stark, testing, austere, multi facted, intriguing and full of ambiguities; yet it's also pretty straight forward in its time signatures (just the two of 4/4 and 6/8 compared to the bingo calling selection found in 'St Magnus' for instance) and it certainly draws you into its own particular, and at times, peculiar grasp with a growing feeling of tension and dark disturbance.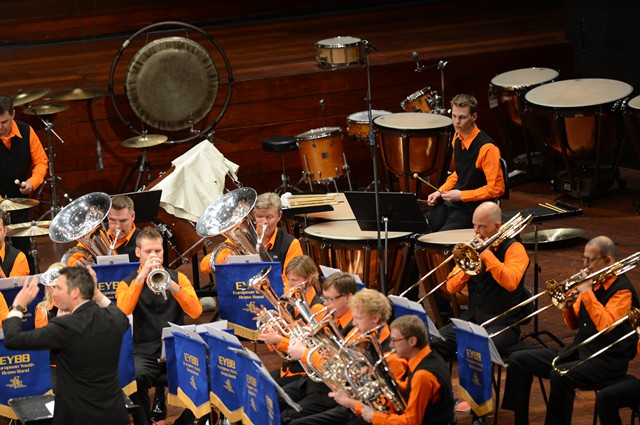 Men in orange: Brass Band Schoonhoven return again

Own choice selections

What then of the own choice selections?
There is no lack of absolute Billy Bonkers ambition and inspiration on show here that's for certain.
For instance, hubris isn't something you normally associate with any band wishing to win a European title, but you have to take your hat off to the band that has chosen 'The Divine Right' by Philip Harper as their selection.
As fickle as the banding fates can sometimes be, that's a pretty bold statement of intent in anyone's book.

The Italian poet Dante managed to get away with it with allegorical expertise - although that was in the 14th century, so it will be interesting if a brass band can do the same in 2014.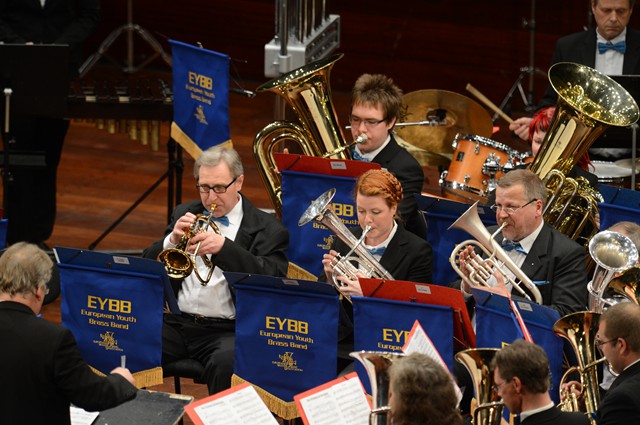 Cheval noir? Paris Brass Band could be the dark horse

Bold as brass necks

That said, just as eye poppingly bold as brass necks a title is, 'The Triumph of Time' by Peter Graham - although after the trials and tribulations of the seafaring 'Muckle Flugga' perhaps it would be pertinent to note the aphorism of that well known scribe Geoffrey Chaucer: 'Time and Tide wait for no man'.
Then we have 'Metamorphosis for Brass Band' by Jan de Haan - part homage to Johann Sebastian Bach no less, and 'REM-scapes' which delves into the rapid eye movement nocturnal dreams linked to Beethoven's 'Moonlight Sonata', although thankfully not via the whining Michael Stipe.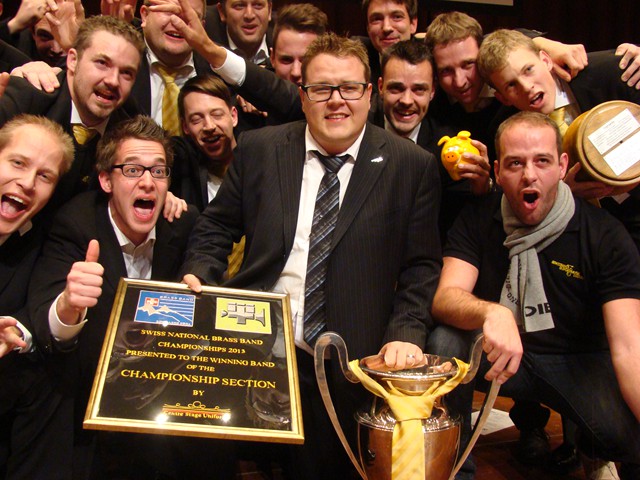 Can the Swiss champion Luzern claim the title

Bobby dazzlers

The bobby dazzlers of 'Goldberg 2012' (more Bach via the funkmiester Brecker Brothers) and 'From Ancient Times' (which sounds as if it was inspired by the 1982 Belgian World Cup squad - Rubens, Van Dijck, Breughel, Ockeghem, Obrecht, Isaac, Dufay and de Monte) are balanced by a journey into outer space with 'Music of the Spheres' and to the core of our small planet in 'Journey to the Centre of the Earth'.
Celtic FC

To round things off we even have a bit of myth, legend and lycanthropic Devil worship in 'On Alderley Edge', the legends of Sousa, American jazz and Bruckner, in 'Standing on the Shoulders of Giants' and a bit of football terrace chanting for the lads in the green and white hoops of Glasgow Celtic Football Club in 'Canite Tuba' by James Macmillan.
See what we mean?
There are no musical shrinking violets here - just wham, bang thank you mam, smack you in the chops with a George Foreman uppercut that can knock an audience of its feet sort of stuff.
It's brilliant - but at times completely incomprehensibly so.
---

The European Champion: Philip Harper

As for a winner?
There is a pretty immense line up of bands - all more than capable of claiming the title in breathtaking fashion.
The heavyweight trio of reigning champion Cory, Eikanger Bjorsvik and Black Dyke seem to be attracting all the money at the Perth bookies, but crafty investors would also do well to look at the odds on the likes of Brass Band Bugermusik Luzern, Brass Band Schoonhoven and Brass Band Willebroek.
Scottish hopes rest on Whitburn really playing with the brio of William Wallace and Robert the Bruce combined if they are to claim a top six finish, although they could be inspired to conquer this weekend.
Meanwhile, Concord Brass, Austrian Brass Band of the University of Music and Performing Arts Graz, and Tongwynlais Temperance could be trying to catch the tails of Paris Brass Band, who may be the 'cheval noir' of the whole weekend.

4BR Prediction:
1. Eikanger Bjorsvik
2. Cory
3. Black Dyke
4. Brass Band Bugermusik Luzern
5. Brass Band Schoonhoven
6. Brass Band Willebroek
Dark Horses: Whitburn & Paris Brass Band