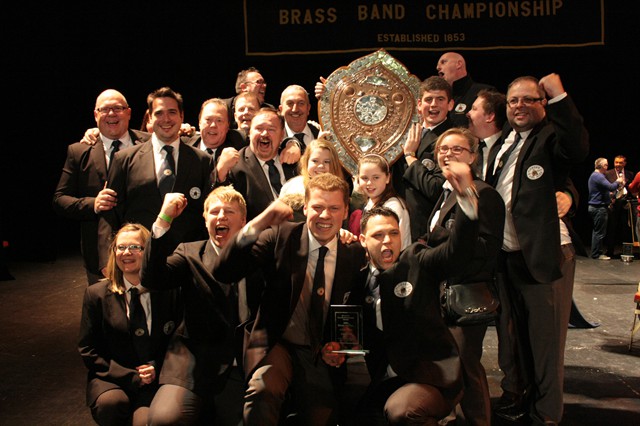 Four in a row and back to the Open for Flowers
Images: Steve Jack

It's little wonder that the faces of Flowers MD Paul Holland and Band Manager Lee Downie were etched with a telling combination of both joy and relief as they lifted the famous Grand Shield toward the heavens in Blackpool's Winter Gardens last weekend.
Twelve months ago it was a very different story as their performance of 'Red Priest' saw their hopes of a return to the British Open descend to the bottom of a Venetian canal as they finished a disappointing sixth - a number which somewhat fatefully, coincided with the prospect their sixth consecutive trip to Blackpool this year.
Whole lot of change

But a whole lot has changed at Flowers since their last Open appearance in 2008, and last year's ill-fated result.
And those changes were neatly encapsulated in a winning performance of Peter Graham's 'On Alderley Edge', which possessed the unmistakable aura of a band that knows its contesting fortunes are in the ascendency.
With the recent high profile signings of David and Joanne Childs, as well as John Gillam on tuba, it's all too easy to attribute the band's phenomenal winning start to 2014 as being down to a select handful of star players.
Significant impact

More significant is the impact that those star players have had on the rest of the band; the collective efforts of whom have been raised to a newly elevated status as Flowers claimed its fourth consecutive contest victory of the year, and delivered as potent a message of competitive intent as we are likely to hear during 2014 in the process.
For the vast majority of bands in the Opera house, 'On Alderley Edge' proved to be an obstacle every bit as steep as the famous Cheshire escarpment that inspired its composition.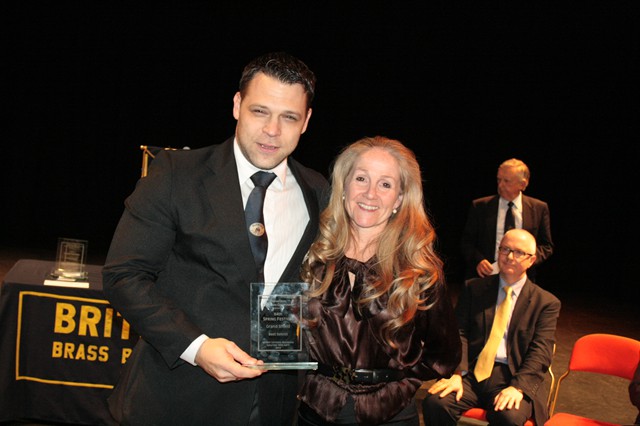 Best Soloist for a second year in a row for Andrew Smith

Visual imagery

The strong visual imagery of Peter Graham's colourful and vividly realised score saw band after band fall prey to what the composer described to 4BR as its 'mantraps' - with frustrating and often blatantly obvious errors undermining otherwise thoughtfully constructed and musically engaging accounts.
From a draw of seven and with no band having yet grabbed the contest by the scruff of its neck, Flowers performance brilliantly traversed the many changing atmospheres and moods of the score.
Solo contributions

The solo contributions of Andrew Smith on principal cornet and David Childs on solo euphonium certainly played a crucial role in a reading, that although not entirely blemish free, maintained its musical momentum throughout, leaving an indelible aural impression of such evocative sights as the 'Golden Stone', 'Engine Vein Mine', 'The Holy Well' and 'Stormy Point'.
The British Open remains a formidable hunting ground for bands qualifying from the Grand Shield, but with Flowers on the crest of a high class wave of form, Paul Holland and his team will fancy their chances of achieving a significant result on the formidable 'Vita Aeterna Variations' of Alexander Comitas at Symphony Hall come September.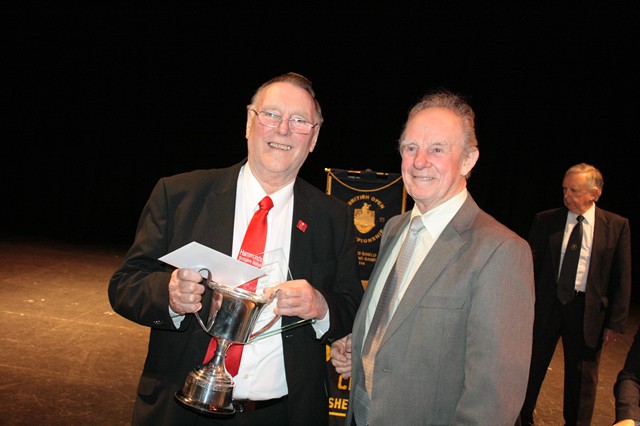 Happy smiles for Ted Griffiths and Hammonds Saltaire as runner-up

Grew in stature

Runner-up Hammonds Saltaire and Morgan Griffiths last appeared at the Open in 2009, with the band's Open return in 2014 coming as a result of a performance that grew steadily in stature from one of many unsettled opening stanzas on the day.
Yet it was the warmth the performance radiated, allied with the MD's sure footed navigation of the score and deft sense of colour and contrast, that earned them a result that will rank as one of the most significant in its recent history.
No consolation

With just one week to go to until Whitburn's appearance at the European Championships, third place represented the band's highest Grand Shield finish since its Open relegation in 2010.
That will come as no consolation to Ian Porthouse and his team though, as despite occasional fleeting glimpses of the Whitburn of old, an alarming number of errors marred an otherwise thoughtful account.
The minds of the players might well have been at the European Championships rather than the Grand Shield, but Whitburn will need to raise its game considerably if it is to make any kind of mark when the band represents the host nation in Perth.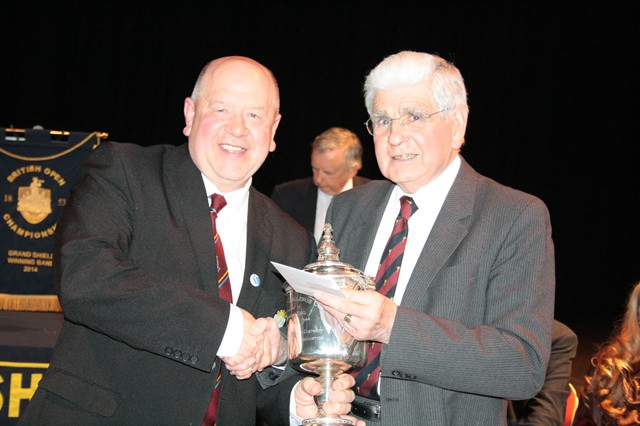 No consolation for Whitburn as they end third

Hopes dashed

Reg Vardy's hopes of an immediate Open return were dashed against Blackpool pier as Stephen Roberts directed an erratic, yet at times, thrilling performance that gained fourth place, whilst for much fancied Rothwell Temperance and David Roberts, a flawed opening saw the band pay a heavy price for its early errors.
If Whitburn was left with some thinking to do ahead of its short trip to Perth, then fellow European Championship contenders Tongwynlais Temperance will have been just as pre-occupied during the following days.
Prospect

Fifth place under Jeremy Wise proved to be a creditable result given the turmoil of Steve Sykes departure just one week before the Grand Shield, yet the prospect of 'Muckle Flugga' promises to be an altogether more serious challenge for the Welsh representatives as the band makes final preparations for the biggest day in its history.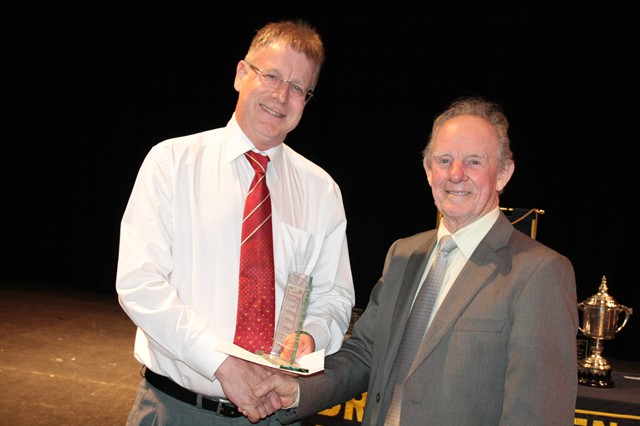 Fourth place for Reg Vardy this time

Misery

As always the contest threw up its fair share of misery as well as elation, with Newstead, Yorkshire Imperial Urquhart Travel and Jaguar Land Rover turning in error strewn accounts to drop through the trap door to the Senior Cup.
They will be joined in the middle tier next year by Co-operative Funeralcare North West, whose near giant killing act in achieving third place at the North West Area just a matter of weeks ago was thrown into sharp perspective by the band's enforced withdrawal from the Grand Shield in a harshly cruel twist of contesting fortunes.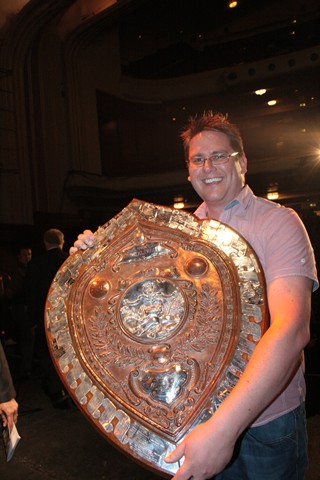 The winning MD gets his hands on the prize

Rightful place

As Flowers prepares to take its rightful place amongst the British Open heavyweights in September, there is one man for whom the day is likely to prove particularly special.
Paul Holland will lead Flowers onto the Symphony Hall stage for his first British Open knowing that his band is enjoying its most successful period on the contest stage of its 45 year history.
And that's a feeling that garners the kind of confidence that money just can't buy.
Chris Thomas