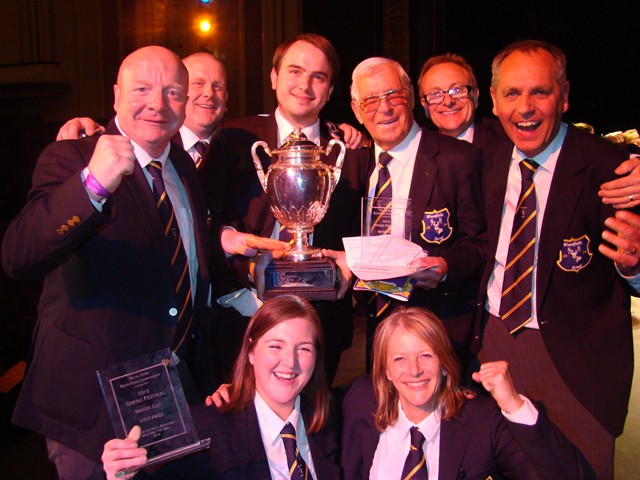 Who will repeat Woodfalls success this year?

Senior Cup
Venue: The Arena
Test Piece: English Heritage (George Lloyd)
Commences: 10.00am
Draws: 9.00am & 12.30pm
Adjudicators: TBA
---
The one over-riding concern for the competing bands in the Senior Cup won't be the choice of test piece - which you have to admit, is a pretty stern test at this level in anyone's book - but the late move from the ornate surroundings of the Pavilion Theatre to the Arena at the Winter Gardens.
Memories

Those with memories of the old Mineworkers Championship held here in the 1970s and early 1980s will know it well (formerly the Planet Room) - tucked in between the Pavilion and the Empress Ballroom.
It's compact in size with a high ceiling, making it acoustically a bit lively with its half carpeted, half wooden dance floor - so any MD should make time to check it out fully. It's envisaged that the bands will be sat on the carpeted area to help deaden the sound.
Cut some slack

It may not be the ideal place to hold a brass band contest, (there could be some sound leaking through from the Empress Ballroom), but the organisers should be cut a great deal of slack.
They have been working against a pretty intransigent Winter Gardens management, who forced the move upon them due to the late implementation health & safety requirements.
With the expensive Empress Ballroom being utilised by another paying customer, Frank Hodges and his team have worked their socks off in the last couple of weeks to sort things out, so a little bit of discomfort isn't too great a price to be paid under the circumstances - which could have even led to the event being cancelled.
Think again

Any band that does believe that it will fatally undermine its chances of gaining one of the four qualification places up for grabs for the Grand Shield should think again too.
'English Heritage' has more than enough health & safety requirements to overcome in itself.
Lonely night

Many a solo cornet player will face a long, lonely pre-contest night with thoughts of the infamous free climbing semi quaver solo to an ever expanding top Eb, whilst cornet sections will be freeing up their knuckles by dipping them in warm water to ensure they master the tricky opening five bars.
As 'heritage' goes, this isn't all Buckingham Palace, warm beer and 'Knees Up Mother Brown' Blitz spirit tea towel souvenir stuff for Japanese tourists, but more a celebration of all good things inherently 'English': Boldness, beauty, fair play and a good old bit of nostalgic Empire bombast to close.
Acute appreciation

Thankfully, the former Nationals test piece doesn't need an abacus to work out the straight forward rhythmic patterns, although an acute appreciation of ensemble balance is a must; the middle of the band providing the textural structure from which hangs the more ornate upper band filigree work.
However, as shown just a couple of years ago when it was used as the Regional set work, its inherent transparency also reveals some pretty searching questions.

The tubas have their moments (including an EB tuba solo straight after the cornet acrobatics that is a tester), whilst right before the final reprise there is a beautiful little Lento chorale that should be topped by the sweetest of sweet sounding ppp sopranos.
Mind set

If bands can get their mind set right, concentrate on a fine piece of music, and block out any extraneous distractions in what will be an unfamiliar acoustic, then a place in the Grand Shield beckons.
If however, they start thinking about blaming everything and everyone but themselves for their shortcomings on 'English Heritage' then they can forget it. Contesting throws up many problems – it's how you overcome them that counts.
---
Who will win?
Another hard one to call, with a host of solid looking contenders all more than capable of claiming at least a qualification place if not the title itself.
Consistency may be the key then, with a number of fancied also prone to a touch of contesting fragility too.
Camborne and Newtongrange certainly come into that category (especially at the Areas), whilst the Midlanders of Derwent Brass and Staffordshire could be ones to watch out for if they can build on the form they showed on their Bedworth appearances.
Skelmanthorpe and Blackburn & Darwen are on the upward climb once more, whilst there should be a strong challenge from the likes of Aveley & Newham, Mount Charles and NASUWT Riverside.
Our dark horse is the re-emerging Wingates.
---
4BR Prediction:

1. Camborne
2. Newtongrange
3. Derwent Brass
4. Staffordshire
5. Skelmanthorpe
6. Blackburn & Darwen
Dark Horse: Wingates