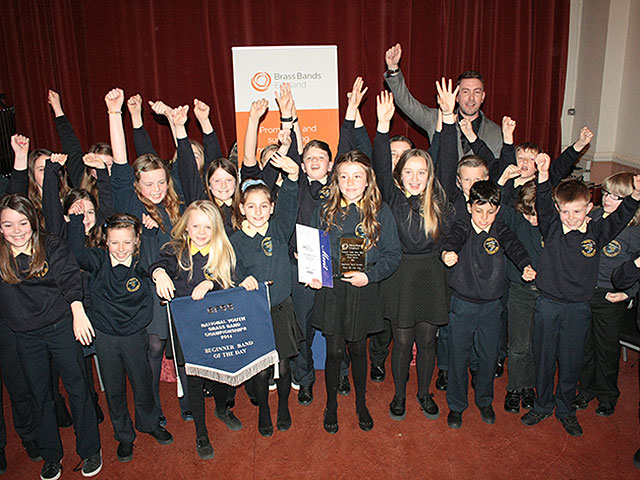 Bubbling with smiles and energy: The fabulous Ysgol Bontnewydd
All pictures: Steve Jack

There would have been plenty of nervous tension in the air last Sunday morning, as the army of volunteers met to run the National Youth Championships on behalf of Brass Bands England.
The move to the University of Salford campus was a bold response by the organisers to ensure the event continued to take place at a time when both logistical and calendar pressures could have seen them take the easy option and cancel things.
As a result, BBE, and in particular, Arnold Tattersfield, Gary Walczak and Shirley Woodward deserved all the plaudits that came their way after a long but immensely enjoyable day of competitive music making.
Flexible permanency
Brass Bands England Chairman, Mike Kilroy is keenly aware that the future of this Championship is dependent on securing a form of 'flexible permanency' in terms of calendar dates and venue, but as a result of the weekend's success, that has now just about been achieved, especially if the Royal Northern College of Music refurbishment is completed in time for 2015.
In addition, this year's event was helped greatly by the well pitched selections made by the Music Panel and the balanced team of adjudicators.

The contest structure now has a sense of transparent competitive progression, whilst the overall ethos of enhancing musical quality is also much more clearly defined - especially in the Beginners and Junior Sections.
No wonder Mike wore a warm smile of satisfaction as he talked to various competitors and supporters: He is an interactive figurehead who clearly understands the evolving bigger picture to which this contest so intrinsically belongs.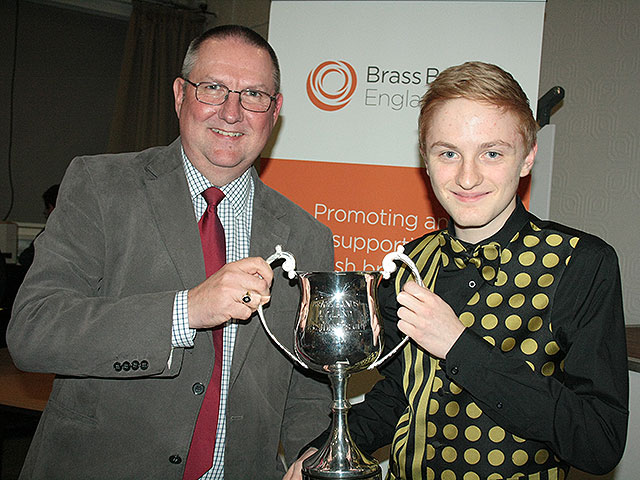 The best of the best: Youth Brass 2000 make it three titles in 2014

Championship & Intermediate Sections
The spacious Maxwell Hall played host to the Championship and Intermediate contenders in a brace of contests of teenage excellence.
Although just four bands performed in the top flight, there was certainly no lack of quality - with the awards (two gold, one silver, one bronze) given by judges Alan Morrison and Richard Marshall, an accurate reflection of the playing they heard.
The set work, 'Five States of Change' was a typical piece of Philip Sparke craftsmanship, which challenged technique and musicality, but also allowed the bands to show contrast with their own choice selections.
Chris Jeans and Youth Brass 2000 continue to astonish: taking their third title of 2014 courtesy of a slickly polished programme (Thomas Fountain was outstanding taking the 'Best Instrumentalist' Award) , whilst the emerging Lions Youth showed that their long term development is also beginning to bear substantial fruit. Greater Gwent and Oldham Concert were not far behind.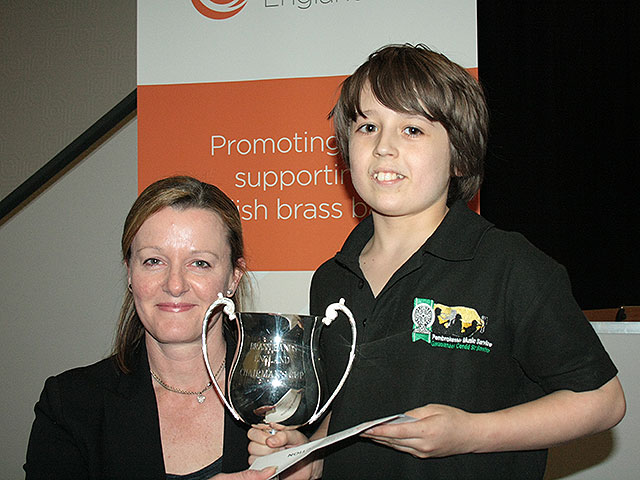 More Welsh success for Pembrokeshire Schools

Startling display
In the Intermediate Section, Pembrokeshire Schools gave a startling display under Matthew Jenkins to show just why Welsh banding is enjoying such a contesting renaissance.
Containing 20 talented youngsters from the remarkable Goodwick Band that won the Second Section National title last year, their victory bore the hallmarks of high class band training and unquestionable musical talent. The performance of the set work, 'A Colwell Suite' by Philip Harper was outstanding.
It also said a great deal about their quality that very good programmes from fellow Gold Award winners Wardle Academy, Tewit Youth and Macclesfield ended in their wake (with the other bands also providing fine accounts).
These were excellent performances by any standard, led by very good MDs - but on this occasion they came up against a truly inspired band.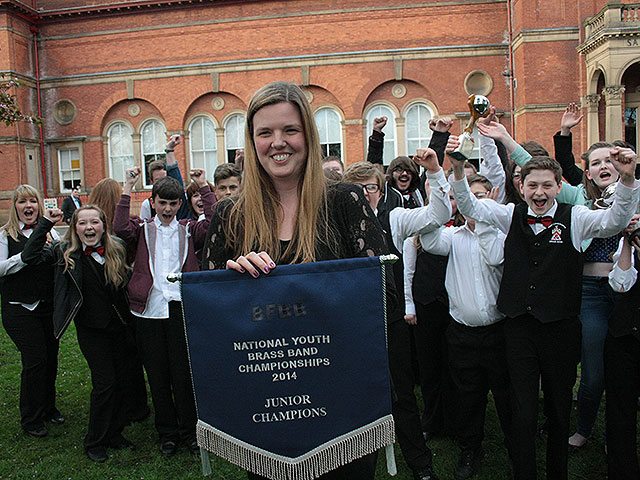 Right said Fred: Victory for Junior Champions Fred Longworth

Beginners & Junior Sections
The atmosphere in Peel Hall was simply buzzing (something which Mike Kilroy delightedly remarked upon) - the auditorium filled with supporters, proud as punch families and young players infused with so much excitable adrenaline that they simply bubbled like human bottles of Red Bull energy drink.
It was infectious too; confirmation that BBE has got the format of the Beginners and Junior Sections bang on the button. There were no nerves here - just display after display of sheer enjoyment.
Both titles were won by bands returning to defend their crown.
Knock out
Richard Evans and Michael Dodd were served up an absolute treat in the Beginners Section as each ensemble gave their all - more than living up to the ethos that BBE promotes for this vital first rung of the competitive ladder.
Ysgol Bontnewydd Primary from North Wales, under MD Dylan Williams was knock-out brilliant.
With just 23 players on stage (the majority of them never having played in public before after starting to play last September) they revelled in the experience, with the terrific soloists of Ela Hâf Williams and Malan Hughes absolute booby dazzlers.
Lions Youth Juniors deservedly gained the 'Band with Most Potential' award, whilst David Armitage's nippers from Elland Silver Starter claimed the 'Highly Commended' prize.
Overall though each of the bands was a delight - expertly led by conductors who must have ended the day with sore cheeks after all the smiles of encouragement they had on their faces from start to finish.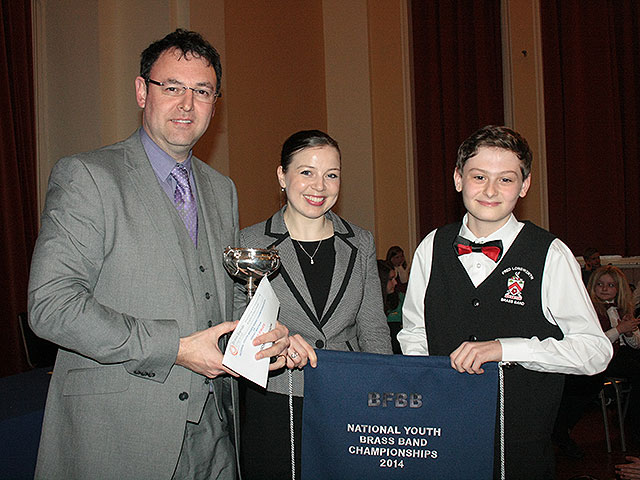 Happy smiles from the judgs and Fred Longworth's representative

Hard to separate
The excellent bands in the Junior Section ensured that Brett Baker and Katrina Marzella had a tough job of deciding where the honours went, with a trio of Gold Awardees hard to separate.
Here, the 15 minutes of own choice programming had to contain at least one original brass band work and two verses of a hymn tune - ensuring a sense of musical discipline to compliment the freedom of their showpiece items.
Fred Longworth High School under Helen Robinson gave everything in the run up to the contest with extra rehearsals during the holidays, and that commitment was deservedly rewarded with victory, whilst the Welsh duo of Gwynedd & Mon Junior and Denbighshire Area Junior showed that it isn't just bands in the south of the Principality that are bursting at the seams with great young playing talent.
The remaining seven contenders also gave cracking performances, with Elland Silver Training gaining the award for the 'Band Showing Most Potential'.
Energy supply

As a long day finally came to an end, and with excited youngster finally starting to deplete their seemingly inexhaustible energy supplies as they headed home, the BBE team went about the final clearing up with a renewed spring in their step.
This was, as Alan Morrison pointed out, '...the most important contest in the banding year.'
And thanks to the hard work, excellent organisation and Brass Band England's desire to ensure that it retains its place in the banding calendar, (pencil in Sunday 19th April now), long may it continue to be as well.
Malcolm Wood