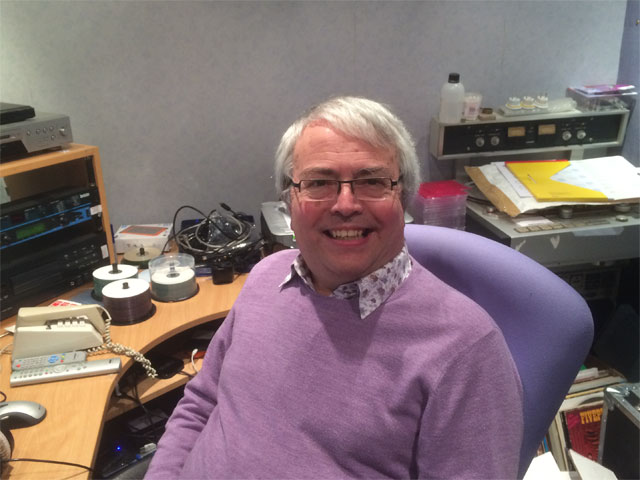 The essential Richard Scott
There are two essential elements to making a top class commercial CD recording: The performers and the producers.
From pop groups to the London Symphony Orchestra, Placido Domingo to Black Dyke - the working relationship between the creator and the creative goes hand in hand.
That is certainly true with brass bands, as you soon find out when you spend time with Richard Scott, one of the most respected recording engineers and producers in the business.
In demand

Having spent many years at the famous Strawberry Studios in Stockport, which saw him work with artists as diverse as 10cc to the Syd Lawrence Orchestra, he is now in constant demand from all musical genres - from choirs and chamber ensembles to orchestras and of course, brass bands.
As a result, his name appears more often on the credits of a leading brass band recording than any well known conductor.
Passion

Richard is not just a man who enjoys his profession (he also works as part of the World of Sound Recordings team) - his is a passion: and on a recent visit to his recording studio, situated at the bottom of his garden just yards from the boundary edge of the local cricket club, it's easy to see why.
He may not be a world class musician himself, but he certainly has an amazing talent to make just about any musician sound world class themselves.

It is also a skill that he is now using to mentor his own son Stephen into following in his footsteps.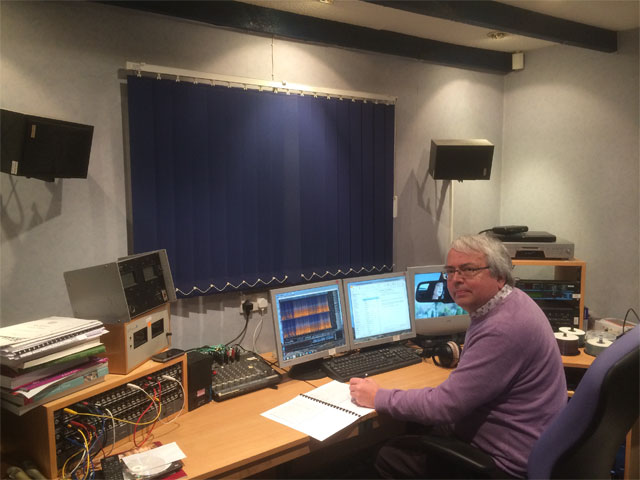 The man behind the sight screens...

Wizardry

His recording studio/office is an Aladdin's cave of technological wizardry - the tools of a specialised musical alchemy that literally turns brass into gold for many of the leading recording labels.
At first glance it appears to be a mixture of NASA space age computers and Heath Robinson contraptions; all linked by yards of umbilical cords that connect monitors and machines with a trail of multi coloured electrical spaghetti.
However, each button, switch, dial, mouse icon and lever has a purpose - one that Richard understands fully. And in the hands of an expert, from complexity comes simplicity - and wonderful sounding music making.
Philosophy

His working philosophy sums things up perfectly: "I don't offer advice on how a piece of music should be performed - that's up to the conductor. I do offer advice on how it sounds though."
It is a philosophy that has gained him worldwide respect, with conductors and performers keen to visit his studio to be guided by his forensic attention to detail.
Latest MD

The latest MD to put his trust in Richard's talents is Paul Holland of the reigning Bultins, Yeovil and West of England Regional champion, Flowers.
He recently took the opportunity to visit as Richard started work on the post production process of the band's latest recording project of the music from the stage play of 'Brassed Off!'
Flowers were booked as part of the current national tour at The Everyman Theatre in Cheltenham, and were keen to enhance their local profile through an easy listening recording that could be sold at the event.
Prior to them taking to the stage as Grimley Colliery Band, the recording of the music was made (overseen by Richard) at the University of Gloucester, with the tight schedule giving him, working in association with World of Sound Recordings, just enough time to go from initial recording to final editing in time for the band to have the CD on sale at first night curtain call.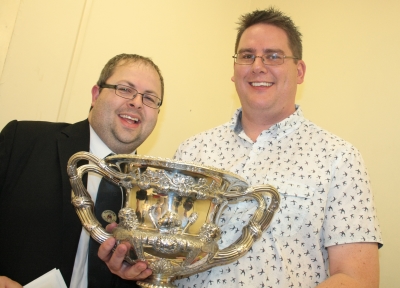 Welcome visitors: Lee Downie and Paul Holland of Flowers

Hard work

That hard working weekend was followed by Paul Holland and Band Manager, Lee Downie travelling to Richard's home to work on the final editing process of old favourites such as 'Death or Glory', 'Florentiner' and 'Pomp & Circumstance' to the ubiquitous 'Concerto D'Aranjeuz' and the 'Finale' from 'William Tell'.
In addition there were also solo items from David Childs on 'Carnival of Venice', and principal cornet Andrew Smith on the theme to 'Hetty Wainthropp Investigates' to add into the mix.
Trade secrets

When 4BR also dropped in, the process of reviewing all 18 tracks was in full swing, and whilst sworn to uphold the unwritten rule of not revealing all of Richard's trade secrets, it was fascinating to both see and hear how the initial recording material was further expertly polished.
Paul Holland was understandably delighted, with his requests for added nuance and minor adjustments facilitated literally at the flick of a switch.
"The opportunity to produce a recording that could be linked to the stage production was too good an opportunity to miss," Paul told 4BR.

"However, we also knew that for it to be a success we had to perform well and produce a recording that showed us off at our best. That's why we chose to team up with Richard."
Fantastic ear

After the stage production ended 4BR contacted Paul to find out how it all panned out.
"It was wonderful experience to work with Richard" he added. "He has such a fantastic ear for detail. Not surprisingly the CD was a fantastic success - and a great deal of that goes down to the way in which Richard was able to deliver a recording that fitted perfectly into what we wanted to achieve."
Teaming up

No wonder then that over the next few months, his small haven next to the boundary of the local cricket pitch will be welcoming the likes of Alan Morrison from East Yorkshire Motor Services, Dave Lea from Jaguar Land Rover and euphonium star Steven Mead.
All of them will be making sure that their talents gain the extra benefit of teaming up with a master of his own musical craft.
Malcolm Wood