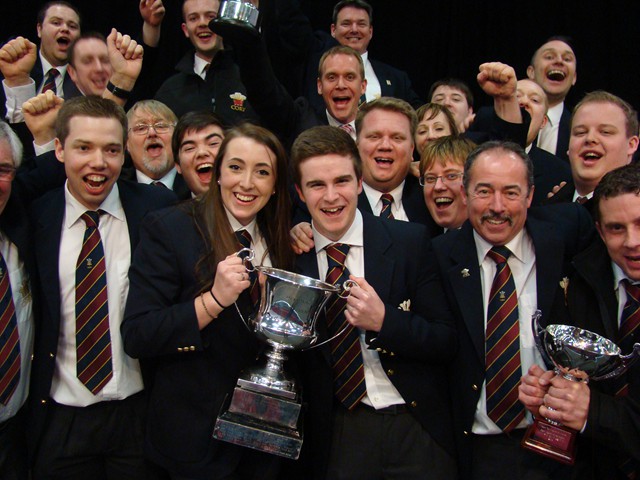 Contesting winning equation for Cory

Circumstance is the Higgs Boson particle of the theoretical equation that tries to define a great contest winning performance: an intangible element of supposition and conjecture that people believe exists, but can't really prove.
It's untouchable, invisible and elicits no taste - yet ask any listener from Bradford to Stevenage this year, and they will all tell you they enjoyed personal experience of it on 'St Magnus'; from the local back yard battle at St George's Hall and the 'three into two' scramble at Blackpool, to the defining partnership victories at Bedworth and Torquay and emergence of a new champion in London.
Distilled form

Those lucky enough to witness the climax of the Welsh Regional Championship will also confirm that you didn't need a theoretical physicist to show that it was displayed in its purist distilled form in the performances of Cory and Tredegar in Llandudno either.
Circumstance saw the top two ranked bands in the world propel themselves towards possible 2015 European Championship qualification by producing renditions of Kenneth Downie's fearsome work that the Large Hydron Collider would have hard pressed to generate, let alone Philip Harper and Ian Porthouse.
Residue

The residue aftermath of their epic Freiburg collision may have proved the intellectual rigour behind the general theory, as Cory claimed the Area title for a record 30th time - but the result itself was still very much up for further debate.
Not in the mind of David Read MBE though: He was clear that the reigning National Champion had produced evidence worthy of winning any contest in the world.

It was the listeners in the hall that needed a bit more persuading on this occasion.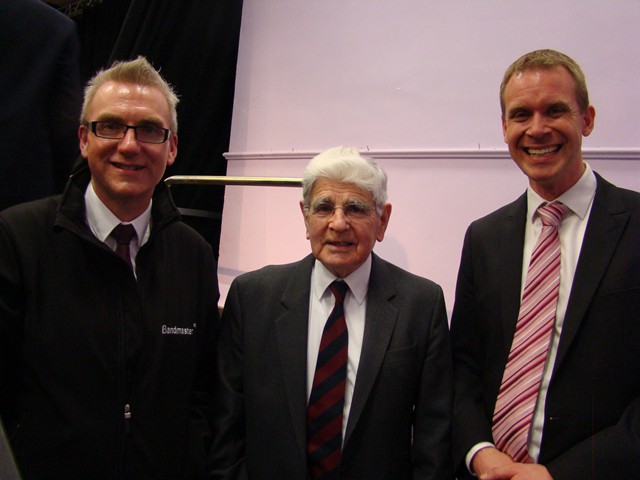 Tiny differences between the top two

Rueing

Tredegar left Llandudno rueing the adjudicator's scrutiny of the most minor margins of error: They could count themselves unlucky that Cory's imposing computations (which were not without flaws themselves) appealed just a little more than their razor sharp calculations.
The MDs provided two very different approaches to the elegant 'St Magnus' conundrum; both highly persuasive in inspiration and execution.
Each displayed remarkable technical precision; enhanced by outstanding individual contributions within their immense ensemble capability, (Cory's Martyn Patterson on superb form to take the 'Best Instrumentalist' award) which were framed within musical structure's that drew the listener into the rich musicality of the score.
Schrodinger's cat

However, there was still no definitive answer - with David Read getting himself into a bit of a Verschränkung entanglement with his pre-results comments.

They couldn't have been any more complex (or strangely revealing) if he had decided to explain the paradox theory of Schrodinger's cat to the audience instead.
No wonder he showed that he had his fingers crossed before the final announcement was made:

This was perhaps a very rare occasion when the majority of the audience felt his decision had a little element of luck in its calculation too.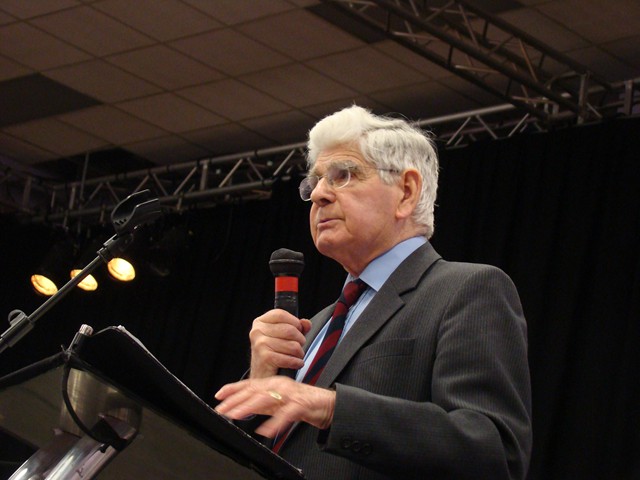 David Read gives his version of the equation events

Welded grip

In the greater scheme of things, the contest certainly confirmed that Wales will have at least two bands at the Albert Hall more than capable of keeping the National Trophy in the Principality, whilst Cory's welded grip on the European title will also take some prising away.
For those who enjoyed this engrossing battle (and the contest drew visitors, as well as players, from far and wide) it also confirmed that any bands that finish above the pair at the major championships this year will have deserved their reward - and perhaps a Nobel Prize of their own for contest winning musical physics: They are two immense major title winning contenders.

Kensington bands

With the debate over the Freiburg prize still raging in the Venue Cymru bars hours after the contest had officially finished, it was easy to forget that those credentials had also allowed Wales to send a further two bands to Kensington in October.
Burry Port players were still supping celebratory drinks as darkness fell as they contemplated their first Albert Hall appearance since 2006, whilst reigning champion Tongwynlais was on their way home - minds already geared towards the complex algorithms of Rory Boyle's 'Muckle Flugga' European puzzler.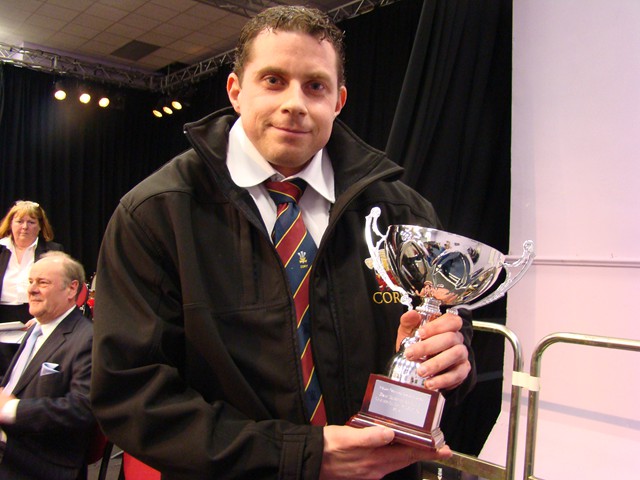 Superb Best Instrumentalist Martyn Patterson

Happier

Not surprisingly, the West Walian was the happier of the pair, as they now contemplate their forthcoming appearances at the Grand Shield in Blackpool.
Nigel Seaman used all his years of experience, nous and know-how to control, convince and even camouflage the elements of the test piece that needed to be highlighted to the man in the box.
In return the Burry Port players responded superbly, with a compactly packaged performance of great discipline that kept well within is self imposed limitations to gain its priceless reward (in contrast to the announcement of their £75 prize money which was greeted with a wonderful display of collective vocal audience sarcasm)

Second place for Tredegar

Self containment

That self containment also seemed to be central to Tongwynlais Temperance's approach - almost subconsciously so, as Steve Sykes made sure all the necessary qualification tick box elements were safely negotiated, whilst still keeping an eye on the future demands of the Spring Festival and European Championship.
There seemed to be a deliberate degree of self interest about the performance that set out to do a specific job, and no more. It was a dignified relinquishing of the title – with their usual mix of fizz and aspiration more likely to be shown in full at the Winter Gardens and Perth.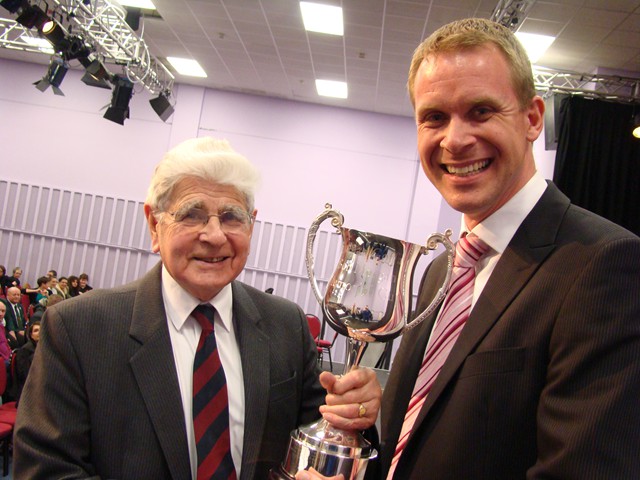 Winning smiles

Substance

It was also enough to push local favourites Northop out of qualification contention. Their lightly hued, lyrical approach under Thomas Wyss was just scarred by too many minor unforced errors, whilst City of Cardiff's much heavier definition under Gareth Ritter, also failed to find favour in the box.
Each contained a great deal of musical substance (although almost diametrically opposed), to add a level of engaging texture to their solidly constructed foundation work.
Conundrum

However, it would still have taken Stephen Hawkin to come up with a clever explanation to why Tylorstown, who certainly didn't display anything like their usual self assured form or confidence under Gary Davies on this occasion, somehow beat them both to end fifth.
That was another contest conundrum nobody seemed quite able to give a definitive answer to.
Iwan Fox