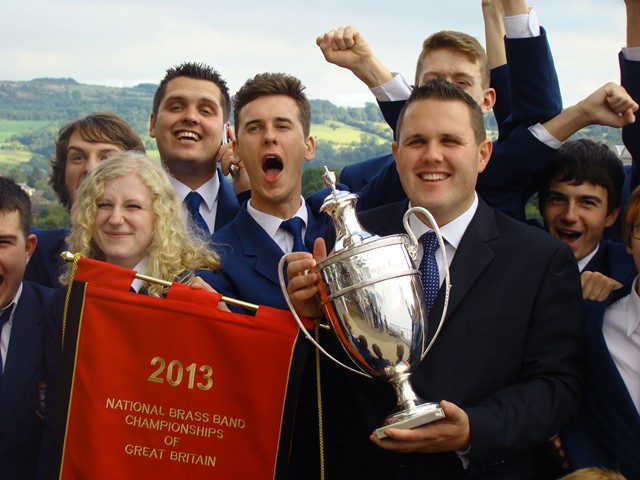 2013 was a title winning year to remember for Welsh banding...

2013 may well have been an unforgettable year for Welsh banding, but amid the smiles that will be seen on faces at Venue Cymru in Llandudno on the weekend, looking back, there is sure to be just the slightest acceptance that it was all a bit unbelievable too.
Don't forget, this time last year all the talk was about Cory's demise at the Welsh Area in Swansea.
Even the most optimistic brass band fanatic (and Wales is a country where pessimism runs in the veins like depressant haemoglobin) wouldn't have thought by the end of last November the Principality could boast such title riches - but it did.
Hard part

The hard part now comes with repeating the feat; but to retain a European, British Open, Brass in Concert, four National and a Masters title will be nigh on impossible - even with the plethora of well led, highly motivated bands that can be found in each of the five sections here.
That though is for the months ahead, as this weekend the Regional Championship moves to the excellent facilities found at Venue Cymru in Llandudno whilst the Brangwyn Hall undergoes much needed refurbishment.
There is sure to be a warm welcome for the bands making their way up to North Wales, with excellent facilities on offer for both players and supporters alike.
44 contenders are on show, with 12 guaranteed an appearance at either the Albert Hall (Wales will send four) or Cheltenham, where the region can boast 15 National titles - including three last year, since 1992. Only the massive North West Area can top that success.
Much to enjoy then; even if it will take some doing to even come close to repeating 2013 all over again.
---
Fourth Section:
Sunday 16th March
Main Hall
Draw: 9.00am
Start: 10.00am
Adjudicator: Barry Thompson
It's a hard act to follow for the 12 bands on Sunday morning if they hope to go on and emulate Ebbw Valley's success at Cheltenham last year.
That victory was a real tonic for Welsh banding, and it's great news there is a small increase in numbers for a contest that has strong representation from all corners of the country.
They should all enjoy the challenge of Alan Fernie's 'Three Spanish Impressions' - which has the same type of pleasing Iberian characteristics that Roberto Martinez brought to Swansea City Football Club.
Much for the MDs to explore then, with the brooding opening, 'Tiki-Taka' Basque waltz (which gives and takes more often than the Barcelona midfield) and Carmen inspired Toreador finale, as they look to impress the experienced Barry Thompson in the box.
Who will win?
No real stand out candidate, but a batch of rivals all more than capable of sealing qualification places.
It may be a bit of a North Walian lock-out for us, with Rhyl and Holywell looking decent each way bets, with Porthaethwy Menai Bridge and Deeside not far behind.
South Wales honour will have to be upheld by Abertillery Youth and Upper Rhondda on this occasion with dark horse debutant Northop Brass also one to watch out for.
4BR Prediction:
1. Rhyl
2. Holywell
3. Porthaethwy Menai Bridge
4. Deeside
5. Abertillery Youth
6. Upper Rhondda
Dark Horses: Northop Brass
---
Third Section:
Saturday 15th March
Main Hall
Draw: 10.00am
Start: 11.00am
Adjudicator: David Read MBE
Great to see David Read MBE in the box for a cracking looking Third Section battle which kicks off the contest weekend.
Nine highly competitive rivals will surely enjoy their chance to impress the doyen of adjudicators, as he makes his final appearance at the Welsh Area - and on a work that has been a fine choice for bands to display their talents.
David knows Philip Wilby's compendium of test pieces inside out, so they will have to bring plenty of musical character out of 'Partita' (Postcards from Home) if they are to book their places at Cheltenham. He can spot a good bluffer's effort better than Frank Muir.
That said, the imposing 'Towers & Chimneys' and fleet footed 'Lord of the Dance', have generally been well handled, but it's the lilting beauty of 'Sunday Afternoon' that has proved troublesome - with MDs either losing the musical flow or nerves and poor intonation causing havoc.
By the time the breezily patriotic 'Coronation Day' finale comes around (or memories of the old Investiture at Caernarfon Castle in 1969) qualifying success or failure may have already been decided.
Who will win?
With no North Walian bands on show, this is going to be between East & West, and we just can't see anyone beating Ebbw Valley if the Fourth Section National champion has continued to build on last year's impressive form.

Thomas Coaches Mid Rhondda may just pip RAF St Athan to the other Cheltenham spot, with Gwaun Cae Gurwen, Ynyshir and Ammanford in with a shout too.
Our dark horse is Crosskeys Silver.
4BR Prediction:
1. Ebbw Valley
2. Thomas Coaches Mid Rhondda
3. RAF St Athan
4. Gwaun Cae Gurwen
5. Ynyshir
6. Ammanford
Dark Horse: Crosskeys Silver
---
Second Section:
Saturday 15th March
Main Hall
Draw: 11.00am
Start: After completion of Third Section results
Adjudicator: Barry Thompson
Welsh bands should feel at home with literary inspiration - with the Mabinogion just as colourful and full of character as anything old Chaucer could come up with.
Storytelling may well be in the blood, but as any wife of Blaenavon (let alone Bath) knows, what happens on tour stays on tour - so any MD who thinks he can get away with a quartet of tales that are a bit too fanciful by half, may well be in for a rude awakening from Barry Thompson.
If you are to succeed, then keep it simple and keep to the script - and 'Chaucer's Tunes' is a wonderful bit of musical story telling by Michael Ball.
The dislocated rhythms of the opening 'Intrada' lead into the simple beauty of the hymnal 'Alma Redemption Mater', before the troubling, but witty tale of fidelity in the 'Wife of Bath' segues into the bold 'Es ist ein' Ros' entsprungen' and the chase for home.
Get it right and don't try to be too clever and Cheltenham awaits: Start making up things to get yourself out of trouble, and trouble is all that you will find.
This should be a cracking contest then.
Who will win?
There may only be seven bands, but all of them are in with a real chance of claiming a qualification place.
City of Cardiff (Melingriffith) 2 continues to build impressively, and they may just have the nod (more Geoff Wheel than Alan Pardew) on rivals such as Parc & Dare and Royal Buckley.
Blaenavon Town, Newtown and promoted Severn Tunnel are strong looking contenders alongside the emerging Crwbin as our dark horse.
4BR Prediction:
1. City of Cardiff (Melingriffith) 2
2. Parc & Dare
3. Royal Buckley
4. Blaenavon Town
5. Newtown
6. Severn Tunnel
Dark Horse: Crwbin
---
First Section:
Saturday 15th March
Main Hall
Start: After Second Section results
Adjudicators: David Read MBE
There's the prospect of a wonderful battle to round off Saturday's entertainment, with a strong field of nine bands ready to scale the underwhelming slopes of Howard Lorriman's 'Cry of the Mountain' to try and claim their place at Cheltenham.
It's a pity that they haven't been give something more substantial to test their Championship Section ambitions though, as despite a few tricky technical areas this is more like the train ride to the top of Snowdon rather than an ascent up K2.
That said, we have seen a few desperate attempts to get off on the right footing, with all sorts of things stuck in the ends of bells to create a bit of alpine atmosphere.
The unstable 'Avalanche' finale has lived up to its name on occasions with bands heading downhill like an off piste Jamaican bobsleigh team.
David Read MBE has scaled more peaks than Chris Bonnngton in his career, so he will know exactly which contenders are already struggling with that 'Awakening' opening before they head to the craggy 'Snow, Ice & Glaciers', the panoramic 'Vistas & Distant Peaks' and that 'La Danza' via 'Prince Igor' inspired finale.
Who will win?
Some solid hikers on show, with last year's Second Section National champion Goodwick, up against the more mature talents of Llwydcoed and Llanrug in particular.
That trio may well battle for the ultimate glory of becoming Welsh Area champion, but you can't underestimate the likes of Abergavenny Borough, Lewis Merthyr and Markham, or our dark horse of Pontardulais.
4BR Prediction:
1. Llwydcoed
2. Llanrug
3. Goodwick
4. Abergavenny Borough
5. Lewis Merthyr
6. Markham
Dark Horse: Pontardulais
---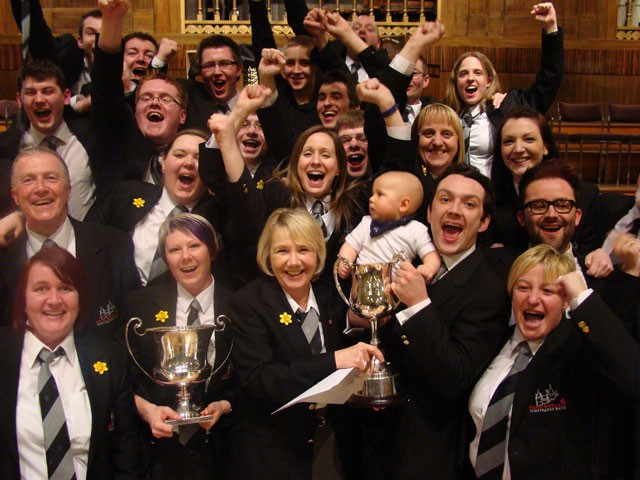 Can Tongwynlais repeat their title success?

Championship Section:
Sunday 16th March
Start: After Fourth Section results
Adjudicators: David Read MBE
David Read MBE set the bar of expectation pretty high at Yorkshire when he described the playing of the best bands there as 'out of this world'.
Since then Co-operative Funeralcare has given him an impressive winning performance of 'St Magnus' in Perth, so he must be wondering what the heavyweight contenders of Welsh banding may have to offer on Sunday afternoon.
He could be like Wernher von Braun as the Saturn V rocket sits on the launch pad of Cape Canaveral, as at least two of the competitors have been giving the type of winning performances at major contests that have certainly belonged amongst the stars.
There is little doubt there will be yet another epic battle for glory (and European qualification) between Cory and Tredegar, but it would be simply foolish to write off Tongwynlais Temperance once again beating them both.

The odds on Tongwynlais retaining their title are not as long as many people may think - as they have been impressively going about their early season business.
Who will win?
Most bookies are confident that the title will be heading back to South Wales, but where, is another question.
Cory still has just that extra touch of championship winning class to pip their great rivals Tredegar, with Tongwynlais heading back to the Albert Hall once again.
No Masters champion Beaumaris this year after the band starts long term rebuilding, so the second qualification place (Wales sends four bands to Kensington) could see an equally engrossing blast off.
Northop looks best placed to perhaps claim it (or even a podium finish) although they could be hard pushed by the likes of Burry Port, Tylorstown and dark horse City of Cardiff (Melingriffith).
4BR Prediction:
1. Cory
2. Tredegar
3. Tongwynlais Temperance
4. Northop
5. Burry Port
6. Tylorstown
Dark Horse: City of Cardiff (Melingriffth)