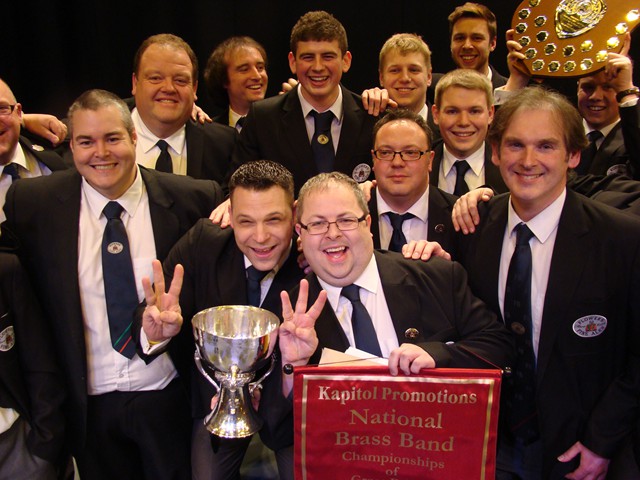 Three and three make - a brilliant start to 2014 for Flowers

Living up to the tag of being an overwhelming favourite can sometimes be seen as hubris, but as Flowers showed at Torquay, there is never any danger of that if you simply have a single minded desire to focus on the job in hand.
That was certainly the case with this most impressive of title defences; a victory gained by hard ensemble graft, concentration and excellent soloists, all inspired by a finely judged interpretation and intelligent direction from MD, Paul Holland at its core.
Hubris didn't get a look in - and neither did any rival.
Finesse

The only possibility of Flowers being denied a hat trick of victories was if one of the other 10 contenders was able to fully match their level of technical control and musical finesse on 'St Magnus'.

None did.
As the last band of a long day, not even the unfortunate hiatus caused by someone in the audience requiring medical attention could rattle any possible nervousness either, as the opening stanza was delivered with ice cool certainty.
Margin

Thereafter, the margin between Flowers and the rest widened almost by the bar: The quicker variations played with verve and precision, the lyrical interludes flowing with understated musicality; underpinned by a warm, balanced ensemble and soloists of impressive artistry.
In the end they cantered home not with a flourish of over dramatic extravagance, but with a thumping sense of accomplishment.

They were winners by a distance.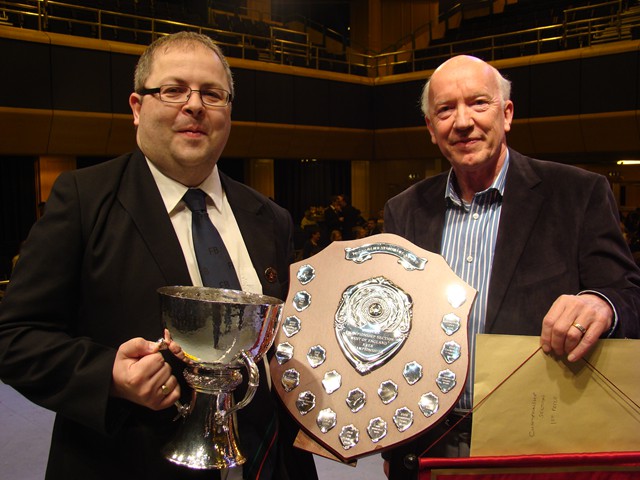 Two Downie's for the price of one: Lee and Kenneth exchange trophies...

Well beaten

Behind them came some brave, but well beaten rivals.
As expected Woodfalls came closest: Dr Robert Childs imbued a confident band with an extra sense of detailed purpose with the soloists (particularly on euphonium) giving their all.
However, the minor error count was high - pock marking the cultured musicality to eventually see them finish a good furlong behind their rivals, although still a more than a few lengths ahead of any bands that may have felt they were in with a possible qualification chance.

Armchair ride

As decision making goes, Frank Renton and Derek Broadbent were given a bit of an armchair ride: Aldbourne giving them the early marker and Woodfalls the more accomplished reference point that was eventually superseded by Flowers at the end.
It could have been a different story had Aldbourne fully lived up to the hype surrounding their pre-contest chances.

The problem was that despite a fine reading from MD David Johnson, what started as minor errors became an accumulation of annoying clips, slips, transgressions and flaws - none major, but all costly.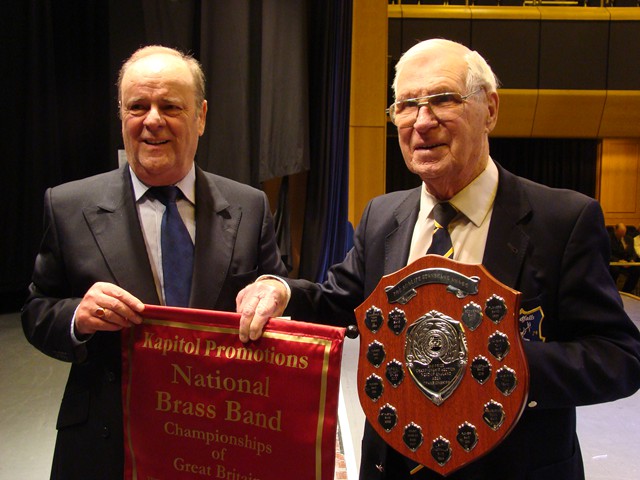 Albert Hall bound for Woodfalls once again

Notable talent

A band of notable talent, confidence and purpose may well have been touched by the damaging hand of hubris itself.

Third place slightly flattered them on this occasion, but you suspect they won't make the same mistake again at the Grand Shield in a few weeks time.

Potential

Two bands that certainly played to their potential were Mount Charles and Lydbrook, who eventually finished fourth and fifth.

John Ward, restricted in movement due to his recovery from a pair of broken elbows and a fractured wrist, instead employed his cerebral talents to the full to mould a lovely interpretation of 'St Magnus' that retained faith (in all its meanings) with the poetic inspiration behind Downie's masterful work.

With clever management of his band's technical resources, and a desire to bring warmth and lyricism from the score, the result was a performance of insight and substance - a little light and sometimes scratchy, but a real antidote to the feverish desire of others to try and pummel 'St Magnus' into submission.

No nonsense

Tom Davoren meanwhile deliberately opted for more artisan endeavour - although just as expertly managing his available resources with Lydbrook to produce a solid, no nonsense account that never saw latent ambition outstrip carefully constructed intent.
The only other band that may have realistically challenged for a qualification place was Camborne, but their efforts were fatally undermined by a disastrous miscommunication between MD John Berryman and soloists at the opening.
After that there was much to admire and excite, but the damage had been done, and with scrappiness in other areas they could never make up lost ground to end a disappointing sixth.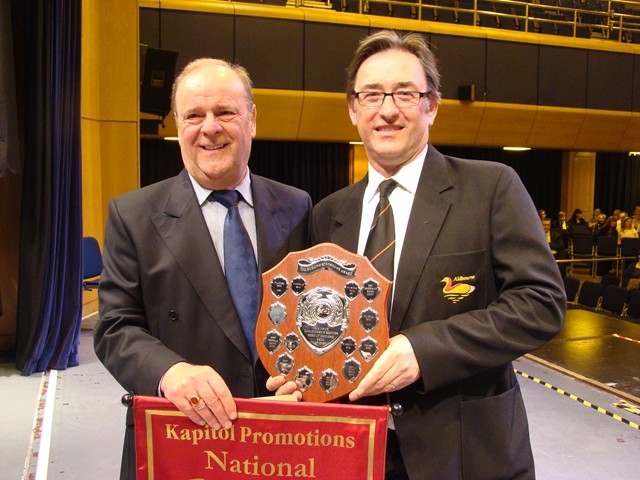 Just missing out again - Aldbourne come third

Car crash

A solid effort from a maturing St Dennis held promise for the future under the baton of Darren Hawken, whilst Sherborne will have been delighted that MD, Paul Cosh even able to even make it to the stage to conduct them off the number 1 spot after being involved in a car accident on the way to the contest.

Thankfully he was OK, and did his usual fine job in what must have been trying circumstances, as he still looked visibly shaken as he left the stage.
Nous

Both Lanner & District and Michelmersh Silver struggled - at times noticeably so, but thanks to the nous of two experienced MDs, things were kept on track - although it was touch and go at times.
For all its magnificence, 'St Magnus' can be a brutal, unforgiving test of character. These bands will be glad to see the back of it for certain.
As will Bournemouth Concert Brass, who finished last. Their errors, when they came, were big ones - especially as the band tired after giving their all in a well structured interpretation by Major Dave Barringer.
That it ended up behind at least two rivals was still a shock though. Contesting can be a particularly cruel mistress at times.

Excellent leadership

Not so for Flowers, as they comfortably made it a hat trick of wins at Torquay and three victories on the bounce for 2014.

Under Paul Holland's excellent leadership they have developed into a very fine band; with star performers not afraid to do their fair share of ensemble donkey work in the communal cause.

They will now head to Blackpool as a short priced favourite to claim the Grand Shield - and you can be sure they will wear the tag with an even more impressive sense of focussed authority.
You cannot mistake that for hubris is anyway shape or form after this outstanding success.
Iwan Fox