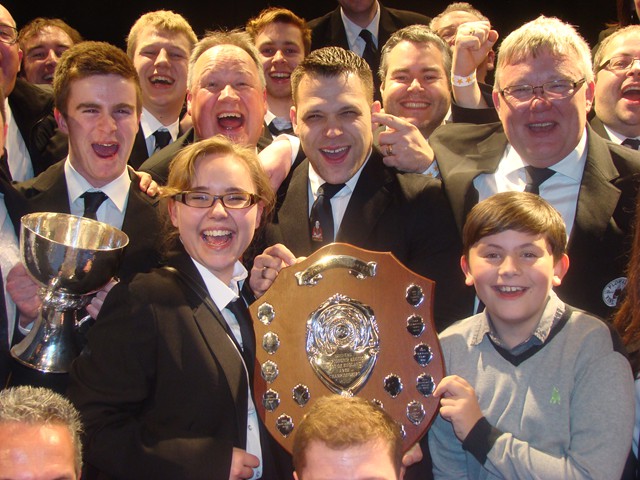 Friendly faces and curse breakers abound in Torquay...
There is something a little less feral about the West of England Regional Championships than any of the other Area events taking place around the country this weekend.
The intensity of the competition is just the same, but it is invariably played out against a backdrop of relaxed good humour and support: The rivalry in these parts is certainly keen, but never nasty.
That's because the banding folk in these parts know a good band when they hear one (especially one of their own) - and over the last few years they have done so knowing that the Torquay qualifiers are usually in with a pretty good chance of silverware come the finals (the Albert Hall included since last year).
Since 1992, the region has produced 12 National champions bands - and at least one in each of the lower sections, although last year they only claimed one podium finisher at Cheltenham. However, that was rather offset by a first top six finish for the region since 1994 at the Albert Hall, by Woodfalls.
Plenty to look forward to then, with 77 bands vying for those priceless qualification places. No wonder Torquay is always a pleasure to visit.
---
Fourth Section:
The Arena
Saturday 8th March
Draw: 10.30am
Start: 12.00pm
Adjudicators: Derek Broadbent & Mike Kilroy
No less than 21 bands (the largest field in any Area contest this year) will battle it out to try and claim one of the three qualification places on offer courtesy of the experienced adjudication duo of Derek Broadbent and Mike Kilroy.
The people in these parts know how to tackle the odd Spanish problem or two over the years (no band from Plymouth though), and with its palm trees and warm summers, Torquay can occasionally feel like one of the more prosperous parts of the Costa del Sol.
No problems being inspired by Alan Fernie's cleverly constructed 'Three Spanish Impressions' then - especially as the overall standard (as visiting judges have said time and time again) is very good, although the rather boomy Arena hall acoustic can cause problems for inexperienced players and MDs.
Get the basics right and keep the lid on the dynamic excesses and a short trip to Cheltenham may well be on the cards.
Who will win?
What a tough, but highly enjoyable contest this promises to be – with a veritable Armada full of cracking bands on show, led by some inspirational MDs.
Camborne Junior Contesting made such an impression last year and with another year of musical maturity under their belts they could be the band to beat.
Who may join them in Cheltenham is a real toss of the coin though, so we have opted for Spinnaker Brass and Weymouth Concert Brass, closely followed by Lydney Town, Shanklin Town and Nailsworth Silver.
The darkest of dark horses is Tewkesbury Town.
4BR Prediction:

1. Camborne Junior Contesting
2. Spinnaker Brass
3. Weymouth Concert Brass
4. Lydney Town
5. Shanklin Town
6. Nailsworth Silver
Dark Horse: Tewkesbury Town
---
Third Section:
The Forum
Saturday 8th March
Draw: 8.45am
Start: 10.00am
Adjudicators: Steve Pritchard Jones & Frank Renton
Now this could be an interesting one.
16 well matched bands, playing a set work that asks a great deal about their musicality in a hall that picks up every last bit of detail from the stage.

Oh - and Frank Renton is in the box too.
He is not alone - Steve Pritchard Jones is there with him, but it should serve as a timely reminder that bands could have a hard time of it if they don't get the basics right.
Frank may have a colourful reputation, but make no mistake, he is a very fine musician – and talks a great deal of common sense when he has judged at this level - as was shown at Butlins this year.
If MDs try to conjure up musical images on Wilby's 'Partita' - 'Postcards from Home' that are tinged with too much sepia tinted nostalgia then look out - they could be rightly clobbered.
Get the basics in place and build something as decently constructed as a 1950's Bradford two up two down terraced house and you may find yourself making the trip to Cheltenham.
As was shown at St George's Hall last weekend, the bands that won through did just that - nothing pretentious or artificial - just good solid brass band playing.
Who will win?
With some pretty good bands promoted up from the Fourth Section and some decent ones coming down from the Second, it's a contest that is as wide open.
The likes of Andover Town, Chalford Academy (who have an average age of just 16), Wilton & District and Heyl Town look decent bets for us to battle it out for the two qualification places on offer, with the likes of New Forest Brass and South Molton in with a great shout of a top six finish at least.
Our dark horse is Midsomer Norton & Radstock Silver.
4BR Prediction:

1. Andover Town
2. Chalford Academy
3. Wilton & District
4. Heyl Town
5. New Forest Brass
6. South Molton Town
Dark Horse: Midsomer Norton & Radstock Silver
---
Second Section:
The Forum
Sunday 9th March
Draw: 8.45am
Start: 10.00am
Adjudicators: Mike Kilroy & Steve Pritchard Jones
There could be something of a Geoffrey Chaucer Appreciation Society growing by the week thanks to Michael Ball's expertly realised test piece.
This is a set work that asks a lot of question about musical intellect (and you do need a healthy IQ level to wade your way through his 'Canterbury Tales') as technically, 'Chaucer's Tunes' should be well within the scope of the majority of these solid Second Section bands.
However, as shown in Bradford last weekend, the key lies in trying to balance style to substance - from the dislocated rhythms of the opening 'Intrada' and simple beauty of the hymnal 'Alma Redemption Mater', to the witty tale of promised fidelity in the 'Wife of Bath' and bold splendour of the Christmas carol, 'Es ist ein' Ros' entsprungen'.
Opt for too much of the one over the other and the piece simply doesn't come to life - the opening sounding lumpy and leaden, the hymnal over emotional, the Wife of Bath a mid morning comic book tale out of Nuts magazine.
Get things right though and there may not be a more rewarding work played all weekend - especially as there are just two priceless places up for grabs to get to Cheltenham.
Who will win?
Yet another hard one to call, but if Swindon Pegasus has continued to build on the form it showed at Cheltenham last year then they could be the band to beat, with a resurgent St Keverne joining them.
Bodmin Town may just miss out as they continue to rise like a phoenix from the flames in more ways than one, with Sidmouth Town, Forest of Dean Brass and City of Bristol in with a good shout too. Our dark horse is AW Parker Drybrook.
4BR Prediction:

1. Swindon Pegasus
2. St Keverne
3. Bodmin Town
4. Sidmouth Town
5. Forest of Dean Brass
6. City of Bristol Brass
Dark Horse: AW Parker Drybrook
---
First Section:
The Forum
Saturday 8th March
Draw: 12.30pm
Start: 3.00pm
Adjudicators: Steve Pritchard-Jones & Frank Renton
After a short break from analysing 15 performances of Philip Wilby's wonderfully elegant 'Partita' in the Third Section on Saturday morning, Frank Renton and Steve Pritchard Jones will have to compare and contrast a further 14 renditions of Howard Lorriman's rather less elegantly proportioned 'Cry of the Mountain'.
The contenders will want to hope the duo are looking forward to their personal trek through the somewhat underwhelming pages of the score, as so far this year it hasn't really been a piece that has inspired bands to great heights.
Despite the obvious nods of appreciation to musical Alpine inspiration, from the opening 'Awakening' and craggy 'Snow, Ice & Glaciers', to the panoramic views of 'Vistas & Distant Peaks' and the instability of the final 'Avalanche', it isn't exactly the musical equivalent of the North Face of the Eiger for those that harbour the ambition to tackle the fearsome summits of 'St Magnus' and the like.
Still, it's got to be conquered, and as was shown in Bradford last weekend, it still has the ability to send the unwary climber plunging to his doom if they treat it with disrespect.
Who will win?
There are some very solid bands on show here - so it could be one heck of a battle to see who eventually claims the two qualification places.
Filton Concert Brass was excellent value for their victory last year and put in a classy performance at the finals, so they should be confident of making it through again, whilst St Austell may be the band to join them.

The still developing Brunel Brass will perhaps thank their lucky starts that they won't be faced with 'St Magnus' after last year's tough top section baptism, as will Chalford - both of who look like good each way bets for a possible podium finish, whilst Otterbourne and Verwood Concert Brass could just push them out of it if they hit top form.
Our dark horse not surprisingly is the debutant Roche Brass, who could well top the lot.
4BR Prediction:

1. Filton Concert Brass
2. St Austell
3. Brunel Brass
4. Chalford
5. Otterbourne
6. Verwood Concert Brass
Dark Horse: Roche Brass
---
Championship Section:
The Forum
Sunday 9th March
Draw: 12.30pm
Start: 3.00pm approx
Adjudicators: Derek Broadbent & Frank Renton
With the infamous curse of the unsuccessful defending champion finally broken by Flowers, the future story may be about which band can possible stop them from racking a fourth victory in five years on the weekend under Paul Holland's baton.
Flowers is certainly in great form following victories at Butlins and Yeovil, and should be a short priced favourite to make it three in a row come Sunday evening.
That said - as was shown in Bradford last weekend, 'St Magnus' is piece that can scupper title winning chances from the very first note, and with Derek Broadbent a stickler for bands getting things right from the word go, there will be little room for even minor errors.
The Forum auditorium also offers a perfect acoustic for hearing all the intricate detail in Kenneth Downie's wonderful score (including any bits of dodgy forging), so the quality of the best bands should be fairly transparent.
Excess speed and bonkers dynamics are also another considerations (as some found to their cost at St George's Hall) with the finale marked at 152. That's a fair old lick in anyone's book - especially when you are trying to control the dislocated rhythmic pulse found in the original score.
It may well be stating the bleeding obvious – but guess what? 'St Magnus' takes some playing.
So who will win?
Flowers deserve their short odds at the bookies and should make it to London once again. They are a classy outfit at present.
Woodfalls though could push them all the way - and will be keen to show the Torquay faithful just why they gained that mention off the Albert Hall stage, whilst Aldbourne could well upset any pre-conceptions the two heavyweights may harbour if they play to the very best of form.
Camborne will surely benefit from the experience of John Berryman at the helm and Bournemouth Concert could also force their way into the mix with the consistent Lydbrook. Our dark horse is St Dennis.
4BR Prediction:

1. Flowers
2. Woodfalls
3. Aldbourne
4. Camborne
5. Bournemouth Concert Brass
6. Lydbrook
Dark Horse: St Dennis