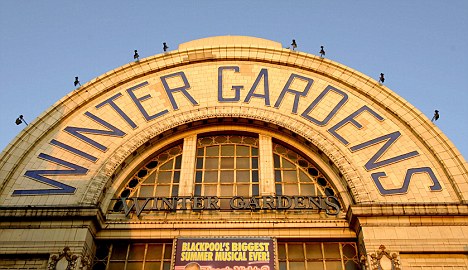 Let battle commence...

With the great heavyweight battles in Bradford not really springing up any great surprises, now comes the opportunity to see whether or not the well backed favourites will live up to their poster billings in Blackpool.
Although 2013 wasn't a vintage year of success for the North West at either Cheltenham or London (just two podium finishers in total) the region can still boast an enviable record of success since the competition developed into it current format in 1992; with six Championship titles and 26 lower section triumphs to its name.
Fighting fit

Yorkshire may have its top flight leviathans, but the North West can also add a few tasty Albert Hall contenders of its own, as well as more well honed, fighting fit Cheltenham light, middle, bantam and flyweights than can be found in a Mexico City boxing gym.
Much then to look forward to under the bright neon lights of the Golden Mile strip, especially as all the action is crammed into one sweaty mix of valve oil, aftershave and lip balm under the roof of the Winter Gardens.
---
Fourth Section:
Opera House
Draw: 9.00am & 11.00am
Start: 10.00am
Adjudicators: Brian Rostron & Gordon Higginbottom

Alan Fernie's colourful set work certainly caused a few problems in Bradford, as 'Three Spanish Impressions' asked more about an appreciation of Iberian musical style than anything else – especially in the tricky 'will they, won't they' Basque inspired waltz.
At times it did sound as if some MDs had never taken a holiday on the Costa del Sol as they struggled to capture the darkness of the brooding opening, the delicacy of that smouldering waltz or the oily swagger of the fandango finale.
That shouldn't be problem here with parts of Benidorm and Blackpool looking remarkably similar on a cold March morning, so with a number of MDs spotted on spying missions at St George's Hall these 16 classy contenders should enjoy meeting the musical challenges on offer.
The experienced judges, Brian Rostron and Gordon Higginbottom also know a good piano from a dodgy paella, so any problems in interpretation will be found out.
As for a winner?
The overall standard here is amongst the best in the country, with a number of bands more than capable of claiming the qualification places after early season run outs at Brass at the Guild Hall.
Greenfield is in excellent form and could be the band to beat, whilst Blackley may be in line to join them at Cheltenham.
The likes of Pilling Jubilee, Tarleton Brass, Sale Brass and Rode Hall may have something to say about that though, alongside our dark horse of Whaley Bridge.
4BR Prediction:
1. Greenfield
2. Blackley
3. Pilling Jubilee
4. Tarleton Brass
5. Sale Brass
6. Rode Hall
Dark Horse: Whaley Bridge
---
Third Section:
Empress Ballroom
Draw: 10.00am & 12.15pm
Start: 11.00am
Adjudicators: Stephen Brodie & John Roberts
Philip Wilby's elegant set test also caused a few musical headaches in Bradford.
The ability to try and lift the level of detail from the score of 'Partita - Postcards from Home' without clogging up the musical flow seemed to be the key to success - although the acoustic at St George's Hall will have been much more sympathetic than the cavernous Empress Ballroom.
The best in Yorkshire managed to sprinkle the detailed motifs and effects without tarnishing the wonderful sepia tinted picture with technical excess, so much for the bands here to try and emulate.
The pre-contest expectations are high, with 18 solid rivals taking to the stage - many of them in pretty prime early season form as they tackle the imposing opening of 'Towers & Chimneys', the evangelical zeal of 'Lord of the Dance', the lilting beauty of 'Sunday Afternoon' and the patriotic fervour of the 'Coronation Day' finale.
As for a winner?
The adjudication team of Stephen Brodie and John Roberts will certainly have their work cut out - especially if all the fancied runners play to form.
That said, with three Cheltenham places up for grabs, the likes of Butlins champion BMP Goodshaw and Brass at the Guild winners Boarshurst should fancy their chances, as will Coppull & Standish, Hawk Green (Marple), Golborne and Blackpool Brass, alongside our dark horse of Greenalls.
4BR Prediction:
1. Boarshurst
2. BMP Goodshaw
3. Copull & Standish
4. Hawk Green (Marple)
5. Golborne
6. Blackpool Brass
Dark Horse: Greenalls
---
Second Section:
Pavilion Theatre
Draw: 08.30am & 10.30am
Start: 09.30am
Adjudicators: Allan Holdsworth & Alan Morrison
Just the two places up for grabs - and it could be one heck of battle (there are a host of cracking bands on show) to see who eventually claims them on a set test that is deceptively difficult to play well.
'Chaucer's Tunes' was certainly within the technical grasp of the majority of bands at Bradford, but stylistically it caused more trials and tribulations than that faced by the poor knight in the tale of 'The Wife of Bath'.
The dislocated rhythms of the opening 'Intrada' can be mastered quickly enough if adrenaline isn't coursing too hot through the veins, whilst the simple beauty of the hymnal 'Alma Redemption Mater', isn't that too difficult to accomplish if players are confident and controlled either.
Finding the right degree of playful wit in the 'Wife of Bath' is the key to success there, whilst by the time a well directed band comes to the straightforward boldness of the Christmas carol, 'Es ist ein' Ros' entsprungen', they could well be in sight of a Cheltenham appearance.
It sounds easy - but as many an A level English literature pupil has found out over the years, getting to fully understand what Chaucer is all about is more complicated than you may think.
Who will win?
The time may well have come for Mossley to find their true form here and finally bag themselves a seaside title to go with the ones they win with ease in Skegness.
If they do play to their Butlins form they will be hard to beat, although the likes of Eccles, Middleton, Delph, Pemberton Old Wigan and Besses Boys should be snapping hard at their heels.
Even our dark horse of Besses o' the' Barn cannot be discounted in a contest to savour.
4BR Prediction:
1. Mossley
2. Eccles Borough
3. Middleton
4. Delph
5. Pemberton Old Wigan DW B
6. Besses Boys
Dark Horse: Besses o' th' Barn
---
First Section:
Pavilion Theatre
Draw: 1.15pm
Start: After Second Section results
Adjudicators: Simon Kerwin & Richard Marshall
There will be no shortage of performances worthy of a place at Cheltenham if the quality that was heard at St George's Hall last weekend is replicated (or bettered) at the Pavilion Theatre.
'Cry of the Mountain' isn't the severest of tests for bands just one step away from the likes of 'St Magnus', although whether or not it prepares them for such in the future is a different matter.
Although the musical Alpine inspiration is clearly defined - from the peering 'Awakening' opening and craggy 'Snow, Ice & Glaciers', to the panoramic views of 'Vistas & Distant Peaks' and the frightening instability of the final 'Avalanche' - the players should be able to overcome any problems without recourse to a helping Sherpa hand.
Who will win?
A real hard one to call - with a list of potential summit toppers greater than the number of climbers that have a packed lunch on top of Scarfell Pike each weekend.
There are some serious, well led bands here - from the likes of Oldham (Lees), Roberts Bakery and Morecambe, who showed their form at the Guild Hall, to VBS Poynton and Longridge, who did the same at Skegness - not forgetting the solid contest hikers of Uppermill, Haydock and Ashton under Lyne.
Simon Kerwin and Richard Marshall may be reaching for the bottled oxygen in the box.
No out and out favourites, but Oldham (Lees) could be the band to beat with VBS Poynton joining them on the trip to Cheltenham.
If either slips an inch though the likes of Ashton under Lyne, Roberts Bakery, Morecambe and Uppermill may scramble ahead of them and plant their flag on the summit. Our dark horse appropriately enough is Haydock.
4BR Prediction:
1. Oldham (Lees)
2. VBS Poynton
3. Ashton under Lyne
4. Roberts Bakery
5. Morecambe
6. Uppermill
Dark Horse: Haydock
---

Can Leyland claim a North West Lonsdale Belt?
Championship Section:
Opera House
Draw: 1.45pm
Start: After Fourth Section results
Adjudicators: Jim Davies & Barry Thompson
After the 'Battle of Bradford' comes the 'Blackpool Bash' - with just two priceless corners stools to be claimed for Albert Hall title fight come October - and at least four bands in the field of twelve who weigh in with much more than just a brawler's chance of landing a lucky uppercut blow on a rival's chin.
Reigning champion Leyland will be looking to claim a hat-trick Lonsdale Belt, but they will know that they will only be able to do it if they can dispose of a fully focussed Foden's, a rejuvenated Fairey and an ambitious Milnrow.
The traditional 'big three' certainly have the skill set to fully master 'St Magnus' (and Milnrow is close) - although each revealed a bit of a glass chin at the majors on occasions last year.
On their day though they have ice running through their contesting veins – each more than capable to knocking their opponents block clean off.
Only one will have their arm raised in triumph by the adjudicators Jim Davies and Barry Thompson, although the runner-up will wear a smile of satisfaction through their bloodied gum shield. Coming third is like suffering a low blow to crown jewels protector.
If Foden's, Fairey and Leyland are not fully prepared, or lack form, then the most able of light-heavyweights Milnrow will surely pick them off, whilst ambitious contenders such as Rainford, Wingates and our dark horse of Co-operative Funeralcare North West are all in with a puncher's chance too.
Who will win?
If they are all in prime form then it's between Foden's, Fairey and Leyland. If not, then Milnrow certainly come into the equation.
On this piece, the rest are hoping that this lot just punch themselves to a standstill.
4BR Prediction:
1. Foden's
2. Fairey
3. Leyland
4. Milnrow
5. Rainford
6. Wingates
Dark Horse: Co-operative Funeralcare North West