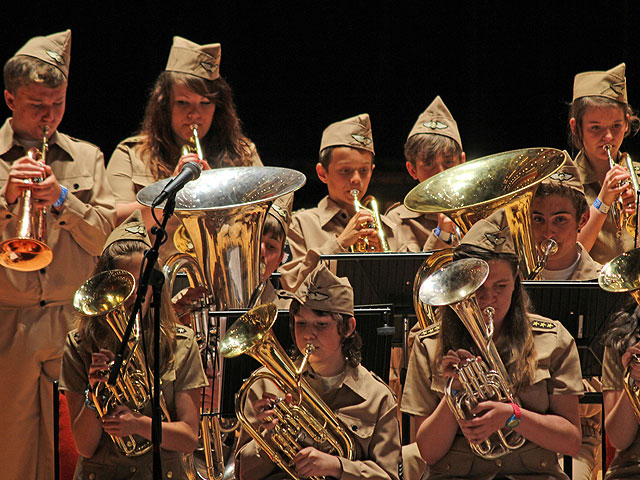 Youth Brass 2000 in concert mode

Whilst the Championship Section outfits were entertaining a capacity audience at the Centre Stage venue, ten wonderful Junior Ensembles and Youth bands provided five hours of top class competitive entertainment in nearby Reds.

In a vibrant atmosphere, it was yet another reminder of what youthful brass band music making is all about. These were two fantastically enjoyable competitions.
Perfect pitch

It was no wonder that adjudicator Alan Fernie (sat in the open) delivered equally entertaining summaries – a masterclass in how to encourage and inform.

His funny and fulsome praise of individuals and bands, spiced with the odd diplomatic hint on how they can improve performances, was perfectly pitched.
Amazing achievement

Under the baton of Chris Jeans, it was Youth Brass 2000 who created a significant piece of contesting history in once again taking home the winner's cheque for £1,000 in the Youth Section.
Their double hat-trick was an amazing achievement - and fully deserved with a programme that practically left you breathless at its conclusion.

It was slick, polished and extremely professional – and a contest performance that the bands at Centre Stage would have been proud of.
Nothing overdone, but nothing left to chance, Youth Brass was outstanding in every department – and had to be, thanks to the quality of the opposition.
If they can maintain this form at the forthcoming British Open Youth contest in Preston and the Youth Entertainment Championship in Blackpool, brass band historians may well have to add a special appendix in their records books to accommodate all their achievements.

Sympathy and congratulations

You certainly left you with a mix of sympathy and congratulations to Wardle High and St Helens Youth. They both pushed the winners very close, with Alan Fernie revealing there was very little between the top two.

Wardle's MD Lee Rigg will have gone home proud of his players as they gave everything, with tight ensemble work supported by excellent solo contributions from around the stand. They are some band too.
Similarly, Anna Hughes-Williams and her talented St Helens youngsters couldn't have done anything more, with a real star in their ranks in Georgina Moulsdale, who took the solo prize for a cracking rendition of the Harry James 'Trumpet Concerto'.
With just five bands taking part and only four prizes originally allocated, Butlins should also be congratulated for finding the extra cash to make sure both Enderby Youth and Gresley Youth didn't go home empty handed either for their excellent efforts.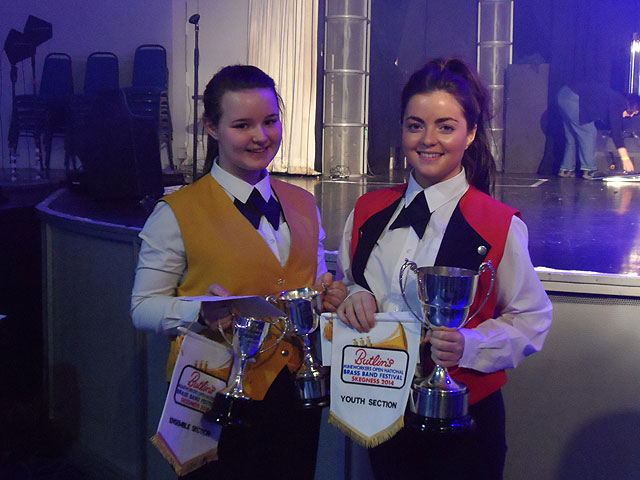 Wardle excellence at Butlins

Cracking programmes

Earlier, five brilliant Junior Ensembles opened the proceedings with cracking programme sets that had to include the performance of a hymn tune within their ten minutes playing time.

In the end it was defending champion Wardle Juniors conducted by Gwen Smith that retained the title and took home the £200 first prize.
The Lancastrian's five pieces were all crackers delivered with adrenaline fuelled enthusiasm. In addition, principal cornet Rachael Clegg was a star as she deservedly claimed the soloist award.

Pushing

Pushing Wardle close once again was Youth Brass 1000 under the leadership of Adele Hudson. Their trio of pieces included a rousing 'Death or Glory' march that couldn't have been better paced if they had been conducted by Richard Evans.

In third place came the midlanders of Wigston Enterprise, whose challenge included a cracking 'Mr Sandman' and music from 'Sister Act', whilst Shirland Training and Silver Sounds rose to the occasion to produce well delivered sets under MDs who not once lost the smile of pride from their faces.
In fact, that seemed to sum up the whole day perfectly.
Malcolm Wood