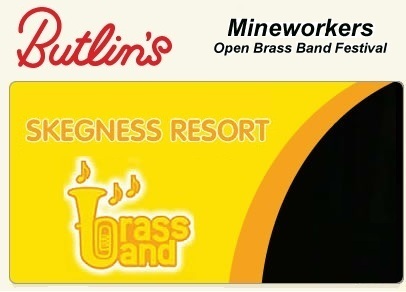 Welcome to the 2014 contesting season.
Was it really less than eight weeks or so ago that we had finally came to the end of a seemingly never ending 2013 season, with exhausted bands looking forward to a Christmas break from the treadmill of contesting?
How time flies...
Hopes and aspirations

Here we are again then - all clean slates and New Year resolutions, ambitions, hopes and aspirations.
You can almost smell the sense eagerness and enthusiasm coursing through the competitive veins as bands make the long trip to Skegness and the Butlins Mineworkers Championships.
How many of us will be as bright eyed and bushy tailed in 10 months time though?
Indicator

Perhaps an indicator or two will be heard at the Skyline Resort this weekend as 92 bands take to the various stages in their bid to kick start their 2014 seasons with some hefty pay day prize winning cheques.

Although a Butlins victory is no guarantee of future contest success, it doesn't half give a band one heck of an early boost ahead of the various Areas Championships and beyond: And the first of those is just another six weeks away.
Great atmopshere

As always there is a great atmosphere (superbly run by contest controller Brian Eggleshaw) to enjoy once you get here - with Butlins expert at putting on the type of entertainment that keeps feet tapping and the bar tills ringing.
Any New Year resolutions to lead a much more sober and healthy banding lifestyle in 2014 will be severely tested – although you can now 'chillax' at the recently opened Waterworld feature.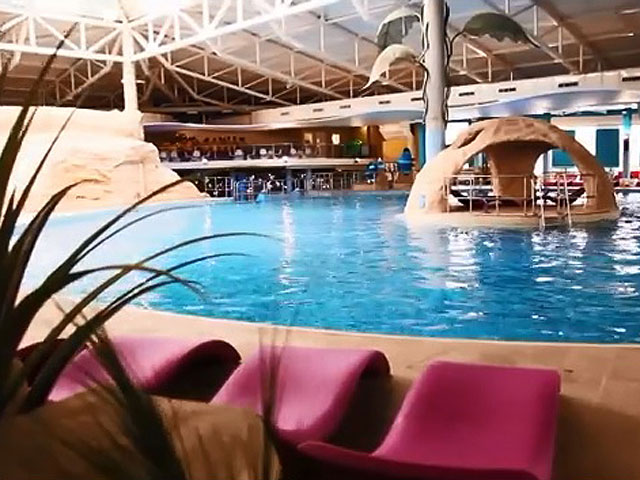 Happy

The test pieces chosen are sure to keep the cognoscenti as well as the occasional listener happy too - topped by Robert Simpson's cerebral 1971 composition 'Energy', which bubbles with ever increasing treacherous intent.
How the 14 top flight bands balance its accelerating demands alongside their exhilarating entertainment fayre will be fascinating as they battle to get their hands on the massive £10,000 first prize.
Elsewhere there is great music to enjoy too - with an eclectic selection of set works from Paul Lovatt-Cooper, Arthur Bliss, Philip Sparke and Goff Richards having to be mastered in the other sections if bands are to walk away with the two grand first prizes on offer.
All this and we have the wonderful youth and ensemble events on the Sunday where there is sure to be plenty of tremendous playing on show.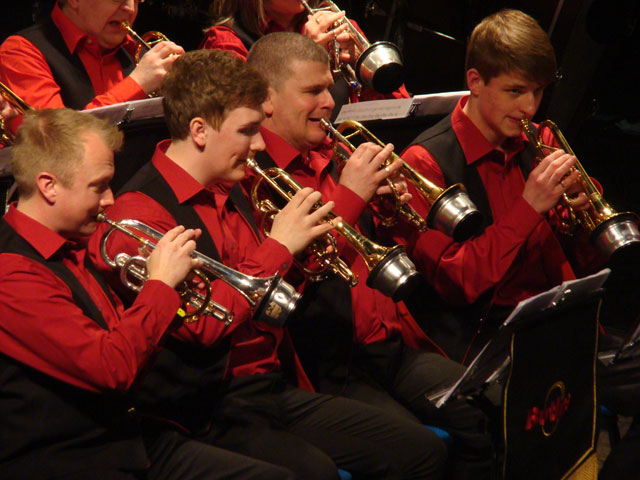 Brass band entertainment
Away from the contests there will be plenty for brass band lovers to enjoy with concerts by defending champions Virtuosi GUS and Youth Brass 2000 on Friday along with the New York Brass Band.

Late night slant
Brett Baker's University of Salford Graduation Band will be at Reds on Saturday, whilst the late night Parpenrifters Bavarian Band will deliver their usual mix of traditional and modern, all with an intriguing slant!

Audience participation is key, so expect plenty of forfeits to go with the fun and games.
At Centre Stage, the Syd Lawrence Orchestra with their brand new show 'Licensed to Thrill' will be featured in a celebration of the music of James Bond, whilst one of Europe's most successful tribute acts 'A Vision of Elvis' featuring the Memphis Horns are sure to bring the evening to a rousing finale.

Grimey and JSVB
Grimethorpe Colliery Band will appear in concert on Sunday, whilst James Shepherd Versatile Brass, featuring the great man himself brings the Sunday evening gala event to a close.

Mbale support
Festival Director, Steve Walker told 4BR: "Butlins are committed to providing the very best entertainment and this year will be no different, whilst we will continue to help support the 'Brass for Mbale', project to help develop young brass players in Uganda."
First African band
Steve revealed that under MD Phillip Monk, the Mbale Youth Brass Band also hope to become the first African brass band to compete in a UK contest.

"It's about much more than that though," Steve added. "It's a real chance to help our fellow brass banders in their struggle against hunger, poverty and illness.

We are currently trying to raise money to build them a band room. The children rehearse under a tarpaulin which is little use in the rainy season whilst our long term aim is to raise the funds to invite the Mbale children to compete in the Youth Section here at Butlins."
Day Tickets

Day visit tickets are available for Saturday 18th January only, due to the limited venue capacity for the entertainment competition on the Sunday.

Prices are £21 per adult, £13 per child 2—14, with under 2s free.

Please note that all competitors who are not resident on Resort must purchase a day visit ticket to gain entry to Resort on Saturday January 18th.

Day tickets are available to purchase but Butlins recommend these are purchased in advance by calling the Butlins Day Visits on 01754 762311.