Third Section:
Venue: Royal Arthur Suite
Saturday 18th
Set Work: Music for a Festival (Philip Sparke)
Adjudicators: Barry Thompson & Mark Walters
First Prize: £2,000, Butlins Trophy and Champions Banner
Second Prize: £1,000
Third Prize: £700
Fourth Prize: £500
Highest Placed Mining Band
---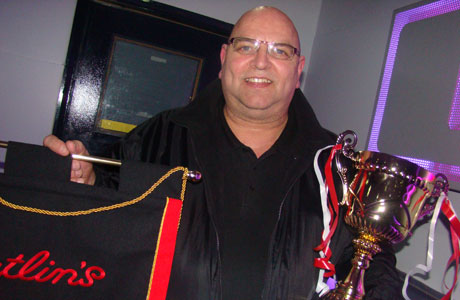 Can anyone stop Boarshurst and David Ashworth claiming a hat trick?
No major brass band contest would really be complete without a work by that great compositional craftsman Philip Sparke, so it should come as little surprise that players, audience and judges (Barry Thompson and Mark Walters) will get to enjoy this piece written almost thirty years ago.
What may come as a surprise is that 'Music for a Festival' was originally composed for the National Youth Championships in 1985, although it has been played at various levels (including the First Section at the Swiss Nationals in 1986) ever since.
Hallmarks

As we have come to expect it contains all the familiar Sparke hallmarks in each of its three linked sections; the opening being particularly rhythmically bold and vibrant with its fanfares and syncopated jazz inflections, catchy motifs and lyrical interludes.
The slower, reflective central section is based around a warmly hued quartet that expands on its intimacy into a resounding climax, whilst the finale is a bit of a free flowing romp with just the occasional glance back to catch a breather before the opening statement is repeated for a glorious close.
Conducting skill

There is nothing too taxing about the writing, but the skill of the conductors will be tested in their ability to blend the various basic elements together.

Over blowing in the opening and closing sections will certainly rob the music of character, whilst poor intonation and a lack of flow will hamper the musical intentions in the central interlude.
It sounds easy doesn't it, although Philip Sparke is an expert at giving MDs just enough rope to either stitch together an impressive winning performance or swing by their necks.
It's a good job Albert Pierrepoint isn't in the box then...
---
Who will win?
A well matched field of 18 contenders take to the stage at the Royal Arthur Suite - with 17 of them determined to stop Boarshurst Silver from making it a hat trick of victories under the baton of the wily David W Ashworth.

He knows better than most just how to mould a prize winning performance at this level, and they may well be the band to beat once more, although they could well face some stiff opposition from Hawk Green (Marple) and Hucknall & Linby, who enjoyed fine returns at the National Finals a few months back.
Newly promoted Coppull & Standish also enjoyed their Cheltenham trip (as well as here for the past two years) and could be a good eachway bet for a top six finish, whilst Stamford Brass and Dinnington should fancy their chances alongside our dark horse of Chinnor Silver.
4BR Prediction:

1. Boarshurst Silver
2. Hawk Green (Marple)
3. Hucknall & Linby
4. Coppull & Standish
5. Stamford Brass
6. Dinnington Colliery
Dark Horse: Chinnor Silver
---
Fourth Section:
Venue: Centre Stage
Saturday 18th
Set Work: Three Saints (Goff Richards)
Adjudicators: Alan Fernie & Ian Porthouse
First Prize: £2,000, Butlins Trophy and Champions Banner
Second Prize: £1,000
Third Prize: £700
Fourth Prize: £500
Highest Placed Mining Band
---

Can Greenfield put their name on the Fourth Section trophy this year?

It's a little disappointing to see only 11 contenders making it to the starting line for the Fourth Section contest, especially as there were 17 last time out and there is the small matter of a whopping £2000 first prize up for grabs.
There is also an enjoyable set work in Goff Richards's 'Three Saints', which although written as a Third Section work in 1996 and used as such at the 1998 Regionals, is, with a bit of hard work, within the scope of the majority of Fourth Section bands.
A bit of a puzzle then - not that you will hear any of these 11 rivals complain too much if they are celebrating on Saturday night by filling up the trophy with two grand stuffed in their back pockets.
Communion

Goff Richards's descriptive composition draws its inspiration from the communion of saints whose names adorn many small towns and villages of Cornwall - with this particular trio of 'St Petroc', 'St Breward' and 'St Manfreda'.
'St Petroc' is the patron saint of Bodmin - a sombre soul who has just the occasional bit of frivolity in his life thanks to the introduction of the 'Bodmin Riding Song'.

'St Breward' meanwhile seems to have been a bit more 'happy clappy' with an evangelical zeal that must have either made him a joyful spirit or by a bit of a pain in the backside.

Finally, 'St Manfreda' - who was not a prototype 60's pop star, but the patron saint of the composer's home town of St Minver.

Happy hour

The finale draws it musical inspiration from some of the lovely church music the composer spent many a happy hour singing as chorister in his youth.
It all adds up to a piece that would have been fun to rehearse and play, and should ensure that each of the 11 contender are in with a fair chance of winning some serious money before the Championship Section bands take to the stage.
---
Who will win?
With last year's winner battling it out in the Third Section we could have a new name engraved on the trophy, unless Tewkesbury own can repeat their 2005 success.

They could well be in with a decent shout although we think they will have to beat the likes of a full strength Ifton Colliery (they were very good at Cheltenham even with players missing) and the ambitious Pleasley Colliery Welfare, if they are to come out on top.
Whitwell Brass will want to post a great result under Kevin Holdgate to boost MD Alan Needham's recovery from illness, whilst Greenfield, Banovallum Brass and dark horse Maltby Miners could be worth a bob or two at the bookies as a good eachway bet.
4BR Prediction:
1. Ifton Colliery
2. Pleasley Colliery Welfare
3. Tewkesbury Town
4. Whitwell Brass
5. Greenfield
6. Banovallum Brass
Dark Horse: Maltby Miners