First Section:
Sunday 22nd September
Start: After award ceremony for Third Section
Test Piece: Fanfare and Love Songs (Gavin Higgins)
Adjudicators: Paul Holland and Dr Robert Childs
---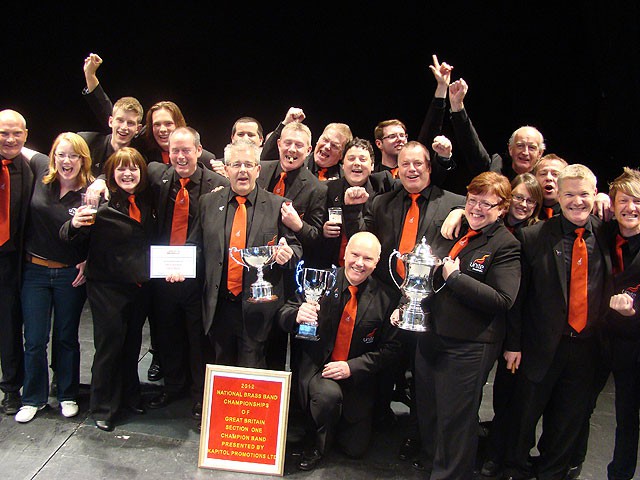 2012 Champions - Unite the Union (City of Sheffield)
The bands that hope to compete at Championship level in 2014 by winning the First Section title, must first overcome one of the most intriguing test piece challenges for many a year.
From 'Brass Triumphant' at the Areas to 'Fanfares and Love Songs' here – the contenders certainly can't complain they haven't been given contrasting musical challenges to master if they are to rub shoulders with the likes of Cory, Black Dyke and Foden's.
Wonderful and inventive

Gavin Higgins is a wonderful, inventive composer for brass (a wonderful, inventive composer for any genre in fact) – a free spirit who has the ability to delve into the deepest recesses of the musical mind.
His span of creativity is immense; with works that can be huge, dark and disturbing (certainly true about any piece inspired by the Marquis de Sade), small, delicate and ethereal (such as his 'Sadly now the Throstle Sings') or simply stunningly virtuosic (his trombone Concerto 'Freaks' takes some playing)
Perfect fit

'Fanfares & Love Songs' sits perfectly between all three.
Commissioned for the National Children's Band of Great Britain (although not initially performed in its entirety) it is certainly youthful in outlook, although amazingly mature in substance.

It was subsequently performed complete by Leyland at the 2010 RNCM Festival of Brass.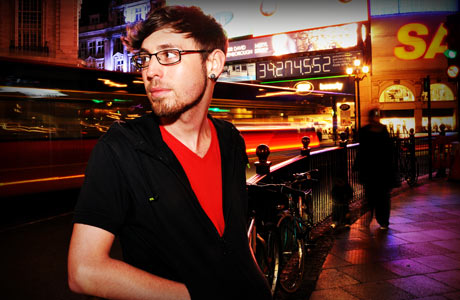 The composer: Gavin Higgins

Unlike some of his other works for brass there is no defined subtext from which it is inspired, other than his love and celebration of the medium – one that through his own playing experience gives him a wonderful insight into its exciting possibilities.
Those who have heard 'Destroy, Trample as Swiftly She', played at the European Championships a couple of years ago will attest to that.
Conventional

The opening movement is the most conventional in structure and purpose – the first fanfares of the title.
On the face of it, it would seem to pose few problems for bands of this calibre, but on closer inspection the clearly defined internal balances and tricky call and response motifs are bear traps of style and precision.
It is music of character; bold and majestic for certain, but never pompous or overbearing.

It asks questions of subtlety, refinement and elegance, with the MDs and players needing to come up with some pretty definitive answers.
Stunning beauty

The interspersed 'Love Songs' are bittersweet interludes of stunning beauty; romantic yearnings edged with sharp fears.
The emotion is complex – from overt passion to repressed guilt, the dynamic contrasts (down to ppp) demanding an appreciation of just how fragile the mind can become when love is close to breaking the heart.
Balanced

It is balanced by the driving syncopation, verve and vivacity of the other fanfare flourishes – a balancing act that will demand control and precision from ensembles who may feel a need to break free of any emotional constraints and simply 'wham bang thank you mam' their way to the finishing line.
Those who do will surely come a cropper.

Those who don't may well be rewarded for their sensitivity and top class music making – the hallmarks of any band that wants to be successful at Championship Section level.
---
The contenders:
There is real strength in depth in the field of 17 contenders – from Alder Valley to Tylorstown and all qualifying stops in between.
Encouragingly that has also been shown by the last few champions to be crowned here - with Beaumaris and Tongwynlais going on to claim top six finishes at the Albert Hall, Friary Guildford making their debut this year, and Aldbourne just missing out by the skin of their teeth.
Prosperity

Last year's champion Unite the Union (City of Sheffield) has also settled nicely into the demands Yorkshire top flight banding, so that after a few years when victory also came with the prospect of terminal demise (Point of Ayr, Todmorden Old, BHK (UK) Ltd and Pennine) it seems First Section success now holds the promise of future prosperity.
However, before any of them start celebrating they will have to catch the ears of two highly experienced judges in Paul Holland and Dr Robert Childs – both of who know exactly what it takes to win National honours.
London and the North of England
Champion Kidlington and Alder Valley Brass make the trip to Cheltenham hoping to continue the decent run of form Stevenage qualifiers have shown over the last few years.
Duncan Wilson and Roger Burke have plenty of experience to fall back on with bands that have been growing in confidence and contesting success.
The same applies to North of England champion Harrogate and fellow qualifiers Catterick Brass, both of who have experienced players in the ranks and are led by conductors who know their way around top flight scores.

It could come in handy this weekend.
North West and Yorkshire
It was the White Rose county who enjoyed the bragging rights last year as Unite stormed away with the title.
This year Yorkshire honour is being upheld by the powerful duo of champion Hebden Bridge and Butlins winner Drighlington.
The have a hard act to follow after last year's podium finishes, but both are in excellent form and led by top class MDs in Alan Hobbins and Jim Davies.
Confidence will not be in short supply over the Pennines though, with the equally imposing duo of champion Freckleton and qualifiers Morecambe.
They make the trip down the M5 having enjoyed considerable contesting success of late and packed with plenty of quality players for MDs Paul Dalton and Andy Warriner work their magic on.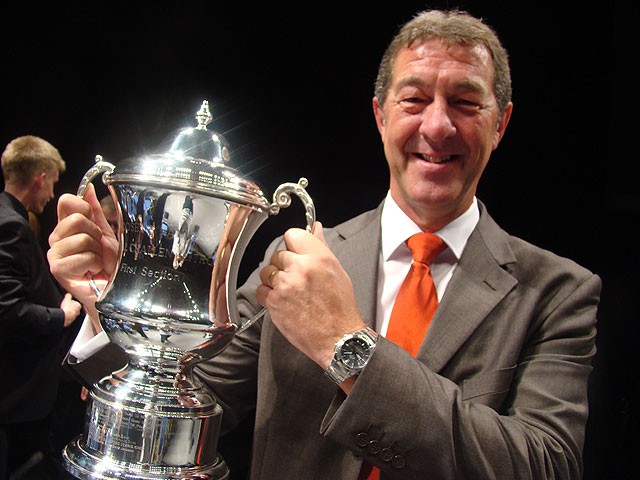 2012 winning MD Derek Renshaw
Wales and Scotland
Wales can boast four victories since the First Section was created in 1992, and in champion Tylorstown and Penclawdd they send a brace of contenders across the River Severn hoping to add to the total.
Both are led by crafty musical MDs who know how to bring the best out of their resources, so can Wales be celebrating another major contesting success on English soil this weekend?
Although there is yet to be a Scottish First Section champion crowned south of the border, hopes are high that Newtongrange and Johnstone can at least bring some silverware back home with them.
Newtongrange may be a short priced favourite to do that after winning the Scottish title and Senior Trophy in fine fashion this year, whilst Johnstone should not be too far behind them either.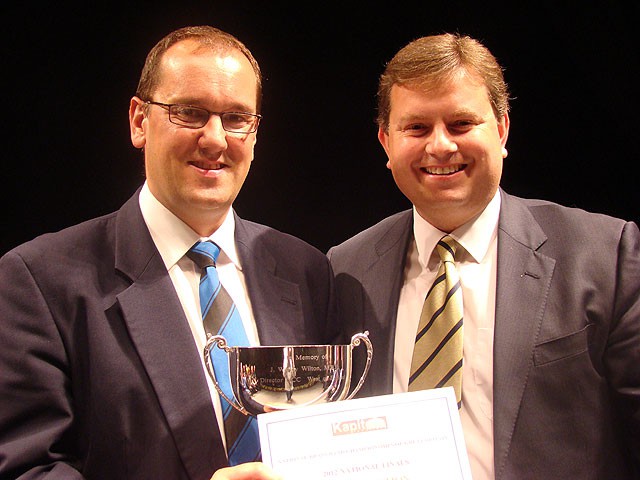 Second place in 2012 for Burry Port from Wales

West of England and Midlands
Both regions always send a batch of highly competitive representatives here, with four victories between them since 1992.
This year hopes rest with champion Filton Concert Brass and Lanner & District to see who can boast 'West is Best' in the bars of Cheltenham Racecourse on Sunday night.
Both qualified in some style at Torquay and with two talented MDs to lead them they should be confident of being in and around the top six.
That applies also to the Midland representatives, led by champion Staffordshire.

They were excellent value for their area win and will be joined in what looks like a very strong challenge by returnees Foresters Brass 2000 and Blidworth Welfare.
---
4BR Prediction:
A hard one to call, but if a conductor can get his band to combine emotional style with technical substance then they should be in with a chance. By the looks of it though there is a whole bandroom full of possible contenders who can do just that.
It's Newtongrange for us, especially after the way in which they impressed at the Spring Festival, with Staffordshire and Drighlington just behind.
With the rest of the places up for grabs (with just about every band in with a shout), our top six finishers of Morecambe, Freckleton and Tylorstown and our dark horse of Filton Concert could be way out.
1. Newtongrange
2. Staffordshire
3. Drighlington
4. Morecambe
5. Freckleton
6. Tylorstown
Dark Horse: Filton Concert