Second Section:
Saturday 21st September
Start: 9.30am
Test Piece: Purcell Variations (Kenneth Downie)
Adjudicators: David Hirst & Glyn Williams
---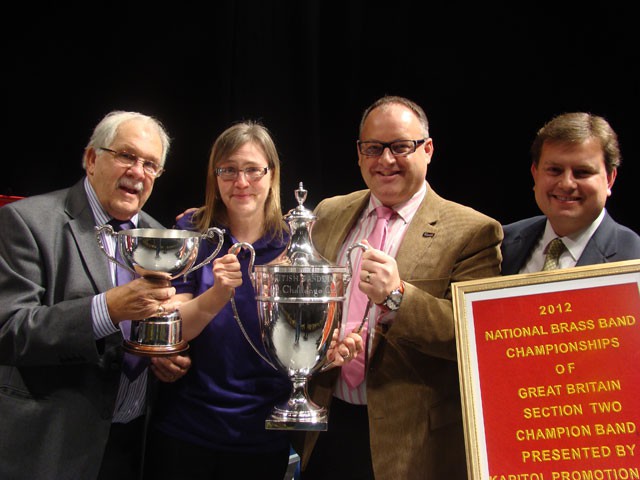 2012 Champions: South Milford

There is a real prospect that Saturday morning could well see the most keenly fought contest of the entire Nationals weekend.
There are occasions when the Second Section around the country seems to be squeezed dry in terms of quality: too many bands treading water, lacking ambition or simply unable to gain any sort of developing contesting momentum.
Not at this contest (there are six National returnees) - especially after the 18 qualifiers had to work their socks off to get here in the first place on 'The Plantagenets'.
Different test

They are now faced with a completely different test of musical character in the form of Kenneth Downie's 'Purcell Variations', which as the title suggests, takes its inspiration from the tri-centenary of the birth of the great English composer and his hymn tune, 'Westminster Abbey'.
Originally composed to coincide with the celebrations in 1995 it was first used competitively as the 1998 First Section Area set-work.
Then it caused quite a few problems – especially in terms of style, with its clear scoring, delicate detail, thematic and harmonic balances.
Not any easier

It hasn't got any less hard in the intervening years, so whether the overall standard of Second Section banding has improved in the same period of time to fully meet its challenges is open to question.
We will certainly find out on Saturday.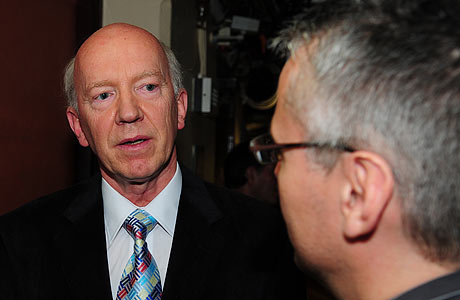 Composer Kenneth Downie in conversation with 4BR

Considered composer

Downie is a considered composer for brass; remaining faithful to the Purcell intent in terms of technique (lots of triad gestures and motifs) with each of the five variations (preceded by an introduction and theme) explored with a keen eye on structure and development.
The main thematic material is always heard (at times slightly obliquely) with ideas set out without recourse to artifice or misplaced trickery.
Graceful beauty

After a purposeful introduction and development bridge, the main 'Westminster' theme is revealed in its graceful beauty.

It's followed by a lively first variation marked 'Allegro giocoso e leggiero' and a second 'Allegretto grazioso'.
Both have the same tempo marking (although flexible), but stylistically the subtlety is marked; the first variation is a light, lilting, playful dance, the second is a wistful, elegant waltz.
Jazz inflection

They are followed by what may appear to be an odd third variation marked 'Allegro con energia'.
It's a free flowing jazz inflection that takes some working out to portray in the right style, whilst the fourth variation, 'Andante con espress' may look easy but is lyrically challenging.
Get it right in terms of pace and balance and the tender beauty to reveal: Get it wrong and it can sound turgid and lachrymose.

There is a fine line between both.
Flourish

It all leads to a great 'Hallelujah' ending; a flourish of resolute upbeat celebration that gives ample opportunity to flex well honed muscle.

Let it get too flabby though and it will lose its sense of tasteful grandeur.
The qualifying bands may have thought that they had been handed a bit of a musical apology with this test piece after being put through the wringer earlier in the year, but the conductors will know that in fact they have been given another work that tests them to limit, albeit in a less intense manner.
Much then for David Hirst and Glyn Williams to ponder in the box.
---
The contenders:
London and the North of England
Two of the nation's supposedly 'weaker' regions enjoyed a highly successful time of it in 2012, with South Milford Brass heading back to the North East after claiming the title.
This year the North is represented by two increasingly confident contenders in champion Ripon City and York Railway Institute (both returning for a second time in a row).

The duo are led by experienced MDs and are enjoying increasingly successfully contesting form.
London also sends a highly competitive trio in last year's Third Section National champion Hitchin, as well as Epsom & Ewell and Ware Brass.
With talent in the ranks and at the helm, there is the possibility that at least one of them will feature in the top six if they play to the top of their form.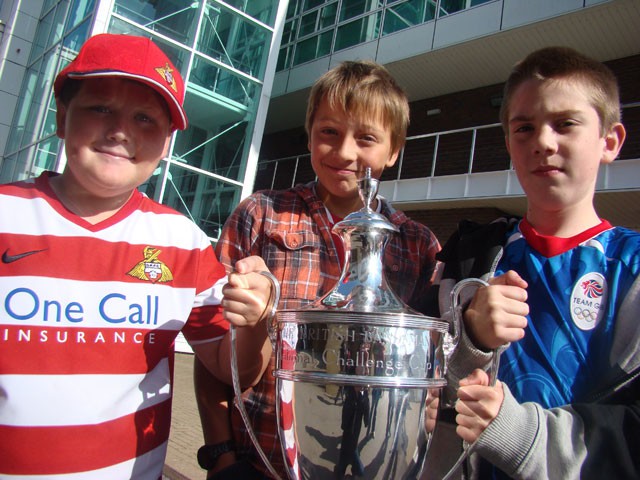 Top Milford trio: The North of England lads get ready to celebrate
North West and Yorkshire
The Second Section Final hasn't been a particularly successful hunting ground for either region over the last few years, although the North West did get two bands into the top six last time around.
Despite the Area's obvious strength in depth, much rests on the shoulders of champion Whitworth Vale & Healey (another returnee), as well as qualifiers Hoover (Bolton) and Middleton if the title is to be secured for the first time since 2000.
High hopes of a Yorkshire victory failed to materialise last year, so there may be a touch of circumspect confidence about their chances of gaining a first National success since 2003 this time around.
That said, the likes of champion Cornerstone Brass and Elland Silver (runner-up in the Third Section here last year) were two of the most impressive qualifiers from any region, and should fancy their chances if they have been able to build on that form.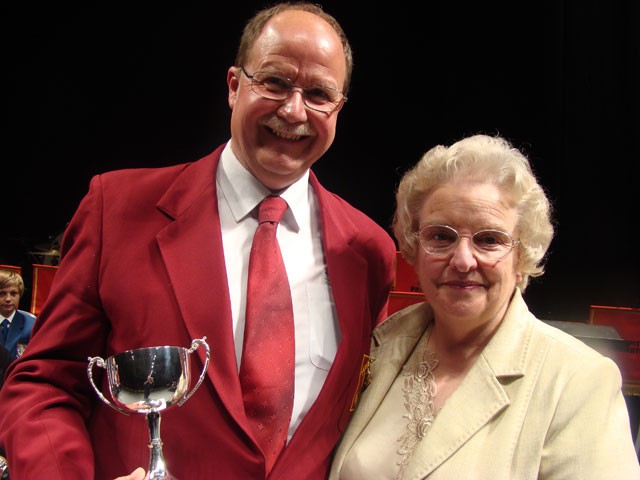 Third place in 2012 for Haslingden & Helmshore

Wales and Scotland
The Welsh hegemony at this level was broken last year after four successive victories had seen the National Trophy taking up almost permanent residence in the Principality.
This time it's the task of two of the nation's rising stars, champion Goodwick (who have been well used to making the trip to the Finals over the last few years) and City of Cardiff (Melingriffith) 2 (who won the Fourth Section in 2011) to try and get it back.
Packed with talented young players, and led by equally young and talented MDs, they should be bands to listen out for.
In contrast the Scots have to go back to 1997 for the last time they headed home victorious.
However, it would be a great story if that feat was to be repeated by the band that did it then, Bathgate.
Joining them is champion Unison Kinneil, who just a few years ago was a force to be reckoned with in the top section in Scotland. They are rebuilding confidently under Craig Anderson and could be a bit of a dark horse this time around.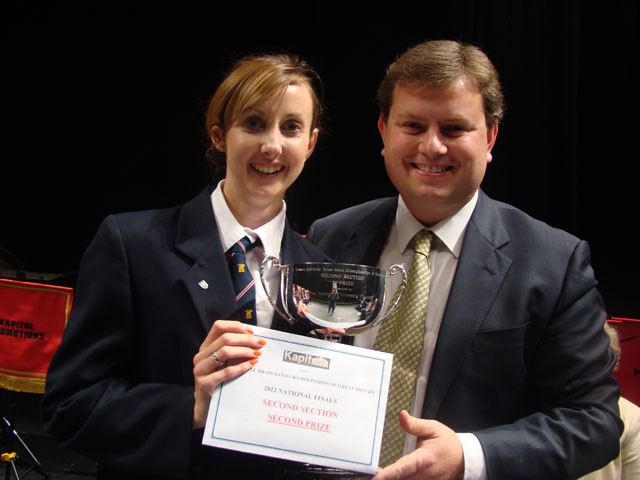 Runner-up last year Bilton Silver (Rugby)

West of England and Midlands
There wasn't much success to enjoy last year for the West of England representatives, but it could be a different story this time around for champion, Swindon Pegasus and Pendennis Brass Falmouth.
Both qualified through a combination of hard graft and sensible direction at Torquay and a great deal of credit went to MDs Graeme Lewis and Steve Thomas for their success. More of that and you never know what might happen.
The region has a fine record of achievement at this level (wins in 2005, 2006 and 2011), so expectations are high.
Bilton Silver (Rugby) came very close to winning the National title last year and return once more, along with Wigston to provide a powerful assault on claiming a first Midlands success since 2004.
Led by David Stowell, Bilton was an impressive winner of the Area title, whilst Wigston also has the experience and know-how of the Garry Sleath to call upon.
If they can live with the pressure of being favourites then Bilton could be the band to beat.
---
4BR Prediction:
Perhaps we let the cat out of bag right at the end, but Bilton look like being title favourites if they play to the form shown in the last few months.
However, in a contest to really look forward to, they could well be pushed by the likes of Elland and Cornerstone Brass, Whitworth Vale & Healey and Middleton and Goodwick.

Our dark horse is Unison Kinneil.
1. Bilton Silver (Rugby)
2. Elland Silver
3. Whitworth Vale & Healey
4. Cornerstone Brass
5. Middleton
6. Goodwick
Dark Horse: Unison Kinneil