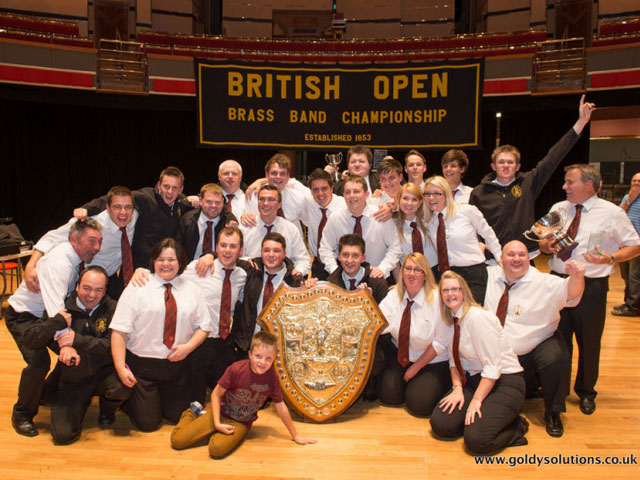 Memories to cherish for 2013 champions Tredegar

There was no sense of déjà-vu about Tredegar's second British Open victory in four years at Symphony Hall.
Memories of their first win in 2010 were still fresh in the mind as Ian Porthouse and no less than 16 of his current players celebrated long into Saturday night.

However, the magnitude of this victory was unique.
Remained

Then, they were something of a surprise package, riding on the crest of a contesting wave that was to create Open history and propel them into the top echelon of major title winning contenders.
They have remained there ever since – occasionally dipping in form (suffering a bruising result chasing a Masters hat-trick this year), but never other than totally committed, prepared and bursting with endeavour at every top flight championship.
Perfectly in place

Here, everything fell perfectly into place, with a performance of 'Arabian Nights' that was simply stunning in thought and execution.

Even Cory's superlative performance fell short.
Tredegar was the most deserved of victors; a second entry in the British Open history books embossed with a branding iron of outstanding musicality and technical excellence that will take decades to fade from the collective memory of those who were there to hear it.
Stunned

That certainly included the judges who admitted to being stunned: The composer Stephen Roberts called it, 'Absolutely incredible!!!', Rob Wiffen OBE, a 'truly stunning performance'.

David Read later revealed that he believed it to be in the same class as Black Dyke's 1985 'Cloudcatcher Fells'.
However well the Welsh band play at a major contest in future, you cannot imagine they will ever experience something as utterly sensational as this again - although on this form you never know.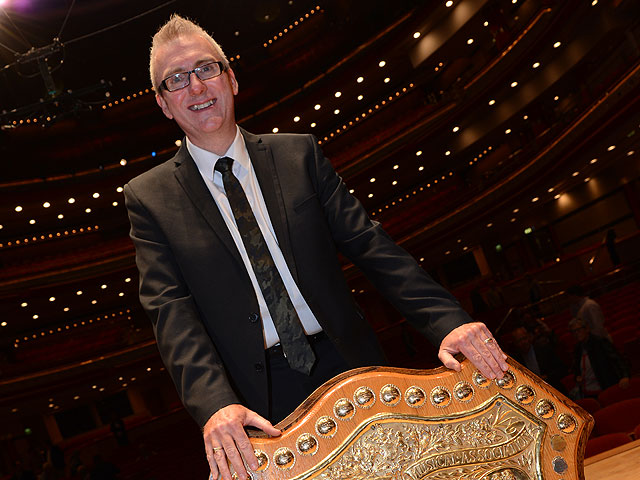 The man behind the Shield triumph: Tredegar MD, Ian Porthouse

Blistering

Ian Porthouse directed a performance that claimed the Gold Shield with a desert storm of blistering virtuosity, emotional intensity and technical accuracy that swept the Symphony Hall audience up in its wake and ultimately blew them away.
The fact that the adjudicators awarded Ian Roberts, Dewi Griffiths and Dan Thomas a clean sweep of the solo prizes only served to underline the remarkable quality of their playing.

Credit

Only Cory was left standing, and to their great credit they were the first to offer their congratulations.
Band Manager Austin Davies wore a wry smile as he shook the hand of Tredegar's long serving Band Secretary Alwyn Powell.

He knew his beloved band could have done no more to have secured its first Open title under the baton of Philip Harper.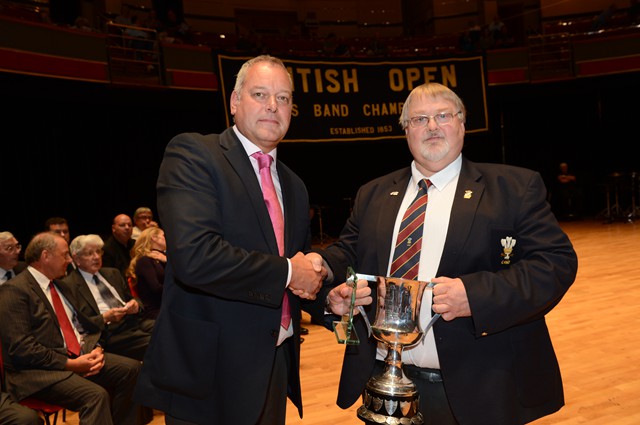 A wry smile from Cory's Band Manager Austin Davies

Hit

With the familiar themes of Stephen Roberts' Liszt-like 'Fantasy on Rimsky Korsakov's Scheherazade' scoring a hit with the substantial audience, it was nonetheless difficult not to reflect on what he might have produced had his brief been for a bespoke original work.
Instead, the stamina sapping, seemingly never ending trail of hoops, traps and perilous cadenzas woven into the score would have sent Sinbad himself fleeing on the first magic carpet to Baghdad he could find.
For the MD's, it was no less a challenge to weave the strands of the composer's cleverly conceived transitions between his new material and Rimsky Korsakov's old into a convincing whole.

It was something that only a handful succeeded in doing with anything approaching total conviction.
Class apart

Tredegar and Cory were simply a class apart; the evidence of which came with the familiar evidence of flagrant mute abuse that many rivals were reduced to in the final hushed reprise of the Princess theme.
Ian Porthouse and Phillip Harper trusted in the talent at their disposal and were rewarded with magical repose in return.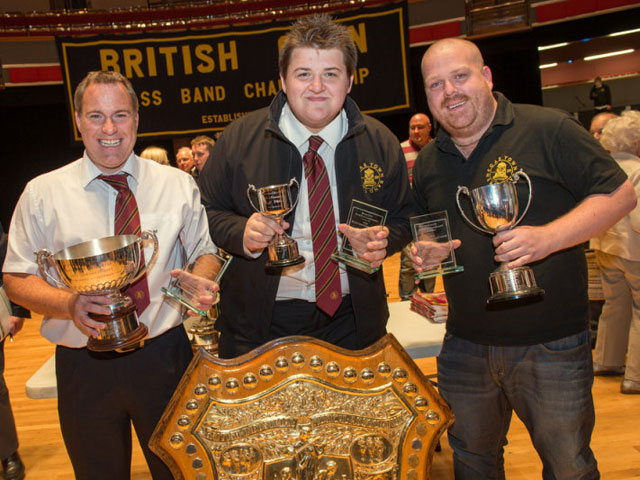 The Tredegar solo prize winners: Messers Roberts, Thomas and Griffiths

Shiver

Tredegar sent a shiver down the spine, one which was immediately replaced by a shudder as a fantastically paced finale (making the subtle change of tempo sound like a turbo lag boost) was topped with a top E soprano finish pitched and lengthened to perfection.
It was as the judges rightly declared, an absolutely stunning winning performance.
For European champion Cory, a riveting, intensely passionate rendition late in the draw would surely have secured victory on nine out of ten occasions. This was the tenth though.
With a clear demonstration of the deep bond that is now developing between MD and players sinking its roots ever deeper into their contest psyche, it was only the very slightest of hesitations early on that saw the title elude them.
Buoyed Co-op

Some distance behind the Welsh heavyweights lay well beaten rivals, although Celtic dominance was enhanced by Co-operative Funeralcare's podium finish under Allan Ramsay.
They left for home buoyed by the adjudication from the composer that noted that on another day they could have secured a first Open success.
It was their misfortune that Saturday wasn't that day, although third place rewarded a fine reading that strove to scrupulously recreate the colour and stylistic integrity of the orchestral score.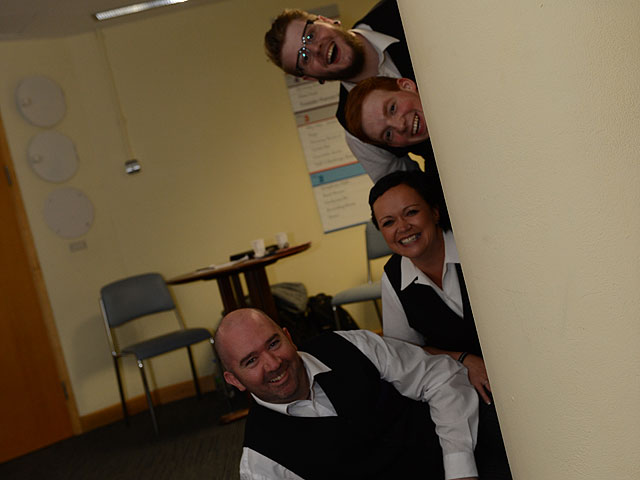 Looking up: Scottish Co-op claimed a fine third place finish

In the hunt

Further back, Foden's cultured, yet occasionally brittle title defence ended fourth, as Allan Withington's band never quite seemed entirely at ease, despite extended moments of sublime ensemble playing.

So too Fairey's brave pursuit of a first Open victory since 1998, which just fell away as lactic acid hit tired lips. Until the final section they were in the hunt for a podium finish.
Not so Black Dyke's variable account, which hung stubbornly at the back of the top six prize winners without ever suggesting it could finish higher.

Their performance sounded peculiarly at odds with itself.
Blighted

As usual, the hopes of the midfield finishers were blighted by individual fragility, lack of ensemble clarity and interpretations that at times mistook musicality for pantomime characterisation.
David Roberts's intelligent management of youthful resources gave Kirkintilloch a fine seventh, with Carlton Main Frickley unlucky that Phillip McCann's subtle appreciation of musical nuance didn't quite resonate as many thought it would in the box.

His reward on accepting a deserved Iles Medal before the announcement of the results was to be greeted by some of the warmest applause of the whole contest day.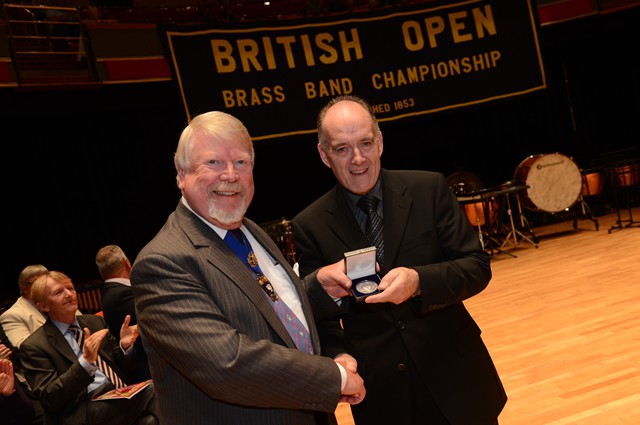 A fine reward: Phillip McCann receives the Iles Medal

Exotic

David King's exotic Arabian interpretation certainly enabled Brighouse & Rastrick to capture the imagination, although it occasionally veered too far off the judge's personal take on tempo directives to end ninth.
Grimethorpe meanwhile started on fire, but were soon fighting the flames of self immolation as they finished a disappointing tenth: Luc Vertommen's finely structured account let down by a litany of combustible errors.
Gap

There was another noticeable gap to Desford, who rounded off the contest with the type of frustrating, undercooked performance that has become far too often their norm over the years; a fine reading from Nigel Seaman deserved better.

Eleventh place was a little fortunate.
In contrast, Hepworth's hard work and effective delivery under Michael Fowles possibly deserved higher than twelfth, as did Virtuosi GUS who ended up behind Grand Shield winners Milnrow.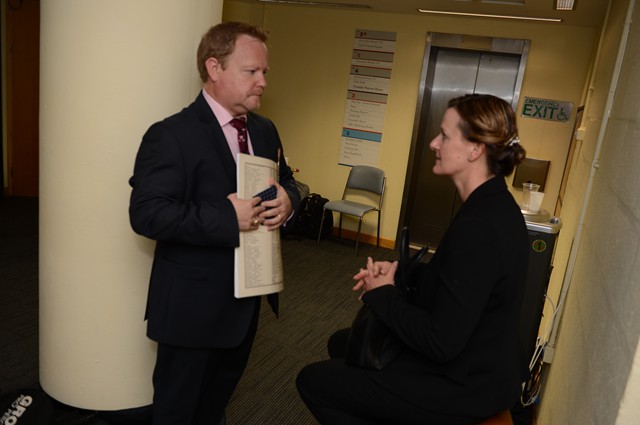 Different shades of contest Gray at the Open...
Rich promise

John Berryman's final Open appearance with the Midlanders held rich promise, but it never quite materialised in a persuasive account that maintained interest throughout.

They will hope for better luck next year as the spectre of a return to the Grand Shield hovers over the shoulder.
The same applies to Milnrow, although the experience gained here should prove invaluable (with London ahead) as early nerves were overcome thanks Marieka Gray's intelligent appreciation of resources.
Chastened

Meanwhile, Leyland head to the Albert Hall chastened. Michael Ball's vivid interpretation, full of excitement and passion was blighted with a high error count and a sense of musical frustration; his usual sharp witted musicality seemingly blunted on this occasion.
The only crumb of comfort they may look back on from fifteenth was that Tredegar turned a possible Grand Shield return into a Gold Shield triumph in the same circumstances.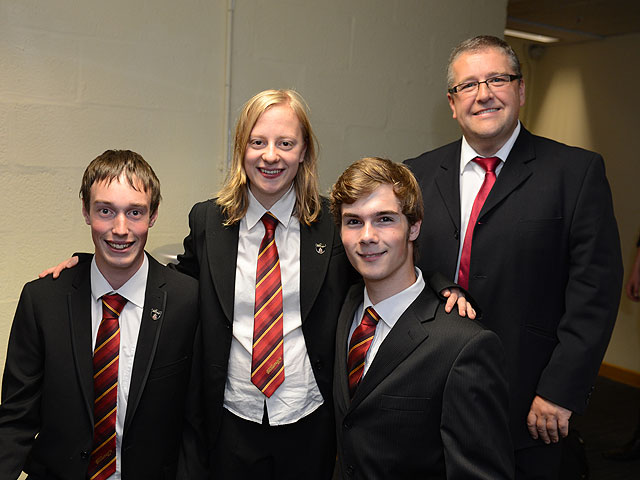 Rich future promise at Beaumaris

Cruel draw

No such optimism for Reg Vardy and Seindorf Beaumaris though.
The North East stalwarts never played well enough to suggest they could avoid relegation despite Russell Gray's best efforts, whilst the contesting Gods had no more good fortune to hand out to a third Welsh contender.
A particularly cruel draw (the last two numbers left in the bag were 1 & 17), sucked the confidence out of Gwyn Evans's young band, although with such talented resources at his disposal they will be a force to be reckoned with at the Spring Festival next year.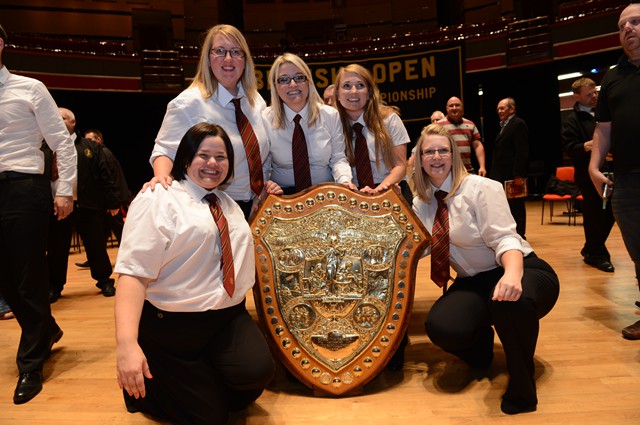 Tredegar's girls looking forward to London

Further glory

As for their South Walian counterparts, Tredegar now head to the National Finals in London as one of the short priced favourites to claim further glory.
Strangely the test piece is entitled, 'Of Distant Memories', but with no sense of déjà-vu to recall at the Albert Hall, on this stunning form they could well create another singularly unforgettable victory.
Chris Thomas